If you're someone who loves to fill your living space with earthy elements, eclectic decor, and as many plants as possible, a bohemian-style home is right up your alley. Plants are wonderful additions to every decor style but when it comes to plants for a bohemian interior, they are pretty much a necessity.
10 Beautiful Plants for a Bohemian Interior
Bohemian, or boho, style is the interior design aesthetic that welcomes the use of natural materials, bright splashes of color, unique patterns, warm textures, and unconventional decor. The bohemian style is inspired by those who lead an individualistic and out-of-the-ordinary life such as globe-trotters, writers, artists, and other free-spirited creatives alike. While no two boho rooms are the same, you'll find that there are many similar features within each designed space. Whether you prefer a classic bohemian style or mostly just enjoy the bohemian touch to a modern decor, here are 10 plants for a bohemian interior that can make your boho dreams come true.
Pothos
The pothos plant is considered by many to be a great way to get started caring for houseplants. Since pothos care is easy and undemanding, this lovely plant is an easy way to add some green to your bohemian decor. Basic pothos care is very easy. These plants enjoy a wide range of environments. They do well in bright, indirect light as well as low light and can be grown in dry soil or in vases of water. They will thrive in nutrient-rich soil but do almost as well in nutrient-poor soil.
Ferns
The fern is part of the Adiantum genus that includes over 200 varieties of ferns grown around the world from New Zealand to the Andes. The genus name is derived from the Greek word 'adiantos', which means 'unwetted' – a fitting description for the fern since its leaves repel water. A great species that fits in perfectly with your other plants for a bohemian interior is the Maidenhair Fern. The Maidenhair fern, known for its luscious looks and elegant hair-do, has the reputation of being difficult to care for with its diva-like demands. Maidenhair ferns might require a bit more attention than some of our other recently featured houseplants, but if you're a very attentive plant parent, this is the perfect plant baby to add to your collection. You can learn how to take care of this plant in our article
'Master the Finicky Maidenhair Fern – Adiantum Raddianum'
.
Succulents
Pretty much everyone who enjoys houseplants, or gardening in general, is familiar with succulents. But even if you don't know what they are, you have probably seen them before. Succulents come in all shapes and sizes; from giant ones in desert landscaping to those uber-cute mini succulents in tiny planters – they are just flying off the pages of every design magazine and plant website. It comes as no surprise that they are essential plants for a bohemian interior and with the right
Succulent Care Guide
, you will learn how to get the best out of your succulents in no time.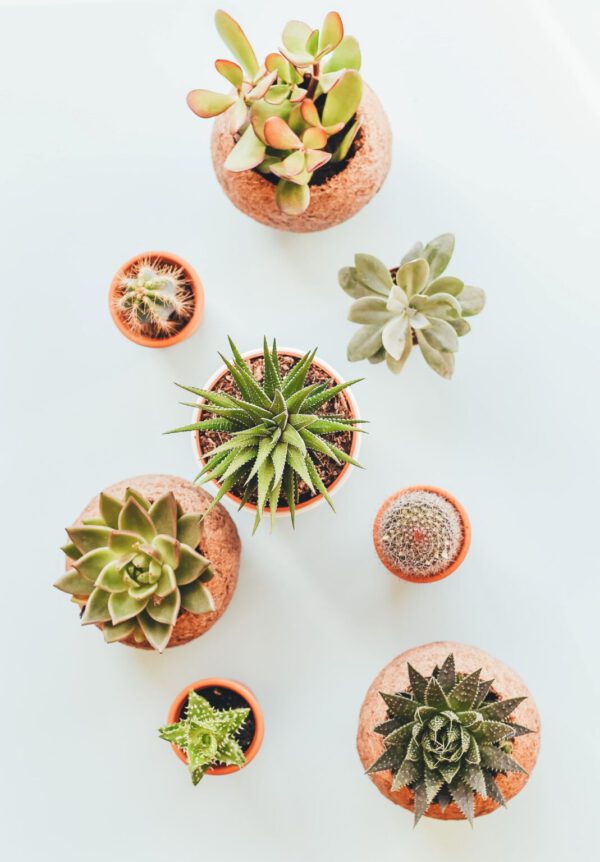 Monstera
Who doesn't love the Monstera? In recent years, Monstera plants have been all over Instagram and Pinterest feeds. This tall, tropical plant, also known as the "Swiss Cheese Plant" has uniquely perforated leaves and a vibrant green color that is reminiscent of its native jungle environment. Even more popular are the variegated Monsteras that are often being sold for thousands of euros.
'Monstera Deliciosa Albo Variegata – The Most Expensive Plants in the World?'
Cacti
If there's one perfect genus of plants for a bohemian interior, it's cacti. They come in all kinds of shapes, sizes, and colors and are generally pretty easy to care for. Cactus originates from the Greek name Kaktos. Kaktos is a Spanish artichoke or the "prickly plant of Sicily" as many refer to it in Greece. Cacti, much like succulents, thrive with good light sources, and it is best to place your cactus in a bright place. A south-facing position will provide good sunlight. However, be careful to not put them in direct sunlight because the intense light can make the plants turn a yellow color.
Calathea
Calathea is a genus of flowering plants belonging to the family Marantaceae. They are commonly called calatheas or prayer plants. The prayer plant is one of the most distinguishable tropicals, thanks to its beautiful decorative leaves. The popular tricolor variety has deep green, velvety leaves with yellow splotches down the midrib and arching red veins traveling to the leaf margins. A slow-grower, the prayer plant can eventually reach up to a foot in height indoors. They are fairly common as houseplants and can be planted and cared for indoors during any time of the year. Prayer Plants get their name from the way the leaves fold in the evening, resembling hands folded in prayer.
Philodendron
Are you looking to fill a huge space with an extraordinary tropical plant? The
Philodendron bipinnatifidum
will deliver. It also goes by the name of Thaumatophyllum bipinnatifidum, Philodendron selloum, and horsehead philodendron. Although it is not a very popular houseplant, it definitely deserves more exposure because of its beautiful vivid green leaves and vigorous growth. Philodendron bippinatifidums usually grow in full sun. If you were looking for a plant that will tolerate that south window of yours, this Philo is the one. Although they are said to adapt to full shade, expect the leaves to turn a darker green color if you don't give it enough light. They love consistently moist soil and some fertilizer every couple of weeks.
Rhapis
The Rhapis is a botanical palm known as bamboo or stick palm. The genus consists of about 10 species of small palms native to southeastern Asia from southern Japan and southern China south to Sumatra. The species are commonly known as lady palms. The plant is very popular because it does very well in a spot in the shade and requires hardly any water. It prefers lukewarm water and grows a bit more vigorously when placed in the light.
Alocasia
The striking leaves of Alocasia plants can easily become the centerpiece of your bohemian living decor. Originating in subtropical Asia and eastern Australia, there are many varieties of Alocasia, from exotic types with striking color patterns and variation, to classically refined and elegant. Alocasia comes in a wide variety of colors from almost black to chartreuse to pale green. A great option is the Alocasia Micholitziana Frydek with its velvety leaves and elegant touch. Give this plant a lot of water, watering it only as often as the top 0.5" (1 cm) of soil dries. Apply enough water regularly to hydrate the roots. For healthy alocasia growth, it's crucial never to let the potting mix become dry or too damp. You can learn everything about this plant in our article
'Alocasia Frydek – Are You Already a Proud Micholitziana Alocasia Owner?'
Yucca
Give the beautiful Yucca a nice spot in your living room or office. This awesome plant can not miss in your plant collection! The Yucca is actually quite an easy plant that comes with air-purifying abilities. It loves light and is satisfied with little water. Never leave the plant with its roots in the water. If in doubt, less water is better than too much. Pull dead leaves down from the stem. From above the plant makes new leaves.
Decorist
)