Flowers have been one of the most popular subjects for painters throughout history. Flowers' colorful blossoms have always inspired painters, with many devoting their lives to producing still-life paintings of varied botanical marvels. Flower art has a long and illustrious history, ranging from 17th-century Dutch still-life paintings to Japanese woodblock prints.
10 of the Most Famous Flower Paintings That Remain Gems in Floral History
Whether painting roses, irises, or peonies in a vase or directly from nature, each artist adds their own distinct style to the finished work. In fact, by examining flower paintings over time, one may follow the evolution of art history. Even if the history of art isn't something you're particularly interested in, there's no disputing that floral paintings, regardless of date, have a strong quality. Paintings of flowers can create a timeless sense of joy, hope, or even melancholy. There's a reason why certain paintings of nothing but flowers have stayed with people for decades, if not centuries. Read more about the history of flower art in the article 'An Epic Journey of Flowers Through the History of Art and Paintings'.
These classic flower paintings serve as reminders of how much nature has to give and that some of the best inspiration can be found right outside your door. Each artwork captures a certain point in time, both in art history and in the life of the artist who created it. Take a look at some of the most memorable flower paintings done in the previous 500 years, and you might be inspired to start drawing your own flowers. Here are 10 of the most famous flower paintings that have enlightened the canvas!
1. Flowers in a Glass Vase With a Cricket in a Niche by Rachel Ruysch (1700)
Known as one of the ten most popular flower paintings in the world, Rachel Ruysch is not only the most well-known female artist of the Dutch Golden Age, but she also pushed flower painting to a new level. She was able to develop her own style and paint floral imagery for over sixty years. She deviated from convention by painting her bouquets in asymmetrical compositions, resulting in more dynamic artwork. At the same time, each petal is carefully detailed, and her talent for assembling beautifully colored blossoms made her stand out from other flower artists of the time.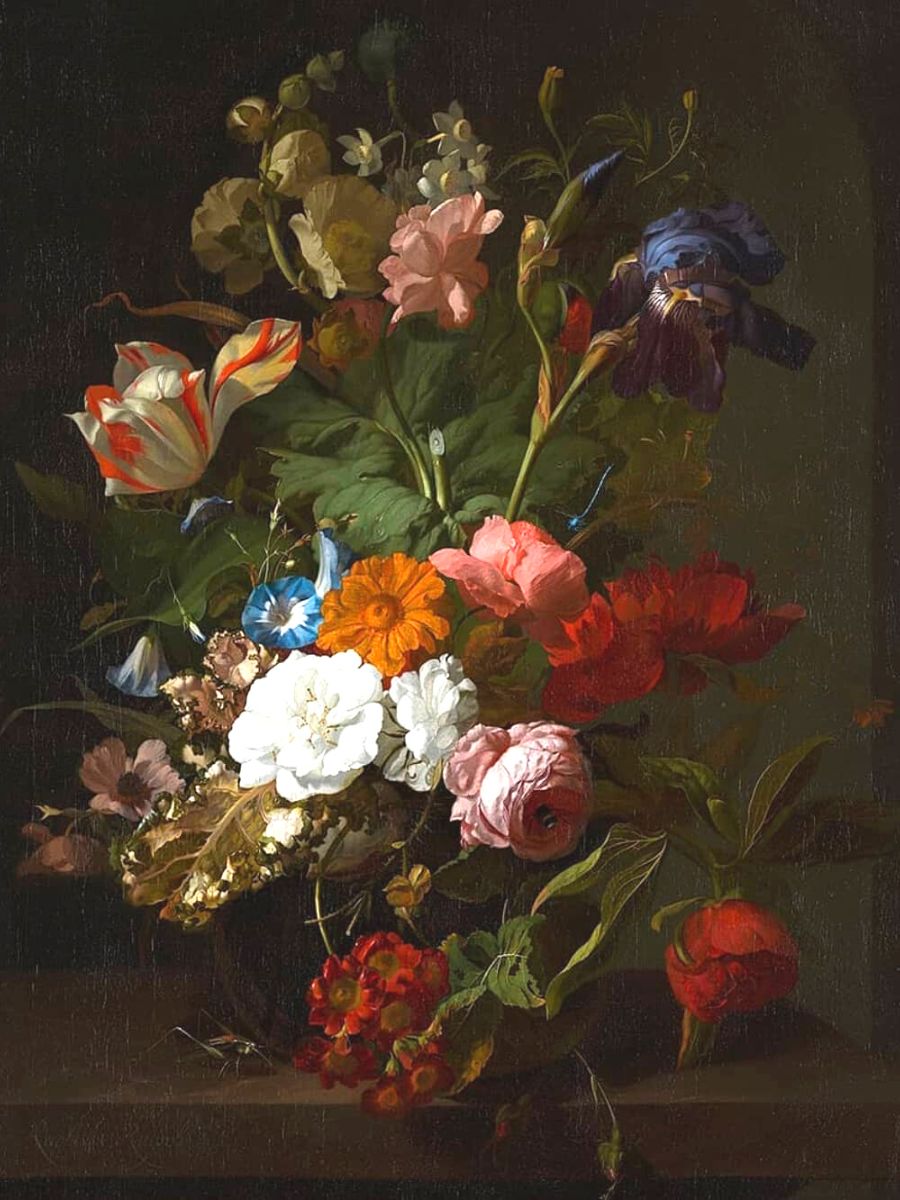 2. Still Life With Flowers by Ambrosius Bosschaert (1617)
The 'still-life' type of painting was historically considered a lower type of art, while the wealthy preferred religious and historical paintings. Throughout the 16th and 17th centuries, this gradually began to change, with the Dutch leading the way. Antwerp was especially significant because painters there began making colossal-sized still-life paintings, which frequently featured flowers. Ambrosius Bosschaert was a Dutch still-life artist notable for depicting flower bouquets with near scientific realism. His family's passion for flowers was so strong that all three of his boys went on to become flower artists. Bosschaert's flower paintings feature perfectly arranged blooms, and he was among the first painters to concentrate on painting bouquets. Clearly, his work sparked a trend that has lasted throughout art history.
You will also find his art in the article In Full Bloom: A Unique Floral Exposition of Dutch Masters From the 17th Century.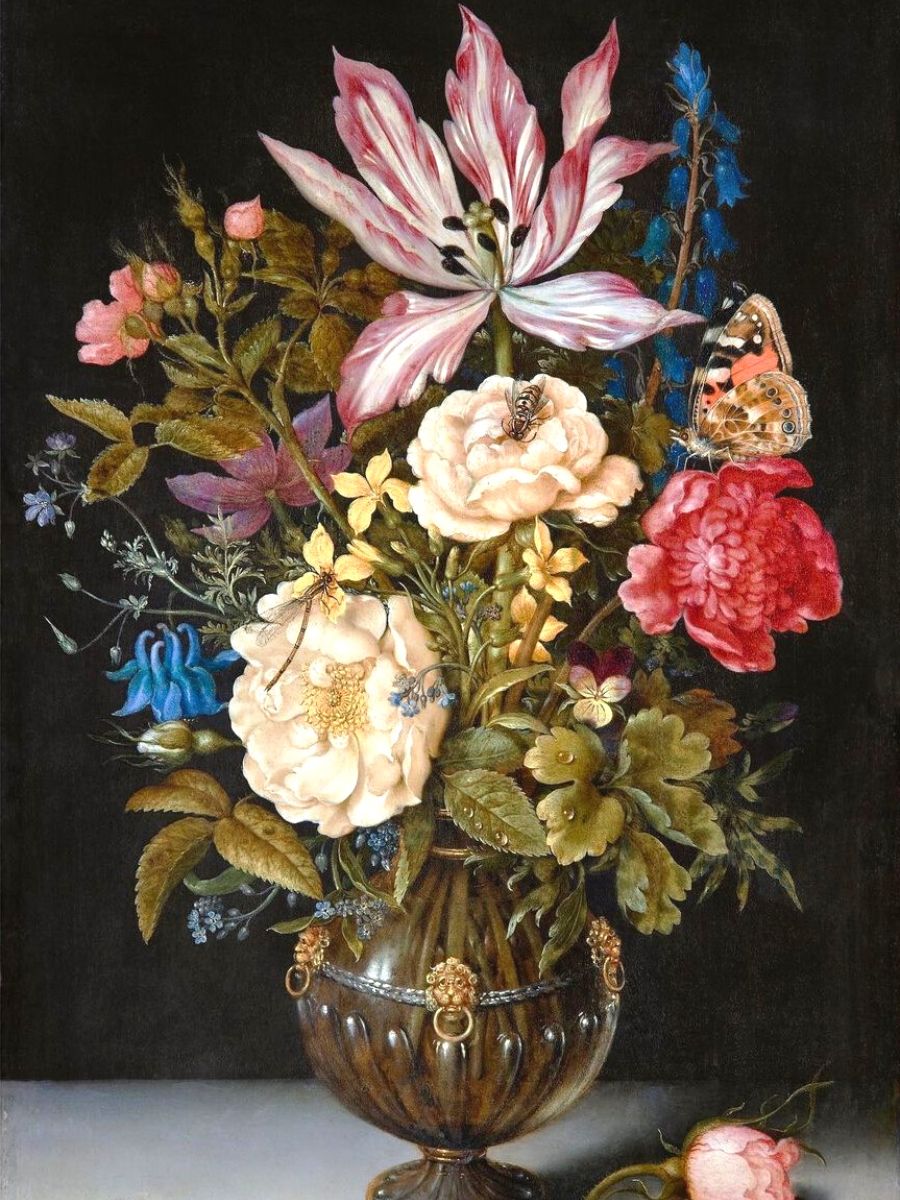 3. The Water Lily Pond by Claude Monet (1899)
By the 1890s, Monet's financial woes had passed him by, and he was able to purchase Giverny - in fact, he had established some riches and was able to lavish his money on his own home and garden for the first time. It would result in a gorgeous and one-of-a-kind property, complete with the artist's most intriguing garden and its Water Lily Pond. Planning authorization was given in 1893, and he focused much of his attention on his efforts on the bridge. Up until 1897, he only painted roughly three pieces of the lily pond. This work, from 1899, is exquisite in its composition of background trees, weeping willow, and the bridge, which underwent many alterations up to 1910. The pond here is literally obliterated by vegetation and lilies. It is composed of short brushstrokes - a familiar method during his mature years.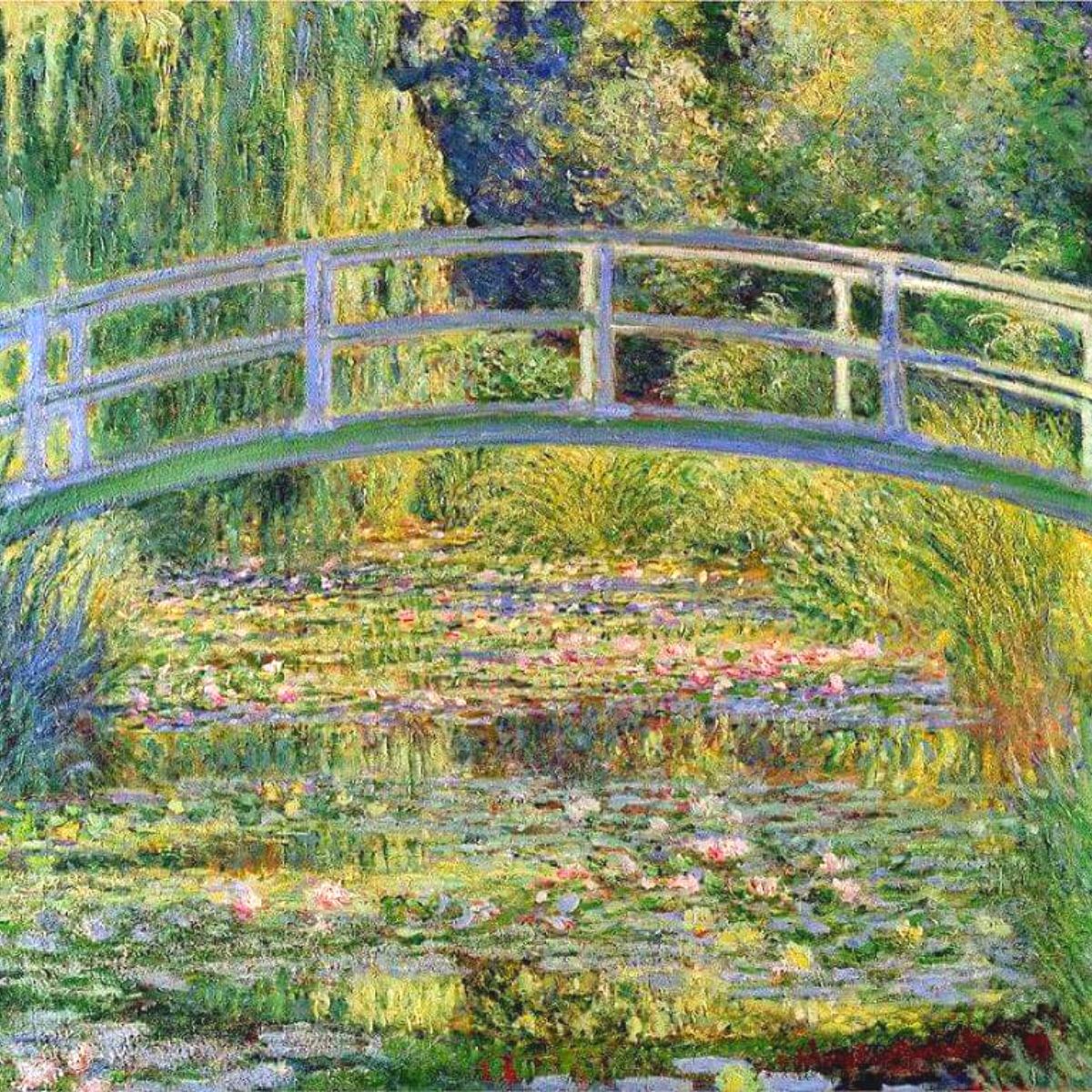 4. Hibiscus by Hiroshige (1845)
Flowers have a long history in Japanese culture, whether they are used to make extravagant floral arrangements or are used in woodblock prints. Hiroshige's depiction of hibiscus blooms is a marvel, with their bright orange color leaping off the page. The name for hibiscus in the Japanese flower language, also known as hanakotoba, means 'gentle'. These flowers are distributed as a social ritual to welcome visitors. Hiroshige's 1845 Hibiscus is one of numerous color woodblock prints in which he represented the flower. He occasionally featured birds interacting with the hibiscus, but in many cases, such as this one, the plant took up the entire picture. One of the most interesting and popular flower paintings of all time for sure!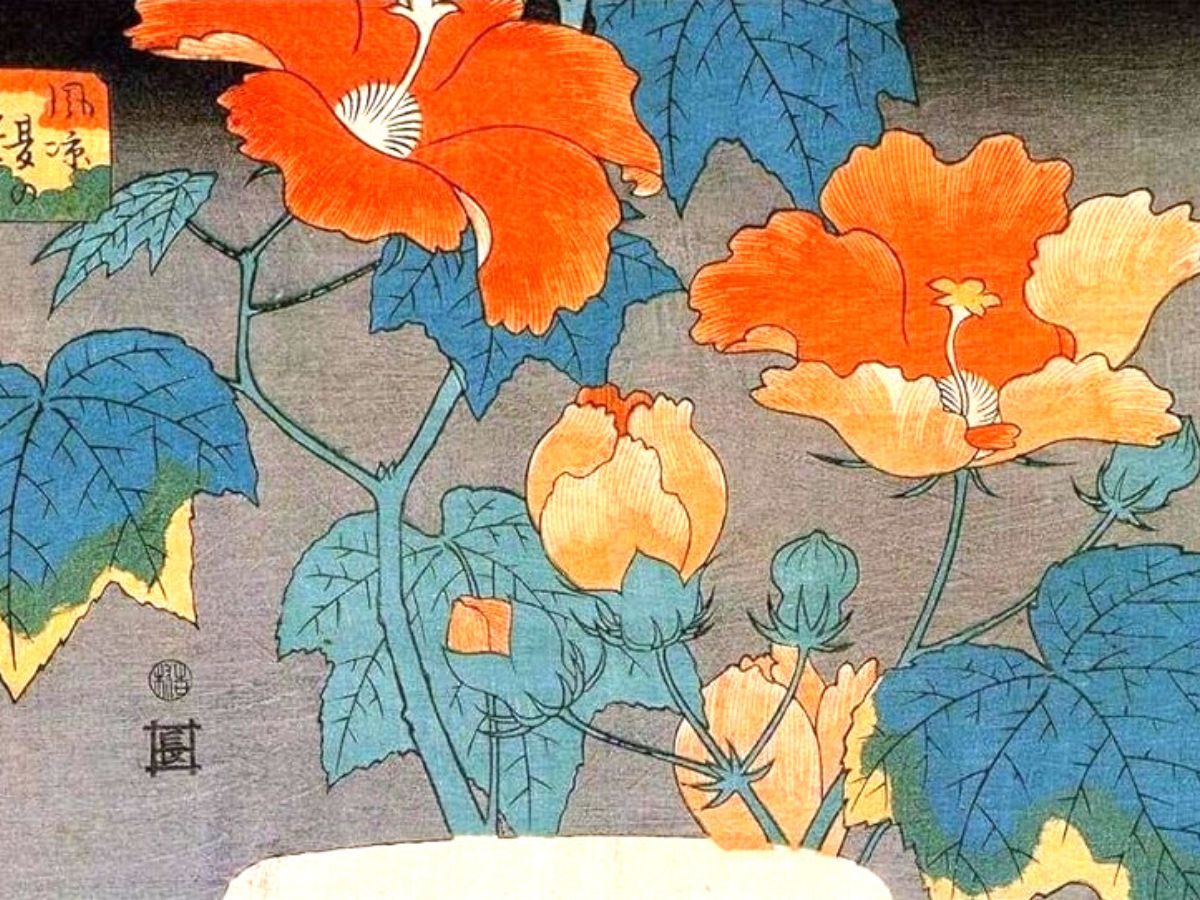 5. Bouquet of Flowers by Edouard Manet (1882)
Edouard Manet, the influential painter, was a flower enthusiast who painted them frequently. He deviated from custom by painting flowers on tables rather than bouquets in vases. His flowing, dynamic brushstrokes, which made him a vital figure between 'realism and impressionism', lend a captivating, fleeting sense to his painted flowers. Flower painting was so essential to Manet that he only created floral still-lifes for the last six months of his life.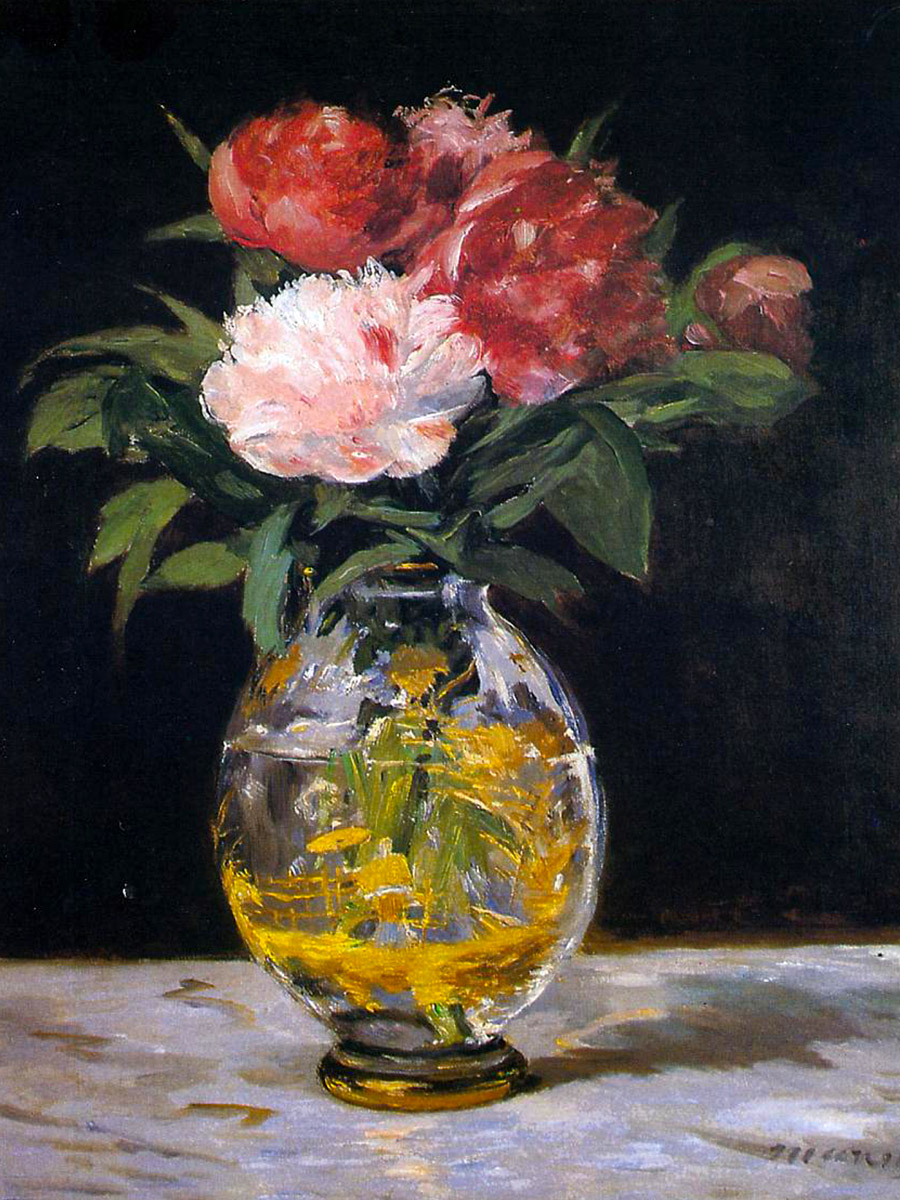 6. Roses and Lillies by Henri Fantin-Latour (1888)
Henri Fantin-Latour, a French painter who specialized in flowers, took a conservative approach to his work at a time when Impressionism was gaining traction. His Realist paintings demonstrate his devotion to the great masters of art, as he honed his technique by replicating paintings from the Louvre. Fantin-Latour utilized the long stems of the lilies to cut across the canvas in Roses and Lilies, balancing the modest pink and white bouquet of roses lying on the table. He also demonstrated his outstanding use of color, emphasizing the painting's romance with the blush pink tones of the rose petals, which give a delicate contrast to the rich brown of the wood table.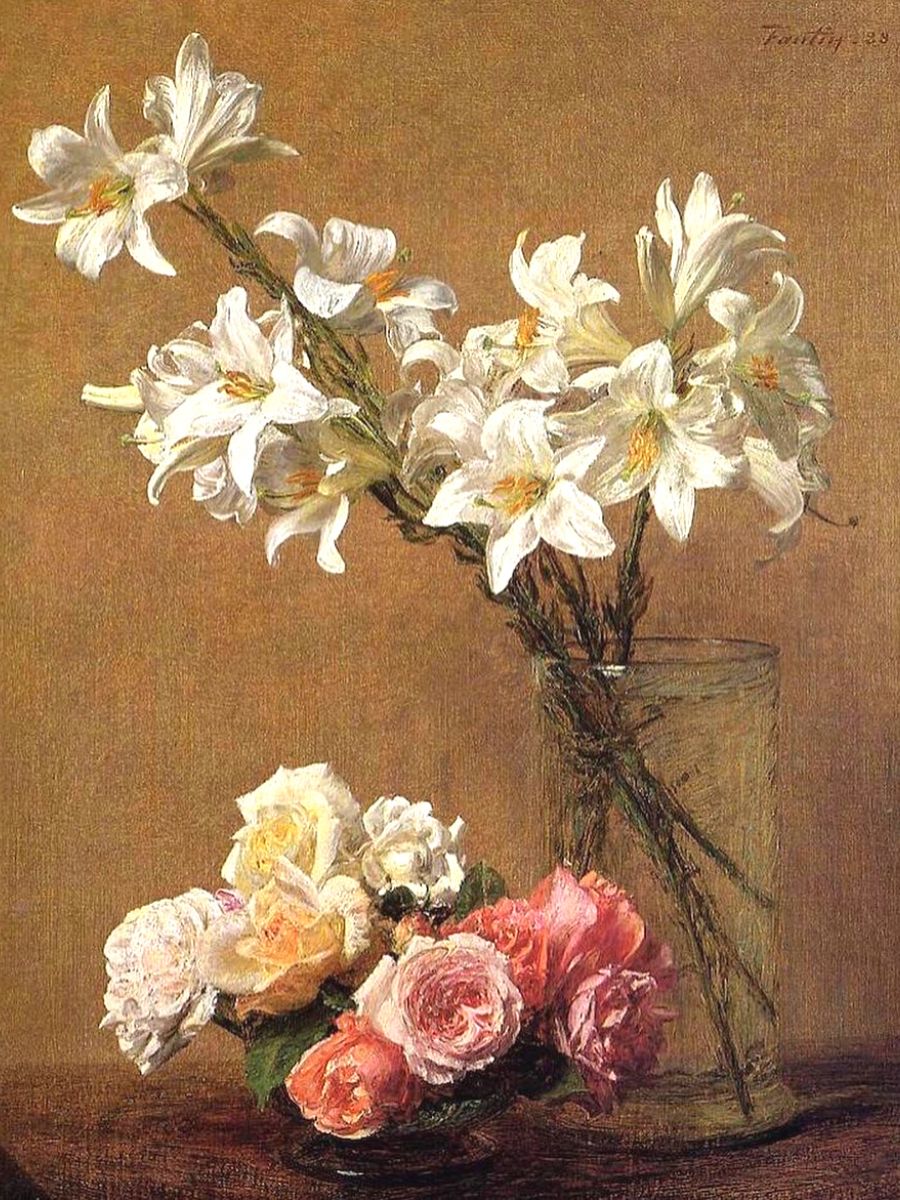 7. Still Life With Irises by Vincent Van Gogh (1890)
There are numerous notable flower paintings by Vincent van Gogh to choose from, including his well-known 'Sunflowers' series. Still, many flower advocates around the world think his 'Still Life with Irises' flower painting is a masterful piece of art. It shows the artist's inventive use of color. This still-life, painted while he was a patient at a psychiatric hospital in Saint-Rémy, is excellent in its use of vivid, clashing hues. There are two variants of the painting. One, which is now in the Metropolitan Museum of Art, was painted against a now-faded pink background with the intention of creating a 'soft and harmonious' ambiance.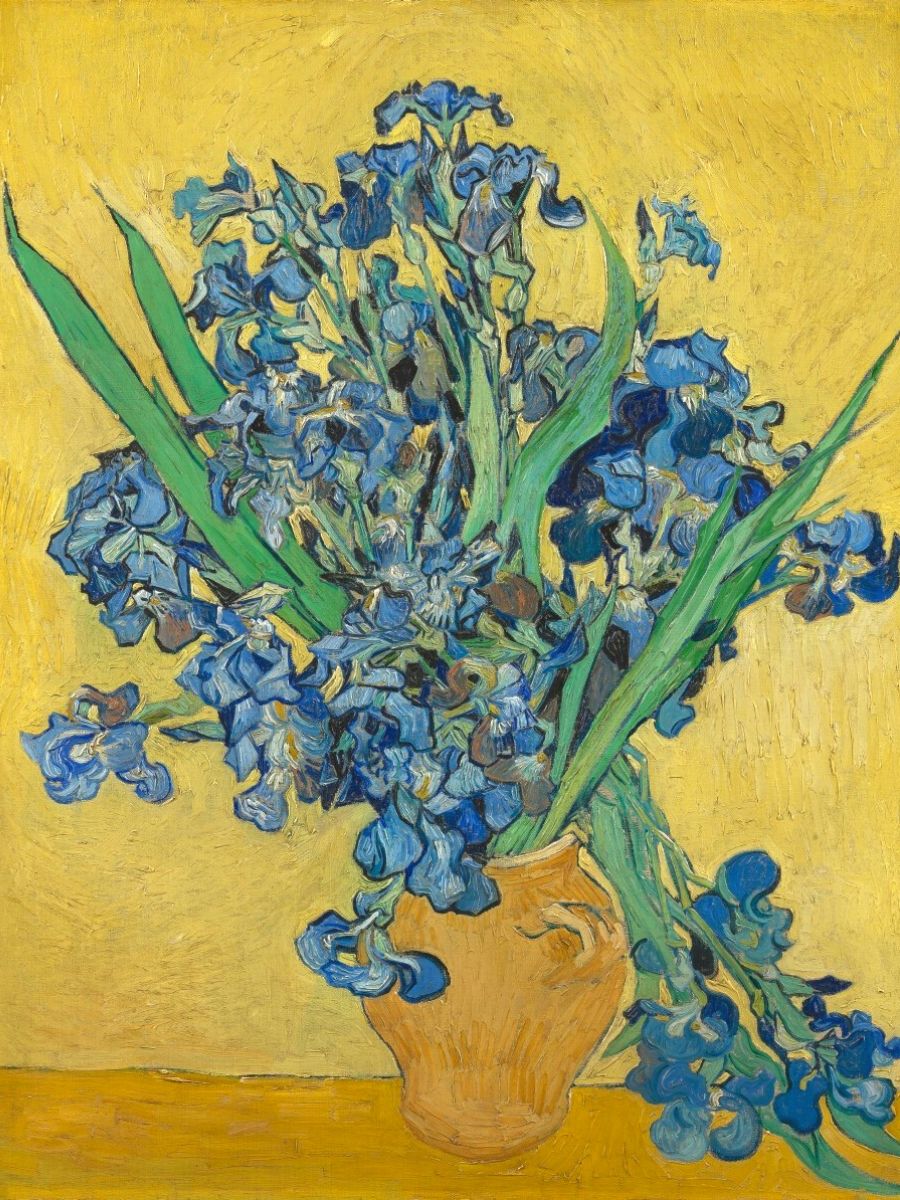 8. Lilacs in a Window by Mary Cassatt (1880)
A dark aubergine vase containing purple and white lilacs is seen on what appears to be a ledge or work area in a greenhouse, with a prop holding the neighboring window open. This most straightforward of subjects is rendered with the angular fluency and dash that distinguishes Cassatt's best work, which is hardly surprising considering her love of gardens and flowers. She occasionally included landscape or floral elements as vivid backdrops and highlights in her compositions. This captivating painting was once owned by Moyse Dreyfus, a Parisian collector and friend of Cassatt. One of the 10 most popular flower paintings to take a look at, without a doubt!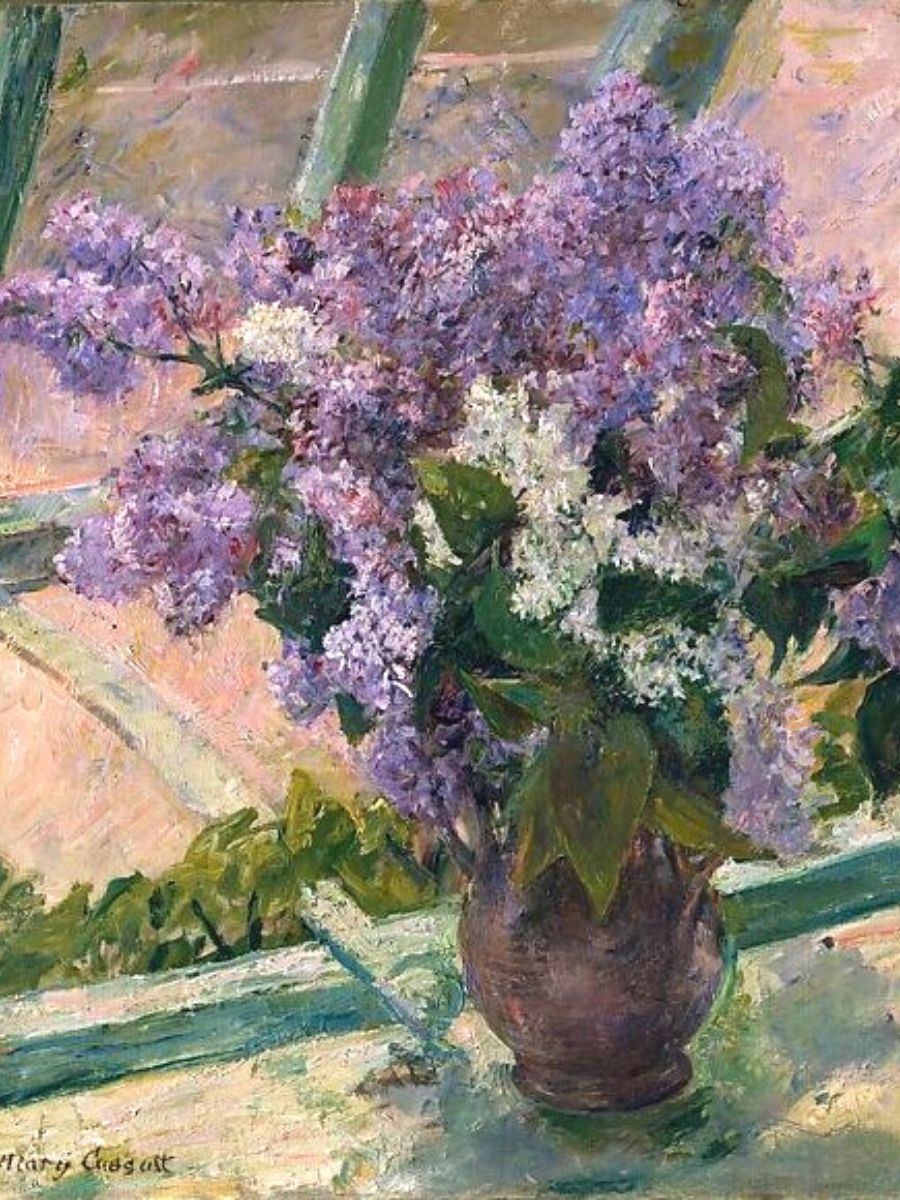 9. Flower Garden by Gustav Klimt (1905)
Gustav Klimt's paintings featuring fields of flowers, inspired by the landscapes he witnessed while summering in Litzlberg, are stunning examples of work from his Golden Period. 'Flower Garden', also known as Bauerngarten, is one of Klimt's greatest landscapes, depicting a slew of flowers cascading out of the frame. The painting, which sold for $59.3 million at auction in 2017, embraces the rustic appeal of a garden without relying on realism. This remarkable landscape is rooted in the natural world yet simultaneously reaches towards the symbolic, decorative avant-garde. The work's profoundly emotional character stems from its synthesis of natural beauty and harmonious regularity.
10. Grand Bouquet de Fleurs des Champs by Odilon Redon (1916)
Last but not least, this floral work of art by Odilon Redon is part of the popular flower paintings you must know about, especially if you're a flower and art lover. The extensive series of flower paintings, both in oil and pastel, which began to emerge in Odilon Redon's work during the late 1890s and early 1900s, marked a distinctive turning point in the artist's career. Up to this point in his career, Redon had enjoyed a considerable reputation for his mysterious works on paper, most notably his exquisite, haunting charcoal drawings known as "noirs," and his enigmatic lithographs. However, as the new century dawned, Redon sought to expand the market for his art, and began to explore a different path in his work—color became his chief focus, and flowers, 'those fragile perfumed beings, exquisite prodigies of light' as the artist described them, were the ideal subject for his new vision.
Painted circa 1900-1905, 'Grand Bouquet de Fleurs des Champs' emerged during this key period of transition and captured the spirit of experimentation and bold, effusive approach to color that defined Redon's floral subjects during these years, as he sought to combine the traditions of the still life genre with his own idiosyncratic creative outlook. The composition focuses on a bouquet of summer wildflowers, in which a variety of blooms, including poppies, asters, daisies, and cornflowers, are all gathered together in a heady bundle of explosive color. Executed in an array of intensely vibrant, vivacious tones, the flowers seem to have been arranged in a haphazard, organic manner, their forms almost ready to spill over the edges of the slender vase that houses them, as they jostle for space.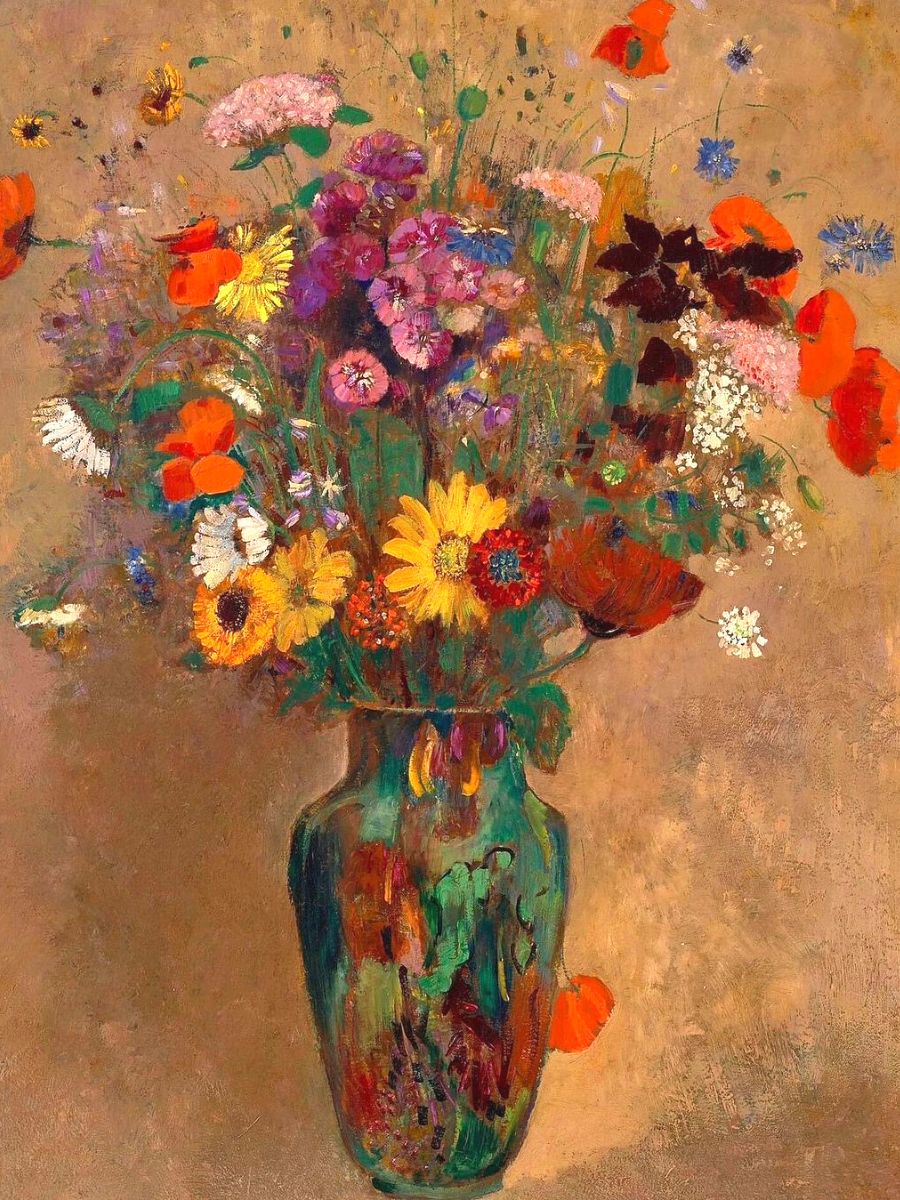 One thing these flower paintings have in common is the fact that every petal was painstakingly detailed and painted to create a flourishing canvas of pure flower love.