Last September Fresco Flowers celebrated their fifteenth birthday. Obviously, they do their job well, since ten growers from Kenya rely on their logistical services, handling, and expertise of the market. No wonder that breeder Dümmen Orange teamed up with Fresco Flowers to introduce their new rose Snowstorm+. Aart Buizer, commercial manager, and Jaap Buis, marketing manager, share their enthusiasm for this exclusive novelty.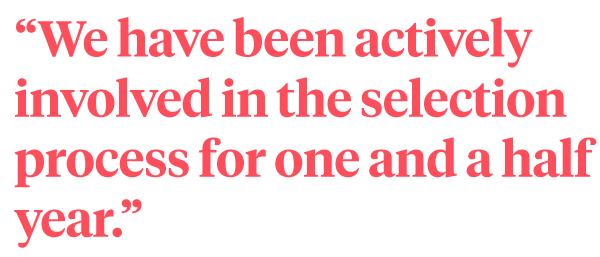 A Million Roses a Day...
It could well be a saying in the flower business: "A million Roses a Day... makes over 300 million a year." Those are huge numbers that Fresco Flowers submits. The unpackers have built their reputation over the years, gaining the trust of so many top growers from Africa to put their flowers to the market in optimal condition. Rift Valley Roses is one of the partner growers, responsible for almost twenty varieties of big head quality roses.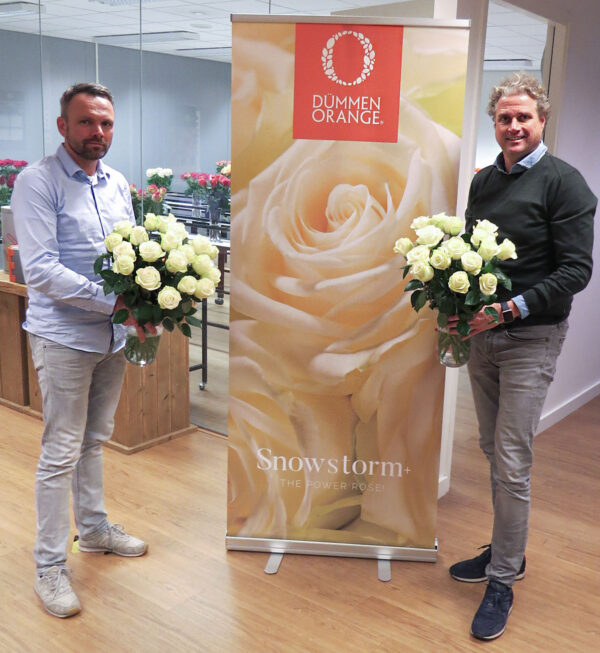 Exciting Times
These are exciting times at Fresco Flowers. Especially since they are on the verge of an exciting premiere of a new white rose, one that the market will embrace for sure. Jaap Buis: "We at Fresco Flowers have an intense relationship with 'our' growers. We are not their owners, not even the owners of their roses. We are the agent, the service provider, that takes care of a part of the cool chain. That starts at the airport of Nairobi, Kenya. We support the grower with their logistics, unpacking, marketing, and sales. Our focus is still for 90% on clock sales at Royal FloraHolland in Aalsmeer, which is quite unique these days, but we feel very comfortable with this way of marketing our roses."
Tough Selection Process
Fresco Flowers works with only the finest roses from the best African growers. That is why they do not simply jump on any train that passes by. They get involved in the selection process to be convinced that they put the right product at the auction clocks. Regular and reliable supply of big numbers is paramount for Fresco Flowers, and for Snowstorm+ this started with one hectare at Rift Valley Roses and a tough selection process.
Aart Buizer: "We have been actively involved in the selection process for one and a half year. During this period, we have tested four potential new white rose varieties on transportability, susceptibility to damage, flowering, bud shape, and so on.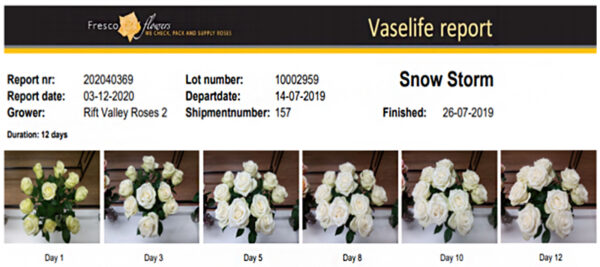 We are in close contact with the grower, who selects on production, growth, thorns, susceptibility to botrytis, and so on. After the test phase, all varieties are ranked and Snowstorm+ emerged as the best novelty. The flower head is beautiful, the flower opens fully and nicely, it has practically no thorns, so the specs are outstanding."
High Expectations
It may be clear that Fresco Flowers expects a lot from this new variety. Aart Buizer: "We are happy with the active role that the breeder Dümmen Orange plays in the development and promotion of this new rose. And we are equally happy that a grower like Rift Valley is involved. When we present a rose with their name on it, this adds value straight away. People know the brand and know its quality. Also florists will see this immediately."