The growers of Africalla have a long history of growing wonderful niche flowers. Their recent addition to this is Anigozanthos Skippy, a series of colorful kangaroo paws from breeder De Ruiter that are grown under perfect conditions in Kenya. Harry Rooijakkers, one of the farm's owners, tells what drives him and Africalla to grow smaller-scale products in general, and Anigozanthos Skippy in particular.
Anigozanthos a.k.a. Kangaroo Paw
There is something intriguing about anigozanthos, commonly known as 'kangaroo paw'. Something that snaps your attention, like a friendly alien that has just landed on earth, and you are caught between wonder and surprise.
Anigozanthos is a genus of Southwest Australian plants. Because of this origin, and of its unusual shape that does look like the forelimbs of a kangaroo, including the tiny hairs on it, they have been given their nickname 'kangaroo paw'.
It may surprise you that one of the world's top breeders of kangaroo paws is De Ruiter Innovations. Most floral professionals will know De Ruiter as a breeder of standard, garden, and spray roses. But they have some niche products as well, like rose hips, hydrangeas, hypericum, and... anigozanthos! And it may surprise you just as well, that one of the top growers of these flowers is located in Kenya.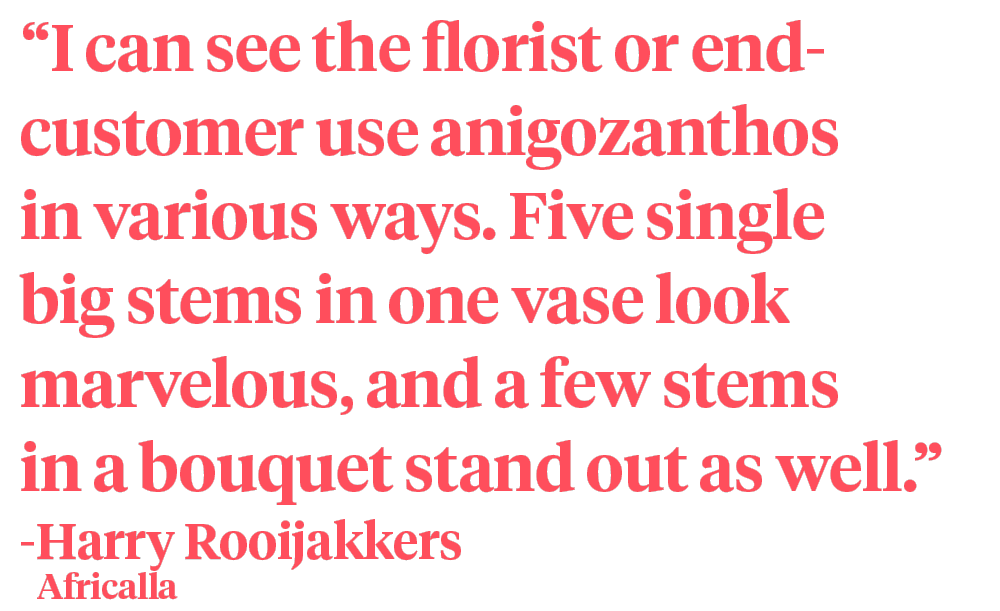 The Grower - Africalla
As the name suggests, Kenyan grower Africalla originally was a grower of callas. Five years ago Harry Rooijkakkers joined his son Geert to work for Africalla. After a year the production manager Geert and crop advisor Harry seized an opportunity to be the owners of this farm. Two years later, the calla production was halted to create room for niche products, like summer flowers.
Harry:
"We have considered changing the name of our farm but decided in the end to maintain 'Africalla'. Everyone knows Africalla, and the reputation of this brand is so good it would be a waste to discard it. However, the name Africalla is not always on the forefront anymore, since we have developed several new quality labels that carry the product lines. With labels like 'Exceptional' and 'Skippy', we want to show that we are the best in difficult-to-grow cut flowers.

Exceptional is a series that includes summerflowers like phlox, snapdragon, and matthiola. The Skippy series is reserved for our current and future varieties of anigozanthos."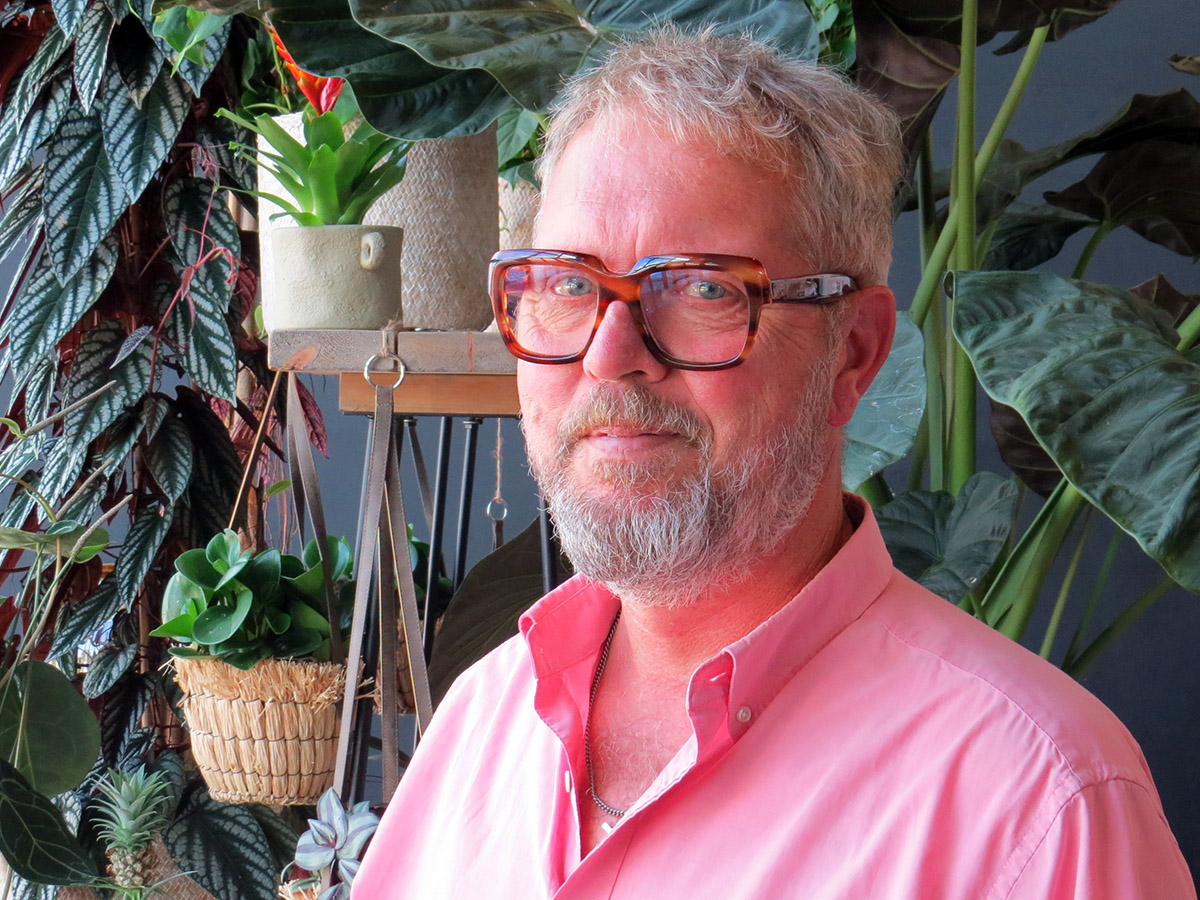 Anigozanthos Skippy
Just like it was not hard to guess where the name kangaroo paw comes from, it is also not difficult to imagine why a product line of cut flowers is called 'Anigozanthos Skippy', named after the famous bush kangaroo from the tv-series that aired in the late 1960s. Just like in the tv-series, Skippy is befriended by people, and so will the flower Anigozanthos Skippy be our floral friend.
The Skippy series has only been introduced recently with the colors Skippy Red and Skippy Yellow. But according to Africalla, more colors are on their way.
Harry:
"If you look at our farm in total, you'll see 3 hectares are greenhouses, and 25 hectares is open air cultivation. At this moment we grow seven varieties of anigozanthos, some indoors, some also outdoors.

To be honest, it took a while to get to know the anigozanthos. A first look puzzled us a bit because the flower does look odd. However, once we were accustomed to it, we saw more and more potential. The product itself grows easily in comparison to other flowers we have, and it needs very little help from chemicals to perform. From this perspective, I am convinced it's a very sustainable plant. And the plant never stops producing; when one stem is cut the next is already on its way.

The attention value of kangaroo paws in floral work is quite high. So, we are happy to have this product in our greenhouse and in open-air fields.

Skippy Red and Skipp Yellow are only available as greenhouse-grown. We have also varieties that can be grown both indoors and outdoors, like Skippy Gold and Skippy Orange that then get a more intense 'dark' color. We are so close to the equator and have the bright sun right above us throughout the day. These outdoor varieties are called slightly different: Skippy Dark Gold and Skippy Dark Orange."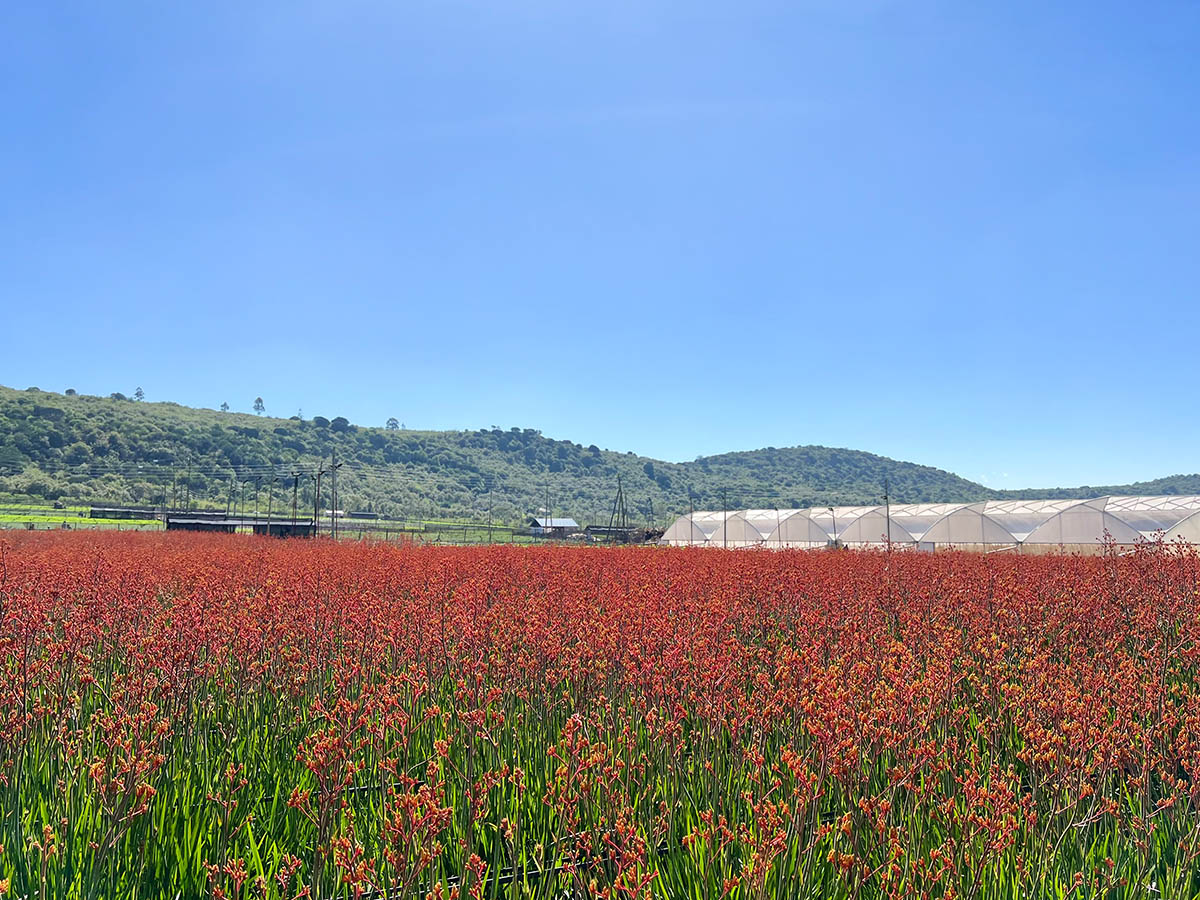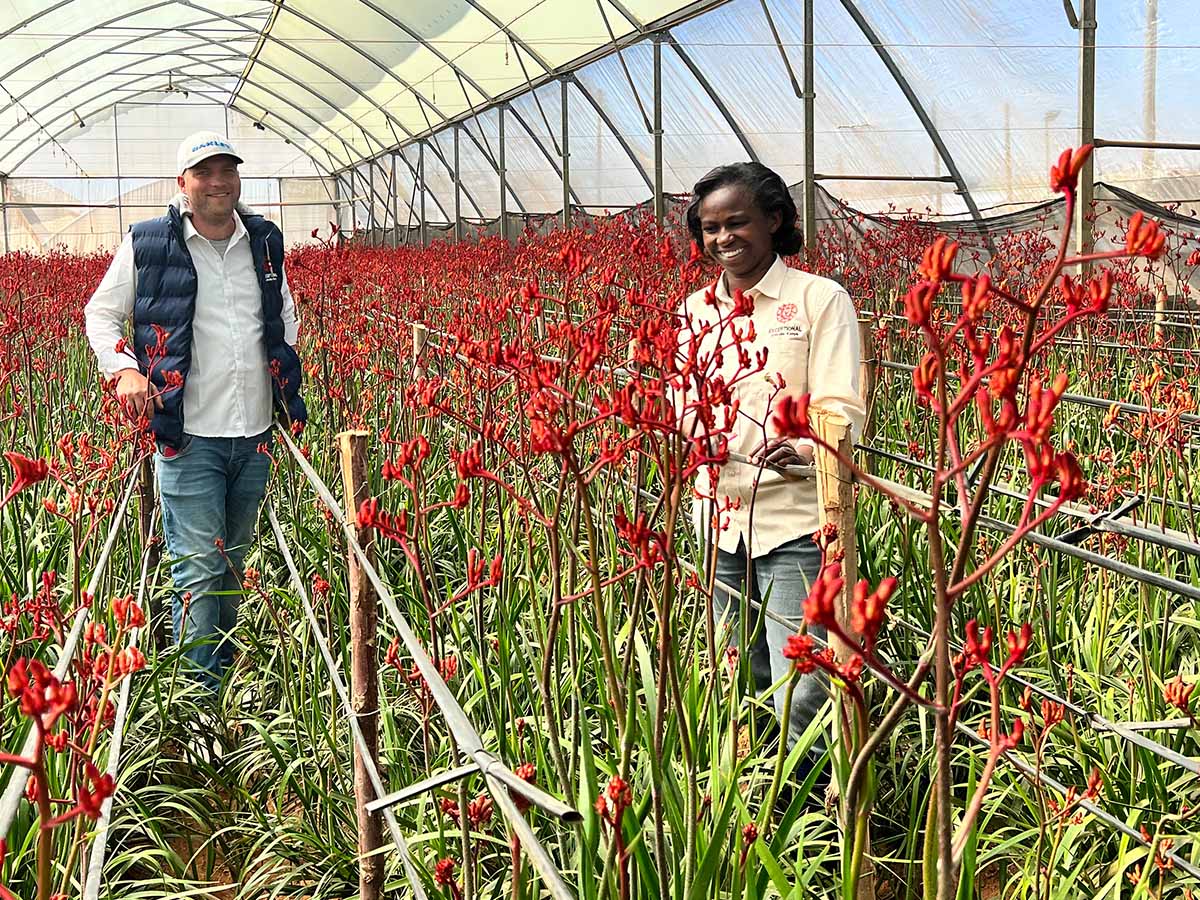 Note for buyers in the Netherlands: the name 'Skippy' is not allowed at the Royal FloraHolland auction clocks and the Floriday platform, because these anigozanthos varieties are on their own no unique species, but a quality label of grower Africalla.
Skippy for Florists
Naturally, besides the extensive testing at the Africalla facilities in Kenya, Harry tries all products at home. This is to develop an understanding of the use of this cutflower for wholesalers, florists, and consumers.
Harry:
"I can see the florist or end-customer use anigozanthos in various ways. Five single big stems in one vase look marvelous, and a few stems in a bouquet stand out as well. The bizarre shape of the flower makes the product loved by many florists and designers that want out of the ordinary. It is no surprise to me that, besides the big European market, a lot of these flowers go to the Middle East, China, and Japan."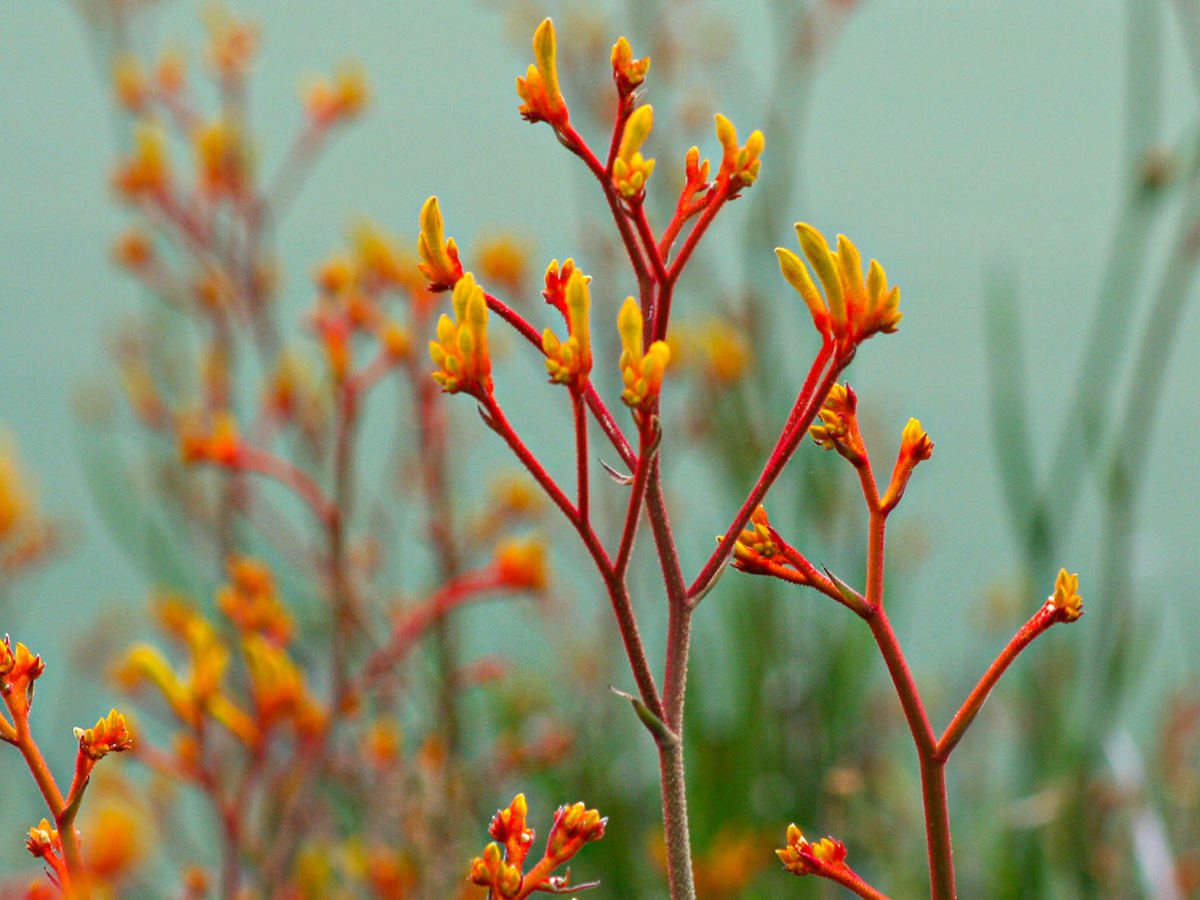 Skippy Novelties on Their Way
Be sure to keep an eye on Africalla and its kangaroo paws in the near future, because stunning new varieties are on their way, like Anigozanthos Skippy Yellow Gem, and the orange Sienna Gold.
Harry:
"Those are the colors for now. But we are busy testing black, grey, and green varieties. I know that there is a big demand for special colors like these, so we are keen to know how these will perform production-wise year-round. When testing is completed successfully, I expect to market these somewhere in 2024 or 2025."
Until then, all florists are invited to go and play with the current Skippy kangaroo paws.