Hitomi Gilliam AIFD
is a floral designer known worldwide for her warm talks about mechanics and art and especially a combination of both. She works in all aspects of the floral industry: as a keynote lecturer, as demonstrator, as educator, and as consultant.
How it Started for Hitomi
Hitomi has been part of the flower industry for 40 years already, and she has so much to share with all of us. She is a master in bringing people together. People of several specific fields for example, to share their views on certain floral matters such as combining several mechanics, the use of colors, different flowers, and of course, the art of creating new trends. There's always design involved when talking with Hitomi.
How Did Your Career in the Floral Industry Start?
"I began as a grower, specializing in fuchsias (grew over 300 varieties). We also grew bedding plants in the season for retail sales, tropical, cacti, and succulents the rest of the year. My ex and I opened a retail plant shop, selling tropical pots and hangers during the plant craze in the late '70s. We soon entertained the idea of cut flowers and flowering plant sales after several customers requested me to do their wedding flowers. I sought help from a retired florist friend – she showed me how to do my first wedding. I got started into floristry this way and Satsuki Growers, the plant shop – eventually became Satsuki Florist."
How Did You, and Do You Stay Passionate and Inspired in Floristry?
I started participating in design competitions within the first 2 years of the floral business. Competing kept me excited and interested in trying something new and getting creative with my merchandising, window displays, etc. It kept me highly motivated in the beginning.
Hitomi continues:
Traveling is something I really miss: doing design shows keeps you inspired to come up with new ideas, to keep on top of new concepts. To give you once more new insights to teach. Teaching made me come up with new useful ideas, a new creative approach to design, new mechanics, new techniques and to help students prepare for certification or to compete. Nature is a constant inspiration. Keeping eyes open to opportunities at all times to capture moments that provide ideas. Architecture and Fashion are parallel arts where I find some of the best inspirations. I am always on the lookout for outside influences for flowers.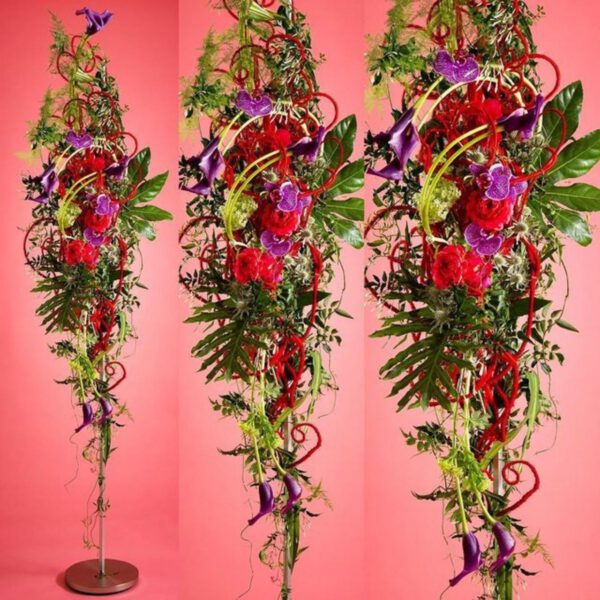 Did COVID Change Hitomi as a Person? And in Your Way of Working? Did Some Things Change for the Better?
"COVID allowed me to be home and enjoy it for the first time in my life. To watch daily the immediate surroundings and each day and season has been nothing short of joyous!!! It has allowed my son and I, time, to forge a new direction with our company... to re-think toward the future of our floral education model. We also have been able to figure out a path toward a great succession plan for our business!!! YAY!!!! Yes, definitely a change for the better, a more forward-thinking approach."
On International Women's Day, What is the Most Important Message You Want to Send out to Young Women in the Flower Industry?
"Would like to continue to bridge the age gap in sharing worthy experiences and life knowledge as well as floral knowledge. The active exchange of ideas will pave the way for women in the future."
Which Powerful Woman Do You Admire? And why?
"Powerful women, I admire... My favorite artist - Georgia O'Keeffe. My favorite poet/writer and civil rights activist - Maya Angelou. Women who found their worth... who lived and worked with a positive attitude and purpose. They did not allow others to intimidate them. I would like to see more women stand up for their belief and their contribution to humanity... it's for the greater good rather than about personal ego-driven success!!! Happy International Women's Day !!! Xxx💚💚💚"
Hitomi Gilliam Inspiration
hitomigilliam.com
for Creative Edge articles, and
YouTube.com/hitomigilliam
Also, there are recent workshops with Gregor, Wood Talks. Website:
elementsofInspiration.com
Mind and Hands in November, and currently Green talks 'Primavera' Also, her new educational series is to be found at
designingforexcellence.com
. Hitomi team teaches with a select group of educators on various topics. Hitomi also has a Patreon community at
patreon.com/hitomigilliam
. The patreons get various levels of extra access and content from Hitomi monthly. A monthly meetup on her Creative Edge article, another monthly meetup- a conversation with a notable personality. She also offers one on one hour with Hitomi also. A lot going on. Colin and Hitomi have been producing a lot of virtual programming on request - that's been the replacement for travel for her.