Generators are one of the best and most sought-after investments you can get for your home. Although appreciated and valued, generators tend to be bulky and big, making them impossible to keep inside your home. That said, keeping it outside, displayed for all passersby to see, also doesn't add to the aesthetics of your home and can even ruin your curb appeal.
Fortunately, you don't have to settle with your generator on full display outside of your home. Whether you have large gas-powered generators or backup portable power stations, this article shares how to effectively conceal this bulky equipment with creative landscaping ideas.
Formulate A Plan
Before you do anything, it's important to make a plan for the project. Make sure to consider factors including location and installation requirements of the equipment. When choosing an outdoor location, you may need to consider your neighbors since traditional generators are often noisy and generate exhaust fumes.
In terms of designing for concealment, you need to consider the amount of ventilation and air it requires. Also, take note of the level of protection it requires from the elements. You also need to provide regular maintenance and emergency operations, so make sure you have easy and quick access to the equipment.
Lastly, it's important to consider the rest of the environment so you can ensure the generator blends in well with its surroundings.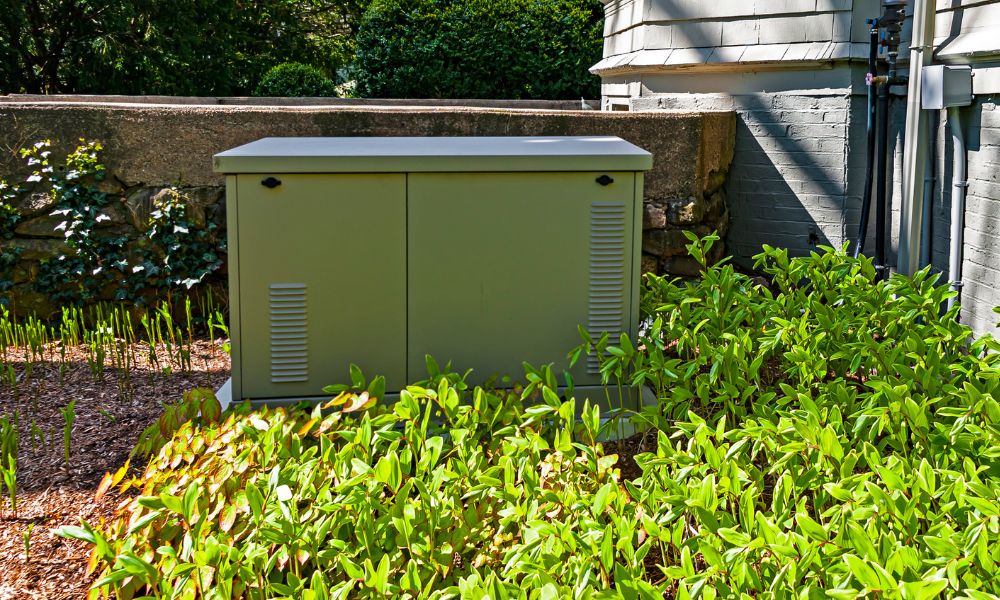 Landscaping Ideas To Hide Generators Outdoors
Hiding bulky generators with landscaping requires practical creativity. To help you get started, here are some ideas for inspiration:
Fence Or Encase It
A good option to hide a generator outdoors is to build a fence around it. A section of a pretty picket fence can disguise a bulky generator while providing an attractive backdrop for wispy ornamental grasses and bright flowers.
In addition, you can try a lattice enclosure fence and add creepers to add foliage and color to the lattice. You can also grow climbing roses or creeper veggies such as peas and beans to add extra functionality. This way, it can double up as a vine support structure and generator cover.
Or, you can also add a privacy fence that'll completely conceal the generator. You can paint it to match other structures in your yard or even decorate it with a mural painting. If you're completely enclosing your generator with a fence, make sure to add an access gate.
Use Plants And Shrubs
Sometimes, you don't need a casing at all and just use nature. It's relatively easy and effective to conceal generators using plants and shrubs. There are several ways to do this:
Plant Shrubs Or Small Trees
If you can safely plant around your generator, consider adding a row of small trees or tall shrubs. Choose species with unobtrusive and shallow root systems to prevent interfering with underground cables. Always keep the mature size of shrubs and trees in mind when calculating the proper distance from your generator.
A tight row of boxwood or arborvitae should do the trick. However, you can also use a mixture of evergreen shrubs and other flowering varieties to provide beauty while concealing bulky equipment.
Ornamental grasses grow wide, tall, and dense to effectively conceal generators. Its biggest benefit over shrubs is that these grasses can be cut down if any maintenance or repair is needed on your generator. You can rest assured that they'll grow back quickly too.
Adding a container garden is also a great way to use plants to hide your generator. What's more, potted plants don't require digging, which could damage underground cables. Plus, they're easier to move to access your generator.
You can use larger pots for more effective concealment. However, the bigger the pot, the more difficult it is to move. So, consider mixing with lightweight pots. You can also use containers on casters to make moving a lot easier.
Add Or Leverage Decorative Rocks
A simple way to hide generators, especially portable and smaller ones, is to use decorative rocks. You can extend your current landscaping by adding a rock garden, either with real or faux rocks. Using rocks doesn't require construction or destructive digging—you simply place them strategically around your generator. Make it stand out by combining it with potted plants.
Takeaway
As you can see, hiding your bulky generator doesn't have to be challenging, and you have several options to try. From a corner fence to carefully placed shrubs, you're sure to find a solution from the above pointers to cleverly disguise this bulky equipment. Once everything is in place, you'll even forget that your generator equipment was ever there.