Discover the enchanting beauty and allure of Mandevilla Diamantina Opal Citrine, a stunning addition to the world of horticulture that is taking garden enthusiasts by storm.
Before you rush to the stores and garden centers, hold your horses for a few minutes. First, let's get to know this wonderful garden and patio plant a little better. Dive into the fascinating history, captivating qualities, and reasons why this breathtaking plant is capturing the hearts of plant lovers everywhere. Prepare to be mesmerized by this vibrant and exotic gem!
A Sparkling Gem in the World of Horticulture
The journey of the Mandevilla Diamantina series began with the skilled team at Florensis, who set out to create a Mandevilla plant that would captivate gardeners with its beauty, resilience, and versatility. Combining traditional breeding techniques with cutting-edge technology, Florensis meticulously selected and crossbred the finest Mandevilla specimens, eventually culminating in the birth of the exquisite Diamantina Opal Citrine variety.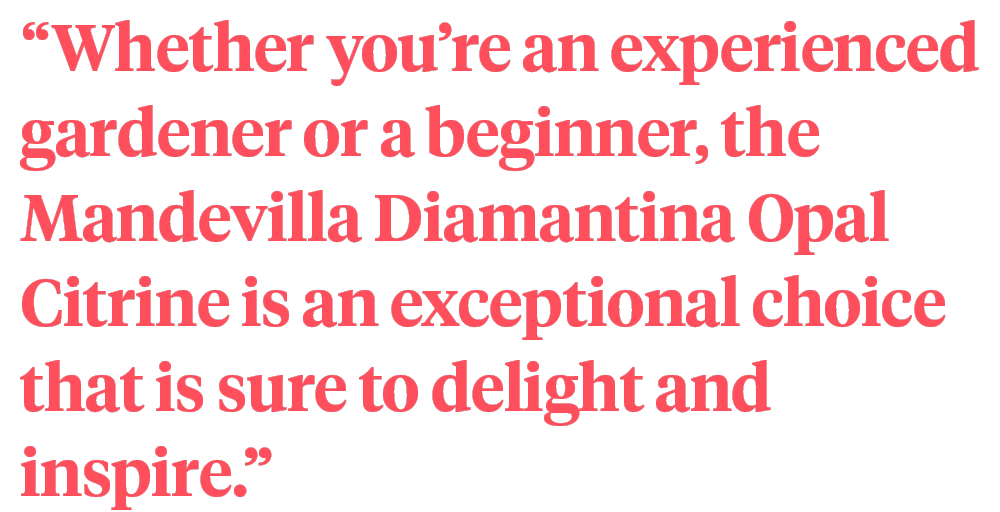 With its dazzling blooms, the Mandevilla Diamantina Opal Citrine is truly a sight to behold. This radiant plant is the result of years of dedicated breeding and refinement by first the Lannes family at breeding company DHMI. The Diamantina series was acquired in 2021 by Florensis, a world-renowned breeder known for its commitment to innovation, sustainability, and the pursuit of the highest quality plants. The Mandevilla Diamantina Opal Citrine is a testament to their passion and expertise, offering garden enthusiasts a unique and stunning addition to their outdoor spaces.
Boasting vibrant, trumpet-shaped flowers in a striking shade of rich yellow, the Mandevilla Opal Diamantina Citrine is a true showstopper. The plant's lush, deep-green foliage provides the perfect backdrop for its radiant blossoms, creating a stunning contrast that is both eye-catching and elegant. With its graceful, vining growth habit, this Mandevilla is an ideal choice for adding a touch of tropical flair and visual interest to any garden, patio, or balcony.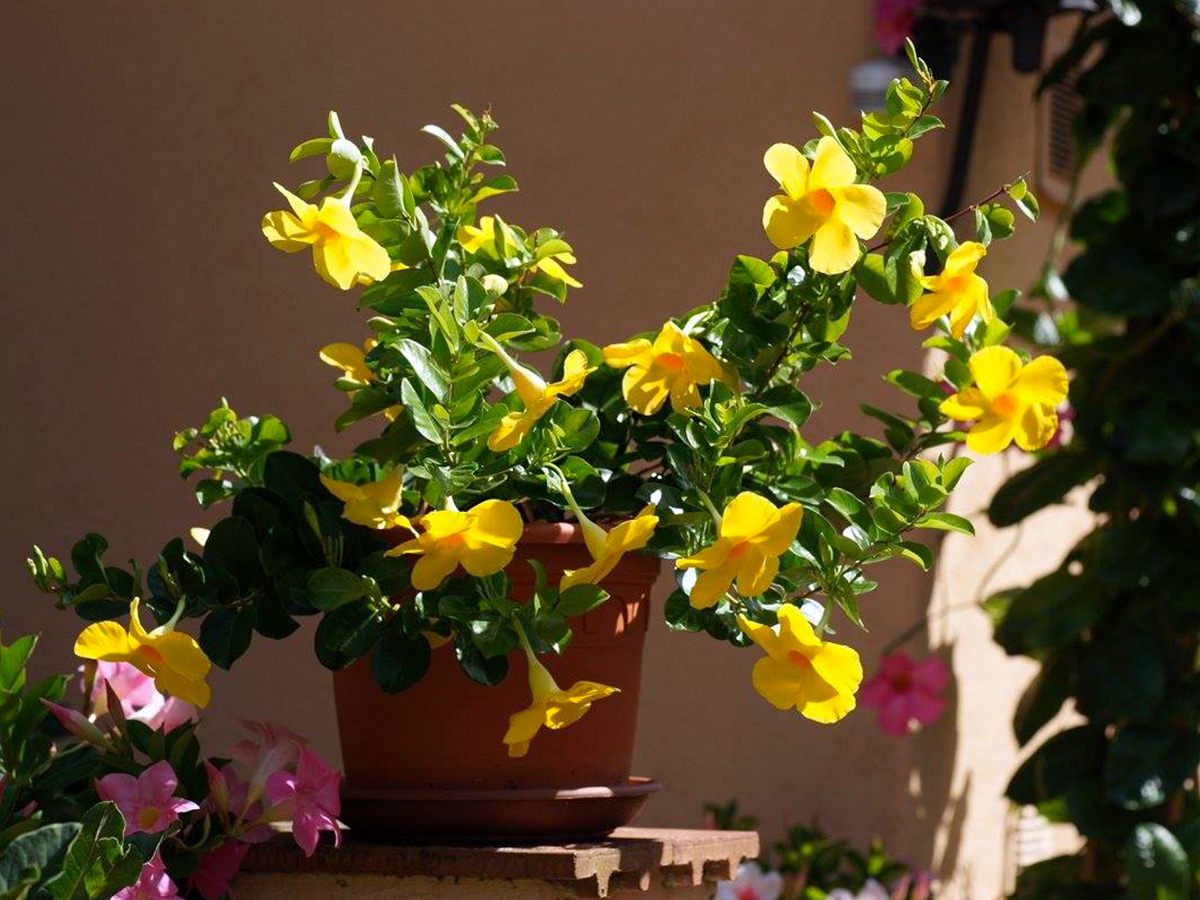 The Jewel That Keeps on Giving
Not only is the Mandevilla Diamantina Opal Citrine a visual delight, but it also boasts a range of features that make it a true standout among its peers. From its exceptional hardiness to its low-maintenance requirements, this dazzling plant is both practical and enchanting – a winning combination that has captured the hearts of garden enthusiasts everywhere.
Medium Vining
Opal is a medium vining series suitable for racks and pyramids. It is the market standard. Opal Citrine is an outstanding intense yellow variety which makes it a real eye-catcher in your shop!
Strength and Resilience: A Plant That Shines in Any Condition
One of the most remarkable features of the Mandevilla Diamantina series is its resilience and adaptability. This hardy plant is capable of thriving in a variety of environments, making it an ideal choice for gardeners in diverse climates and conditions. With a robust root system and a natural resistance to pests and diseases, the Mandevilla Diamantina Opal Citrine is a reliable and long-lasting addition to any outdoor space.
Low-Maintenance Luxury: Effortless Beauty for the Busy Gardener
In today's fast-paced world, finding the time to maintain a thriving garden can be a challenge. That's where this Mandevilla truly shines – with its low-maintenance requirements and easy-care nature, this gorgeous plant is perfect for those seeking beauty and elegance without the added stress of labor-intensive upkeep. Simply provide the Mandevilla Diamantina Opal Citrine with a sunny spot, well-draining soil, and regular watering, and watch as this exquisite plant rewards you with an abundance of vibrant blooms all season long.
A Magnet for Pollinators: Supporting a Healthy Ecosystem
Beyond their undeniable beauty and resilience, Mandevillas also serve an essential ecological role. With its bright, showy flowers, this plant is a powerful magnet for pollinators such as bees, butterflies, and hummingbirds. By incorporating the Mandevilla Diamantina Opal Citrine into your garden, you'll not only enjoy its stunning visual appeal but also contribute to a healthier ecosystem and support the vital work of these beneficial creatures.
Embracing the Magic of Mandevilla Diamantina Opal Citrine
As more and more garden enthusiasts discover the enchanting beauty and practical benefits of the Mandevilla Diamantina Citrine, its popularity continues to soar. Whether you're an experienced gardener seeking a unique addition to your collection or a beginner looking to add a touch of luxury to your outdoor space, the Mandevilla Diamantina Citrine is an exceptional choice that is sure to delight and inspire.
Joining the Mandevilla Community
By choosing to get and grow the Mandevilla Diamantina Opal Citrine, you're joining a passionate community of garden enthusiasts who have fallen in love with this exceptional plant. From swapping care tips and tricks to sharing awe-inspiring photographs of their radiant blooms, the Mandevilla fans are all over the internet, sharing their gems on socials. Just check your Insta and Facebook and you'll be bedazzled by how many like-minded people love the Mandevilla.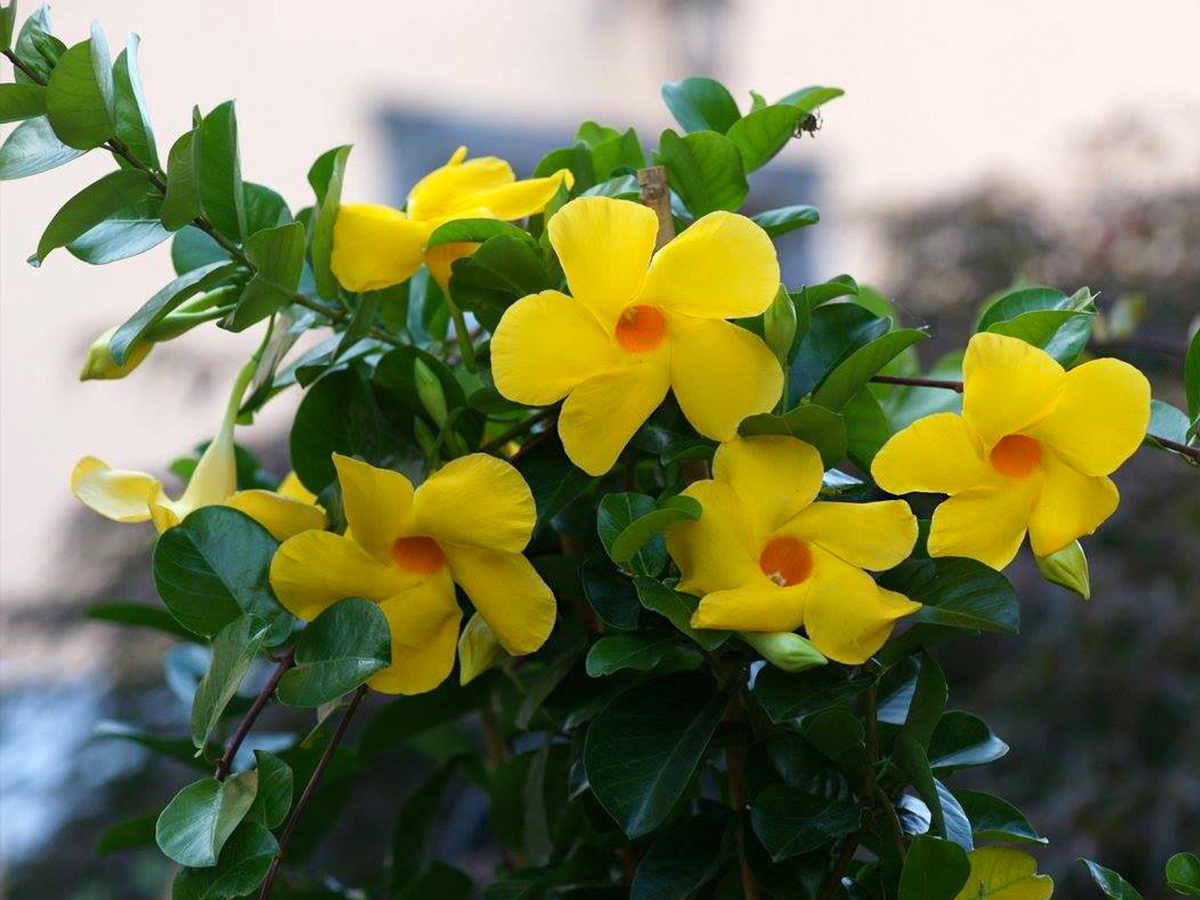 Bring Home Your Very Own Gem
Ready to experience the magic of Mandevilla Diamantina Citrine for yourself? Visit your local garden center or nursery to find this stunning plant, and let the team at Florensis guide you on your journey to creating the garden of your dreams. With its captivating beauty, hardiness, and low-maintenance nature, the Mandevilla Diamantina Opal Citrine is a true gem that will brighten your day and elevate your outdoor space to new heights of elegance and sophistication.
Header and feature image by Lannes.