Today's modern offices are ever busy. Deadlines are always looming and stress levels ever soaring. It would, therefore, come as little surprise that some bit of nature's colors can work wonders. Imagine stepping into an office filled with colorful flower hues and lush greenery. Wouldn't that be quite a sensory retreat that stimulates the mind?
Definitely, the colors of different indoor plants and flowers wield quite a significant amount of power on the psyche and emotions of employees, and other users and clients alike. Different colors are capable of transforming mundane offices into a dynamic workspace that radiates both positivity and efficiency.
The Art of Color Psychology
The art of color psychology is the study and application of how colors can influence human emotions, behavior, and perceptions. Colors have long been known to have the power to evoke different feelings and reactions, and understanding their psychological impact can be incredibly valuable in fields such as art, design, marketing, branding, and even psychology.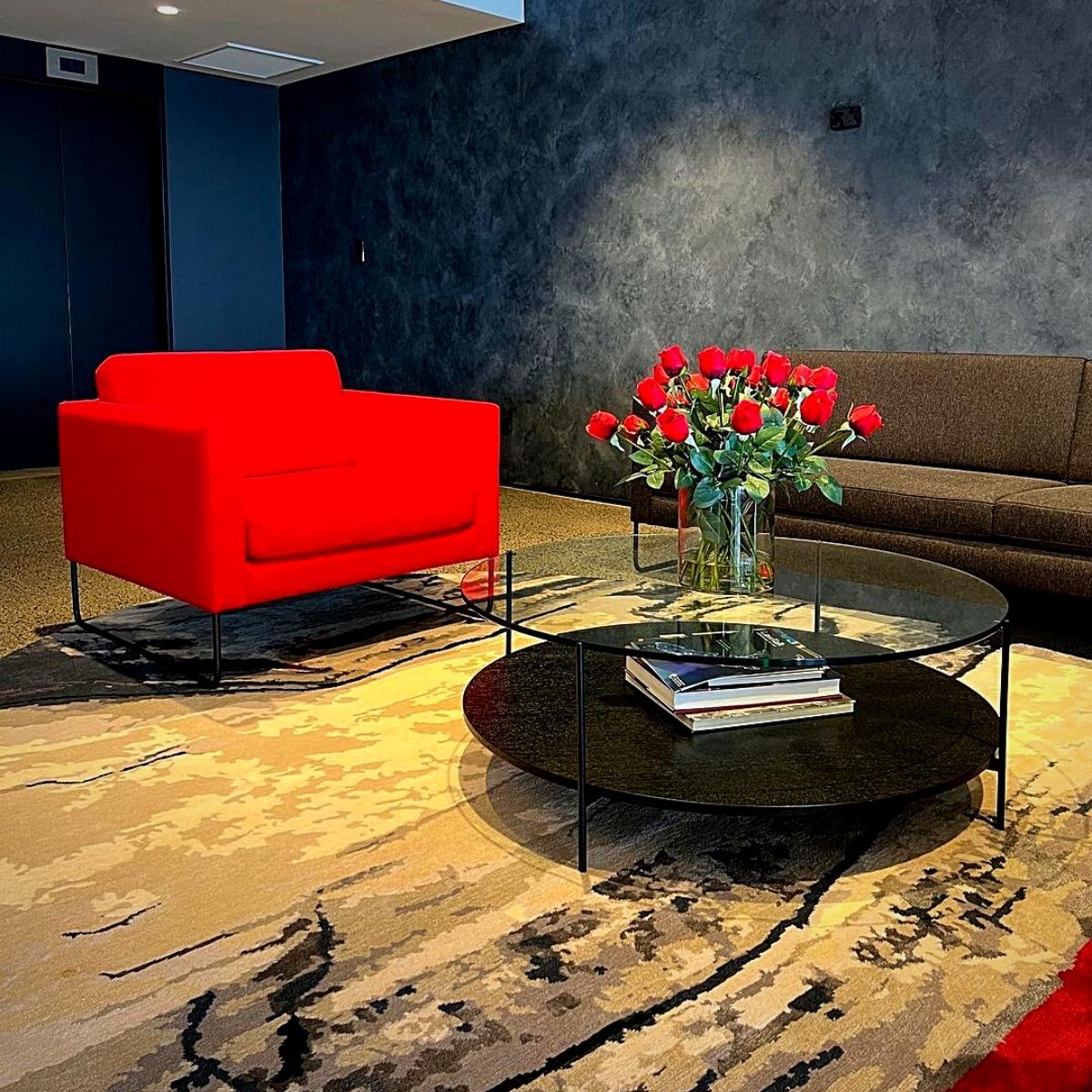 This concept involves a deep understanding of how colors can impact human mentality, as well as a willingness to explore and experiment with color choices to achieve desired emotional and behavioral responses. It is a dynamic and creative field that combines science, aesthetics, and human psychology to create both powerful and meaningful experiences.
Some key aspects of the art of color psychology are:
Emotional Associations
Different colors are often associated with specific emotions. For example, blue is commonly linked to feelings of calmness and serenity, while red can evoke emotions like passion or excitement. These associations are often influenced by cultural and personal factors.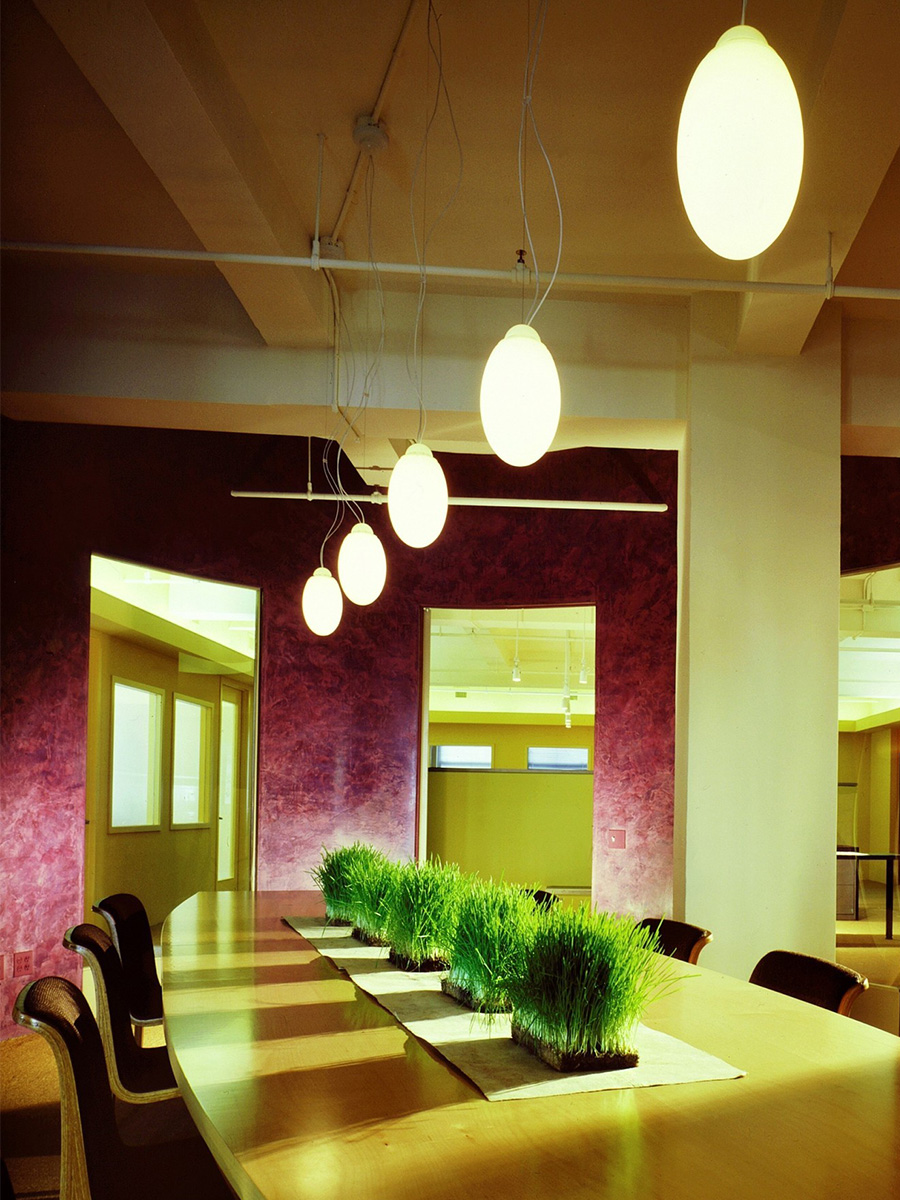 Cultural Contexts
Colors can have different meanings in various cultures. For instance, white is often associated with purity and weddings in Western cultures, but it represents mourning in many Asian cultures. When working with color psychology, it's important to consider the cultural context of audiences.
Personal Experiences
Individual experiences and memories can shape personal responses to colors. A color that's associated with a positive memory for one person might evoke a different emotion for someone else.
Color Combinations
The way colors interact with each other can also affect emotions. Complementary colors - those opposite each other on the color wheel - can create a sense of balance and harmony while contrasting colors can add energy and visual interest.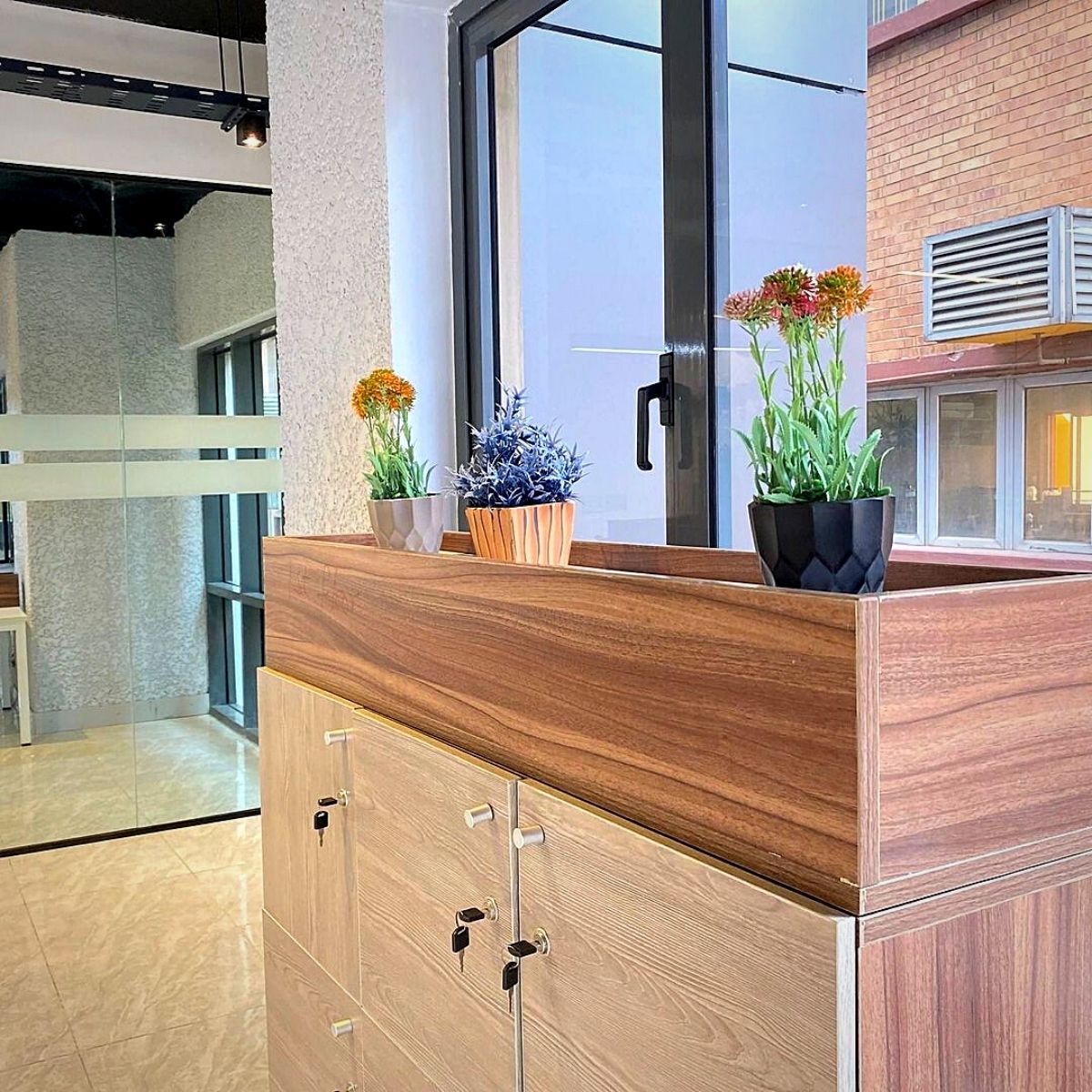 Context and Application
The context in which colors are used plays a significant role in their psychological impact. For example, a bright red might be attention-grabbing in a marketing campaign, but it could be overwhelming if used excessively in interior design.
Branding and Marketing
Companies often use color psychology in branding and marketing to evoke specific emotions and create a certain perception of their products or services. Think about how fast food chains often use red and yellow to stimulate appetite and create a sense of urgency.
Design and Creativity
Artists, designers, and creatives leverage color psychology to create visual experiences that resonate with viewers. The choice of colors in a painting, a website design, or a clothing collection can all communicate different messages and elicit distinct emotions.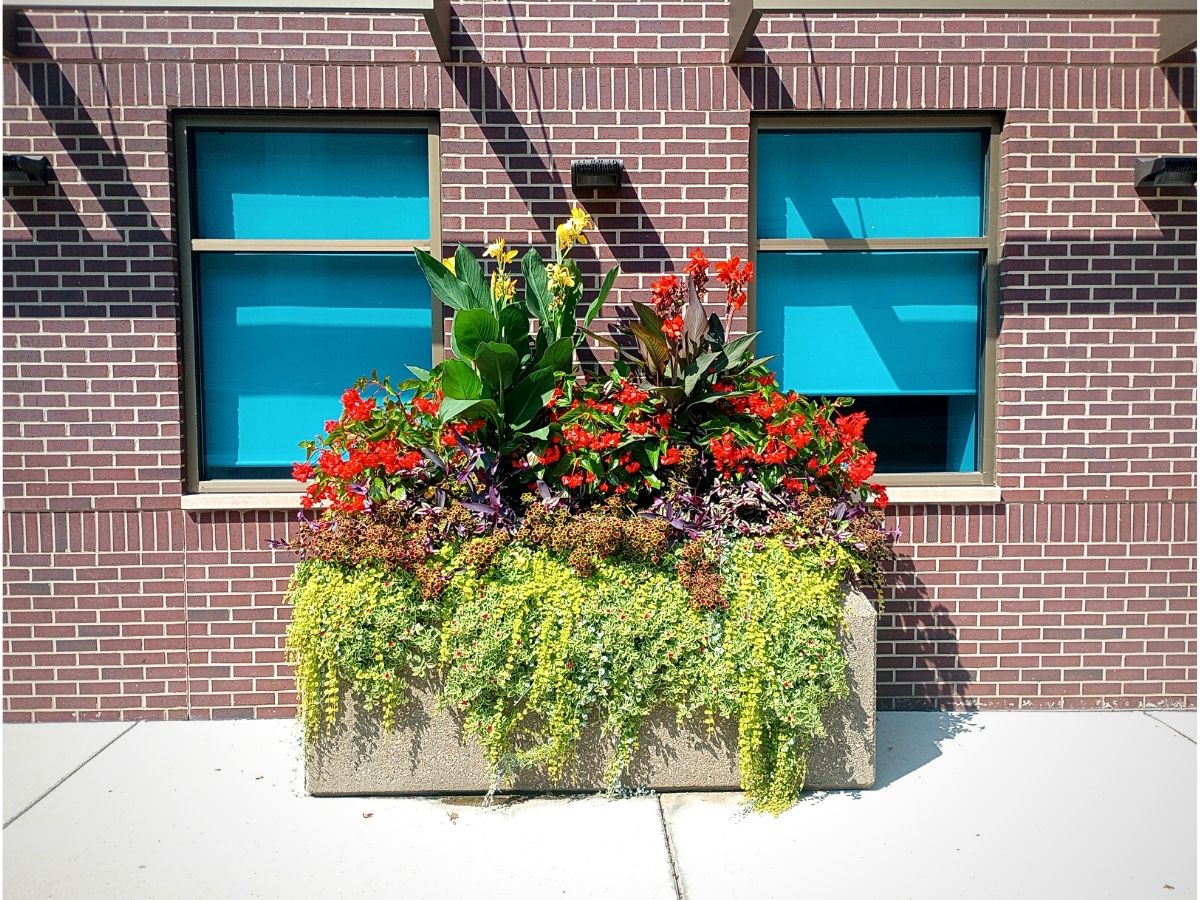 Environmental and Therapeutic Applications
Color psychology is also applied in environmental design and therapeutic settings. Certain colors are believed to promote relaxation and healing, which is why they might be used in spa interiors or healthcare facilities.
Gender and Age Differences
Color preferences can vary based on gender and age. For example, young children might be drawn to bright, vibrant colors, while older adults might prefer more muted tones.
Experimentation and Interpretation
While there are general trends in color psychology, individual responses to colors can vary widely. Experimentation and personal interpretation are key components of utilizing color psychology effectively.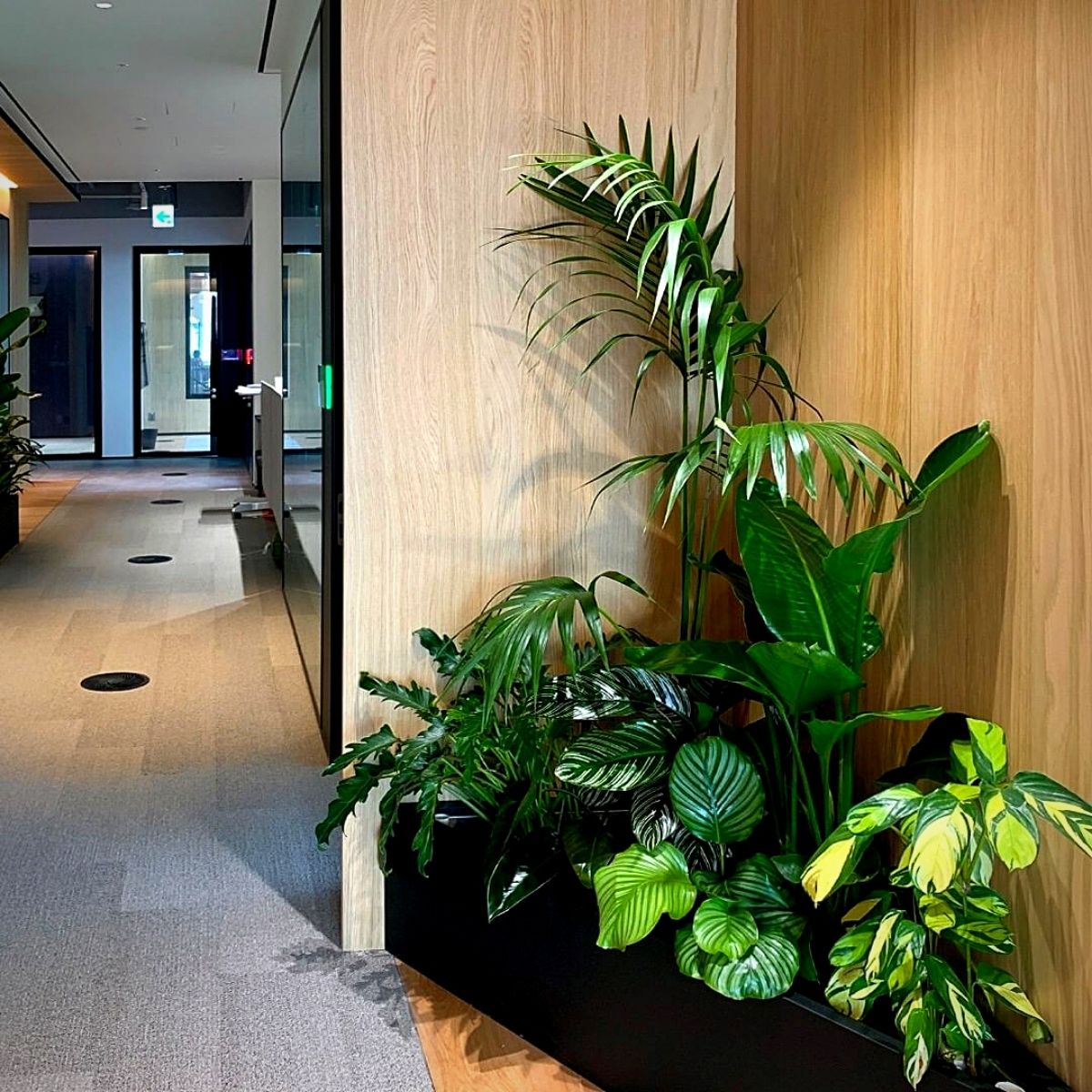 Flower and Plant Colors and How They Influence Work Positivity and Productivity
Different colors have different ways through which they influence emotions and stimuli. When it comes to plants and flowers, these colors seemingly have the same effects, more so when placed in different places within the workspaces such as offices, lobbies, and even hallways. These are:
The Calming Effect of Green
Symbolic of nature's harmony and growth, green plants are known to inject a sense of tranquility and balance into the office environment.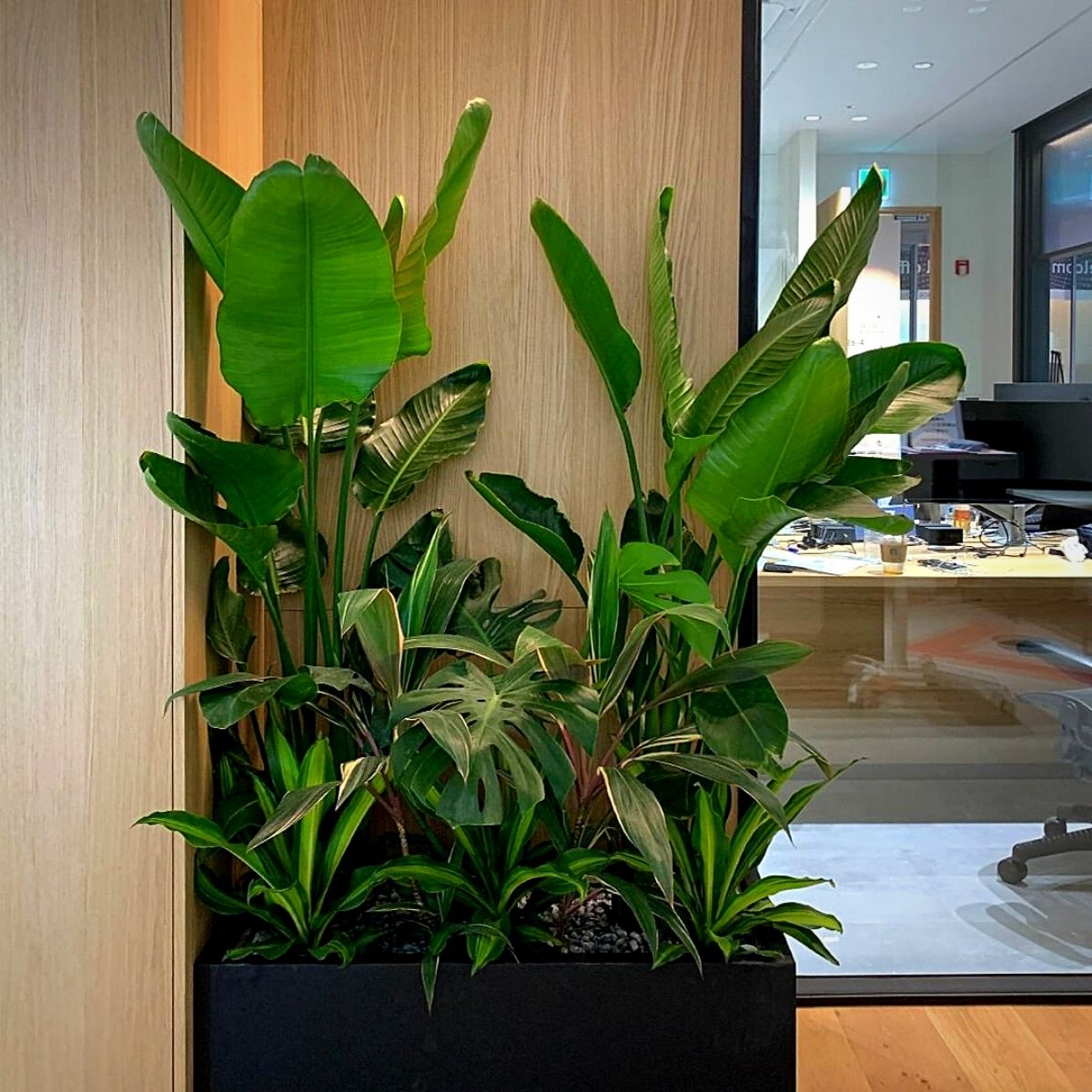 Studies have shown that the presence of greenery can reduce stress and enhance focus, creating a serene backdrop against the daily hustle and bustle of the office.
Arresting the Workplace Blues
While blue might not be the most common color among plants, its calming influence cannot be ignored. Blue flowers, with their serene and soothing aura, can usher in a sense of peace that helps employees maintain their cool amidst deadlines and pressures.
A touch of blue in your workspace is quite akin to a mental spa day. It rejuvenates the mind and paves the way for increased productivity. Blue-hued flowers in a vase are particularly ideal for this purpose.
Radiant Rays of Yellow
Yellow is the color of sunshine and optimism. Picture a vase of yellow blooms gracing your desk, on a Monday morning and filling the office with a cheerful vibe. That's hard to resist, isn't it?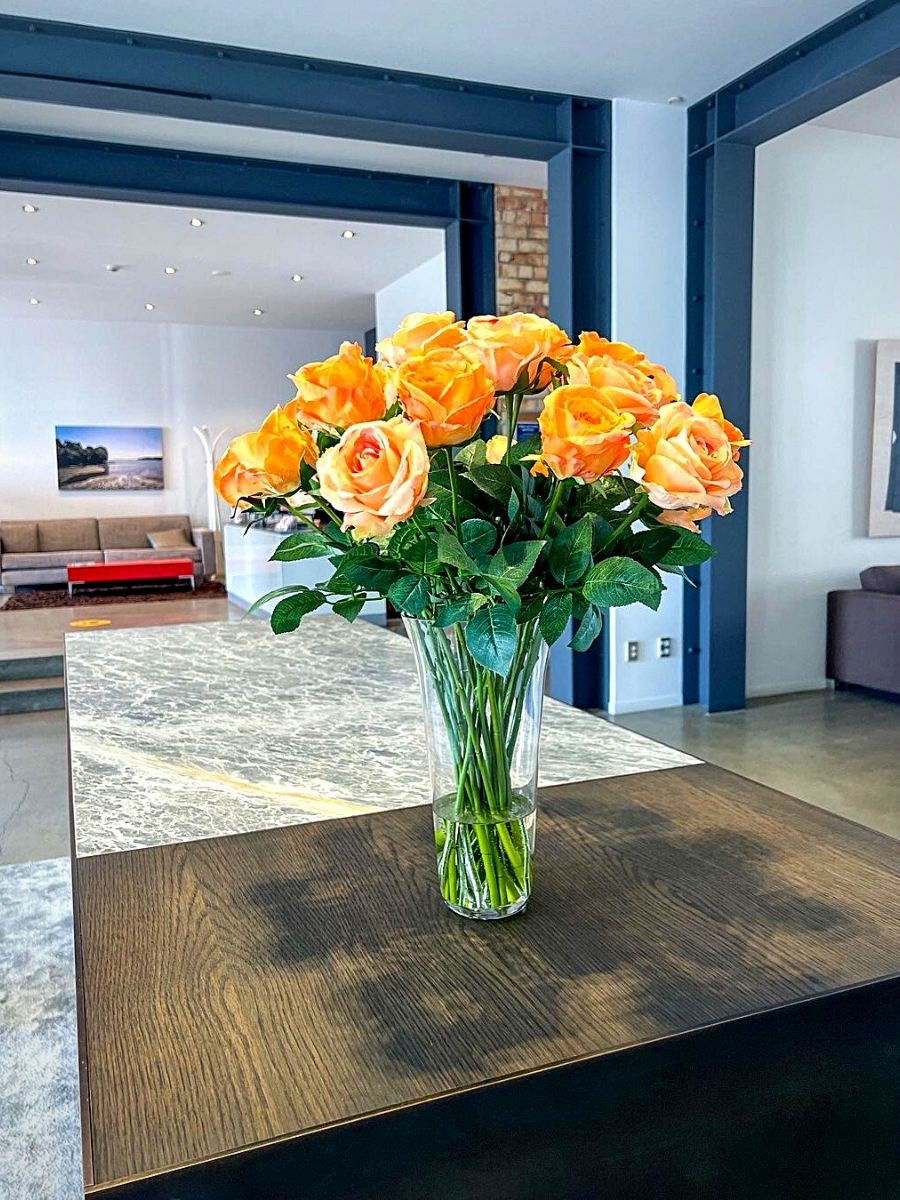 The radiance of yellow flowers is a potent mood lifter that injects doses of positivity and sparks creative flames that might have otherwise flickered out.
The Royal Elegance of Purple
Purple is ideally acknowledged as the color of creativity and luxury. It, likewise, finds its purpose amidst the green and vibrant plant and floral elements that uplift work mood and positivity.
A well-placed arrangement of purple flowers can be a catalyst for innovative thinking, sparking the imagination and fostering an environment where ideas freely flourish.
A Serene Sanctuary of White
White flowers, with their ethereal beauty, contribute to a serene ambiance that promotes mental clarity. They bring out a fusion of color and mood in an office space, creating peacefulness and clarity of the mind.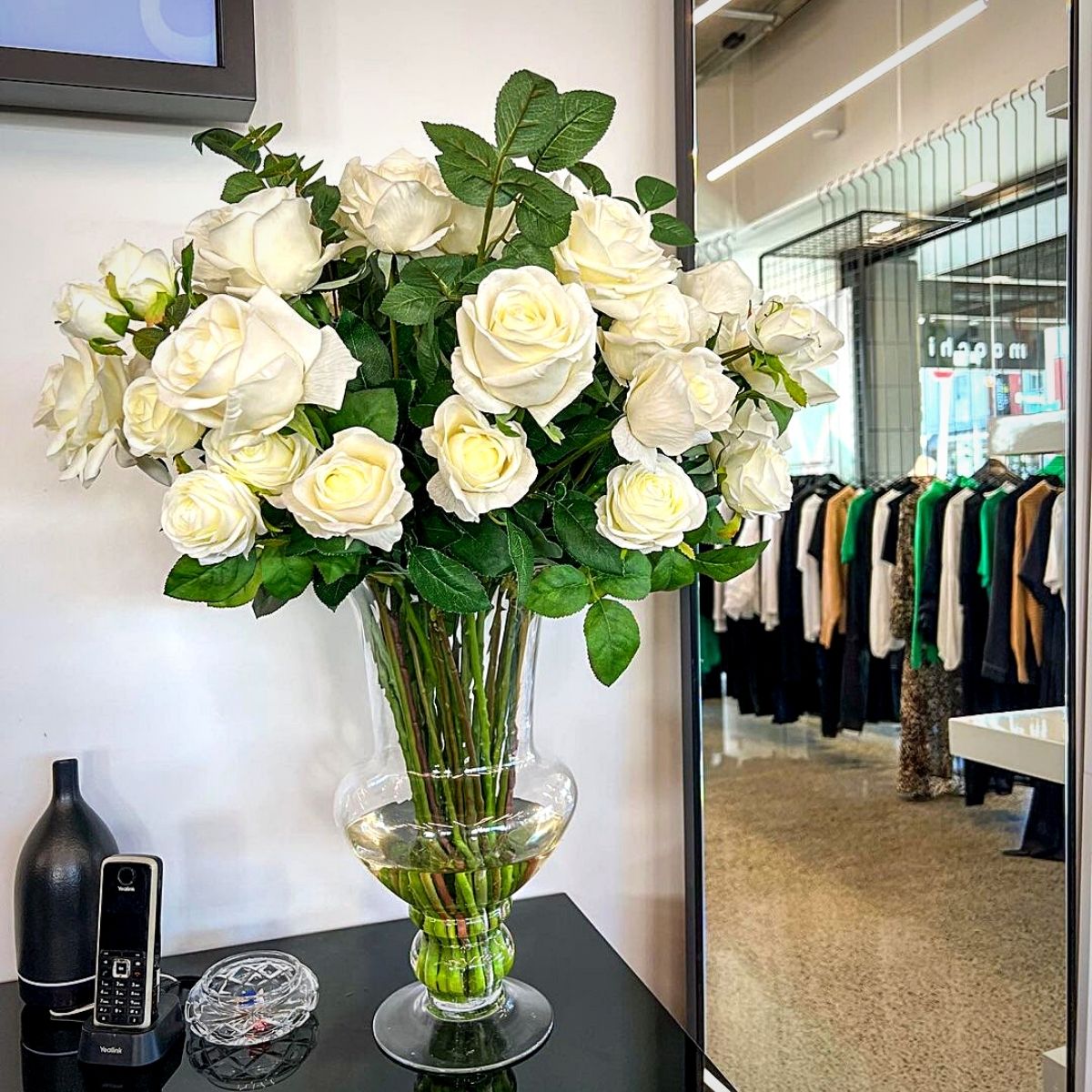 Picture a scene where numerous deadlines need to be met, or loads of data needing to be processed, and a touch of white would definitely act as a visual balm that soothes overworked minds and provides a respite from this chaos.
The Fiery Passion of Red
Red is the color of passion and has the potential to bring energy and passion into an office space. However, the key is using it in moderation. Too much red can tip the balance into overstimulation, but the right amount can invigorate and motivate, and spark the embers of determination and drive.
Moderate use of red flowers, and plants that have red-colored leaves such as red-leafed Japanese maple, red fountain grass, and varieties of celosia and begonia, among numerous others have the effect of revitalizing passion for work in the office space.
The Vibrant Euphoria of Orange
Orange is a color associated with a vibrant fusion of energy and enthusiasm and also has its place in the spectrum of office colors. Its effects come out in the form of a burst of citrusy delight.
Orange flowers can definitely rejuvenate the senses, generating an atmosphere of warmth in the office and hence a kind of inspiration that fuels the pursuit of goals.
Striking the Balance Between Color Practicality, Aesthetics, and Preferences?
While color psychology provides a foundation for the colors you can deploy in an office, individual preferences also play a significant role in shaping the office environment.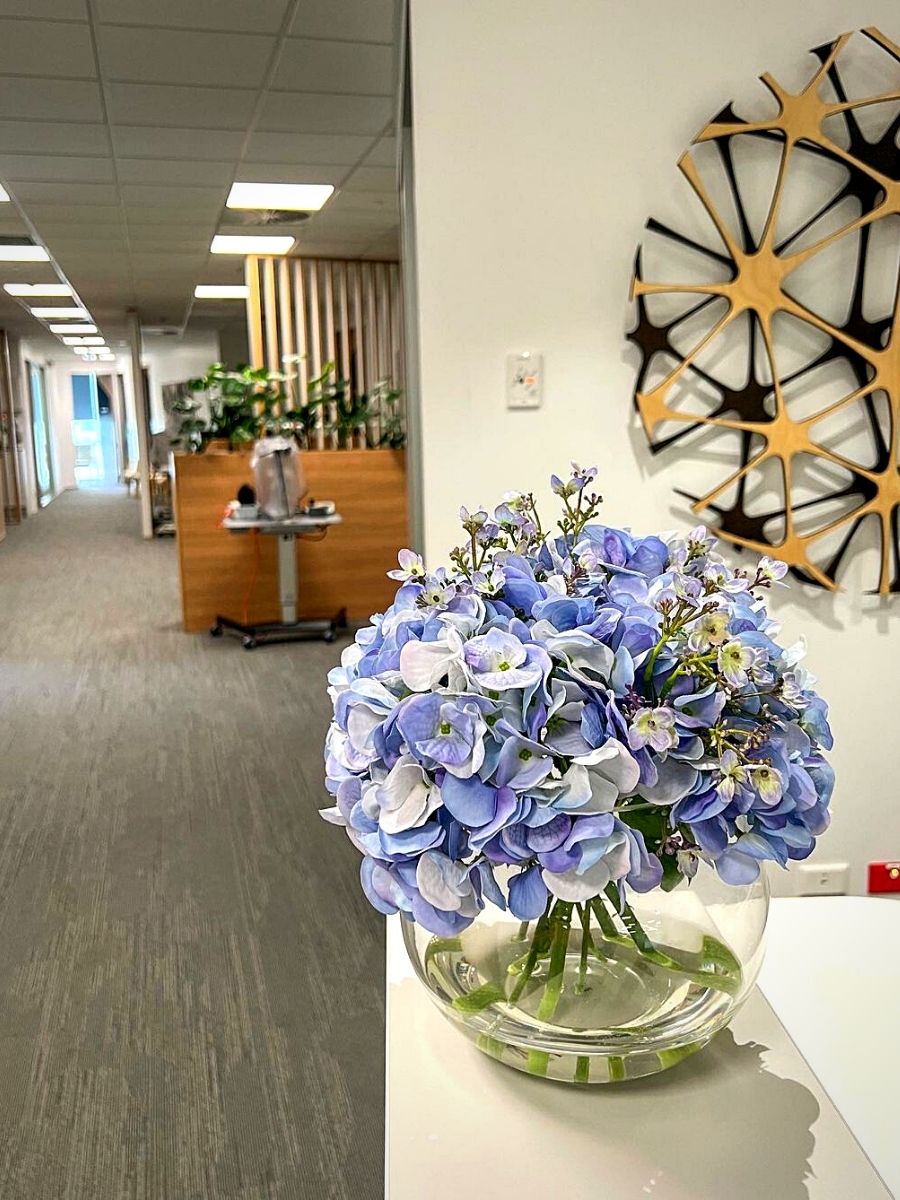 The choice of colors should align with the company's culture and the personal tastes of the employees. A working mix of color psychology and personal touch, therefore, ensures a space that resonates with everyone and hence a sense of ownership and connection.
Also, beyond aesthetics, practicality is important as different plants have varying maintenance requirements, and their longevity impacts the overall impact on the workspace.
Choosing hardy plants that match the color scheme ensures a long-lasting and visually appealing environment.
Consequently, as flower and plant colors permeate the office with their effects, a symbiotic relationship between the mind and body emerges that results in reduced stress, improved focus, and enhanced mood. Employees, thus, find themselves in an environment that nurtures both their mental well-being and their ability to tackle tasks efficiently.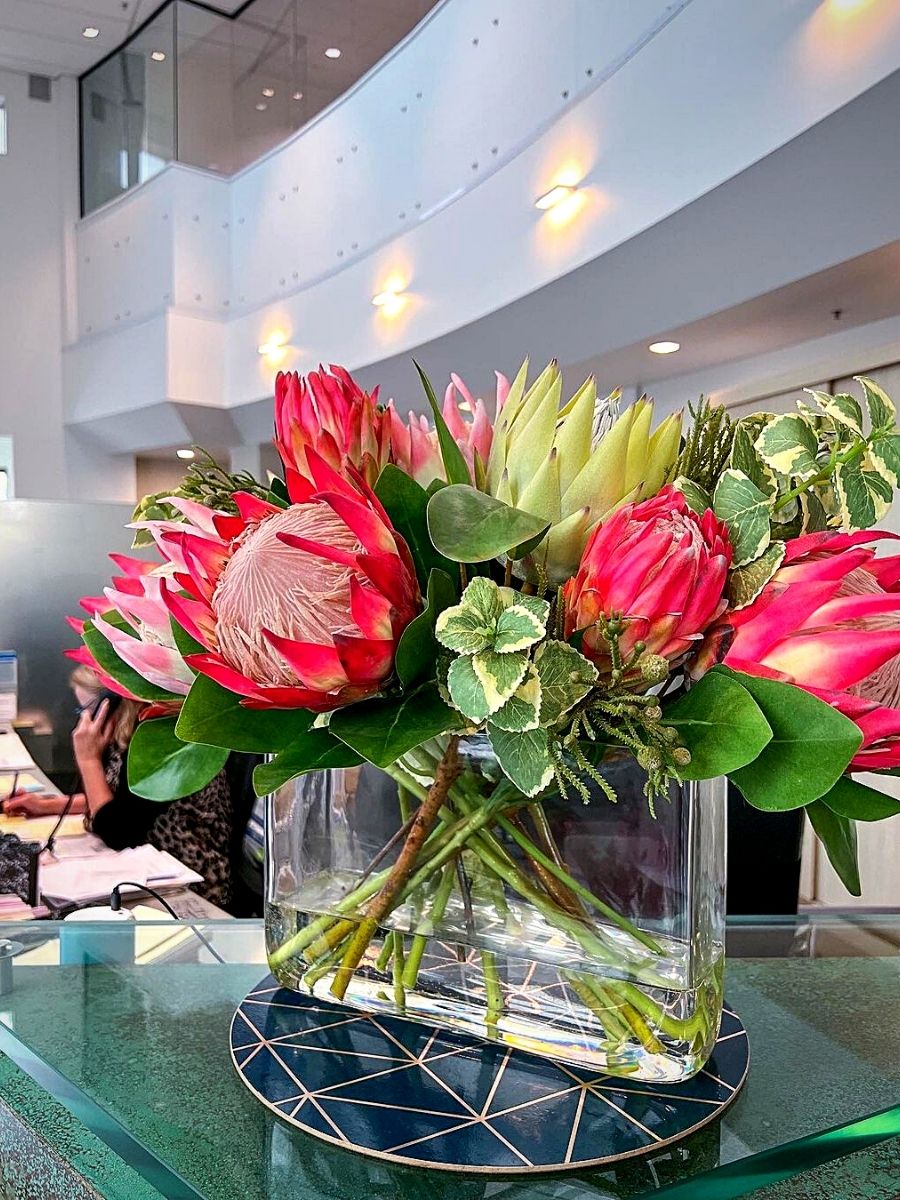 Similarly, the right colors can awaken dormant creativity. With a color scheme inspired by nature, minds are encouraged to explore previously unexplored territories and think beyond boundaries. The result is a surge of innovation and fresh ideas that bring new life into the company's projects.
The Ripple Effect of Plant and Flower Colors on Productivity
Positivity and creativity lay the foundation for heightened productivity in a workplace. A workspace that has ideal flowers and plants in the most ideal colors and hues resonates with the human psyche and creates an atmosphere where employees are not just punching the clock, but actively engaging and contributing to the company's growth.
The art of incorporating colors of indoor plants and flowers into the office might seem trivial, yet its impact is profound as the dynamic interplay of the colors intertwines with human emotions, sparking positivity and productivity.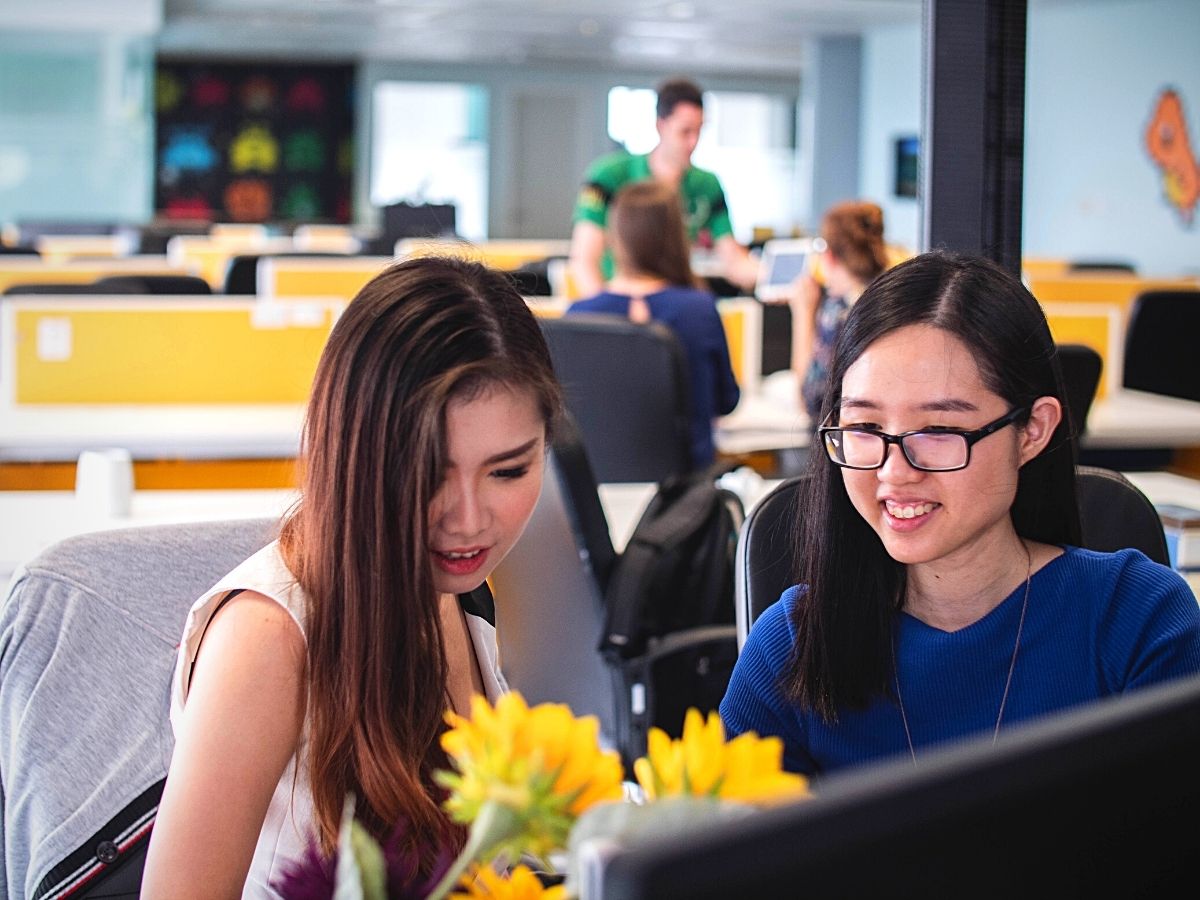 This is not just about aesthetics, but about creating an ecosystem that nurtures the human spirit and an environment where work becomes an inspiration for creativity and achievement.
Also worthwhile to note is that individual preferences and responses to color can vary, so it's important to consider what works best for everyone.
Feature image by @daquinomonaco, header image by @waysidegardens.