Color-enhanced flowers are a medium in which floral designers can transcend beyond the leaps and bounds of traditional floristry with flowers in unimaginable colors. In a fantastic collaboration between Blumenhaus Denver and the Hippy Psychedelic Roses from Jet Fresh Flower Growers, flower art reaches intergalactic heights.
Intergalactic Flower Art by Blumenhaus Denver
Hippy Psychedelic Roses from Jet Fresh Flower Growers are amazing. The availability of them encourages flowers used as an artistic medium. Jet Fresh is constantly coming out with new colors and varieties with the intention that they will resonate with the floral community and inspire them to express themselves in fun, new ways.
Styled Shoot With Hippy Hippy Psychedelic Roses
Floral design artist, Ibarra Valen of Blumenhaus in Denver, CO. was recently inspired by Jet Fresh Flower Growers' Hippy Psychedelic Roses to create her latest styled shoot. Known for her fresh use of colorful flowers that are out of this world, she showcased Intergalactic Flower Art. This idea, she describes as her floral design style.
The cosmic photoshoot features roses from the new Healing Stone collection. "When I saw the line launch, I was in complete awe," said Ibarra, who has used healing stones since she was in high school and was interested in designing with the roses as a result. She colorfully arranged the roses with cut flowers and included her own natural healing stones to create a floral motif that's aimed at the stars.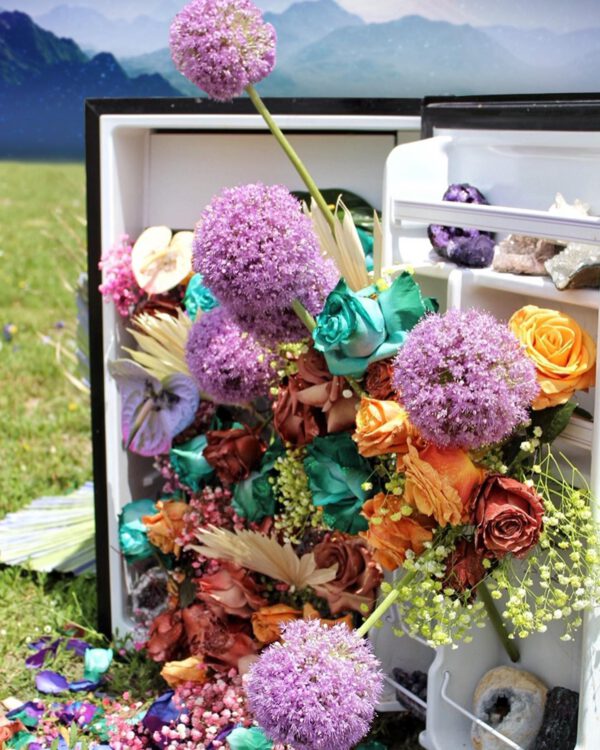 Color-Enhanced Flowers
"I love color-enhanced flowers," said Ibarra, who has worked with color-enhanced flowers on many occasions, and isn't shy about playing with vibrant colors. "I feel like once you use them you can't go back to normal flowers," said Ibarra.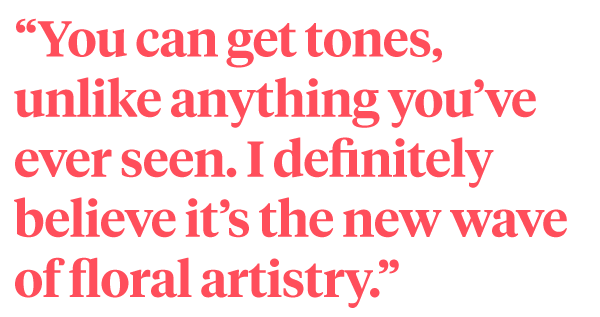 Not only do Jet Fresh Flower Distributors supply Hippy Psychedelic Roses from Jet Fresh Flower Growers, but they also supply a wide range of color-enhanced fresh and preserved/dried flowers and greenery. Ask your sales rep about all the color-enhanced options available for your floral needs.
"It's amazing what can be done with color enhancements," said Ibarra. "You can get tones, unlike anything you've ever seen. I definitely believe it's the new wave of floral artistry."
Healing Stone Roses
The Healing Stone Collection is inspired by natural healing stones and color-enhanced to resemble their unique features. Although these roses don't contain actual healing stones, they're still inspirational with invigorating colors and endless design possibilities. Learn more about the varieties featured in this photoshoot.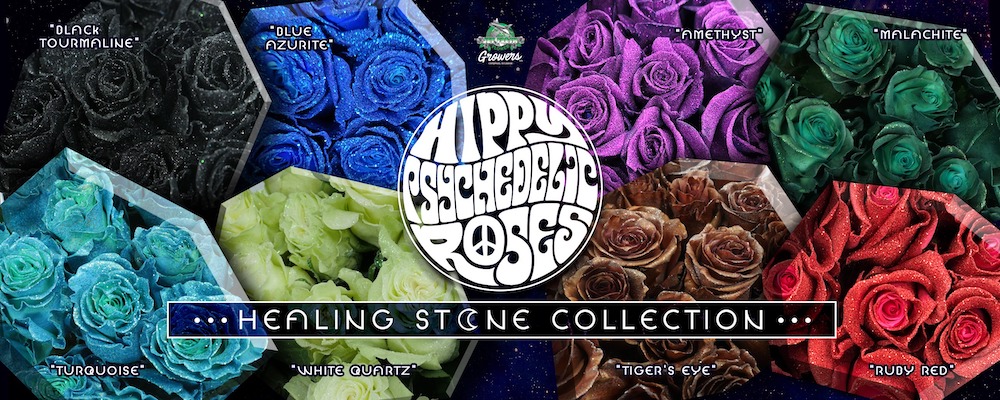 Malachite is a stone of transformation that promotes energy and growth. These roses are color-enhanced in shades of green and topped with glitter. Tiger's Eye is a protective stone that helps release fear and take action. These roses are color-enhanced with a copper brown and flecks of golden yellow.
Citrine is an energetic stone that attracts wealth and prosperity. These roses are color-enhanced in shades of honey yellow and topped with glitter. Amethyst is a healing stone that cleanses negative energy and promotes inner peace. These roses are color-enhanced purple and topped with glitter.
Hippy Psychedelic Roses are available to order worldwide from their boutique rose farm, Jet Fresh Flower Growers in Cotopaxi, Ecuador. The roses come packed in freight-friendly 50-stem boxes and shipped with Chrysal's Arrive Alive. Find out more about all the varieties in this collection on the website of Jet Fresh Flower Growers. You can see more of Blumenhaus Denver's inspiring florals on Instagram.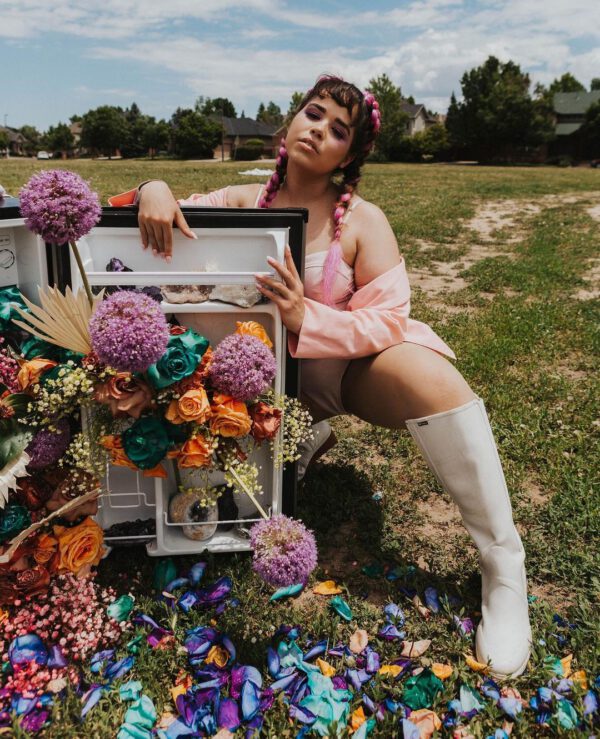 Credits
Floral Artist/Concept Design: Blumenhaus Denver Models: @kyra.royale + Dalena Nguyen Photography @underthelibrasun Photography/Planning/concept @dawn.andd.dusk HMUA: @tchiabeauty Stylist: @natalieejogray Nails: @nailswithashleigh