As a creative artist, you are hired to execute your client's dreams. To be able to provide your client with multiple options, Details Flowers Software has developed a software program. It gives you the tools to make sure you creatively upsell your event, properly price your worth, and prepare yourself for large floral holidays and events in 2023.
Planning an Event
To plan an event, a wedding, or any other floral holiday or party it's important to try to find unique add-ons that increase your event total and make it more profitable. How do you do that? Where do you find ways to do that? It's clear to us: Details Flowers Software provides you with a system that takes care of all of that! Proposal suggestions that can show the client more luxury items or experiences without interfering with their original budget. Creating the dream! That's what Details can do for you.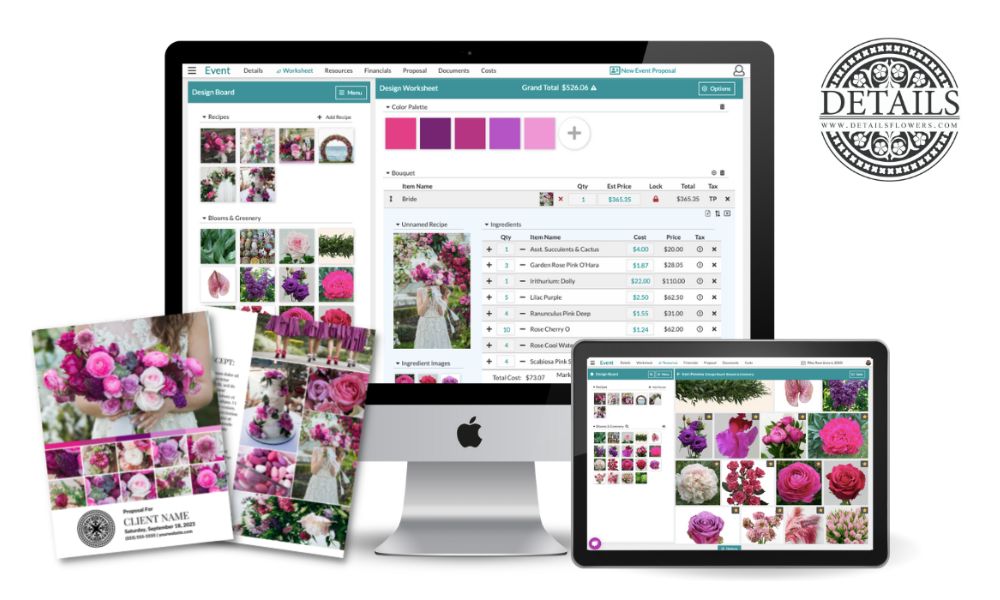 Ace Berry About How He Uses Details for His Planning
One of the Mayesh Design Stars from last month is Ace Berry. Here you can see the video of his large-scale design for the holidays. All these projects he prepares with the software of Details.
Ace Berry:
"I absolutely love Details, it helped me so much. I use it for all of my events and use it to help with some of the programs I'm doing to help prepare me for them! It has definitely changed my perception of Floristry moving forward. It took me about 1.5 years to figure out really how to use it. I'm not a super technical person so that's saying a lot. I'm still learning certain things but it's super easy and they're always there to help. If I call they answer and walk me through what I need to know."

How to Creatively Upsell Your Event
To add items to your event while keeping the budget in mind, there's a Proposal Suggestion Tool. On Details Flowers Software there's a proposal suggestion feature where you can show your client more luxury items or experiences. The best way to introduce these elements is to start upselling your client. When upselling, you must provide a more expensive variation of the item the customer purchases for their event. In essence, you are marketing the advantages of why they should have the better variation--which will be an incredible experience for both your client and their guests. Show them visuals about that proposal and attract them to choose for this experience.
Properly Price Your Worth
Pricing your worth is important not only for your success but for your whole floral community to be successful. Undercharging hurts your bottom line and the entire floral community. Charge profitably for your time and skill set because you do a phenomenal job and you've spent time and money to have your skills! Details can help you set proper markups on your designs, adding industry standards for labor and delivery, so you are not doing cumbersome math. Easily make changes when ideas or event evolves. Gain confidence when Proposing events, knowing that your tools are consistent, and you are pricing for profits.
Prepare for Large Floral Holidays or Events in 2023
Start generating your recipes once you've set all of your holiday offerings (i.e. Valentine's Day, Women's Day, Mother's Day, Easter, and Christmas). Make sure you take enough pictures now during the holidays to easily make new recipes for next year's Christmas.
Save time by having a clear outline of your offerings/breakdowns of recipes to create each design. Print out the recipes and use the photos you took ahead of time to create stations or guidelines for your team! For this Details has a Recipe PDF that outlines a step-by-step guide for designers. It's a good idea to establish timelines for team members to tackle various offerings. This way, when it comes to assembly, there will be no confusion.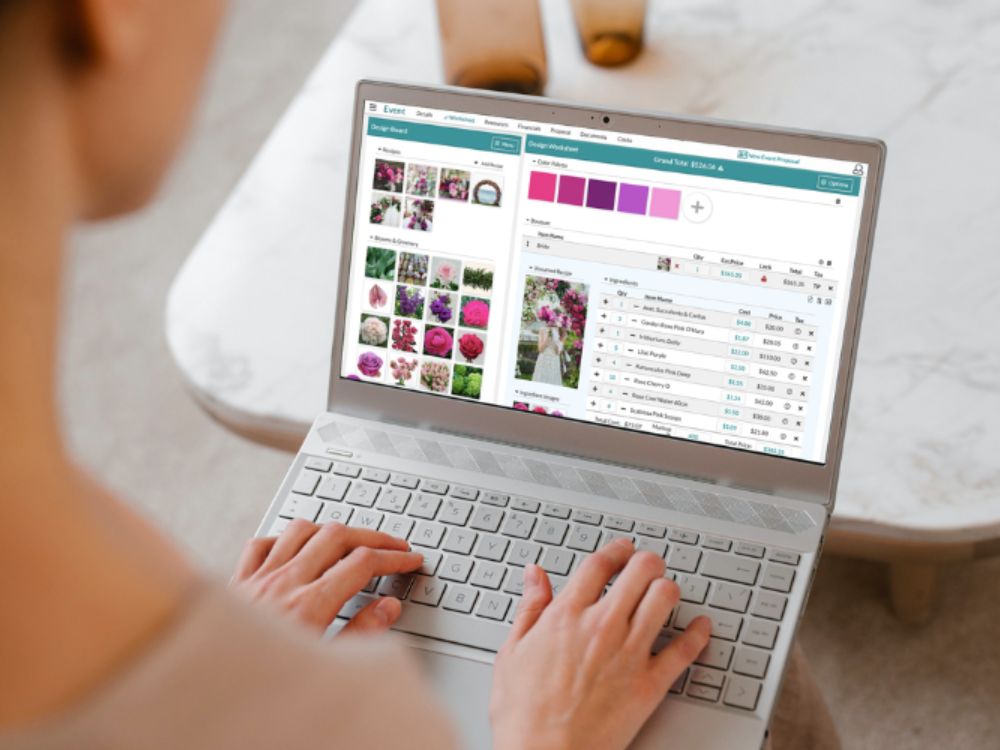 The newest feature of Details Flowers Software, Recipe Collections, can save you so much time as you can place all of your different designs or holiday offerings in easy-to-use categories. Creating custom collections in your Recipe Gallery can help you to stay organized and create a tool for you to use during consultations with a client. ​
Before the upcoming holiday you are planning or before the coming event, make sure you have all of your contingency plans in place. So when there's a last-minute change, everyone on staff knows how to approach it and make it a success. A few plans to keep in mind would be an inclement weather plan for deliveries, last-minute walk-ins, and inventory shortages.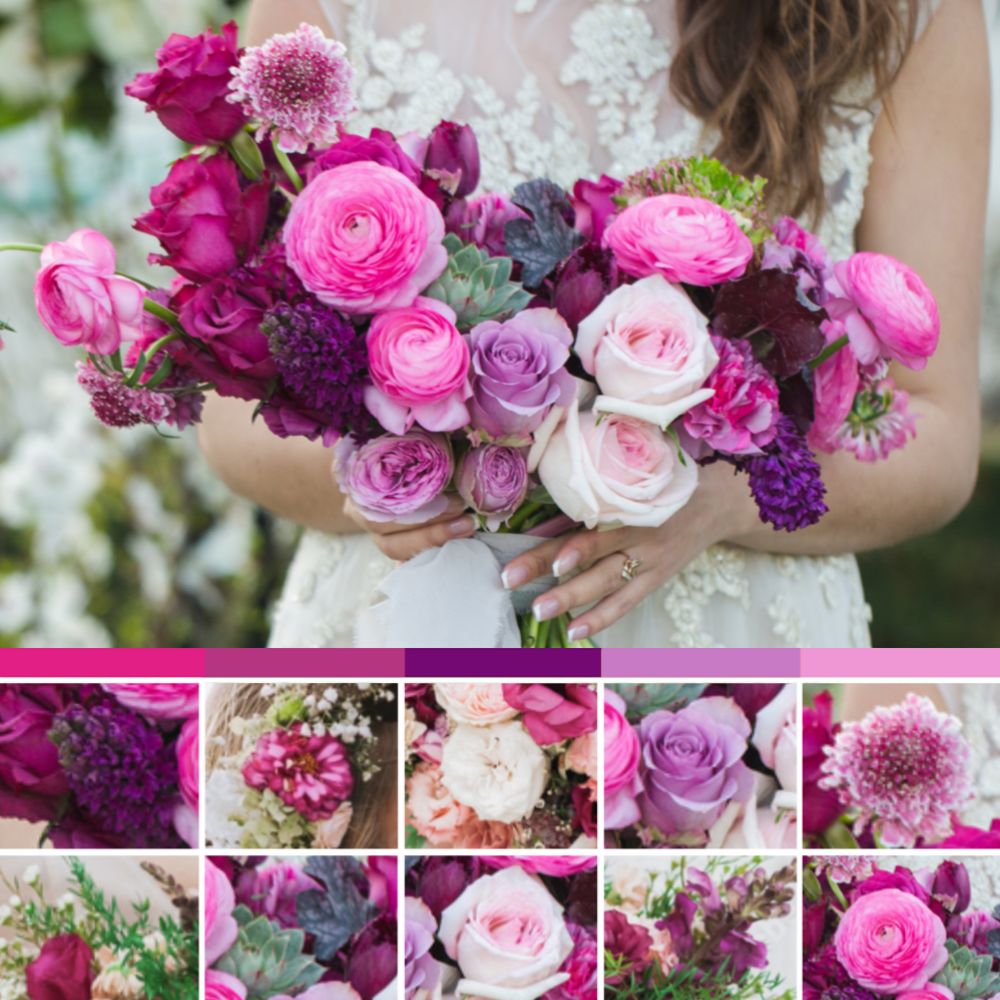 Having set Contract Terms for your busy season can help save you from those unforeseen circumstances. Details can help create and store your contract terms for easy reference and peace of mind.
Details has the capability to request quotes from suppliers right on the software on our Cost Page. With just a few clicks you can send your event blooms and save so much time in the preparation process by getting orders in early. Your wholesaler will appreciate the early orders as well, as they are also very busy right before the floral holidays like Valentine's.
How Details Is a Specialist in Planning Events
Details Flowers Software had a fantastic year. When it comes to announcing brand-new partnerships, introducing eagerly anticipated features, and touring the world to meet floral friends, they can honestly state that this year will never be forgotten.
Watch the short video below for a full recap of all Details' new partners, the travels, and the features that came to the Details Flowers Software platform in 2022! Or, keep scrolling to get a recap of all the 2022 highlights.