Elegant, sweet, and bright; peach will bring sunshine to your wedding decorations and floral designs. And that's exactly what Rose Harmony in Peach from Decofresh does. This variety will be remembered for a long time due to its delicate and romantic apricot color. A rose with a noble appearance that is often favored as a wedding flower.
Create Delicate Romance With the Harmony in Peach Rose
Since the 18th century, when more rose colors were discovered and cultivated, the love for peach roses has tremendously increased. Maybe it's because peach roses convey a sense of sincerity, genuineness, and gratitude. After all, a bouquet of peach roses is the perfect way to say 'thank you' or that you appreciate someone. But it could also be because this down-to-earth hue is representative of modesty and will add a touch of pure sweetness to floral gifts and wedding flower arrangements.
The Rose Harmony in Peach has proven her worth since her introduction in 2017. It is a rose that just demands attention, due to the bright orange hues in the center of the flower. But the soft-peach coloring towards the outer petals is just as captivating. Harmony in Peach is grown on a large scale, so it is well available for florists to create a sweet or romantic arrangement for their customers.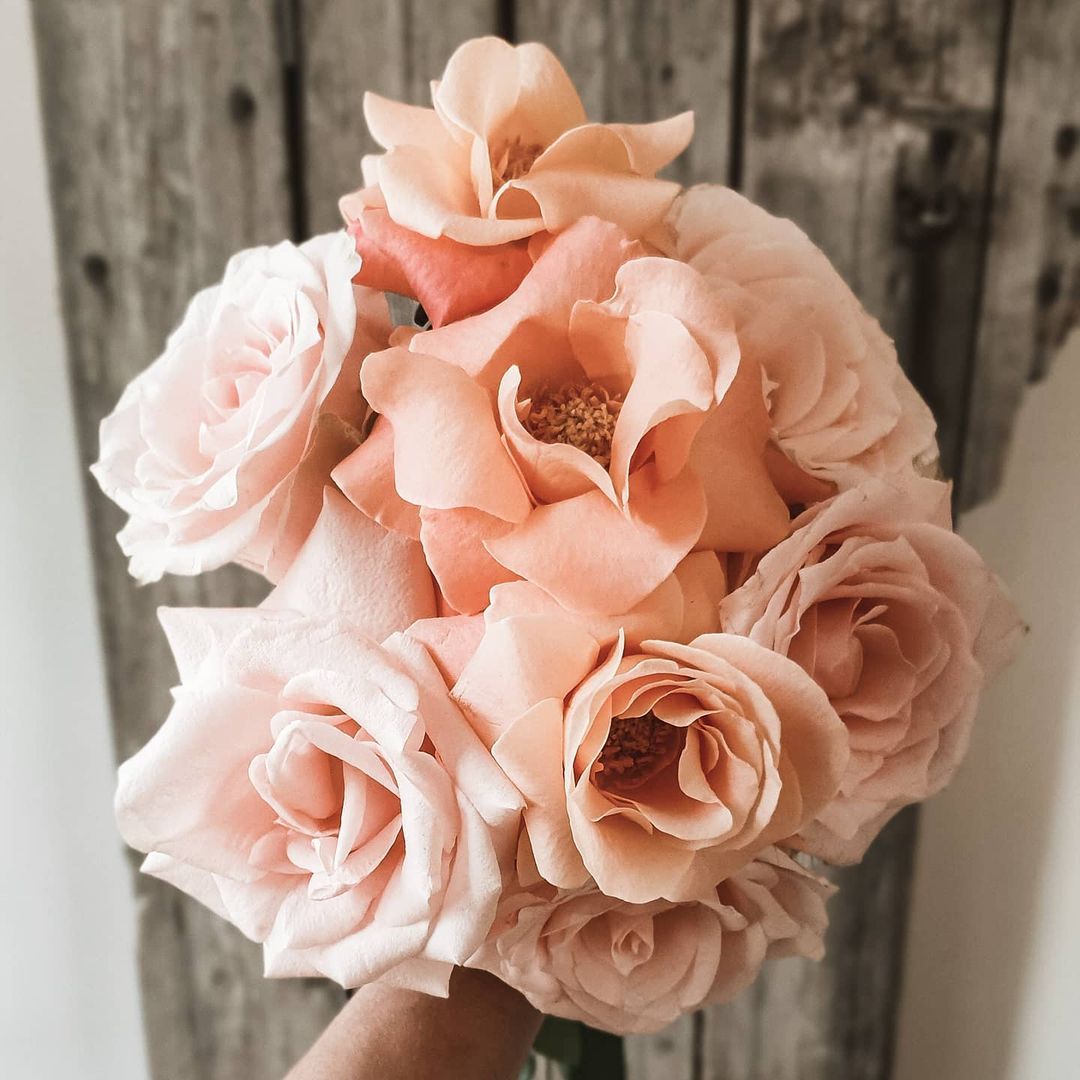 Image via @karolina.sday
A Classic Choice for Floral Designs
Harmony in Peach roses are a classic choice and work perfectly in any floral design. Standard roses are hardy, long-lasting, and provide consistent color outcomes. Roses can be reflexed to stand out, or nestled down into some soft eucalyptus or greenery. They can be used in bridal and bridesmaid bouquets, boutonnieres, corsages, bud vases, centerpieces, arches, and large-scale arrangements.
Floral design by @aranzmany.sk
Harmony in Peach Rose - A Wedding Favorite
The modesty of peach roses suggests that they are not as popular as other roses. But take a look at color trends in the wedding industry from the past couple of years and you'll see the steadily gained popularity and symbolic significance of peach flowers. The Harmony in Peach rose is a delicate blossom that immediately attracts people because of its simplicity and the muted tones work well with a plethora of color schemes. Whether you pair it with soft grays and dusty blues, balance it out with darker colors like navy or burgundy, or add a touch of festivity by combining peach with gold; the combinations you can make with Harmony in Peach roses are endless.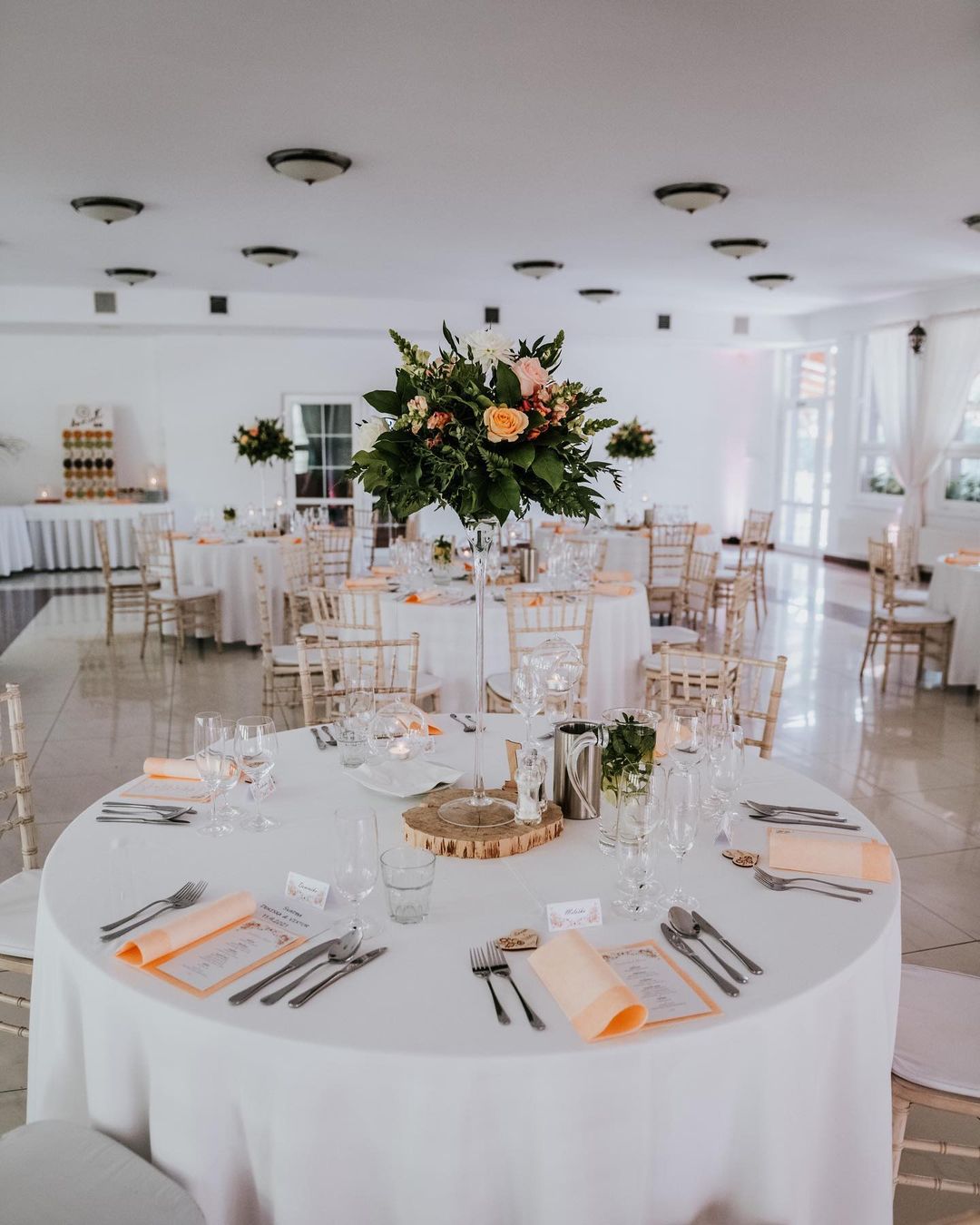 Image via @aranzmany.sk
The Harmony in Peach rose is a luxurious variety perfect for adding depth and romance to any arrangement. On top of that, this rose has a great vase life and is available all year round. But as with most (garden)roses, it's easier to ensure availability by ordering in advance because of limited production and high demand for these popular flowers. Harmony in Peach roses are available at Decofresh.
Kordes Rosen
Harmony in Peach is one of the popular varieties bred by Kordes Rosen. Kordes Rosen is one of the most renowned rose breeders for garden roses, cut roses, and pot roses. Their rose varieties are introduced by their agents and general licensees in over 30 countries and in many parts of the world Kordes' market share is very high. You will find roses from Kordes in many private gardens, public green spaces, and botanical gardens.
Can't Get Enough of Decofresh Roses?
Can't get enough of roses either? Then maybe The Warm and Inviting Shades of the Rose Barista are something for you. You can also Get Captured by the Heart of Gold Rose or discover why florists and their customers go crazy for the Cappuccino rose in the article 'Is the Cappuccino Rose This Season's Florist Favorite?'