Tom De Houwer is a well-known international floral artist from Belgium, teaching and mentoring florists and floral creatives from all over the world. On this occasion, Tom shares how Decofresh's lovely roses - including Rose Moccachino - consistently demonstrate the correctness and beauty of these flowers. All in all, I am keen to share what my masterclass was all about.
Tom de Houwer
"The beautiful roses of Decofresh always prove you right,"
says De Houwer. For the past four years, Tom has preferred Decofresh Roses for his floral designs. The first year for the centerpiece was at Fleuramour 2018, where he used around 5,600 Ever Red roses in his design. Another yearly event is Hoogstraten in Groenten en Bloemen, where the roses are even used outdoors - proving their quality is absolutely reliable.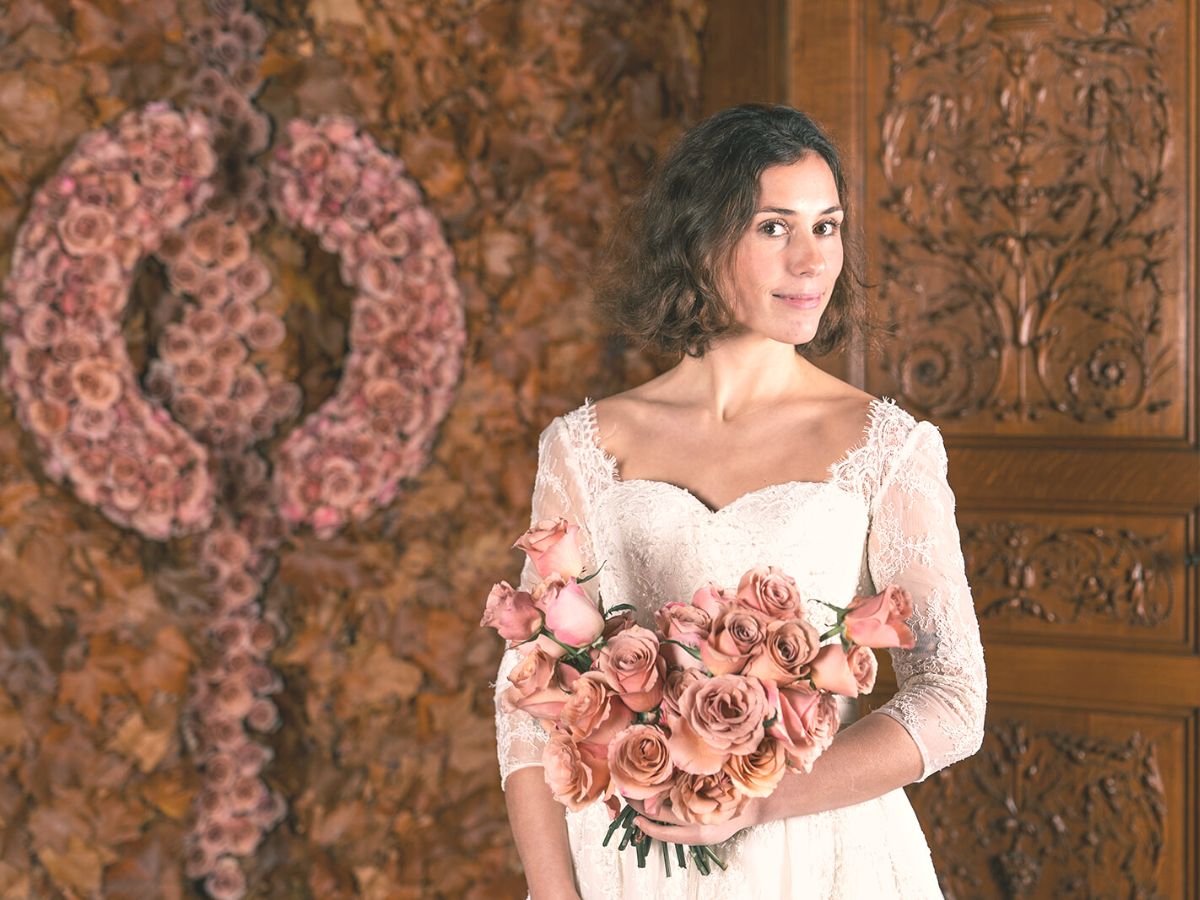 A Remarkable Masterclass Experience
After twenty years of experience, Tom has bundled his knowledge in a 6-day Masterclass: Bloom Up. Where students fly over to Belgium from all over the world. He teaches new techniques for designing but also about how to discover or rediscover your authentic path as a floral creative and designs a plan that resonates with it. It's much more than a flower design course; this masterclass gives you clarity on your life as a whole.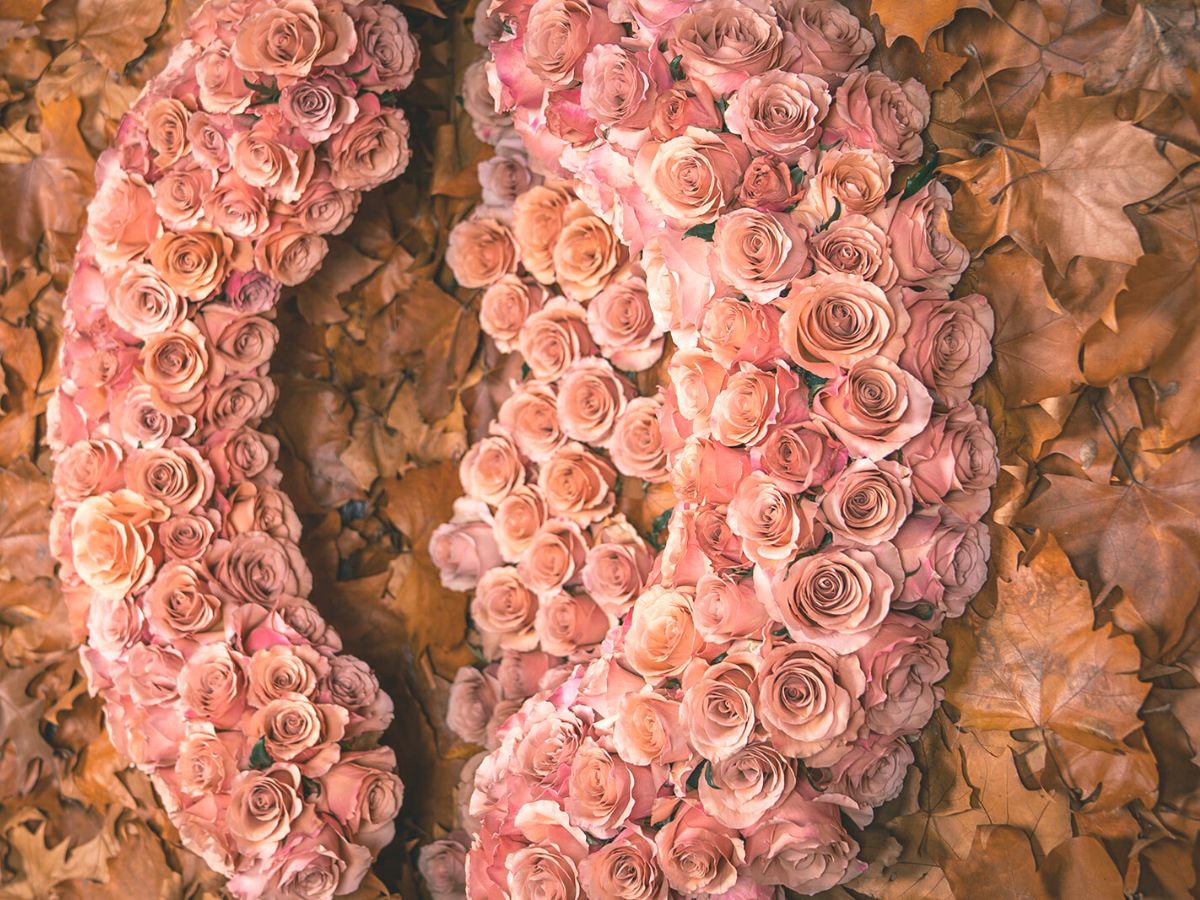 Bloom Up With Tom de Houwer
In every Bloom Up masterclass of Tom De Houwer, the students get a mystery assignment where they execute a large-scale design on a secret location with the guidance of Tom himself. This year, however, was an exceptional edition. Castle Zellaer, a breathtaking venue near Mechelen, granted the opportunity to decorate their iconic baroque-styled dining room.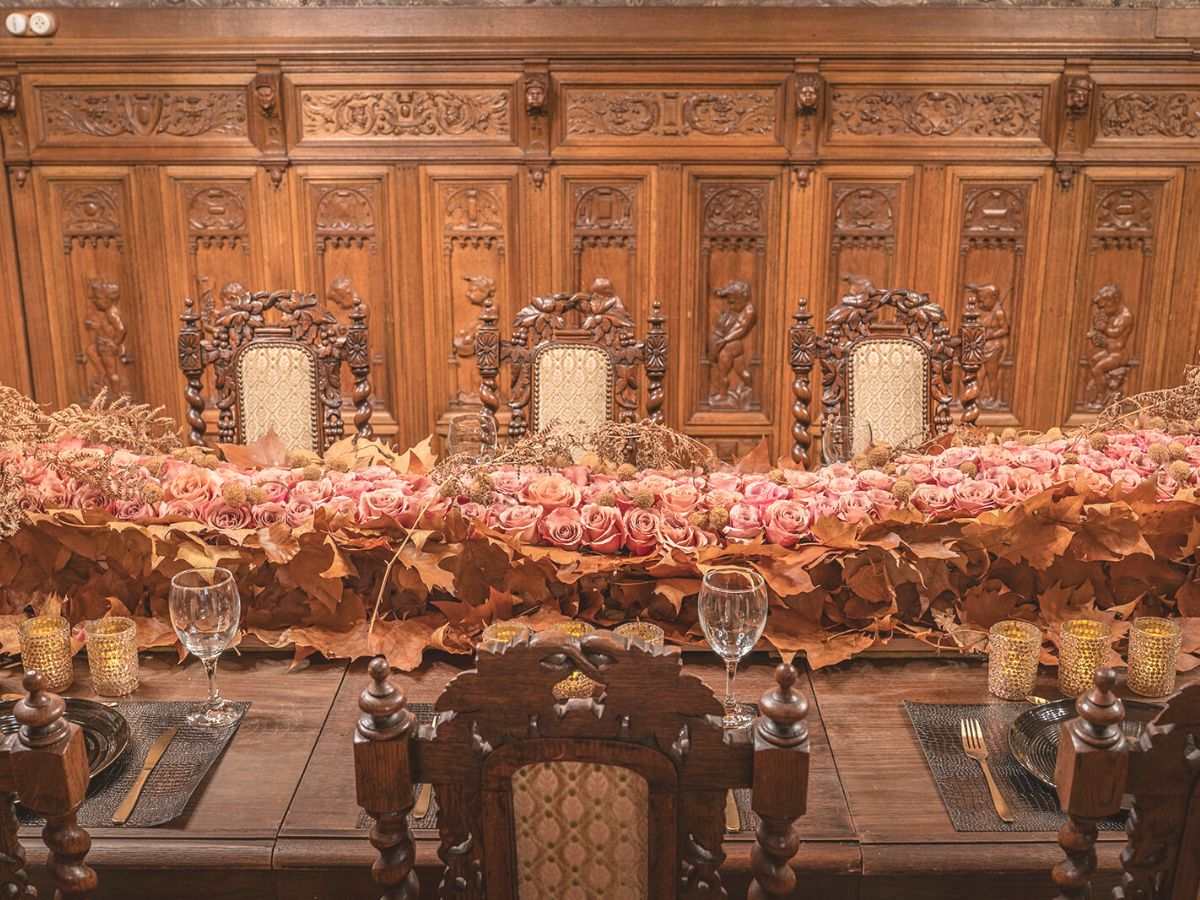 The students and Tom would turn this room into a decor for 'The King's Daughter's Wedding Rehearsal Dinner' in only one day. With a dining table, a backdrop, and some bridal bouquets, this room just asked for this setup.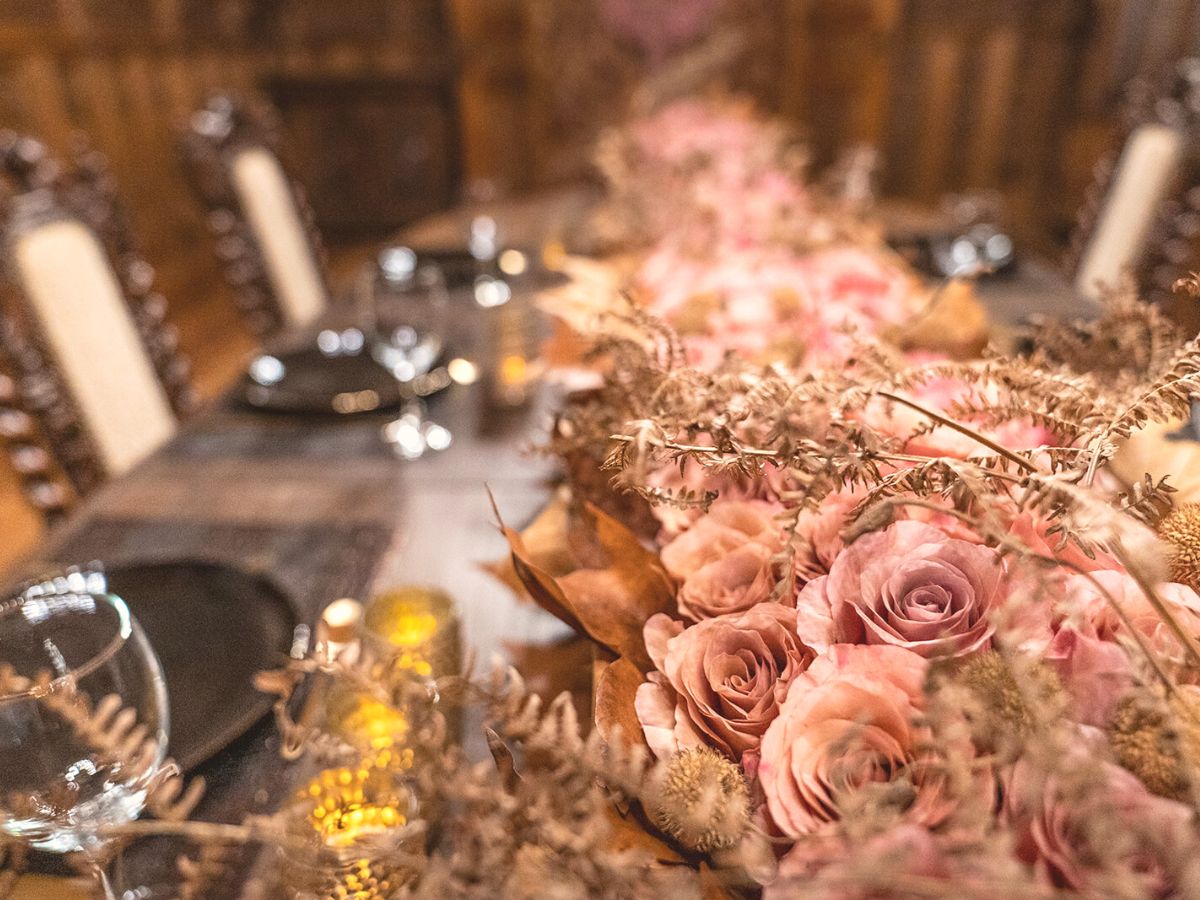 Rose Moccachino
And if you thought that was all,… Tom's students got to use the astonishing, newly grown type of roses by Decofresh in the design, named Moccachino. It was a first, so to speak!
"Decofresh Flowers approached me confidentially about the release of this new kind of rose, with the opportunity to collaborate. Of course, I was very flattered by this opportunity and started brainstorming right away. I always try to connect the dots in the circumstances at hand to maximize every situation - a strategy I teach my students in my 4-day masterclass as well. And so I came up with the idea to let my students work with these roses in a large-scale design during the Masterclass,"
says Tom. At the end of the day, the room was photographed professionally since exposure as a designer is key as well.
"This way, my students learn to market their business and work. A floral design is temporary, as a picture is forever."
Final Result Using Moccachino Roses by Decofresh
A full day they spent gathering leaves from the castle's gardens, sawing, screwing, and sticking until the décor was finally finished after ten straight hours of labor. About 800 beautiful pink-brown roses were being plugged in between autumn leaves.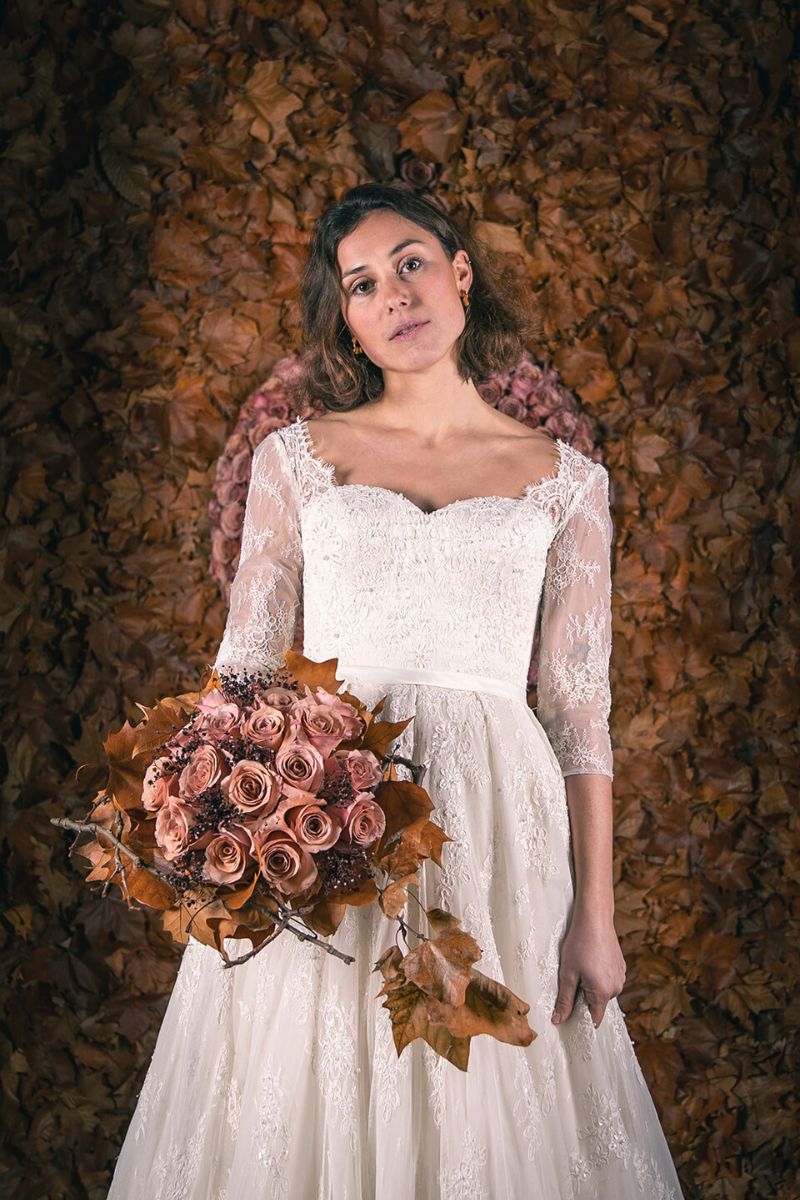 A very realistic approach to designing was shown to the students as improvising and last-minute action is a must-have skill in the industry. Every designer will be confronted with unforeseen circumstances at least once in their career, where the true design skills and personality of a designer are being put to the test.
A Masterclass With an Astonishing Outcome
"It's definitely not standard to have a lot of preparation time where you can analyze the location, to measure all you need and think everything through in advance,"
according to Tom. But he strongly emphasizes that when concerns large-scale-event-design, you should always be as prepared as possible, and ready for improvisation if necessary. The first takes dispelling the other practice. The students and Tom experienced the pressure of the deadline, the collection of other decoration materials and flowers at the wholesaler, the improvisation, stress management, and effective teamwork.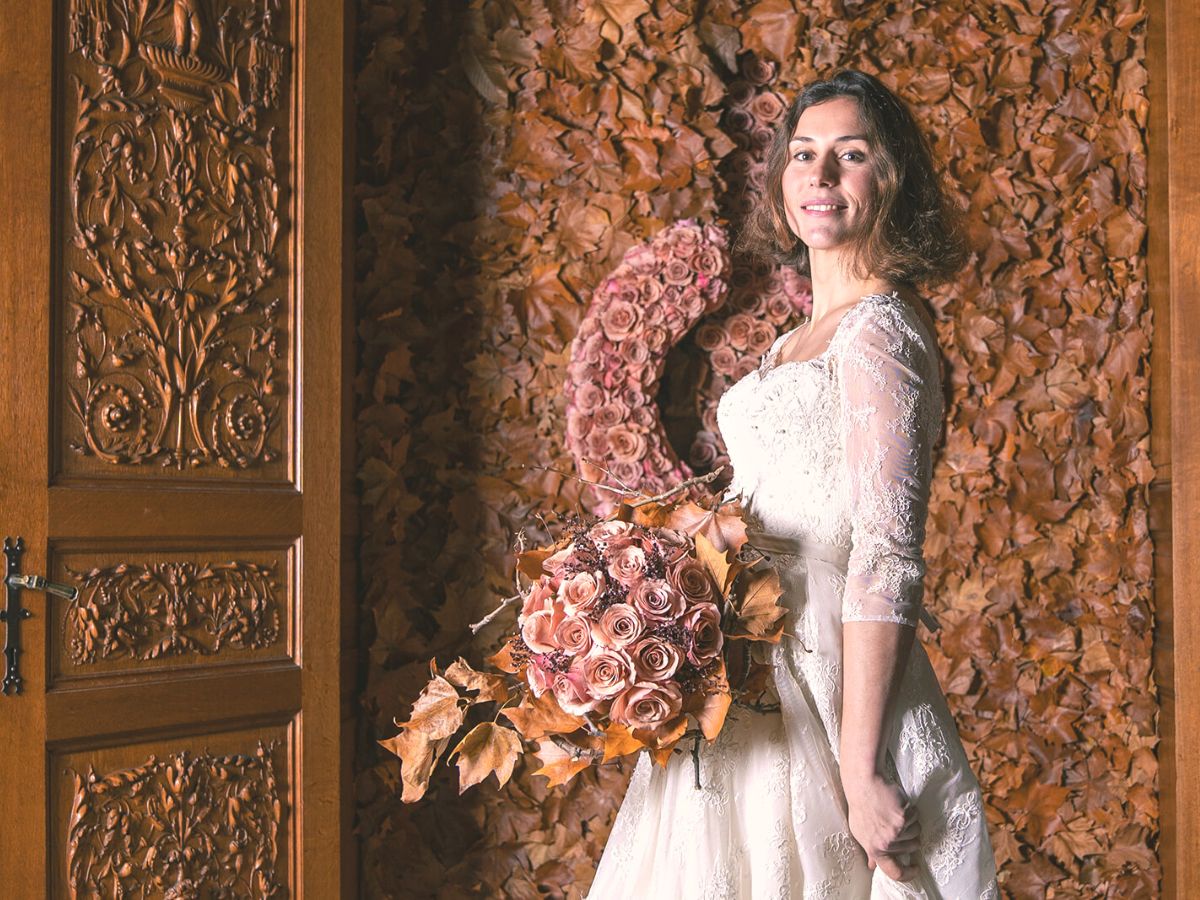 The going-in experience part is another essential component of the masterclass. It allows students to feel and analyze what the specific circumstances are doing with them and how they react. What works for them and what does not work for them? Bringing that real-life experiences will evoke the awareness needed to grow as a creative.
"I did the design of the table and wall decoration myself on the spot, which I usually don't do. I thought it would be educational for my students to see how this works from my side, see the techniques, and so on. The bridal bouquets were designed by two students, Ekaterina and Keith."
A Challenging But Gorgeous Rose Color
Because of the beautiful - but hard-to-define - color of the brand-new roses, it was challenging to describe them as brown or pink.
"I really love colors that are on the edge of another color. It makes them interesting to combine. The roses are perfect for an autumn wedding, just like this arrangement with matching colors of the castle walls and doors."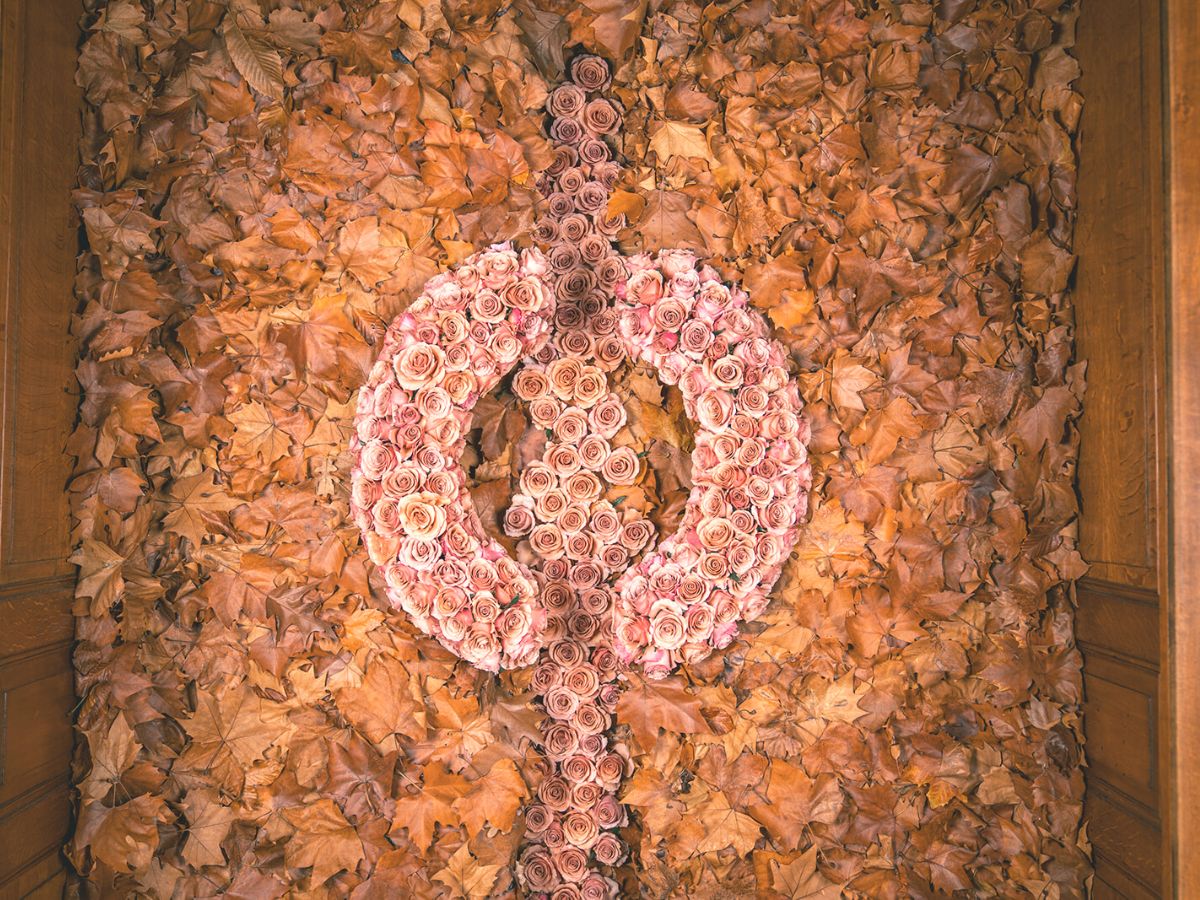 But of course, they are ideal for broader usage. The roses were well developed, and both Decofresh made sure they were delivered already a bit opened up. The fine quality of the roses was shown by the longevity of the freshness after being opened up, both by being put in water or foam. Definitely, a plus budget-wise, since a high-quality rose stays fresh very long and takes more space as they open in a beautiful way.
Rose Moccachino is bred by De Ruiter, grown in Kenya by Ayana, and marketed by Decofresh Roses.