Disha Copreaux is the CEO of Red Lands Roses. During the IPM Summer Edition in Essen, Germany, there was a chance to speak to her and learn about how the passionate and driven manager combines the farm's high-quality products and the employees' well-being.
The Leading Spray Rose Company
Red Lands Roses is reputed globally by its customers as the leading grower of spray roses. With over 100 varieties, Red Lands offers color choices and novelties to its customers. The farm has specialized in growing and commercializing 'difficult-to-grow' varieties. Customers associate roses from Red Lands with freshness, long vase life, and minimal imperfections on the bud.
In doing so, Red Lands Roses have become the fashion trendsetters in the rose market. The best example of this is Spray Rose Julieta. Where breeder Delbard was going to discard the variety from the selection process, the variety caught the eye of founder & Director Mrs. Isabelle Spindler, who figured out how to grow the variety commercially. Today, the Julieta is widely cultivated in the Kenyan market.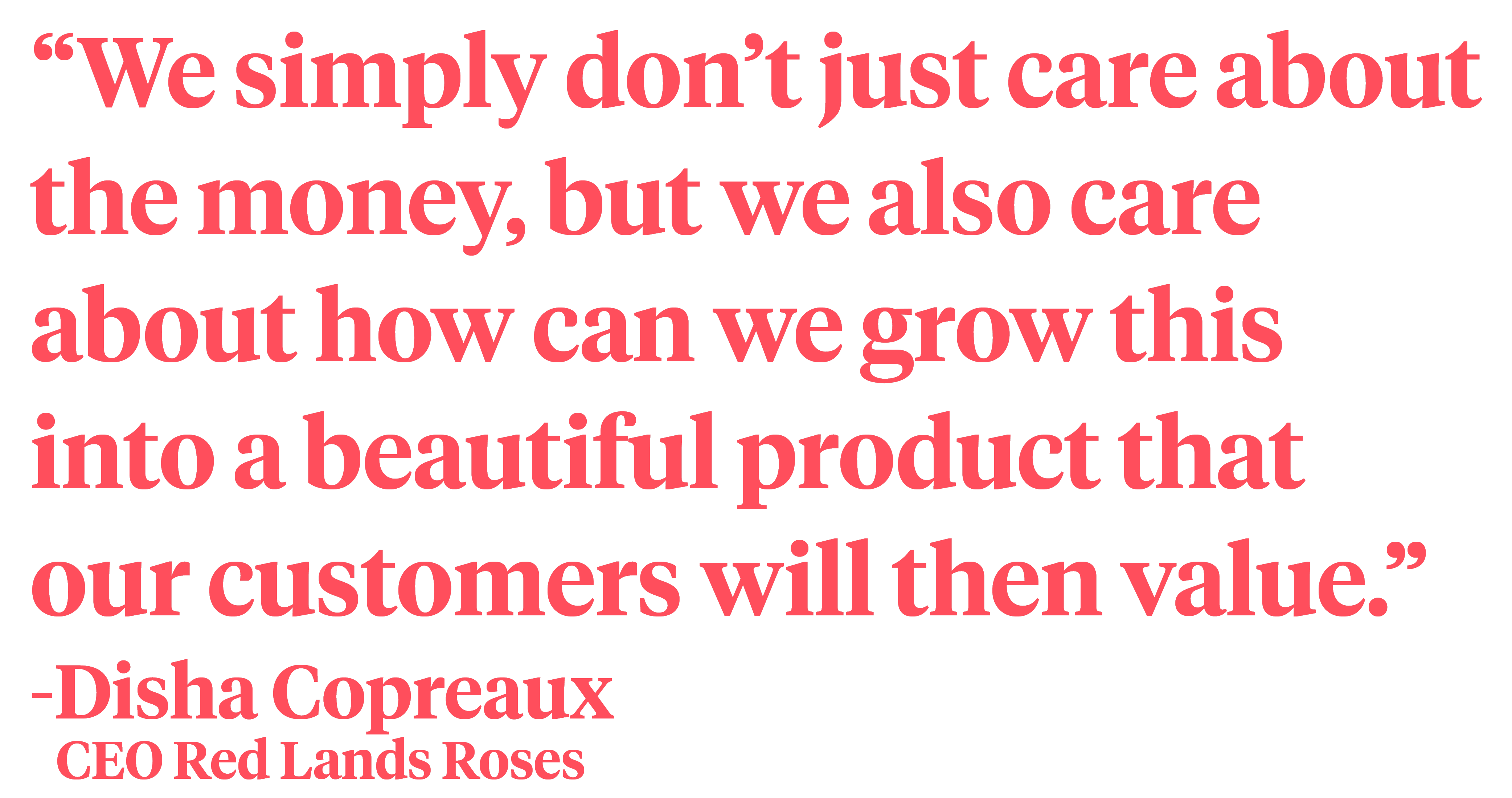 Disha Copreaux:
"What I've learnt in my past year at Red Lands Roses is that all our customers need to have at least a small assortment of Red Lands roses in their product portfolio because our flowers are unique, high quality, durable and exude luxury, which attracts a high-level clientele. In my point of view, the reason we've earned this standing boils down to three points: 1) imparting a 'savoir-faire' in the rose value chain, 2) offering 'haute-couture' personalized custmer service, and 3) creating an environmentally and socially conscious work environment."
Savoir-Faire
The French word 'savoir-faire' translates best as 'know-how', implying craft and expertise in an area. Red Lands Roses has mastered the savoir-faire of producing high-quality roses.

Disha:
"Isabelle Spindler, a woman pioneer in floriculture in Kenya, started Red Lands 26 years ago. Her goal was to deliver a beautiful rose with the 'wow factor' for her end customer. She was a breath of fresh air in a male dominated industry that was already growing and packaging flowers as a commodity.

With this mindset, she has curated and perfected over the years all the processes along the rose value chain to ensure a perfect product is delivered to our customer. Be it crop husbandry techniques, harvesting stage, integrated pest management or post-harvest handling. This 'savoir-faire' has been engrained in all employees who are specialists in high-quality rose production."
Haute-Couture
Haute-couture refers to custom-fitted high-end fashion. This is in essence how Red Lands delivers products to its customers. We curate orders specifically to suit our customers.
Disha:
"You could liken our service to customers to haute-couture. We have a sales officer assigned to every customer, providing personalized service to each, for order confirmation, order fulfillment, and in packaging. If they want a mixed box with pink-colored spray roses, we will curate the box accordingly. If they want to remove the color yellow or orange, we can also do this. For weddings and special events, we go the extra mile by ensuring that we reserve and cultivate the volume of flowers required, at the correct harvest stage and prepare them before shipment."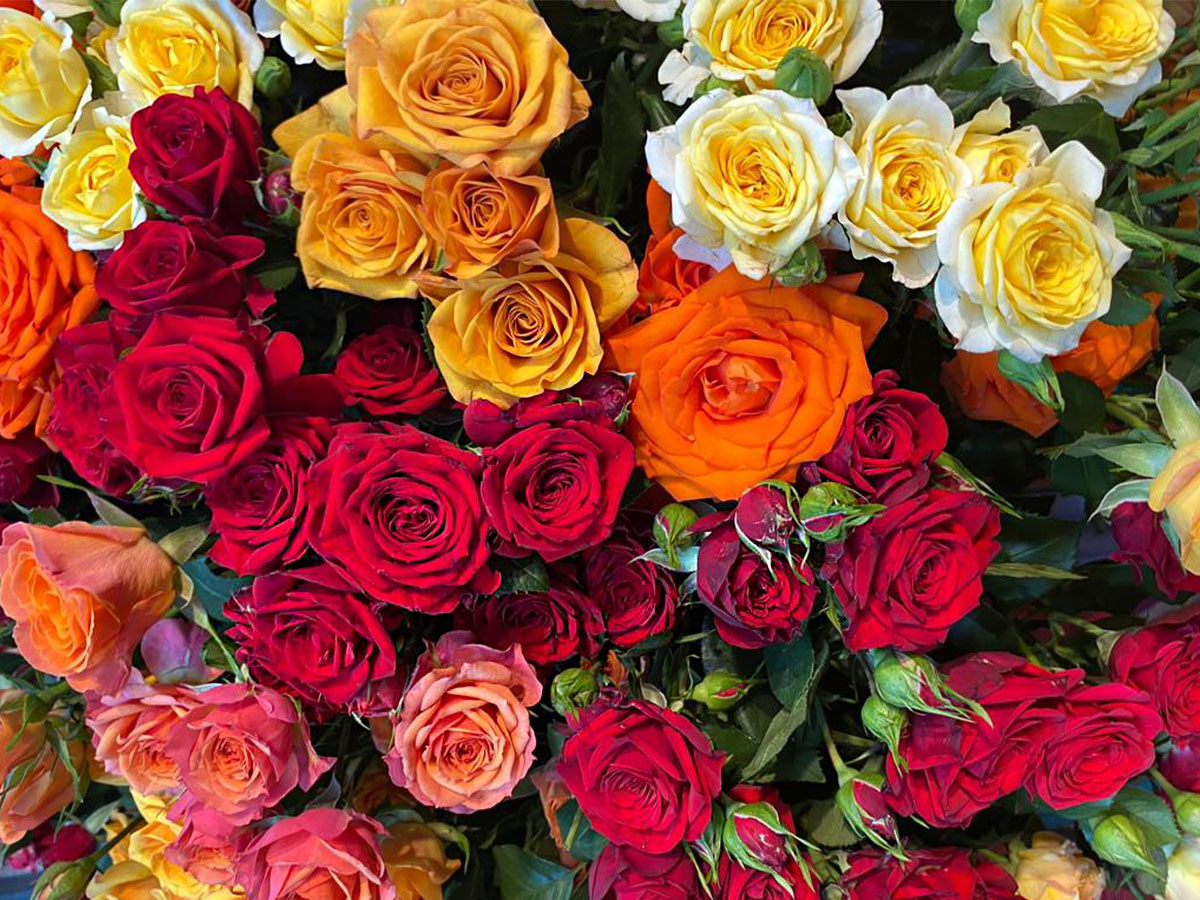 Consciousness
Red Lands Roses conducts their business in a mindful way both for the environment and also socially.
Disha:
"The first thing I want to highlight is that we're carbon neutral. We mapped our carbon footprint in 2020 and offset the deficit footprint by purchasing carbon credits in a forestry project. My goal is to offset this deficit with more internal projects like expanding use of solar. We're also mindful of the way we use water – we've been growing hydroponically in a closed loop irrigation system, and any water let into the environment is purified before it enters the water stream.

We provide a livelihood to over 550 employees in the area, 55% of whom are women. Apart from salaries, employees are provided with additional benefits such as day care for babies free of cost, school fee contribution, medical care for the family. Additionally, employees are provided with bicycles so that they can commute to and from work. These benefits allow our employees to be at work with peace of mind and focus their minds on delivering a great product."

Header image by Messe Essen, other images by Red Lands Roses. Designs for the Red Lands Roses booth at IPM Summer Edition by Catherine Joyaux Corselli.