David Austin roses are world-renowned for their unique beauty, glorious color, character, and scent. Using a combination of art and science, they have developed their collection of cut-flower roses, bred to perform outstandingly in bouquets and arrangements. Today, the rose David Austin Patience (Auspastor) is taking the spotlight.
The Classic Beauty David Austin Patience™ (Auspastor)
Classically and naturally beautiful, David Austin Patience has captured the hearts of many brides. Its pure simplicity and sophistication are perfect for any chic occasion. Patience exudes effortless elegance. Charming milky buds ruffle out into ivory sculpted cups of delicate, lace-like petals revealing a creamy-colored center with just a hint of pale, buttery yellow.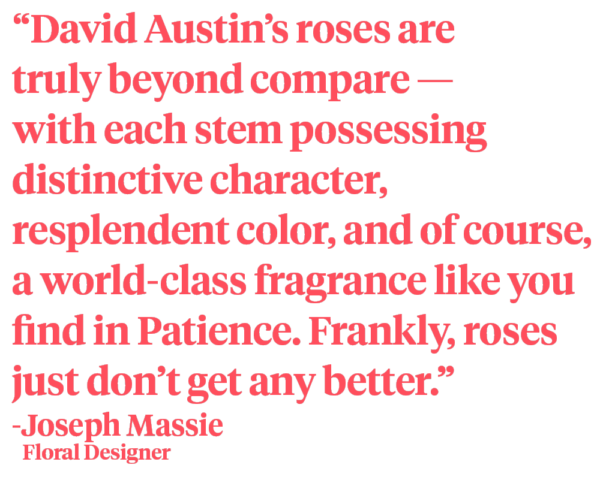 An Intense, Clean Scent
Of all the roses within the David Austin collection, Patience has the strongest perfume – seducing with an intense, clean scent of Old Rose with a dash of lemon. David Austin Patience has become a wedding classic as its sculptural beauty is the definition of elegance and romance. With so many petals, Patience can take up to 4 days to fully open, but her perfect rosettes are worth the wait. Shape: Rosette Color: Ivory Fragrance: Very strong Petal Count: 165 Diameter: 10-12 cm Vase Life: 6-8 days Availability: Year round Breeder: David Austin Plant name: Auspastor Grower: Alexandra Farms, Tambuzi
Timeless Elegance With David Austin Patience
This rose offers serenity and timeless elegance from a bygone era. Bring out its classical character with cascading foliage to offset its creamy-white petals, along with stylish ceramics and marble accents. David Austin Patience also combines perfectly with other white and cream flowers, and cascading green foliage. Use Patience to create magnificent archways and urns for a regal style that will never go out of fashion. This rose will also add a finishing flourish to your wedding cake.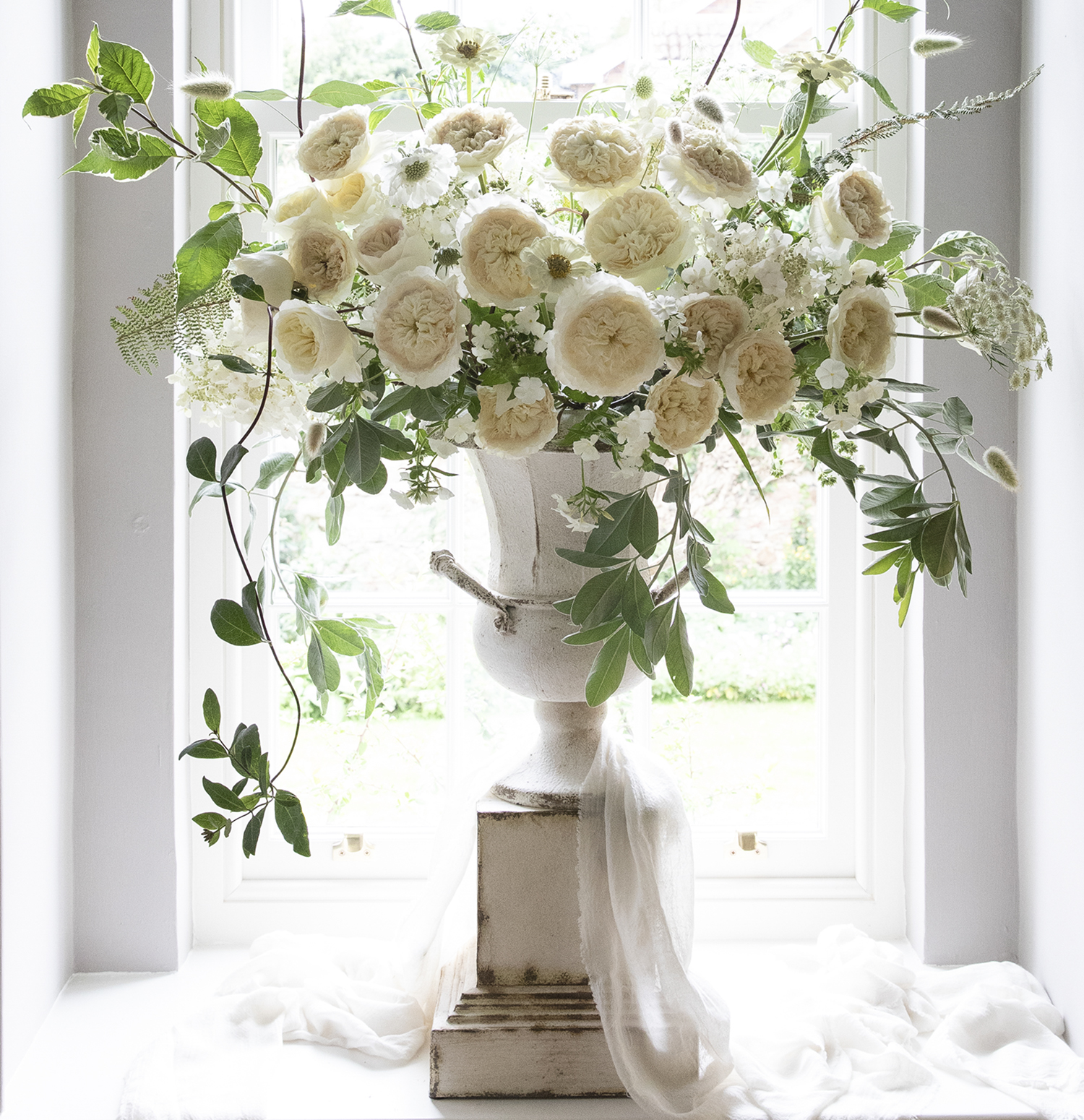 The David Austin Roses Collection
Each of the roses in the David Austin collection has her own personality, but they all share the same hallmark of enchanting beauty and unforgettable charm. The David Austin Cut Rose Collection is available all year round from floral designers and flower wholesalers worldwide.
David J C Austin, Managing Director at David Austin Roses: "Each of our cut roses has its own signature style. As they open and evolve, some reveal surprising and subtle shifts in form, texture, or color that enhance their charm. Others seduce with complex fragrances."
About David Austin Roses
David Austin Roses creates exceptional world-class roses designed for weddings, events, and floral gifts. Their story is one of discovery and innovation, starting simply as a hobby in the 1940s but it has flourished to be at the forefront of rose design and expert craftsmanship. Very few florists around the world are not familiar with the brand.
Rooted in the English countryside, their story spans three generations of one family. For over seventy years they have been breeding roses. Today, Mr. Austin's son, David J C Austin, and grandson, Richard, are at the helm of the business. Their collective values remain true to the lifetime's work of their founder – a legacy that continues. For more information about the rose David Austin Patience and the other beauties from the collection, visit David Austin on Thursd.