This is the 3rd chapter of a free tutorial, where top floral designer Joseph Massie shares three stunning creations, designed to transform an exclusive dinner party, or all-out show-stopping celebration using his favorite cymbidium blooms.
Cymbidium's Long Strong Stems
Known for its long, strong stems and numerous exotic heads singing luxury and elegance, the cymbidium is surprisingly versatile and suitable for more commercial uses than you'd think. Available in two sizes – large and mini – it offers fantastic bang for the buck thanks to its strength, size, and most of all, vase life, lasting two to three weeks without the need for flower food.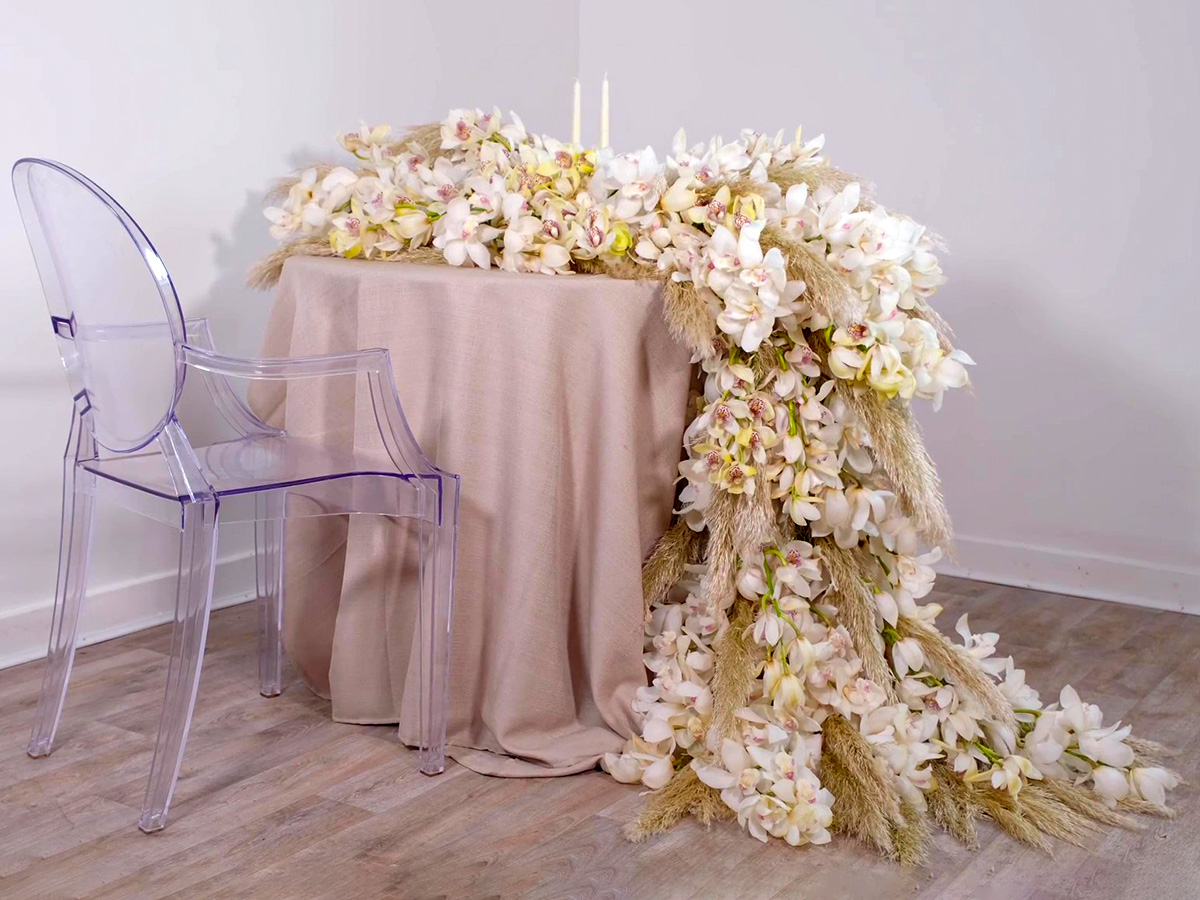 Chapter 3 - The Spectacular Cymbidium Centerpiece.
In this step-by-step guide, Joseph shows us you can make your own show-stopping pampas and cymbidium table cascade, starting from the fundamental mechanics, through to the final finessing.
On this occasion, Joseph opts to use silver chicken wire against the neutral color palette for the main structure. Weights are used to secure the wire in position. And then the wire is carefully twisted across the length of the table to form a cylindrical tube, finishing with a dramatic sweep of wire down to the floor completing the cascade shape.
A layer of gorgeous pampas grass gives the piece instant form and drama, upon which the statement cymbidium stems (in two varieties) can then be placed to complete this 'oh so' decadent cascade.
The superior shelf life of cymbidium means it can be used with or without water, or if preferred, test tubes can be discreetly hidden within the display to add longevity. Check this trailer:
Joseph's tip: Whilst cymbidium has extremely strong stems, it is also heavy. So it is crucial to ensure the weights on both the table and cascade are well secured. In this example, Joseph wraps the chicken wire around each weight and secures it with cable ties to create a solid mechanical foundation. Watch here how: Tutorial - Cymbidium Info.

Be sure to also check part 1 - The Simple Cymbidium Centerpiece & part 2 - The Stylish Cymbidium Centerpiece of this tutorial by Joseph Massie.
To find out more about the wealth of ways to work with cymbidium, as well as free promotional tools and advice, visit www.cymbidium.info.