This event is made possible through the support of the U.S. tulip growers, their European bulb suppliers, and funding from the European Union. Make sure to check the Finale at the end where you'll find lots of extra fun from Tulip Treats to Tulip Care (and a little visit from our Big Flower Fight friends, Henck and Yan).
Virtual Tulip Festival
How It All Started
Sarah
and
Jordan
are hosting the Virtual Tulip Festival and here you can see the story of how they got to it. Their inspiration came through a bunch of yellow tulips. It lightened the room completely and so they decided they wanted to make a lot of people this joyful. They gathered a team around them with people that give them energy and waves of laughter. A dream team. The Dream Team
Bron
,
Sue
,
Ana & Anaïs
,
Michelle,
and
Beth
were invited to a 'zoom' to discuss. They were all so excited to do this and so they did it! Gather Virtual Tulip Festival is a fact!
Bron Hansboro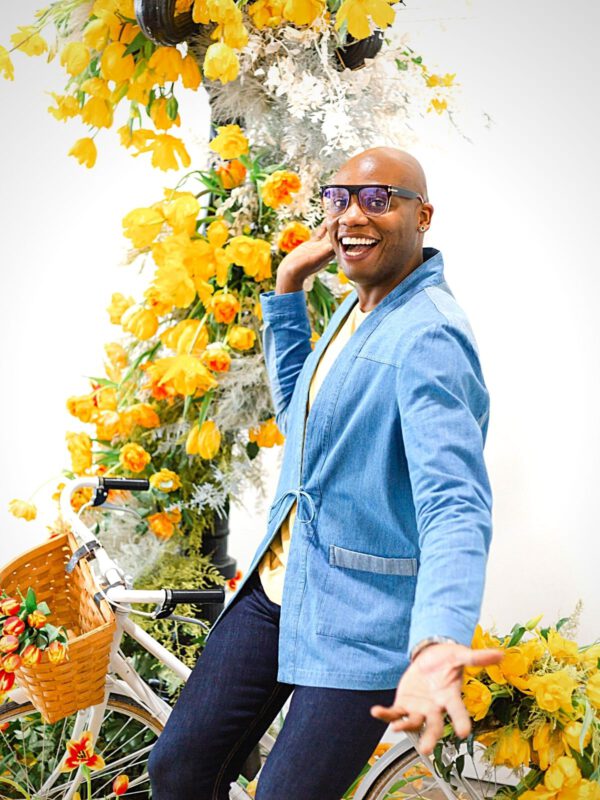 Bron is a floral industry leader, sharing his passion for flowers through designing, speaking, and presenting across the United States! The moment Bron steps foot in a room, everyone is sure to notice. His warm energy and inspirational mindset create a space for this floral art to flourish. Bron lets the blooms whisper, and he listens. When there is a challenge ahead, he always rises to the occasion, with a smile on his face. Bron lives by the simple principle, "be your best self," and always encourages others to join him along his journey. He strives to uplift and encourages others with friendship and, of course, flowers! IG: @theflowerguybron WEB: theflowerguybron.com
Read and watch the full contribution by Bron Hansboro for the Gather - That one bunch of yellow tulips made him flower guy Bron.
Sue Davis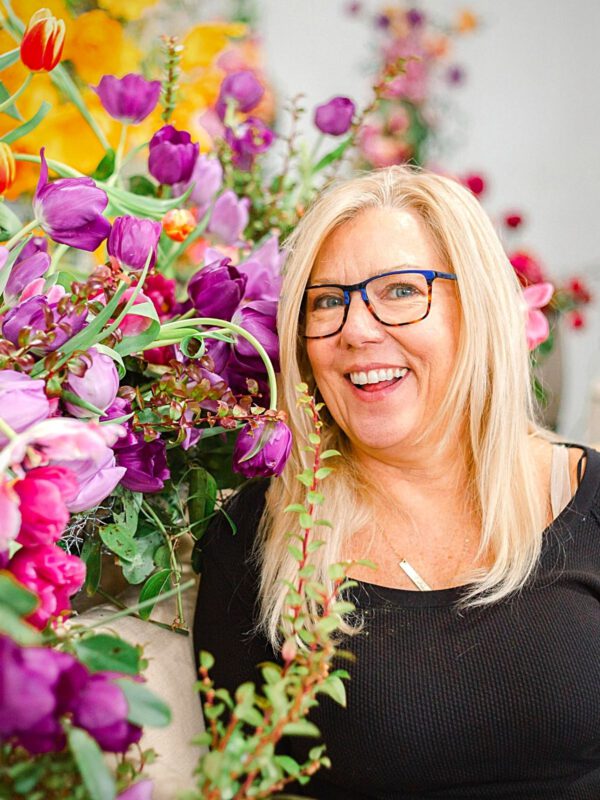 Sue's energy is infectious! It's impossible not to laugh when she's around. Her floral career began 30 years ago. After doing set design for QVC, her passion for creative arts led her smiling face right into florals. Since then, she's done incredible things in our industry. She is a national speaker/educator and the founder of The Design Sanctuary Workshop. Her floral workshops and events are often the talk of the flower-town, being held across the USA from Philadelphia to Honolulu. She has trained countless apprentice florists and inspired many to start their own shops! Bringing her sense of line, color, texture to her work she creates one-of-a-kind experiences and floral designs that will make your jaw drop! Her designs are sure to make your hearts skip a beat. IG: @freshdesignsflorist WEB: freshdesignsflorist.com
Read and watch the full contribution by Sue Davis for the Gather - For Sue red tulips mean true love.
Ana & Anaïs Vivas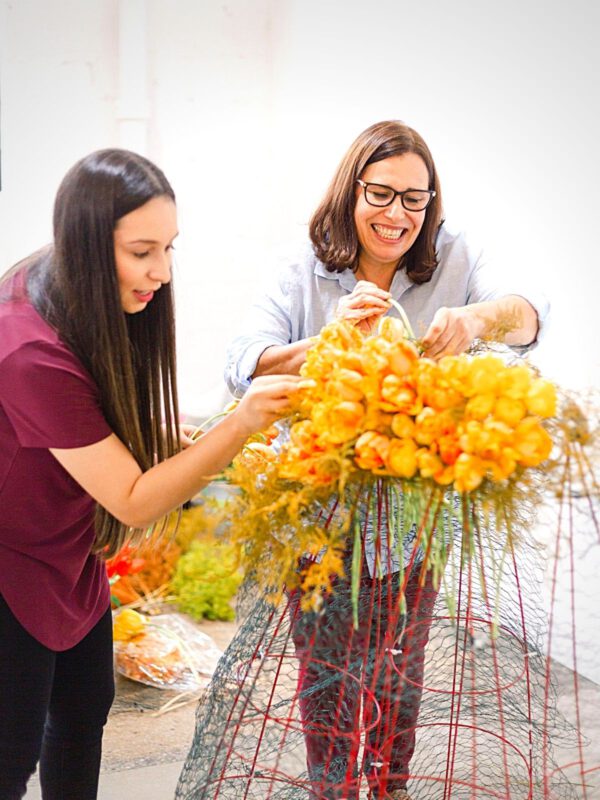 Aniska Creations is a mother-daughter business born out of a love for flowers. Originally from Venezuela, Ana Vivas and Anais Vivas moved to Miami, Florida where they now operate their studio, catering to their community's floral needs and crafting the world's most beautiful flower crowns (if you've seen them, then you know what I mean)! These two ladies radiate light and positivity that shines from miles away. When they aren't creating fantastical floral designs, and you can find them traveling the world teaching classes in workshops (mainly taught in Spanish) focusing on the development of the Latino community. I can't wait for you to meet the most sought-after designer-duo in Miami! Press play below to begin their story. IG: @aniskacreations WEB: aniskacreations.com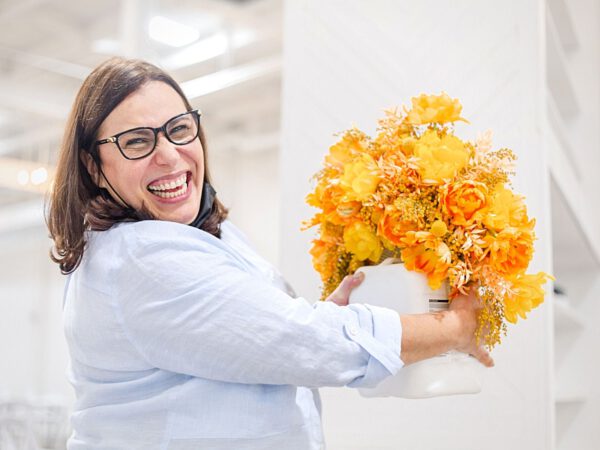 Read and watch the full contribution by Ana and Anaïs for the Gather - The tulip is the story of their life.
Michelle Summers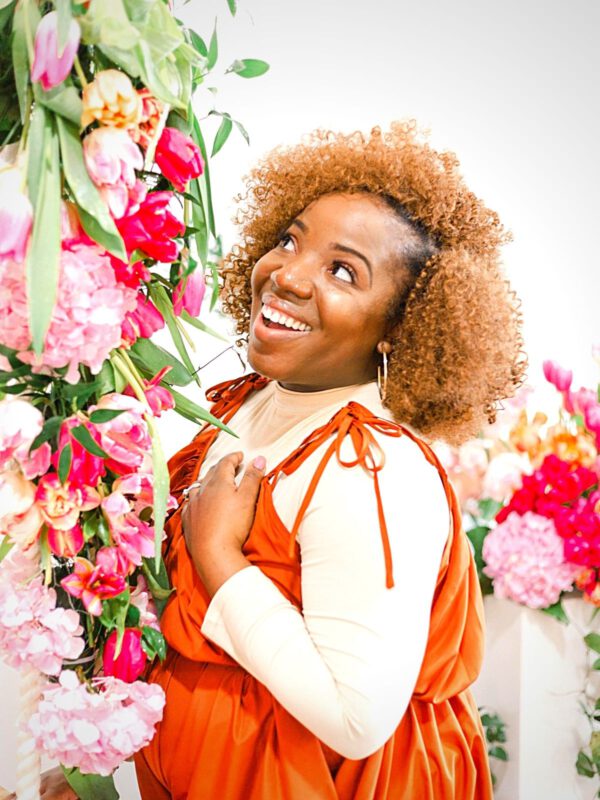 Michelle is a blossoming breakout star. Don't let her 5ft stature distract you (she describes herself as vertically challenged)! This entrepreneur packs a big punch. She is the mother of 2 (with one on the way), founder of a thriving floral and event design firm, venue owner, and rising starflower world. After spending 10 years in the Engineering field, Michelle stepped in to help her sister plan and design her wedding, and her passion for flowers began to bloom. She thrives on creating smiles, meeting new people, and bringing visions to life! IG: @your_signature_designs WEB: yoursignaturedesigns.com
Read and watch the full contribution by Michelle Summers for the Gather - Three pink tulips have a meaning for Michelle.
Beth O'Reilly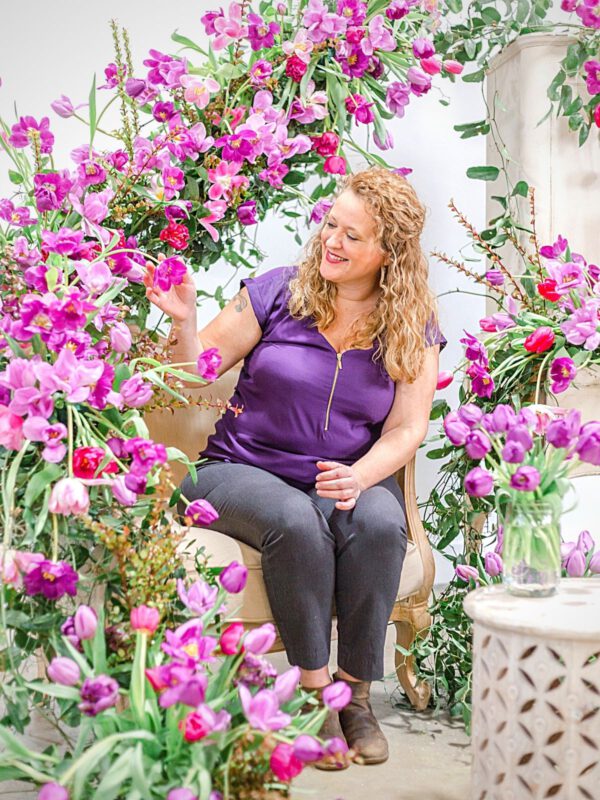 Let me tell you what, there isn't anything that Beth can't do! Beth O'Reilly AIFD is a multifaceted floral industry expert, with a BFA in Fine Art Sculpture. Beth's greatest passion is to create 3-dimensional installations using flowers as her medium! Most recently, Beth won the hearts of flower lovers around the world as the fan-favorite on the new HBO Max "Full Bloom" series. Beth has had a love of flowers for as long as she can remember, and she is driven by the opportunity to touch the lives of others by creating memories and sharing the joy of beautiful blooms. Nature is something that can be enjoyed and appreciated by everyone and that's what I find beautiful, creating moments of joy that are meaningful. Those moments can never be taken away. IG: @beth.orielly.aifd WEB: bethoreilly.net
Read and watch the full contribution by Beth O'Reilly for the Gather - Purple is her favorite color.
These were the big installations for our Gather, Virtual Tulip Festival.
Recap Virtual Tulip Festival
The Dream Team discussed the designs together and enjoy what they've achieved.
Tulip Joy
Be inspired, encouraged, and rejuvenated through these beautiful blooms and story-telling. Don't forget to scroll down the page for a garden full of Bonus Content! Here you'll find lots of extra fun from Tulip Treats to Tulip Care (and a little visit from our Big Flower Fight friends, Henck and Yan).