Yes, it's official— Vo Trong Nghia architecture does it again and has made a slam dunk when it comes to building with greenery and involving green everywhere and anywhere they can. This very green design contemplates a green design involving fruits and veggies wrapped all around their office. Here's how they did it.
The Genius Minds Behind Vo Trong Nghia Who Create Green Spaces
An urban farm office that grows fruits and vegetables? Needless to say, it is possible thanks to the masterminds behind Vo Trong Nghia Architects. With the completion of the farming office, a concrete-framed building covered in a 'vertical farm' of fruits, vegetables, and herbs, the Vietnamese architectural firm Vo Trong Nghia Architects has established its own headquarters in Ho Chi Minh city.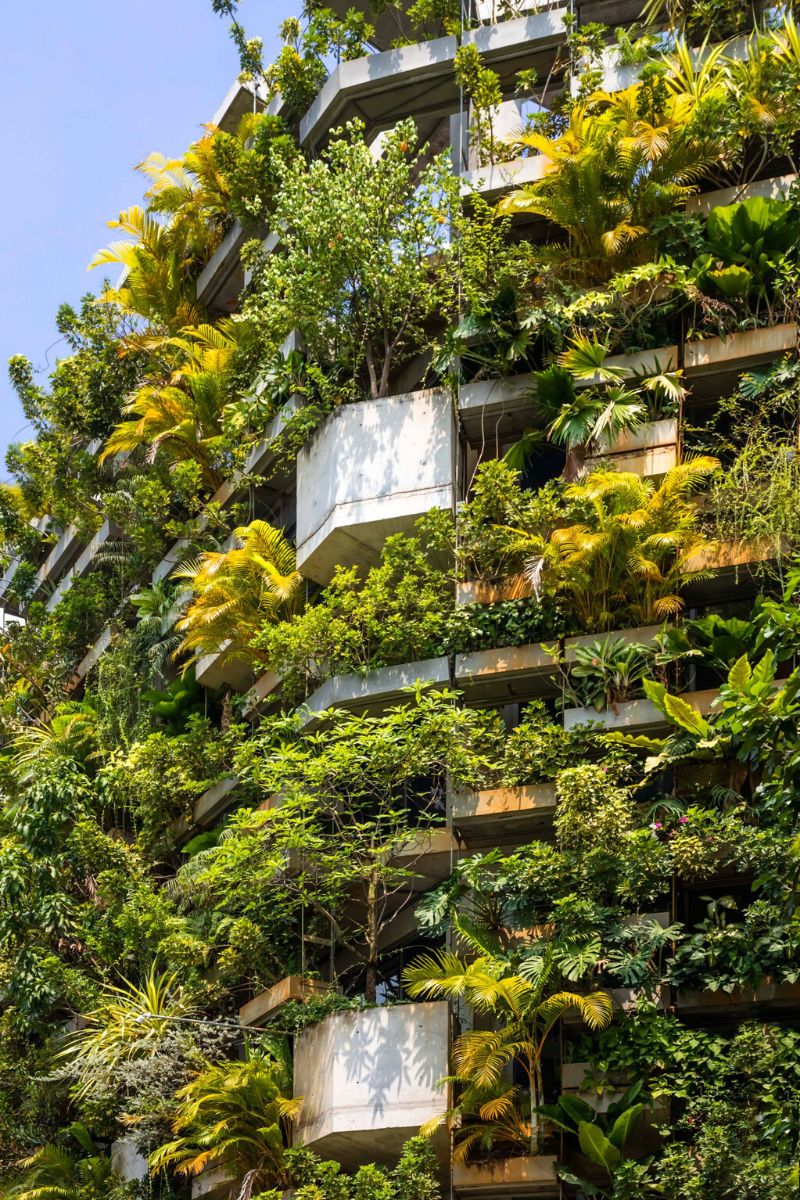 Their newest office space, which resembles green tonalities at its maximum level, is situated on a corner site in the Thu Duc neighborhood of the city. It was built and thought about as a building that could serve as a symbol of the low-energy, plant-filled style of architecture for which Vo Trong Nghia Architects is renowned. Along with the office, the architecture firm also built a variation of its low-cost dwelling prototype, 'S House', which was first exhibited in 2012 and is built to survive earthquakes and typhoons.
A Splendid Green Work of Art
This new green office is what many would call a spectacular work of art. Have you ever seen something so green, harmonious, and perfect at the same time? This is what the architects at Vo Trong Nghia are known for— creating paradise within every spot they touch with the addition of greenery for the health and sake of humans.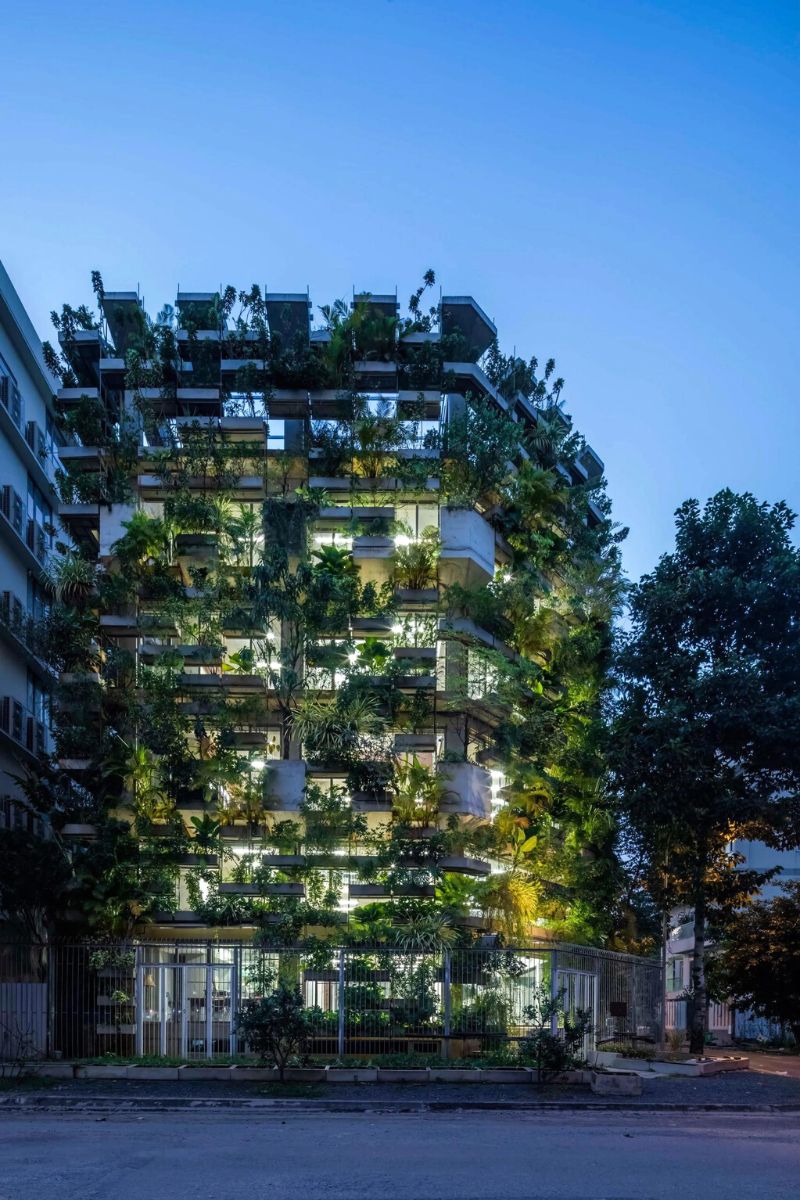 Cities in Vietnam have gotten far away from their beginnings as vast tropical forests due to rampant urbanization, according to the studio. The lack of green contributes to a number of socioeconomic issues, including the heat island effect, flooding, and air pollution. Read the article 'Trees Bursting Into Ha Long Villa by Vo Trong Nghia Architects Will Redeem Your Love for Nature' to see other green projects that have been downright successful.
In this situation, young people in cities are losing their connection to nature, and rising droughts, floods, and salinization threaten food sources. Taking in mind the lack of connection there seems to exist among many with nature, this project was created to bring back that gap.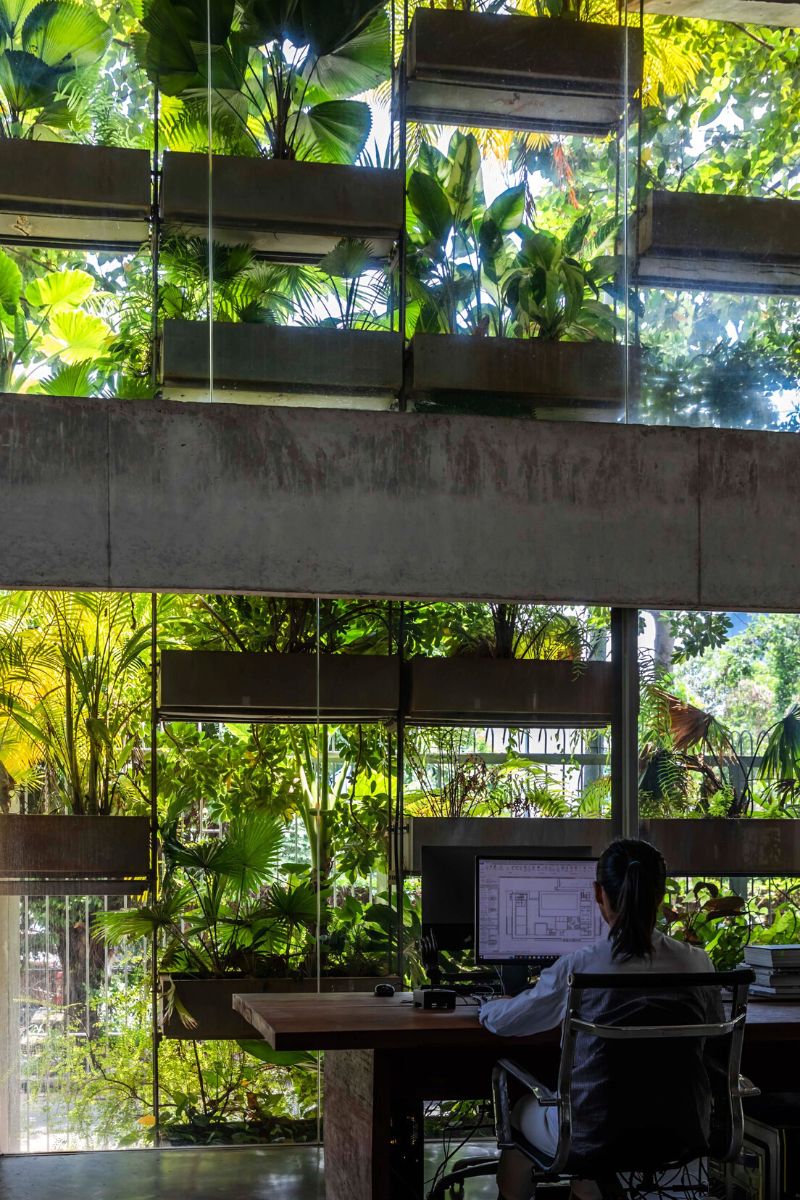 What Makes up the Green Office by Vo Trong Ngia Architects?
The planters themselves are supported by a shelving-like external structure of thin steel, allowing them to be easily moved around as plants grow or are completely replaced. The office building's core is made of an exposed concrete frame.
The wall of plants, which completely encloses the southern side of the building with glass, functions as a filter for air and sunlight, limiting overheating and generating a shaded microclimate for the office interiors. Inside, offices are arranged around a central atrium. Full-height sliding glass doors enable access to balconies where pots may be moved or harvested, and a rooftop garden offers additional room for plant growth.
A Green Area That Births Its Own Harvests
The method gives up to 190 percent of the green ratio to the site area when combined with the roof garden and the ground, which is equivalent to 1.1 tons of harvest, according to Vo Trong Nghia architects. On another note, evaporation cools the air while stored rainwater is used to irrigate the vegetation.
To contrast with the vivid green of the planted exterior, the interior of the concrete structure has been left entirely exposed. Dark wood furniture and simple light fixtures are added. The elevator and stair core has been relocated to the northern corner of the building, where brick walls with small ventilation slots have been left naked to accommodate potential back additions in the future. This has made it possible for the office spaces to be as open as possible and provide fruits and veggies for the workers in the building. Quite fascinating don't you think?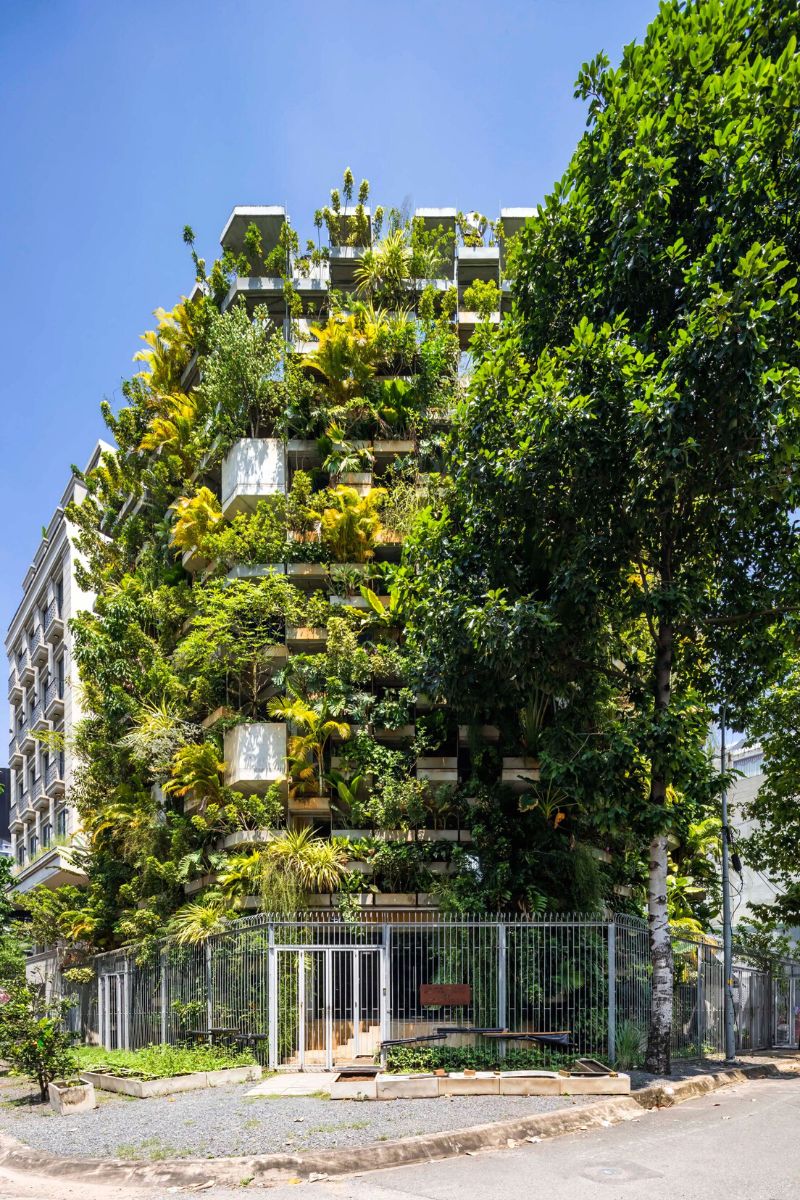 Architect Vo Trong Nghia established his own business in 2006. Since then, it has gained notoriety for experimenting with low-energy buildings and frequently incorporates plants and bamboo into its designs. Head to the Vo Trong Nghia website to learn more about their current and upcoming projects.