Seasonal Chrysants and Ranunculus
You did know that ranunculus is a seasonal product. But did you know that some chrysants are originally also seasonal flowers? That is why André Knoppert & Zn. are growing these flowers successfully according to their season. This brings the best product at the right moment. It's probably one of the reasons why this grower was asked to become a Decorum member. Martijn Knoppert tells about how they wholeheartedly say "yes" to this request.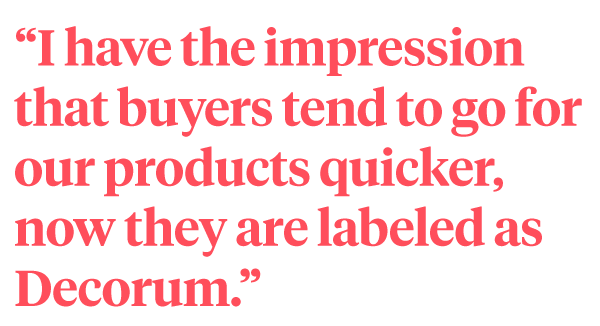 Who is André Knoppert & Zn.?
"Translated into English, our company name is André Knoppert & Son. My name is Martijn Knoppert, 21 years I am the son of André, the founder of the nursery. From my early childhood, I have been at the nursery. This became serious business when two years I really started working here as a fellow-owner with my father. The new things I bring into the company have a relationship with my love for photography and filming. I can combine the skills I have to promote our business as well.

We grow exclusive disbudded chrysants and ranunculus, both within their typical seasons Fall and Spring. This keeps us busy all year. Our disbudded chrysants are planted from June and harvested in September until November. These are heavy classic varieties that few growers have, like Fuego, Avignon, Holiday, Gilbert Leigh Purple, and Louis Germ. After the chrysant season has stopped we plant the ranunculus in November and harvest them in April. We grow ranunculus Amandine Marshmallow, and a palette of colors in the Aazur and Elegance lines. When it's June again it's time to clean and steam the soil for the next crops. And so the year is round again."
What do you think of the Decorum brand?
"I associate Decorum with quality. Although we have not been a longtime member of Decorum, only since April of 2020, we have always known this. If before I would go to a garden center, and I would see two products - one with a Decorum packaging and one without - I would go for the Decorum label. It is such a strong name, you see it everywhere. That generates the image of a better product. The branding they do is so strong, that it is in the people's heads."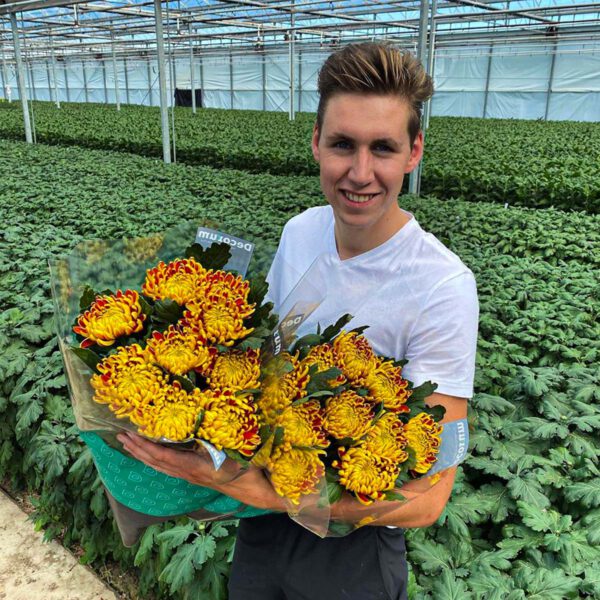 Why did you become a member of Decorum?
"We were asked by Decorum. That happed after one member met with my father. André is always very enthusiastic when speaking about his products, it is his life's work. This grower said to my father that if a grower is so passionate about his products he must join Decorum. We never thought we would be a Decorum grower since we are a relatively small company. We grow exclusive flowers, no bulk production. What happened next is that Decorum starts asking around with our buyers to learn their experience with André Knoppert & Zn. This is to assess whether our company is good enough to become a member. Apparently we are good enough to carry the Decorum label, and we feel very honored by this. So, we said "yes" and joined the club."
What are the advantages of Decorum for your company?
"There are many. First of all, we can now label our products with a well-known quality brand, which helps us to sell our products. Next to that, we are a member of a network of fine growers that shares all kinds of useful information for a grower. They are like colleagues to us. An example of this is the support we had during this corona crisis. Every day we had video calls in which we shared information with other Decorum growers on how they managed the situation that occurred. You get the opinion and experience of dozens of growers, which helped us a lot.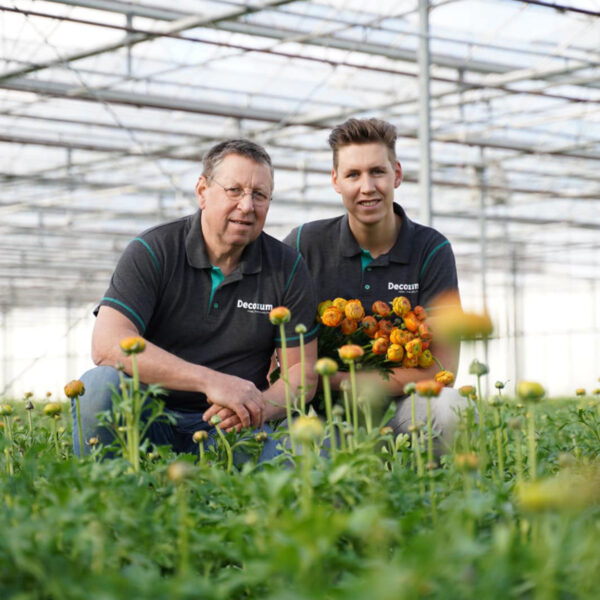 I have the impression that buyers tend to go for our products quicker, now they are labeled as Decorum. Buyers worldwide have access to our products through the Virtual Market Place (VMP) connections in webshops and many have direct access to the clocks of Royal FloraHolland (KOA). So, the world is our stage. Decorum is known all over the world, much more than André Knoppert & Zn. And last, but not least, there is the advantage of buying as a group. The scale of Decorum makes our purchase of things like fertilizers and trays, and packaging materials a lot cheaper."
What do you think is the most important reason for a florist to buy Decorum?
"It's the certainty of buying quality. Decorum's branding is so strong, that a customer has a certain quality experience before the actual purchase. This influences the decision on which product to buy."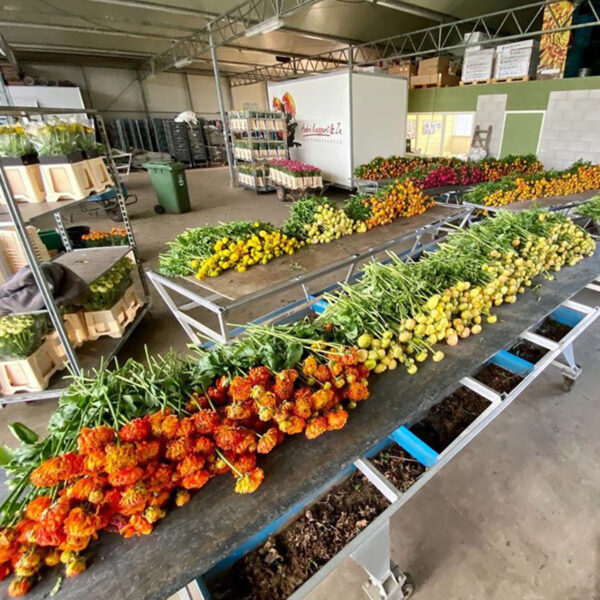 What is your advice to growers who are not members of Decorum?
"Guarantee your quality. You can only become a Decorum grower when you meet the standards of both the Decorum team and the other growers. In my personal opinion, it should not be a target in itself to just make all growers a member. The target must be to have a group of strong growers that offer a steady top quality product."