Tropical florals and contemporary rattan seem an ideal combination to decorate. Accent Decor is a real trendsetter when it comes to essentials needed for events and weddings. This trendy event collection is inspired by the beauty of the tropics. From spring rattan to pampas grass to versatile lanterns, these pieces are designed to complement your dreams for any and every event. A collection filled with of-the-moment statement pieces that feel trendy yet classic, and modern yet timeless. The addition of unexpected dimensions, and textures, is the key to cultivating an event collection. The juxtaposition of natural and contemporary add a fresh take on weddings especially.
Tropical Florals and Contemporary Rattan
Add modern elegance with showstopping florals in pieces that will stand the test of time. For an extra punch of color and style to amp up your decor, add tropicals this season. And use rattan lanterns with a romantic yet modern look for a natural overhead touch. Each new piece fits flawlessly with our existing collection while bringing a fresh yet timeless take to today's hottest new trends.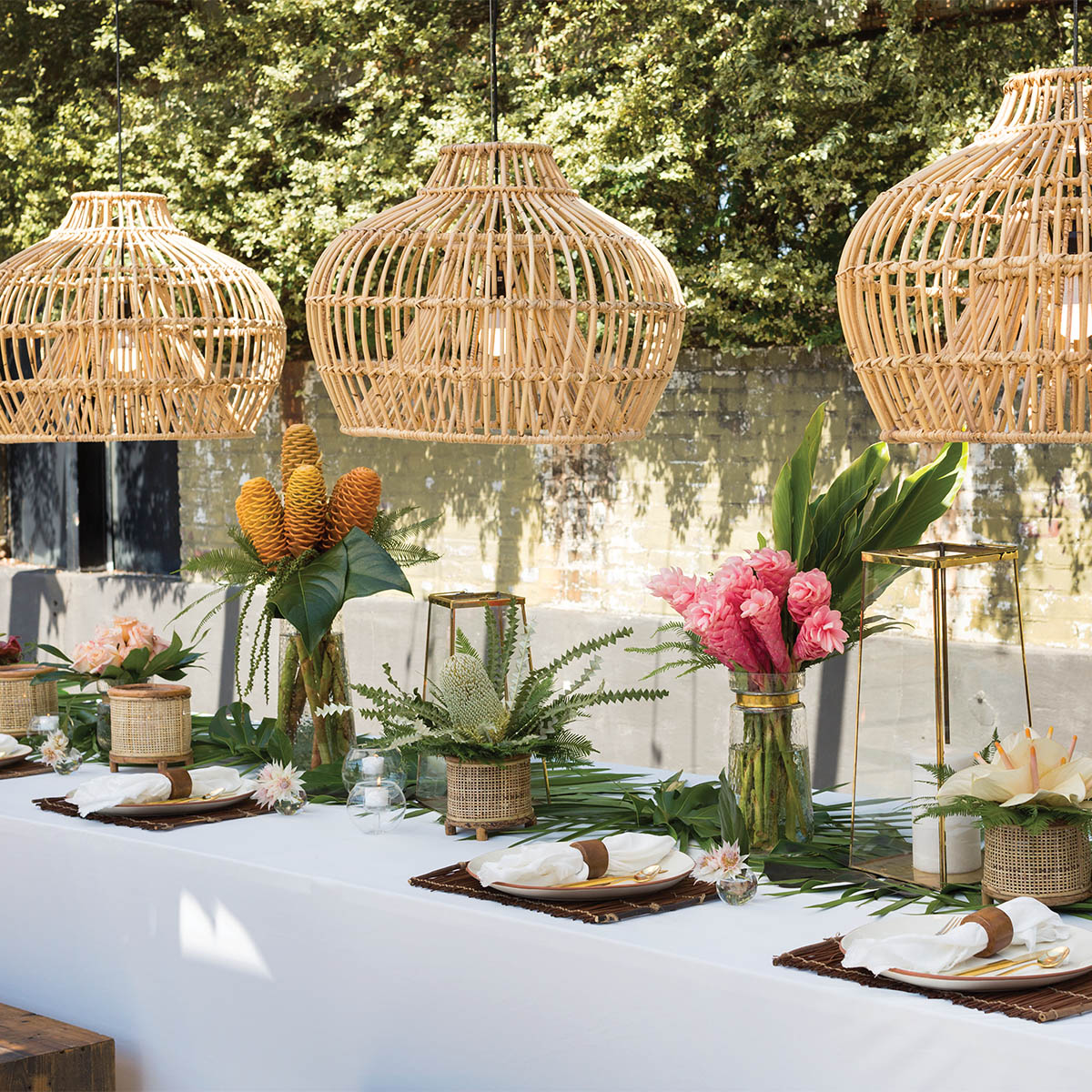 Ian Prosser of Botanica International Design & Décor Studio provides an in-depth tutorial breaking down the tropical trend by creating an of-the-moment look for a wedding or a special event featuring casually cool rattan and effortless accents.
Accent Decor is a wholesale distributer of design-focused vessels for the floral, event planning, and home décor industries. A family-owned and operated company since 1997, Accent Decor seeks to inspire through unique product offerings, and passion for bringing beauty into the world at a price accessible to all. Recognizing the importance of nurturing the global community, Accent Decor believes in making a difference in the world. At Accent Decor they seek to reinvigorate the floral industry and inspire florists to be recognized as the artists they are. They also believe in generously giving back to the community that has supported the growth of our company, while also working to ensure all the artisans and manufacturers that we partner with, are treated with the respect and care they deserve. Accent Decor places a high value on honesty, commitment, generosity, and integrity.