Breeder De Ruiter has consciously worked on the development of the product rose in its more than one hundred years of existence. Next to their famous cut roses and spray roses, they were at the cradle of pot rose cultivation. This is what two Dutch growers - Valstar Planten and BM Roses - say about the pot roses Jewel® series.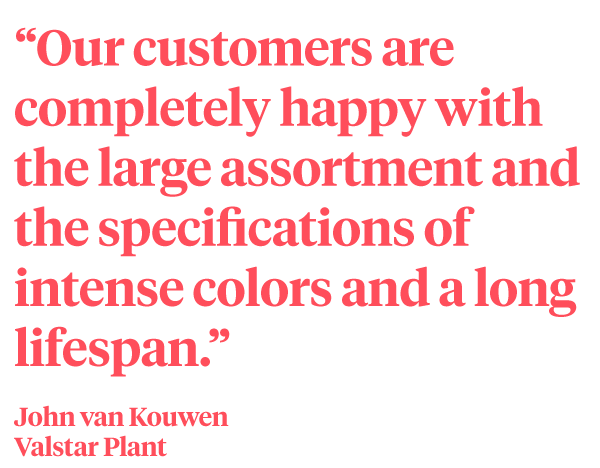 De Ruiter Jewel® Pot Roses
What a grand comeback for the pot rose! The many colors in the pot rose assortment show there is something for everyone. There's always a place for your pot rose, either indoors, or - from spring to fall - in a garden or on a balcony. Pot roses are not afraid of the sun, in fact, they love it! The Jewel® series is currently a line of eighteen varieties in five distinctive colors with pot diameters ranging from 10.5 to 13 cms. So, there's always a color to mix or match.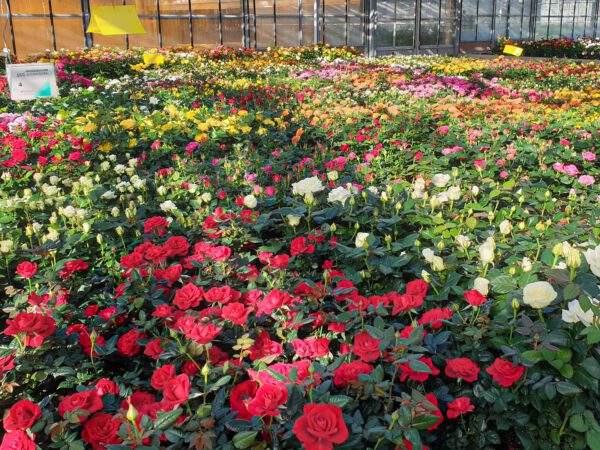 BM Roses
BM Roses is one of the larger pot rose growers in Europe. Grower Jaime van Marrewijk has all seven colors of Jewel® pot roses in his greenhouse. Jaime:
"We are growing pot roses from De Ruiter for about fifteen years now. That's a long time, but we're still very happy with this series. Especially the health of the plants and the extremely long shelf life of the plant stand out. But we also like the number of leaves the plant produces and its beautiful bright colors." "The Jewel® pot roses get a good price at the auction clocks, and they're worth every cent, both for us and I am sure also for the buyers."
Valstar Plant
John van Kouwen is the sales manager of Valstar Plant, a grower known for its own branding with the Jewel® pot roses. These are called 'Lotz of Roses'. John explains:
"We have completely shifted to growing De Ruiter varieties in 2019. The reason to call this line 'Lodz of Roses' is that the flowers really have a way above the average number of blooms. Your usual pot rose probably contains 4 or 5 blooms, these hold 10. Also, the intense colors, the uniformity, and good branching are a big plus for these pot roses."

"Our customers are completely happy with the large assortment and the specifications of intense colors and a long lifespan."
More Jewel®
Jewel® contains many different colors and varieties. Here are a few examples of these beautiful and full-blooming pot roses from De Ruiter's Jewel® series.
Pot Rose Hot Jewel®
Pot Rose Corn Jewel®
Pot Rose Violet Jewel®
Pot Rose Orange Jewel®
Pot Rose White Jewel®
How To Get Your Jewel®?
A rewarding plant for the user to purchase due to its excellent shelf life. De Ruiter's Jewel® pot rose varieties are produced in the Netherlands and Brazil, pot size (10.5 to 13 cms). For more information on where to buy, please contact De Ruiter Innovations.