Would you like to know which flowers are in season in September? Holex has developed a chart with a plethora of options for wholesale flowers in season in September! Take a look and be amazed which products will be available in our webshop. Sedum, Classic hydrangea, crocosmia: these are only a few of the fantastic flowers that this month will bring!
For Your Shopping List
Wholesale Flowers in Season: September For your shopping list, here are the names of all the products that will uplift your customers' floral designs in September. Campanula Glomerata Emerald – This lavender-colored campanula Glomerata variety is a true summer flower. When the blooms open up, they will bring a smile to everyone's face. Who doesn't love the alien look of craspedia? Besides this, craspedia is an instant texture-bringer to floral designs! Craspedia is not only available in its natural color yellow, but also in a lot of dyed colors. Like this craspedia Dyed Hot Pink: perfect for the summer season!
Liatris Spicata is a summer flower golden oldie! Their sturdy stems carry countless lilac-colored flowers. A perfect item for your Radiant Pink and Purple Summer Flowers list!
Nigella White – The delicate blooms of nigella are truly pieces of art. We offer them in blue and white, and they both look gorgeous in any summery floral design! Phlox Whitecap – Phlox is a true beauty, and therefore definitely deserves a place in our list of summer flowers that will make you smile! It looks like if the blooming of its lovely white flowers never will end.
Don't be fooled by the name: scabiosa Red Velvet has a radiating magenta color tone! As you can see, this flower is ready for partying! Scabiosa Stafa – The radiant purple-colored petals of scabiosa Stafa will surely add some spice to your summer floral designs!
The spray variety veronica Smart Fountain has deep lavender-colored flowers which match beautifully to the fresh green stem. This flower is very versatile and looks gorgeous in any kind of floral design. Paint your floral masterpiece with veronica Smart Artist: this flower will make sure that your design will have an amazing look! Also, veronicas bring texture instantly, and when the little flowers open up, these flowers are a feast for the eye!
From Amaranthus to Zantedeschia
It's all there, available for you with your flower supplier: amaranthus, anigozanthos (kangaroo paw), astilbe, astrantia, bouvardia, brassica, celosia, chamelaucium (wax flower), chrysanthemum spray, clematis, cortaderia, corylus, cosmos, craspedia, crocosmia, crocosmia berry, dahlia, daucus, delphinium Belladonna, delphinium Elatum, gomphrena, gypsophila dyed, eucalyptus Cinerea, eucalyptus Populus with berries, helenium, hydrangea Fresh & hydrangea Classic, hypericum, leucadendron, ligustrum, lily Oriental, lisianthus (eustoma), nerine, panicum, pennisetum, phalaenopsis, phlebodium, phlox, physalis, pittosporum, protea, quercus (oak leaf), rose, scabiosa, solidago dyed, sweet pea (lathyrus), symphoricarpos, tulip Strong Gold, tulip double, tulip dyed, veronica, viburnum, weigela, and zantedeschia (calla lily).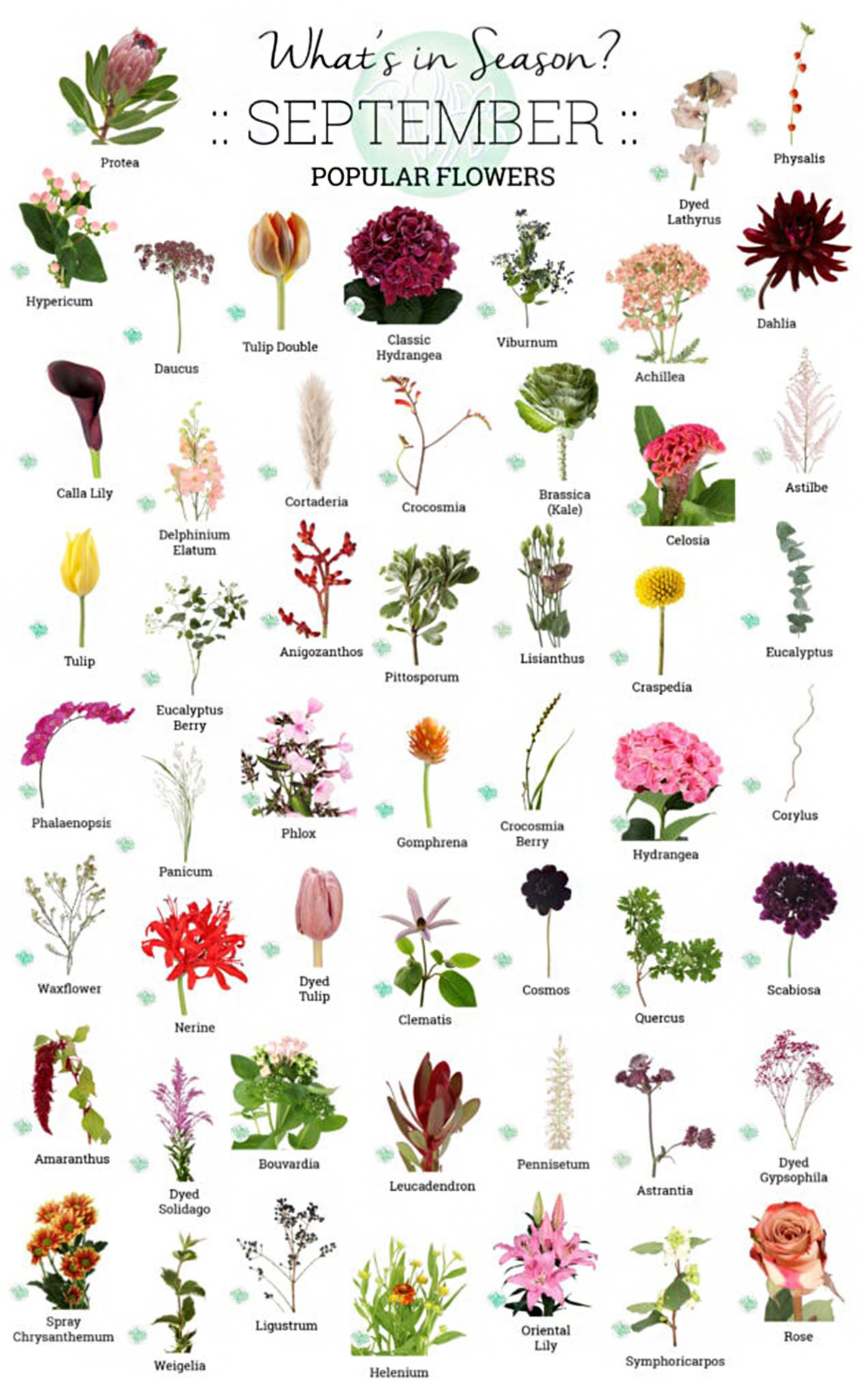 Summer & Fall Design Inspiration
Visit the Holex Pinterest mood board for Summer and Fall to see what you and your customers can do with wholesale flowers in season September! Also, watch the design tutorials over here for more summery floral design inspiration. Images courtesy of Holex.