Hanneke Frankema
and Max Van de Sluis, both Dutch flower art champions at some point in their careers, joined forces for an amazing show in Las Vegas, America. The show 'Evolution of Shapes' was given during the
AIFD symposium 'Roots'
. With this show, AIFD, which stands for 'American Institute of Floral Design', gave its members a glimpse into the special creative minds of Hanneke and Max.
Hanneke Frankema and Max Van de Sluis Are True Performers
It was not the duo's first time on stage together and it showed. Completely at ease, they told the 800 florists present, plus everyone who watched the live stream, what their thoughts were behind the ten designs on stage. They did so with verve, humor, and technical finesse.
Max:
"We didn't study for the show. It was pure, as we are, we worked together so much in the past: already in 2009 Hanneke came to me to work on a Christmas project I was doing, so we go back a long way. We feel each other and we look in one direction. We have a lot of humor, and making jokes comes natural. And the public loved it."
Hanneke:
"We are on the same page and we love floral design so much it's not an effort to talk about it. We made sure all designs were finished before going on stage. The program had to be educational and entertaining. And that was only possible if the we didn't have to finish the flowers on stage. The time limit was the only thing we had to be conscious about. To explain the ten designs within the time offered was a challenge, but we did it."
The flowers they used came mostly from Decorum and Marginpar. Exceptional flowers like Jatropha, the beautiful white Clematis, Craspedia, Bromelia, and many more beauties.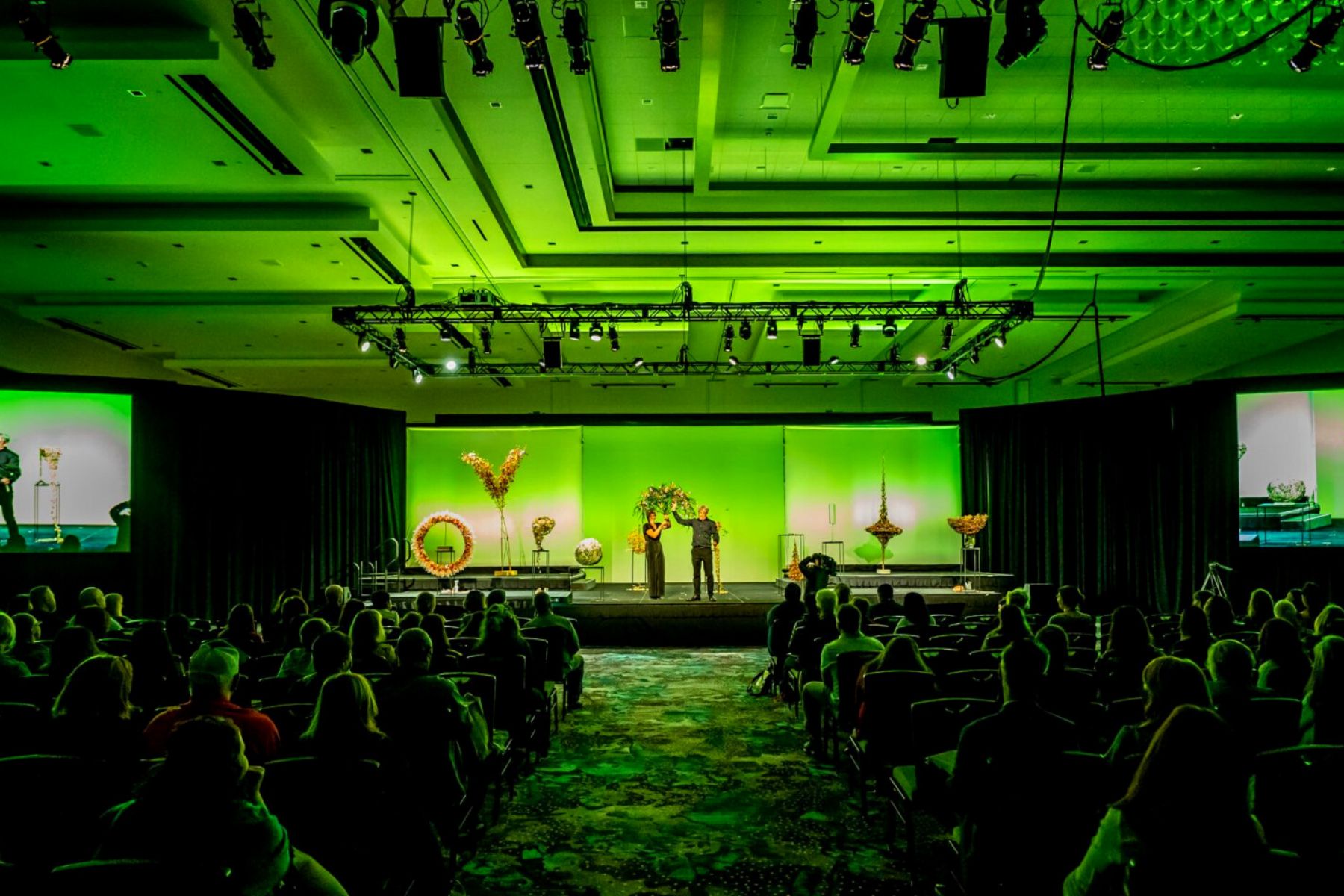 Marginpar, one of the flower sponsors of the symposium, was there and they enjoyed everything about it. They also learned a lot. Hanneke and Max did not only show what they had made, but also how and why, and how you can benefit from it as a florist.
Attracting Attention
Hanneke Frankema:
"Our designs are deliberately large. Of course, as a florist, you probably won't sell them easily. But you can use them to decorate your shop and to show off your skills, and this will attract attention and customers. We finished all the pieces up front, to be able to explain techniques and show how it's done."
Max:
"It is also important to think about recycling. We pay a lot of attention to the construction. It takes time, but once you have those constructions you can use them more than once, and sell them several times. "

Netflix Chores
Hanneke, who got the nickname 'Iron Lady' because of her love of wire, casually twists some aluminum frames on stage while talking.
Hanneke:
"I call these Netflix chores. These days I do this without thinking while sitting on the couch. The frames are made of shiny wire or rustic wire, I deliberately don't mix them."
Max Van de Sluis is also a fan of wire:
"Why make a foam base that you then have to cover all over again? That's a waste of time! You can show off nice wire work, it saves time and you often need fewer flowers to create something really special. And the wire also helps to keep the flowers in the right place. It's a win-win."
If you look at the designs carefully, straight lines are almost non-existent in the couple's designs. Consciously.
Max:
"You hardly ever see any straight lines in nature. Even bamboo still has a slight curve."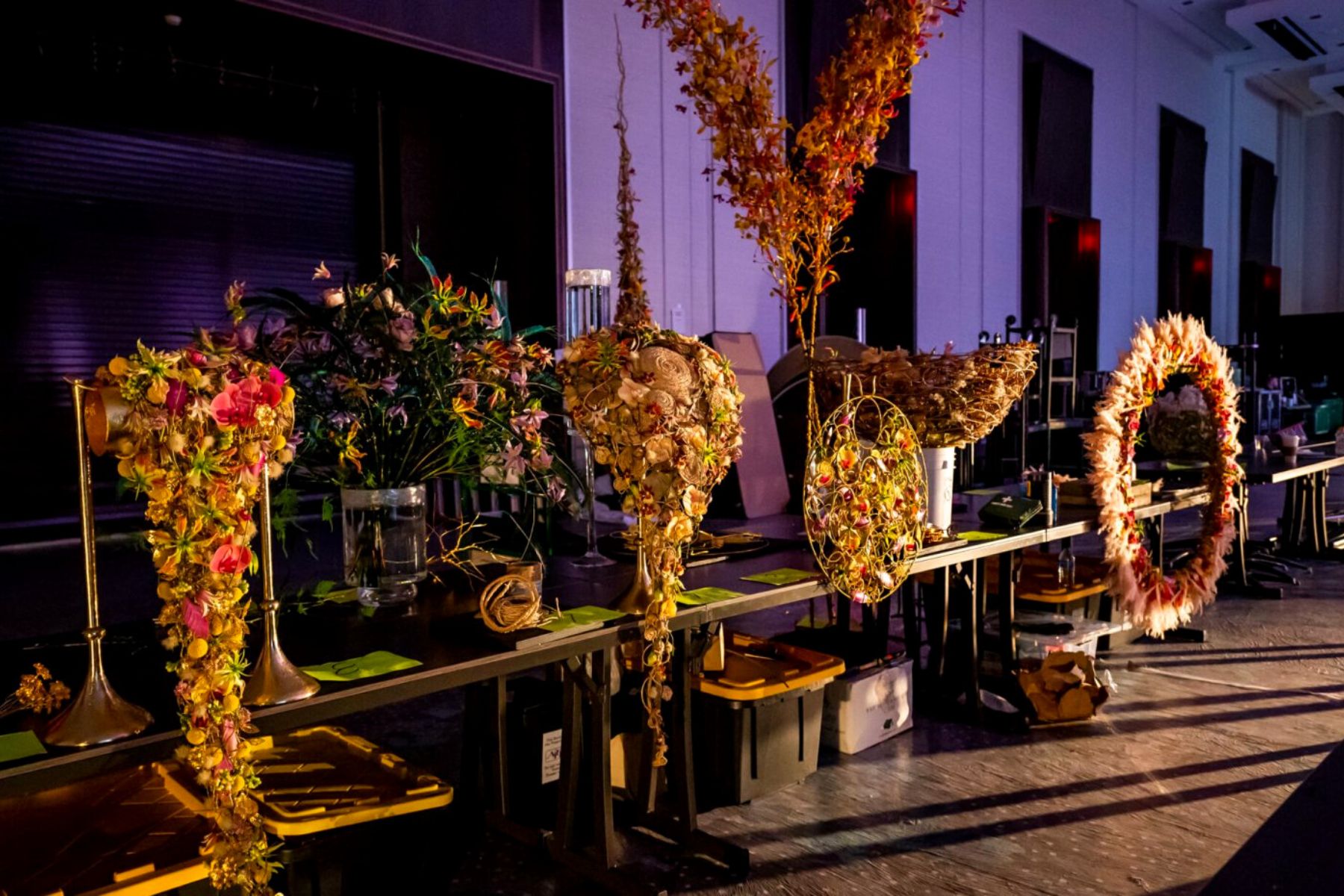 Export Companies Tuning and Holex
A well-oiled machine of logistics made sure the flowers traveled from Europe to Las Vegas. Tuning made it all happen as far as Max's and Hanneke's structures, materials, and Decorum's flowers go. Hanneke and Max were full of positive compliments.
Max Van de Sluis:
"Hanneke and I went to help to pack everything that needed to go to Las Vegas. This export company Tuning was so experienced and organised. Hanneke and I believe that the commitment and lengths they go to make it all happen, are amazing. We were very grateful to them to make us see the importance of our exporters."
Tuning is a Dutch exporter and trader of cut flowers and plants, located across the street from the Aalsmeer Flower Auction. Since 1931 they are specialized in sourcing and custom packing orders for both overseas and European destinations.
​For Marginpar's flowers, it was Holex doing the logistics. To get everything in Las Vegas in good condition with their export experience was outstanding. Holex is a Dutch flower export company, and they offer a complete range of wholesale flowers from Holland, sourced worldwide.
The show
The show is called 'Evolution of Shapes' and that is exactly what you can see in the designs. Starting with a flat circle, the designs transform into drops, globes, rings, and other evolutions of the circle.
Max:
"Initially, we had one and a half hours, but when it turned into 45 minutes we knew we had to make a choice which shape to choose. And when coming to color, I love all colors, but for the show it's important to stand out, to make a statement. So that's what I tried to do. When working for Scandanavian countries, maybe I would prefer softer colors. But in the US in my opinion strong colors for a show can make a differrence."
Hanneke:
"When you look into both our past, you see the circle coming back a lot, so for us that was the most obvious shape to work with. And as far color goes, for a few designs I took some steps out of my comfort zone, but I also can work with all colors they give to me. Every good designer can work with anything. With the green background most people were in overawe about our work."
Circle
This is where it all starts: the circle. And Hanneke's signature is visible right from the start. Her works are easily recognizable among those of others by the unique framework and choice of flowers. In this flat circle, we see the characteristic homemade metal leaves.
Hanneke Frankema:
"Those shiny leaves make a design extra interesting. I use different kinds; leaves I buy but also leaves I make myself."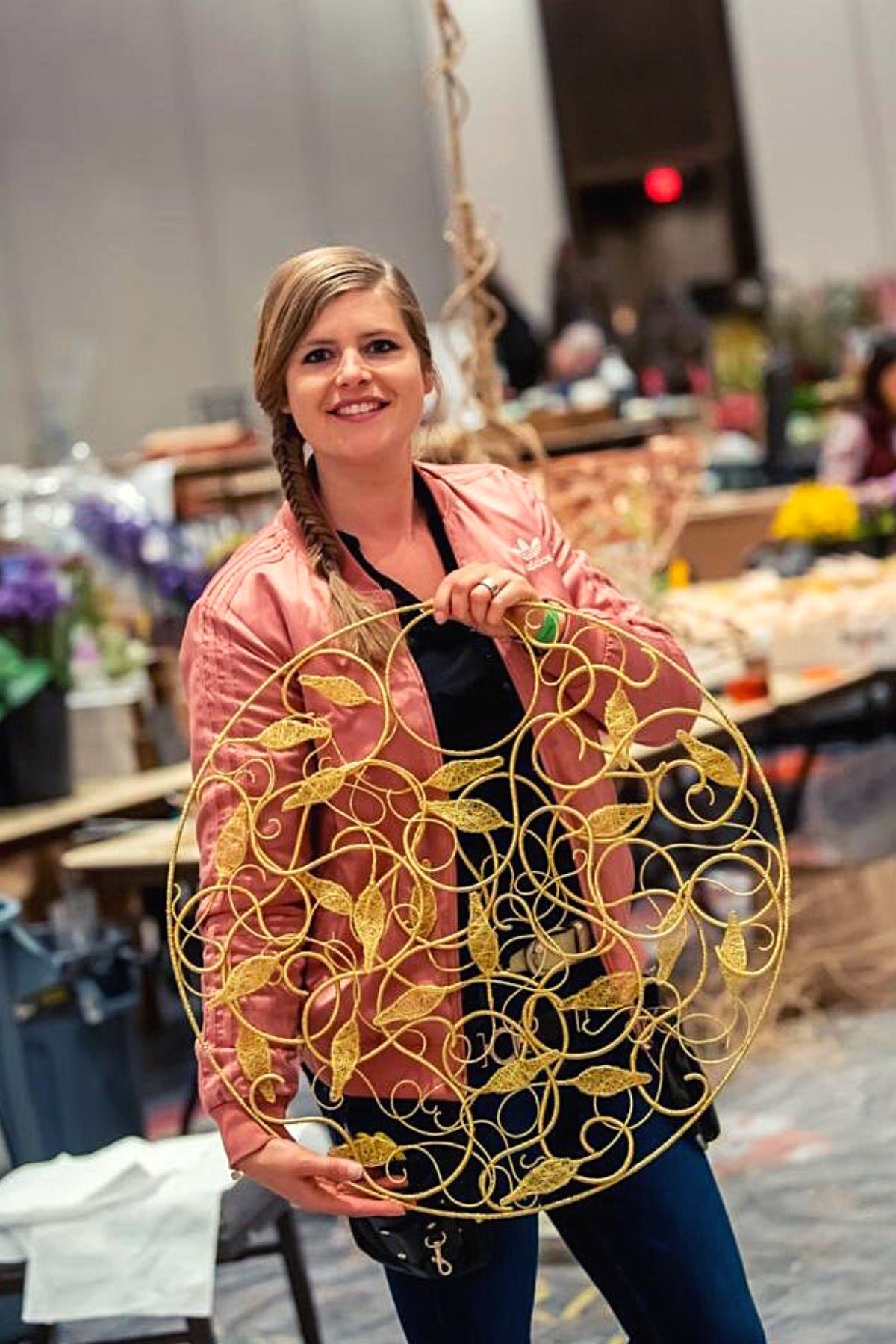 The Ring
Max:
"This design is big, a showpiece, too big for regular sales. But perfect as a photo opportunity, at weddings. Or as decor in the window of a flower shop. The ring contains flowers that dry beautifully, such as Craspedia, Pampas, Clematis Amazing® Kibo, Bromelias, Tillandsia, and Limonium. The flowers are glued on with special glue. You can also add water tubes for the fresh flowers."
The design lasts a long time, and by changing the fresh flowers you can also make adjustments to the theme and color.
Hanneke:
"This nice and big piece allows you to show off your technical skills as a florist. And it has to be said: with my partner Nico Alsemgeest, I'm so happy, and I enjoy beautiful pictures of my work, always. That's a privilage. We both love when pictures are taken on a black background. But of course whenever I work for clients that have a different branding and work with colored backgrounds or even white, I like that too. I makes every company unique."
The ring is made up of several layers, creating depth. Not only the front is beautiful, but the back is also beautifully styled as well. That is also something that keeps coming back in these designs, they are completed to perfection from every angle.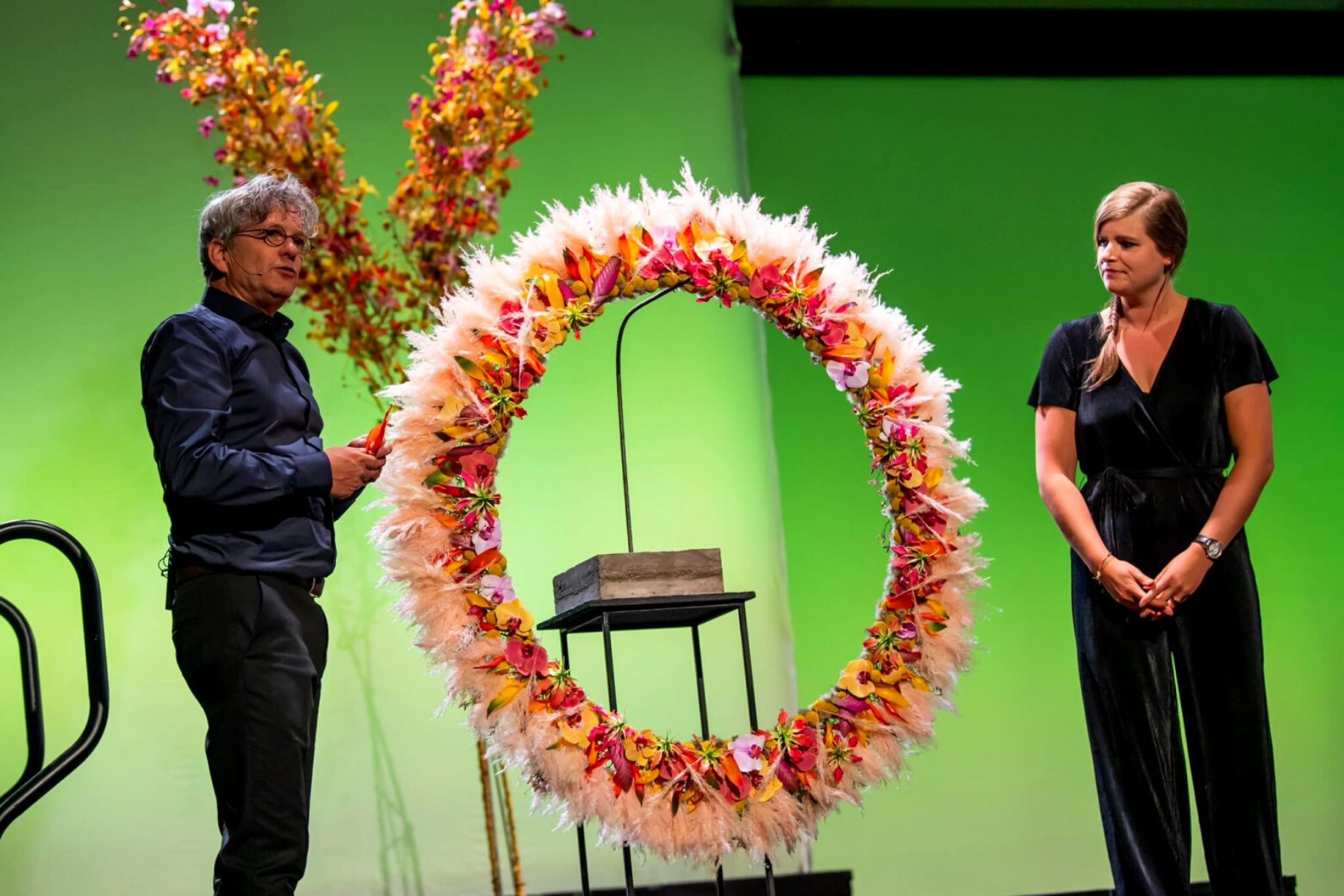 Bridal Fan
This fan is made of peacock feathers, the small kind, not the big one with the eyes. It emphasizes the elegant arch of the feathers and the hues with the purple Gloriosa from the Fifty Shades mix.
Max Van de Sluis:
"We suddenly saw that purple Gloriosa in the Gloriosa mix. It goes very well with the color of the feathers. I like the open spaces. Not to fill everything with flowers, keep it transparent. The water tubes are there, but they are hidden nicely."
Hanneke Frankema:
"You can see that we remove all the leaves from the flowers. We do that for two reasons: the stems are an important part of the line pattern and we want to show them. The leaves are a distraction. The second reason is that the flowers without leaves stay fresh longer. The leaves draw a lot of water and energy."
At Max's workshop, the students also got to work with the fan. As a basis, Max suggests using Limonium in addition to the frame of wire and Pampas.
Max:
"The branching of the Limonium provides structure, you can align flowers to it. It also adds color. With the addition of Gloriosa, you create something, everyone loves Gloriosa. The beauty of such a fan is that you can make it as big or small as you like, and you can choose how many details you want to show. I love details."
The Globe
Beautiful in its simplicity. Although, simplicity? Seen up close, this piece turns out to be intriguingly complicated. The mesh ball is surrounded by steel grass and topped off with Clematis Amazing® Vienna and soft bunny tails. Mind you, Clematis always needs water, and even though you can't see them, Vienna is neatly tucked away in water tubes.
Hanneke:
"When Max was preparing this structure I thought: 'For a lot of florists it would be difficult to make sure this becomes a whole and not a construction with flowers on top, but of course for Max it turned out to be perfect. He professionaly workes away the watertubes and the beautiful White Clematis is integrated so it becomes this beautiful globe."
Max:


"When I heard the people of Marginpar talking with so much grace and admiration about their new clematis, I looked at it and decided it would look amazing in this globe. And I was right, it became a jewel."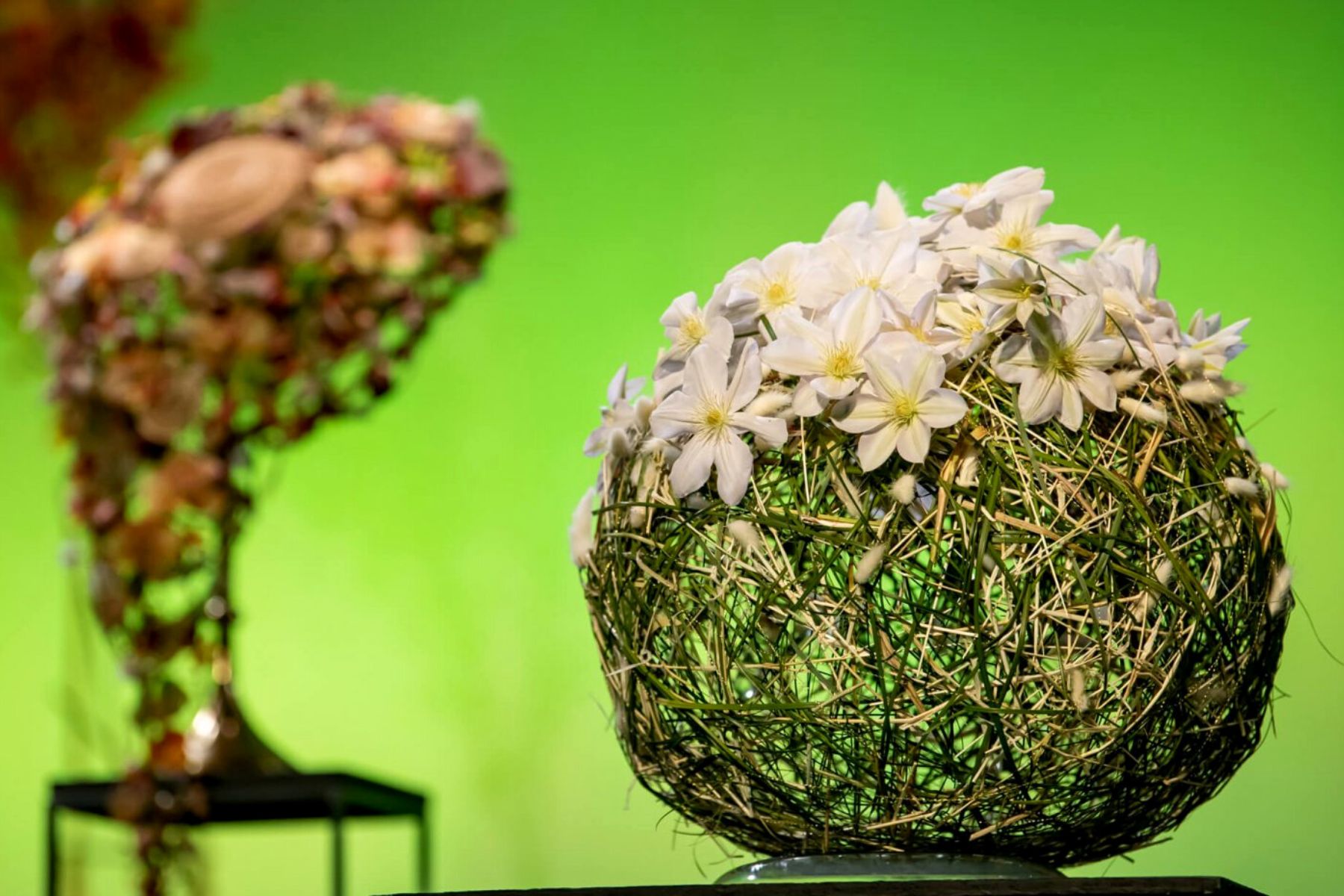 Cone
With this design, you can see the effect of the circles. There are at least 100 of them. The repeating pattern gives peace, despite the many small details. This 'bouquet' is not only very beautiful from the front but also beautifully finished at the back.
Social Media and Its Importance
These days social media seems to be very important. Besides Instagram and Facebook, there's also Pinterest, LinkedIn, Twitter, and TikTok...What to do and why? Hanneke and Max have their own opinion about these media.
Hanneke:
"For all my workshops the same rule goes: if I post it on Facebook and Instagram, it's much easier to sell out. And also all other projects come to me through my socials. Whenever a company wants to hire you to do work for them, I think the first thing they do, is to check your socials. What kind of work you do, how many followers you have, and so on..."
Max:
"I'm not that good with socials, but I believe it's really important. So I learn, and I post, or at least I try... (smiles)"
Bridal Roll
This 'roll' of flowers for the bride is a shiny eyecatcher. The base is a cardboard tube that Hanneke has varnished many times, inside and out. Once the base is finished, she surrounds the tube with shiny wire and accents of shiny leaves. If you look closely at Hanneke's designs, you will see these special details recurring regularly. The flowers are carefully constructed to create a waterfall of Craspedia, Gloriosa, Limonium, and Clematis Amazing® Sevilla. The softballs you see are the dried fluff of the Clematis Amazing® Kibo. As a finishing touch, the wire ends are topped with Hypericum berries.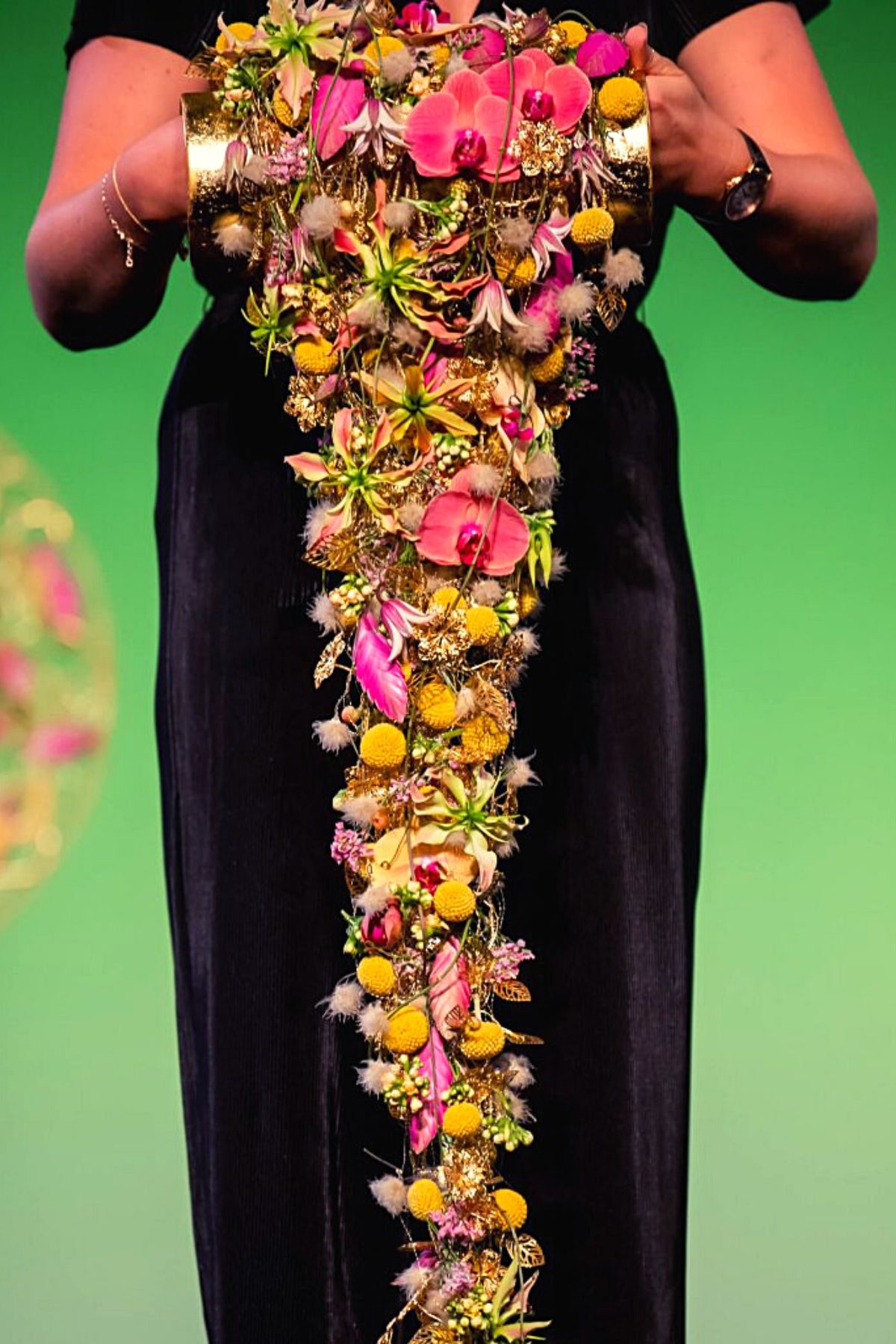 Two-Sided Drop
This double-sided drop is made from rustic wire. The work is over 2.5 meters high and consists of a sturdy rod in the middle poured into a base of concrete. As soon as this is solid, Hanneke starts building. Luckily, she gets help; 'assistant' and friend of the show Per Benjamin carefully inserts the flowers into the design. The choice was made for bright and cheerful colors in pink, yellow, and orange, complemented by dark red shades such as Daucus Carota 'Dara'.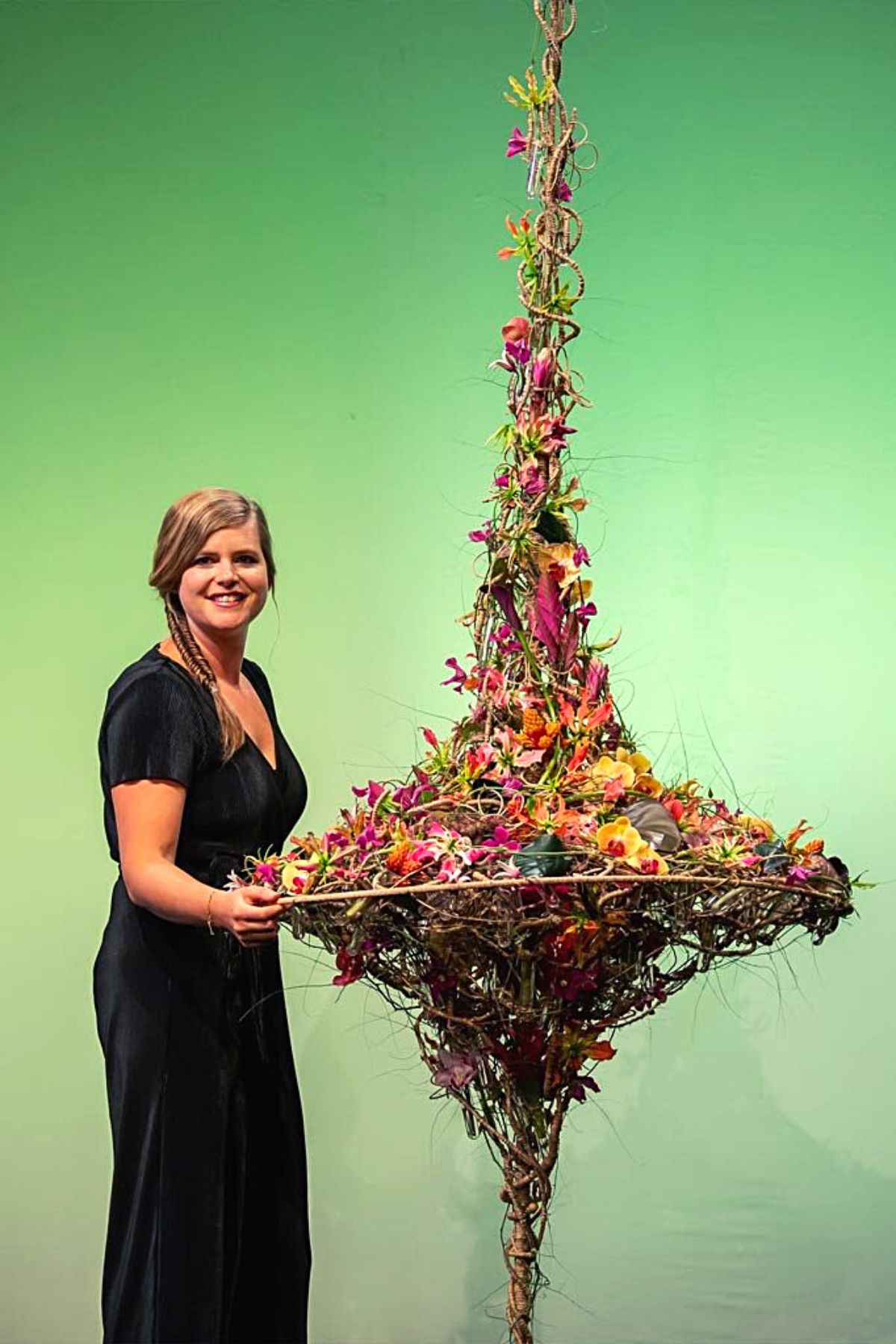 Frame Bouquet
In the picture, this bouquet already looks big, but if you stand next to it, this design is huge. Again, a solid base of wire mesh pleasing to the eye, and shiny metal accents. Extra touch: the base of crafted wood in the middle of the bouquet. In the close-ups, you can see how the wire is strengthened: by fusing two wires using a drill, the wire is not only twice as strong, but it also gives a particularly beautiful woven effect. Flowers are processed in different ways: with glue (one of the favorite ways for long-lasting flowers) and by inserting the stems through the frame so that this design can be placed in a vase.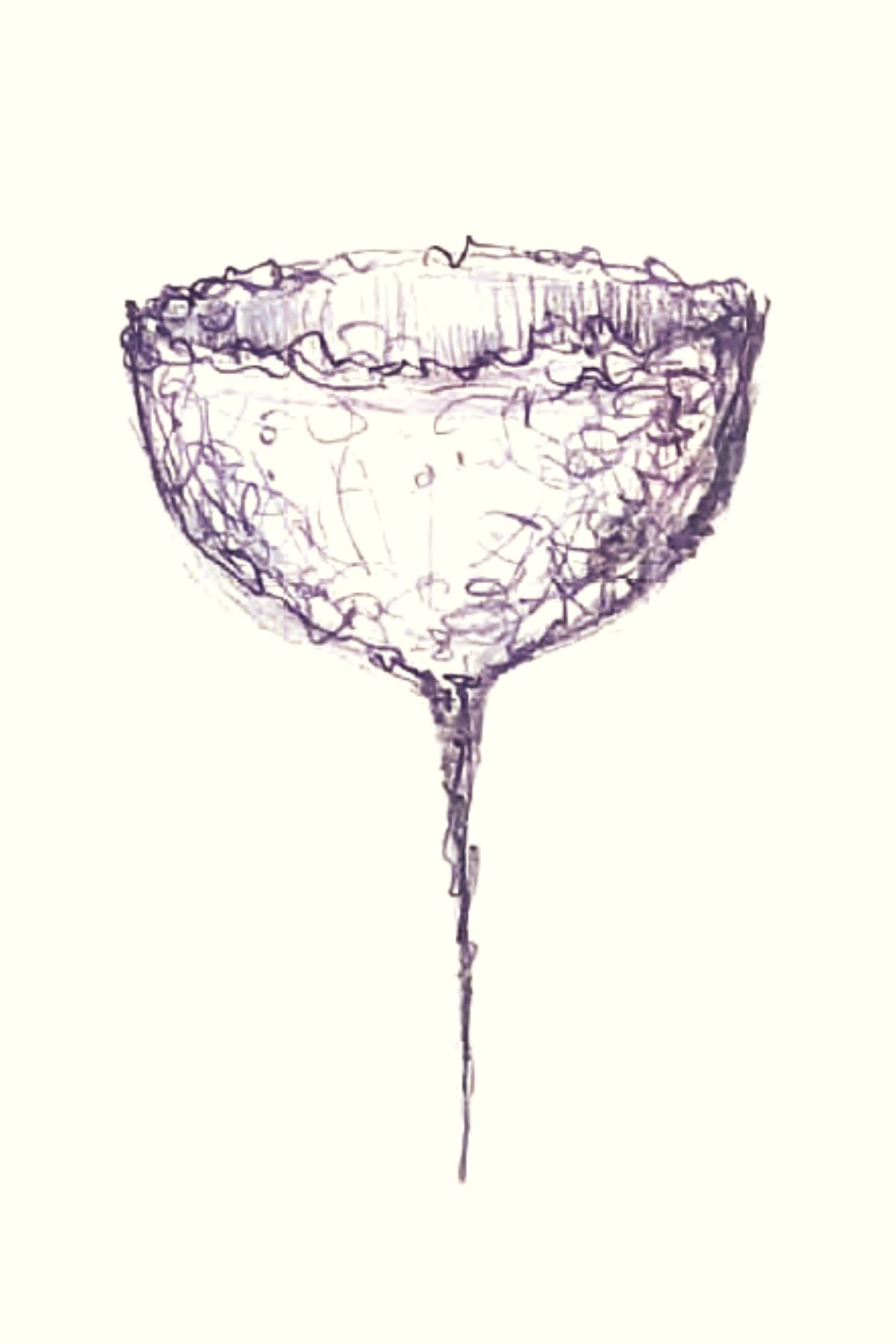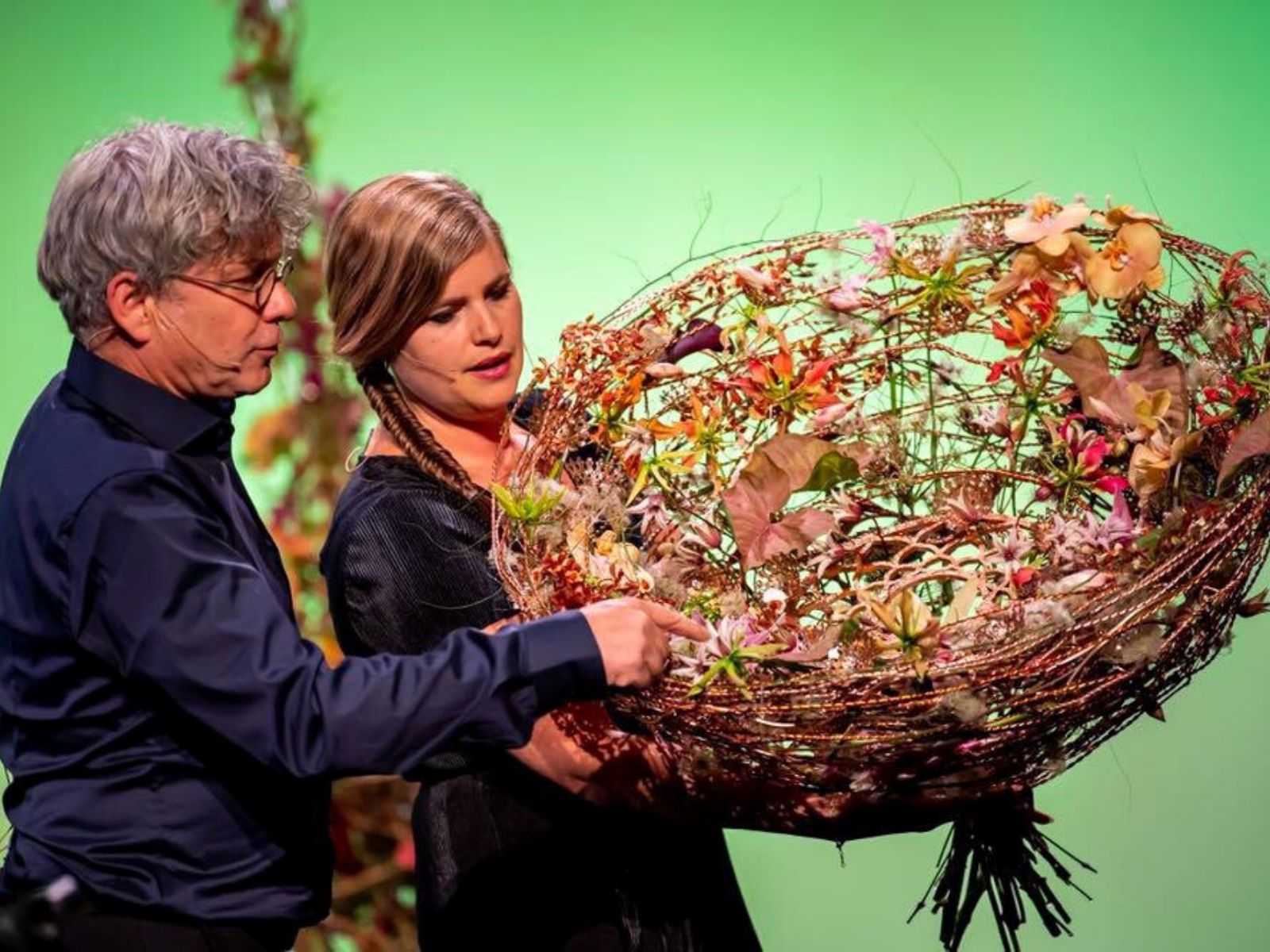 Drop - Bridal Design
Next, Max shows a wearable drop design, which moves with the bride as she walks. The frame consists of twisted metalwork, which is filled with layers and layers of flowers. Something which Hanneke and Max often do, and what can be seen here, is using the technique 'deconstruction'. Plants and flowers are taken apart, elements are taken out and reused in interesting ways that make you look twice. See, for example, the loose Hypericum berries at the ends of the frames. We also see Jatropha, Gloriosa, Clematis, Craspedia, and various Phalaenopsis.
Fireworks for Events
With these trees of aluminum wire, you immediately make a statement. These kinds of tall arrangements are ideal for events, according to Max and Hanneke:
"Even with a few flowers, you get a great effect. The base can be reused. It takes time to make, a base of wire poured into a sturdy block of concrete. But afterward, by reusing it, you gain time. Power colors were chosen for this sculpture, to create a real firework display."
The Craspedia and Hypericum are glued on and complemented with a mix of Gloriosa and pink Clematis (Amazing® Kyiv).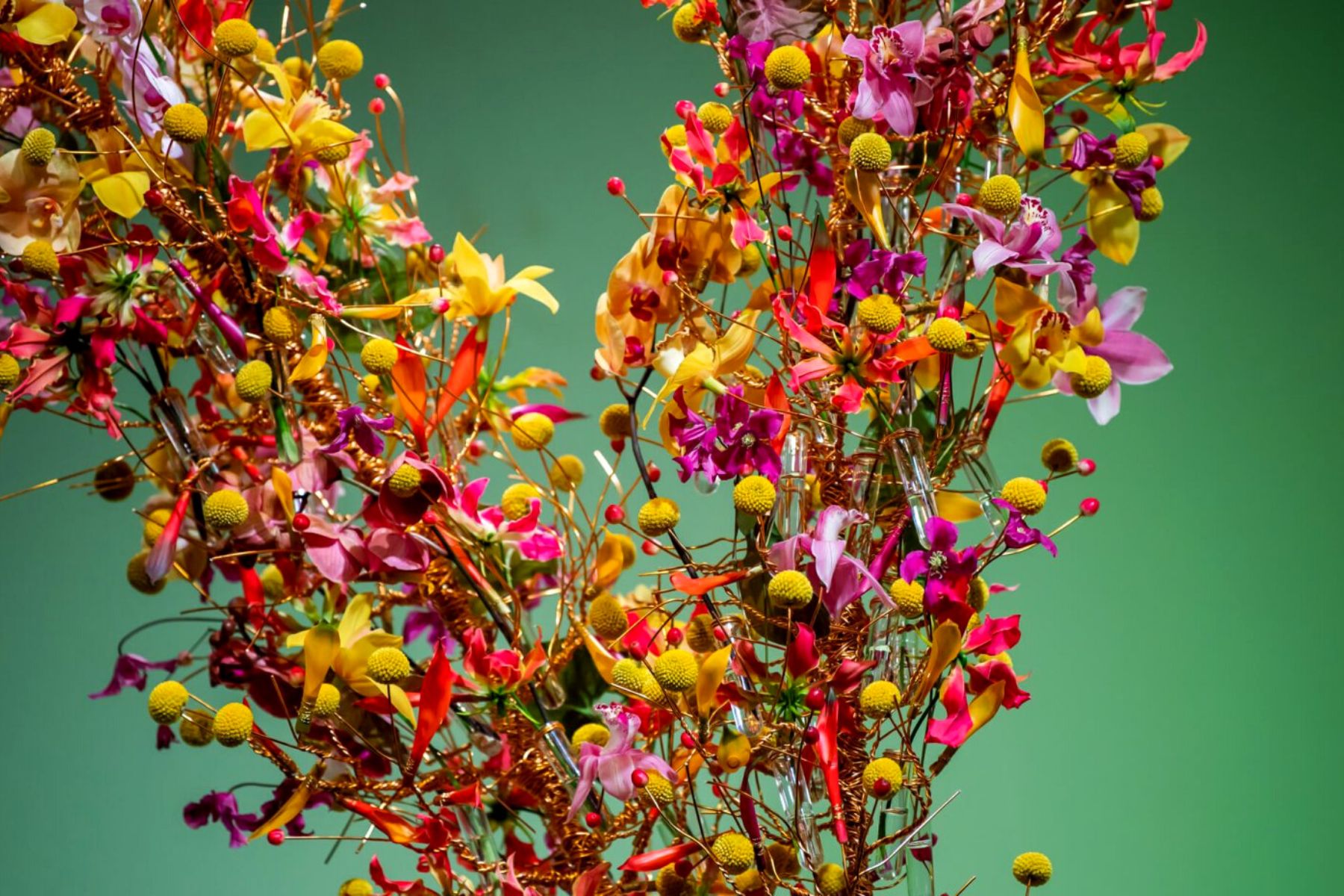 Hanneke Frankema and Max Van de Sluis
Hanneke now 39, and Max 54, have both been in the floral industry for a long time. Max grew up between the flowers. His father was a grower and his mother had a flower shop. So from an early age, he grew his passion for flowers. And Hanneke was in Agricultural Education at 14, where she had a few hours of floral design per week. She loved it.
Hanneke:
"It is't from beginning that I give demo's and stage shows, and work freelance. I at first had a my flower shop. It was a whole new segment next to the flowershops: the world of freelancing. And I love it. With a partner Nico Alsemgeest, the best photographer in my eyes, and our little girl, I enjoy life as it is these days! My passion is my work and family."
Max:
"There's one more thing I would like to highlight regarding AIFD 2022 Symposium 'Roots' in Las Vegas: it was an amazing team that did a lot of work for us and for everybody there. Thank you very much, Hitomi Gilliam, Ania Norwood, Aniko Kovacs, Ann Jordan, and probably many more. This was a breathtaking convention. Hanneke and I have several projects coming: Hanneke will participate in Europa Cup in Katowice, Poland and I'm working on a workshop in the Alps together with Per Benjamin and Antonuccio Vincenzo. But we hope that one day soon, we will be back on stage together."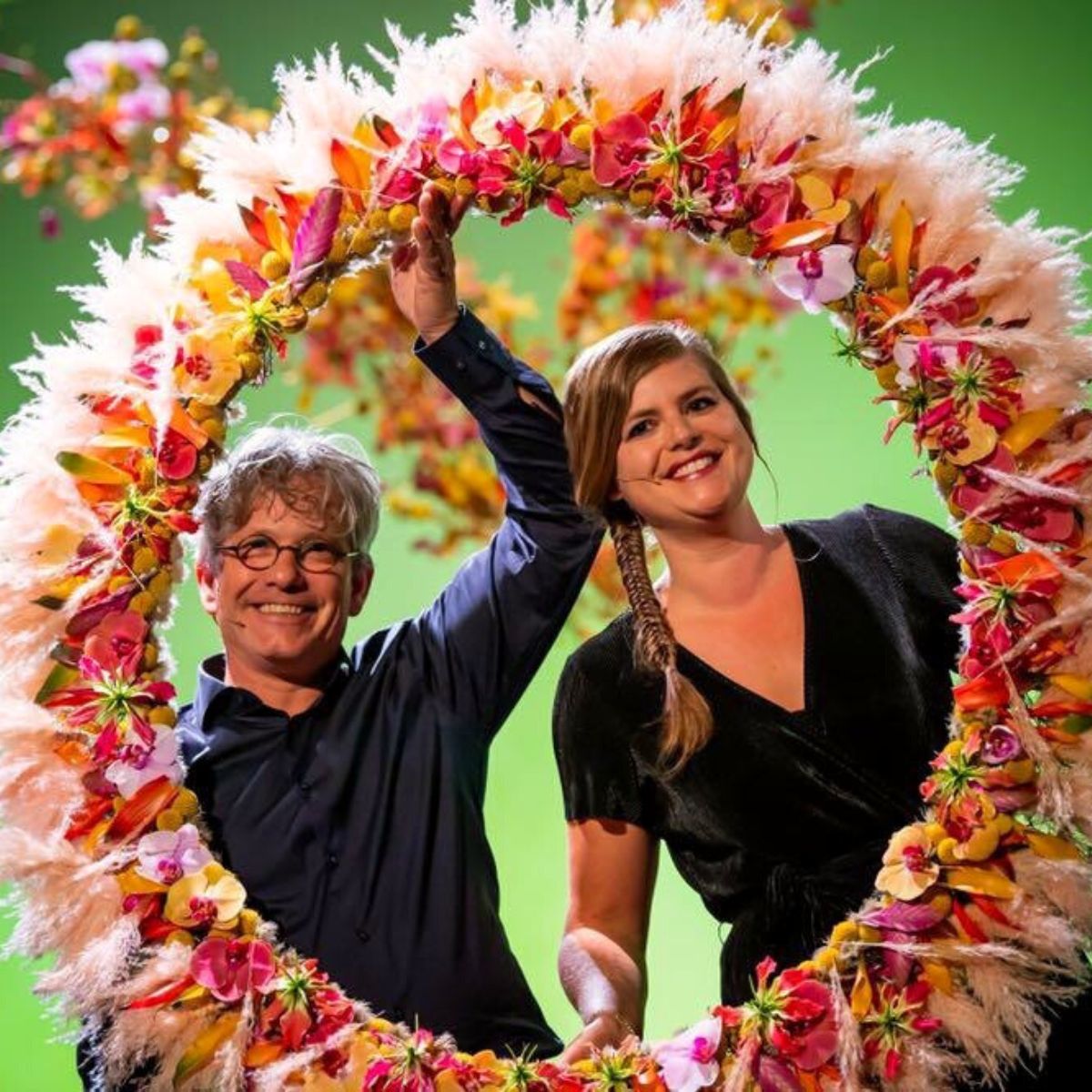 Photos: Nico Alsemgeest. Design: Hanneke Frankema & Max Van de Sluis. Location: AIFD Symposium Roots 2022 in Las Vegas.
This article is a Marginpar Story combined with an exclusive talk on Thursd. Max's and Hanneke's designs were full of flowers with a strikingly cheerful color palette. Also, Decorum Flowers sponsored Hanneke and Max. And with the help of Tuning and Holex, all materials and flowers were delivered in perfect state in Las Vegas.
A huge thank you for that!
Hanneke and Max