Mystery and wonder are what we need as air nowadays, and the only way to become them is that we have to create them ourselves for us and our beloved. Especially if it is winter time, advent time, Christmas time, but most of all sparkling time...
And in my case even more, because there was going to be a wedding of my best friend.
A winter wedding is in general not very popular because of the weather and not so attractive landscape for pictures and if it is a wedding in advent time this would be totally a very rear case also because of fasting time both by orthodox and catholic.
And of course, all the organizers and florists are very busy with Christmas. All whole centers are full of pinus and abies, of course not with white hydrangea and Paeonia, so loved by all brides.
All these points made me the challenge to create a wonderful winter mystery, a sparkling wonder for my bride. A sparkling winter wedding.
A Sparkling Winter Wedding
As I always do when planning a wedding, I'm looking for something that is so associated with the bride, or I use her favorite color that would be suitable for a wedding, or maybe some decor item that the bride is fond of. In this case, the color was what was most important - white, the bride is fond of the fairytale Snow White. She is fond of white clothes, she works as a chef manager of a cleaning company and is crazy about cleanliness. But I decided not pure white, a bit more beige, or slightly yellow, so was also the dress of the bride.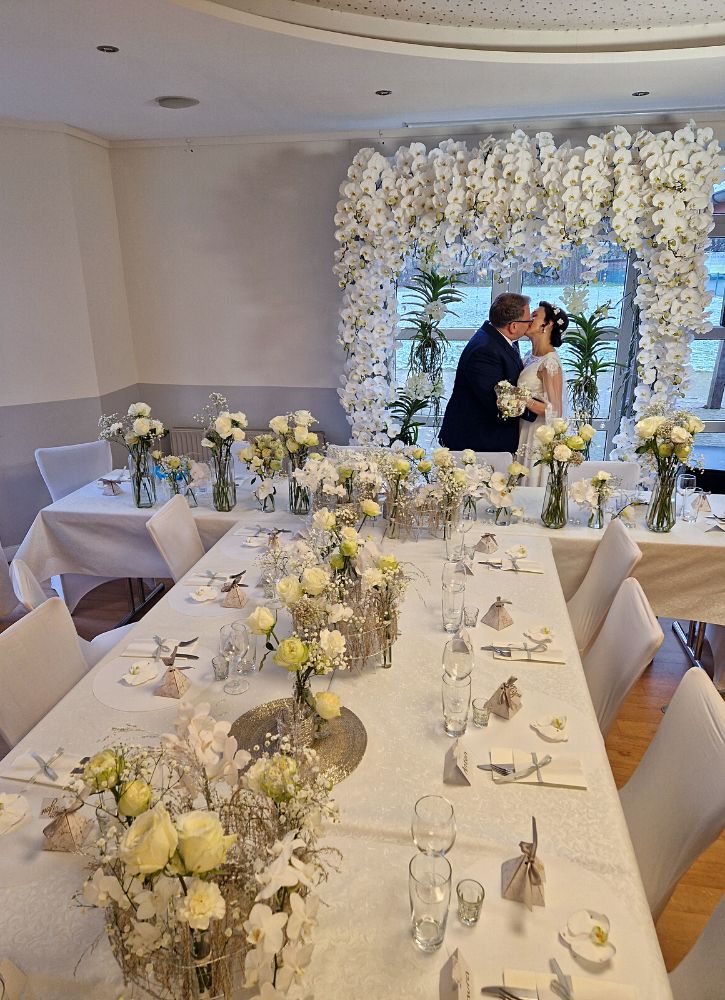 Materials Used for a Sparkling Wedding in Winter
The second inspiration for the designs was crystal, which the bride loves so much and in addition to them, I used silver as a slight mention of winter.
The main flower were Orchids, the favorite flowers of the bride. What could be more miracle for this bride as an arch full of orchids, gorgeous cut phalaenopsis! And vanda plants! The idea was so that the arch was both a photo zone and a behind part of a bridal couple on the table. The rectangle arch was covered with white amazing Phalenopsis from Pulcher. But as the arch was 3D, inside the arch, I decorated it with beautiful orchid roots: that gave a nuance of silver and good hanging moving to connect with Crystals. And those got into touch with white Vanda plants all from unbelievably tremendous Ansu, as an awesome focal of the whole arch.
Guest Table Winter Wedding Miracle Arrangements
This mystery of orchids like a flow was going to the long guests' table. For the concept of a table for 40 guests, I took a row of flowers that were almost floating in snow and ice above the surface. I created very light but gut-stable 11-round structures for table arrangements 40 cm in diameter. Each double thin wire structure stood on 4 big glass tubes, in between were more tubes, but not to the table, just hanging inside the structures. Also in the middle of each arrangement was a mystery: there were floating like in the air silver sparkling disks with hundreds of crystals and a head painted in white dry Allium shining in glitter, like a star.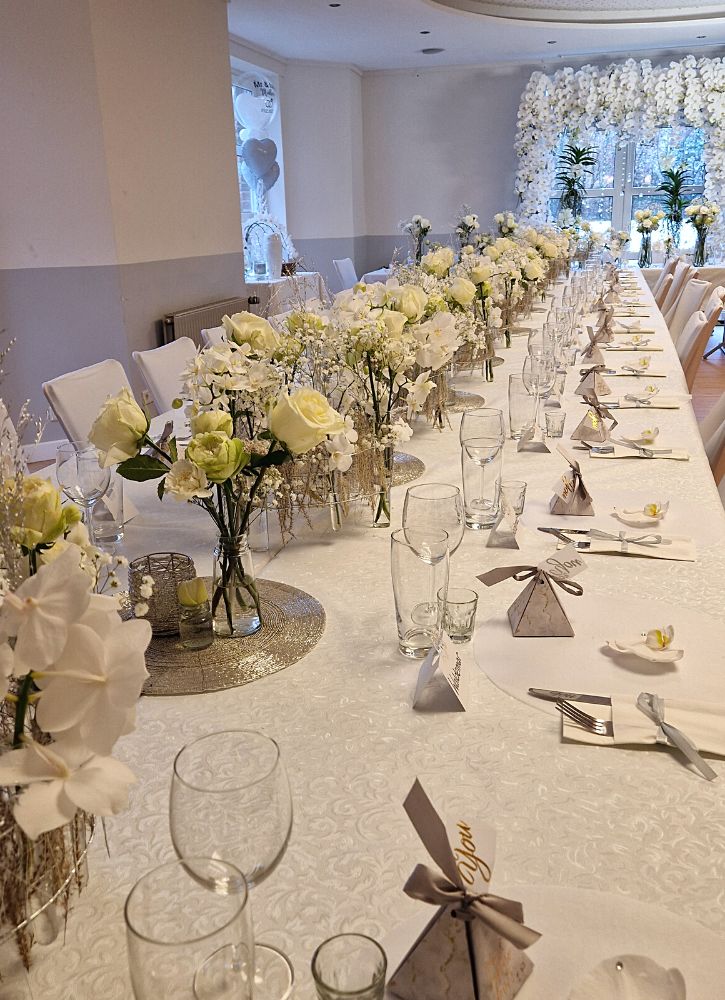 The sides of the structure were decorated with transformed Miscanthus to create a little natural warmth to this winter mystery. As for the flowers for the arrangements, of course, it was Roses, perfect Roses Nova Vita and White Kahala from Decofresh, and as so necessary snowy mystery effect was the best Gypsophila from Marginpar, as well as awesome Carnations and gorgeous cut orchids Vanda and small branches of beautiful tiny Phalenopsis as an accent and moving connection from one arrangement to another.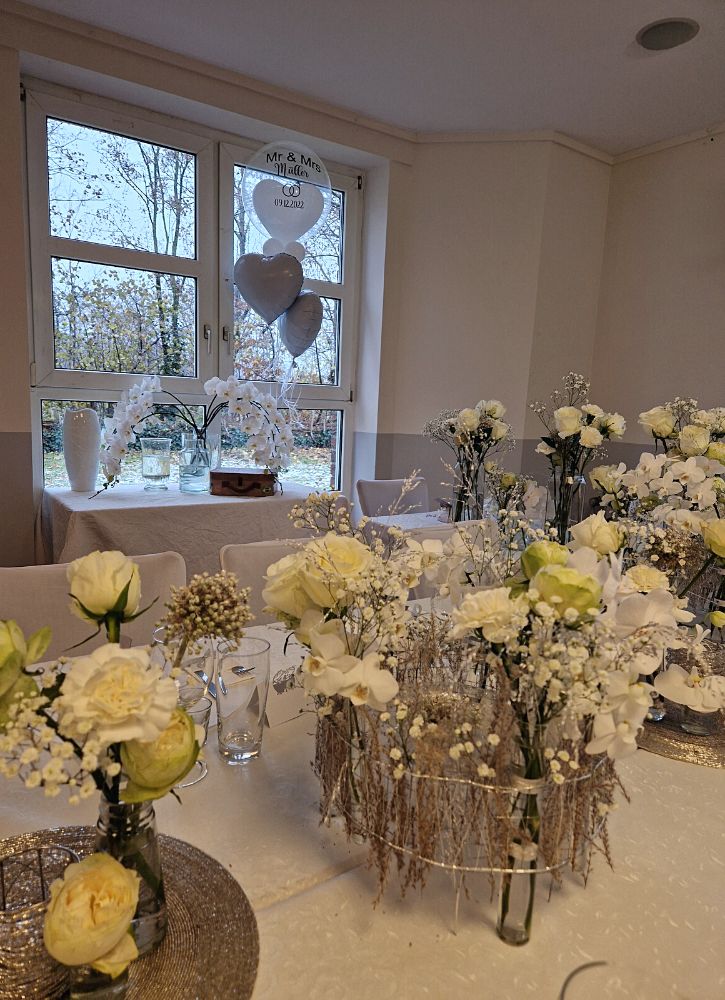 Jewelry Bridal Bouquet
And last, the third miracle, as in each fairy talе, was, of course, a bridal bouquet. It was made in glue Technik on structure from thin 0.3cm silver wire in a form of a mystery flower with dozens of crystals all over. Three groups in different sizes (3-5-8) of small brunches with buds and opened flowers of Phalenopsis, spray roses, and Gypsophila have made a triangle, to create full harmony for my bride.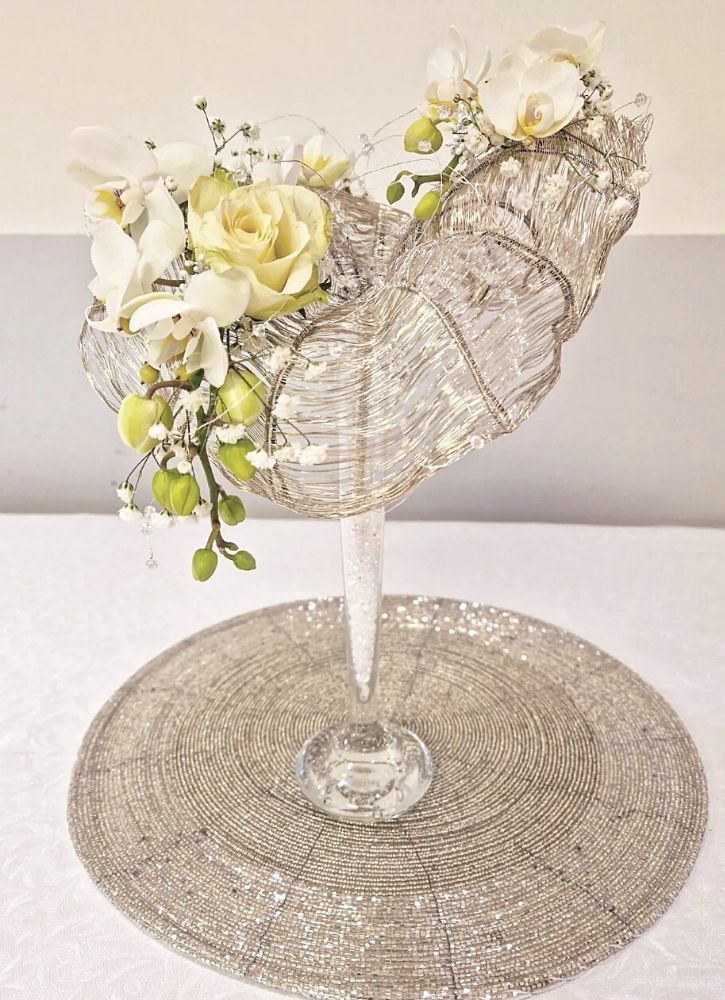 This type of bouquet, I call jewelry bridal bouquet, because it will last ever, what the couple wants, it has its own vase full of crystals and will be a memory and a beautiful decorative element on or in the cupboard. But of course, such a bouquet is not suitable for the tradition to throw a bouquet for the next bride. Extra for this purpose I've made a small but very nice and good balanced bridal bouquet, that would be really easy to throw and to catch, with beautiful white Kahala roses in Miscanthus fur, so for the hands and heart would be warm and soft.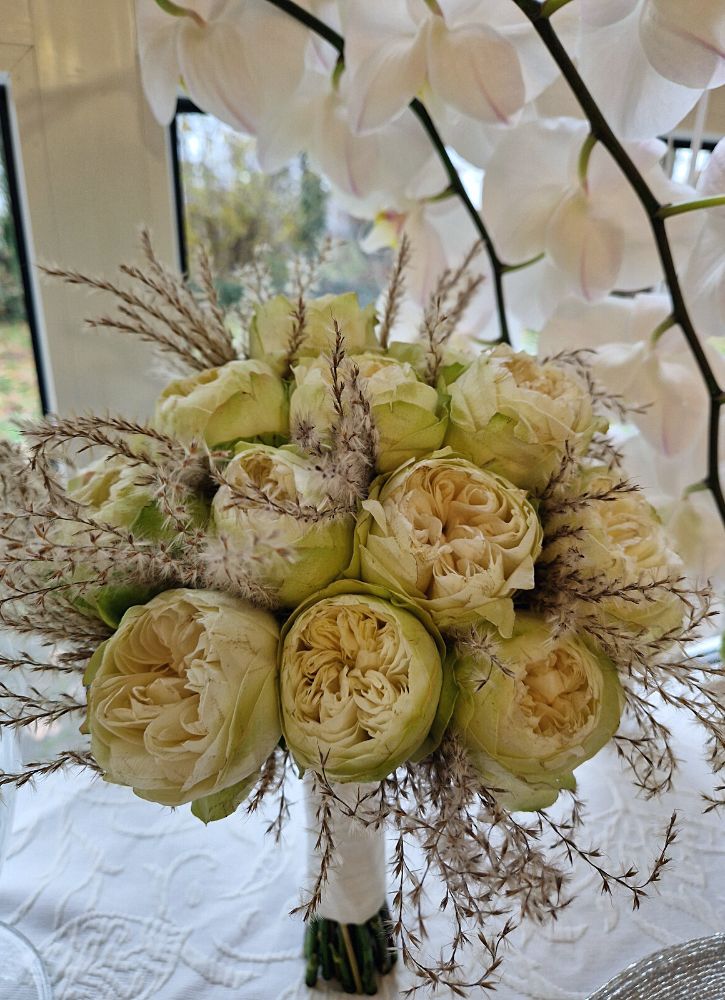 Fairy Tales
You know that all miracles and all mysteries are happening at night! So it was and with my miracle, I worked as a fairy all this beautiful snowy night. And really, it was snowing outside, and actually, it was according to my plan: I needed snow on the ground, to see it behind the arch in the window. Otherwise, green grass and a boring late autumn landscape would spoil all my mystery. In the morning everything was ready for the coming of the newlyweds in there, only their mystery, their fairy tale!
After such a fantastic night, being a fairy, I nearly forgot that I was invited as a guest to this particular wedding and no doubt I had to have a beautiful present bouquet. And it was so great pleasure to create a bouquet on a technical structure from perfect Nova Vita Roses from Decofresh, that was nearly laying on a thick soft Gypsophila pillow from Marginpar. It looked like roses in the snow: the very right present bouquet, so suitable for the whole wedding design!