The red rose symbolizes the passionate love.

Additionally, red roses have been exchanged as tokens of love and affection in countless real-life love stories. They continue to be a popular choice for expressing love and are often given on special occasions like anniversaries and Valentine's Day.

From the moment these roses arrived in my workshop, a wonderful fragrant smell immediately surrounded us.
Seeing their beauty and the softness of their petals, the idea of highlighting these wonderful roses through a 'glamelia' bouquet built petal by petals immediately came to me.
A Rose Red Naomi Bouquet That Exudes Pure Passion
I designed this bouquet thinking about the dress that the bride will wear, a delicate dress, with lace and feathers, a sexy and passionate dress, just like the love of the bride and groom, very suitable for a bouquet of Porta Nova's Rose Red Naomi that exudes pure passion.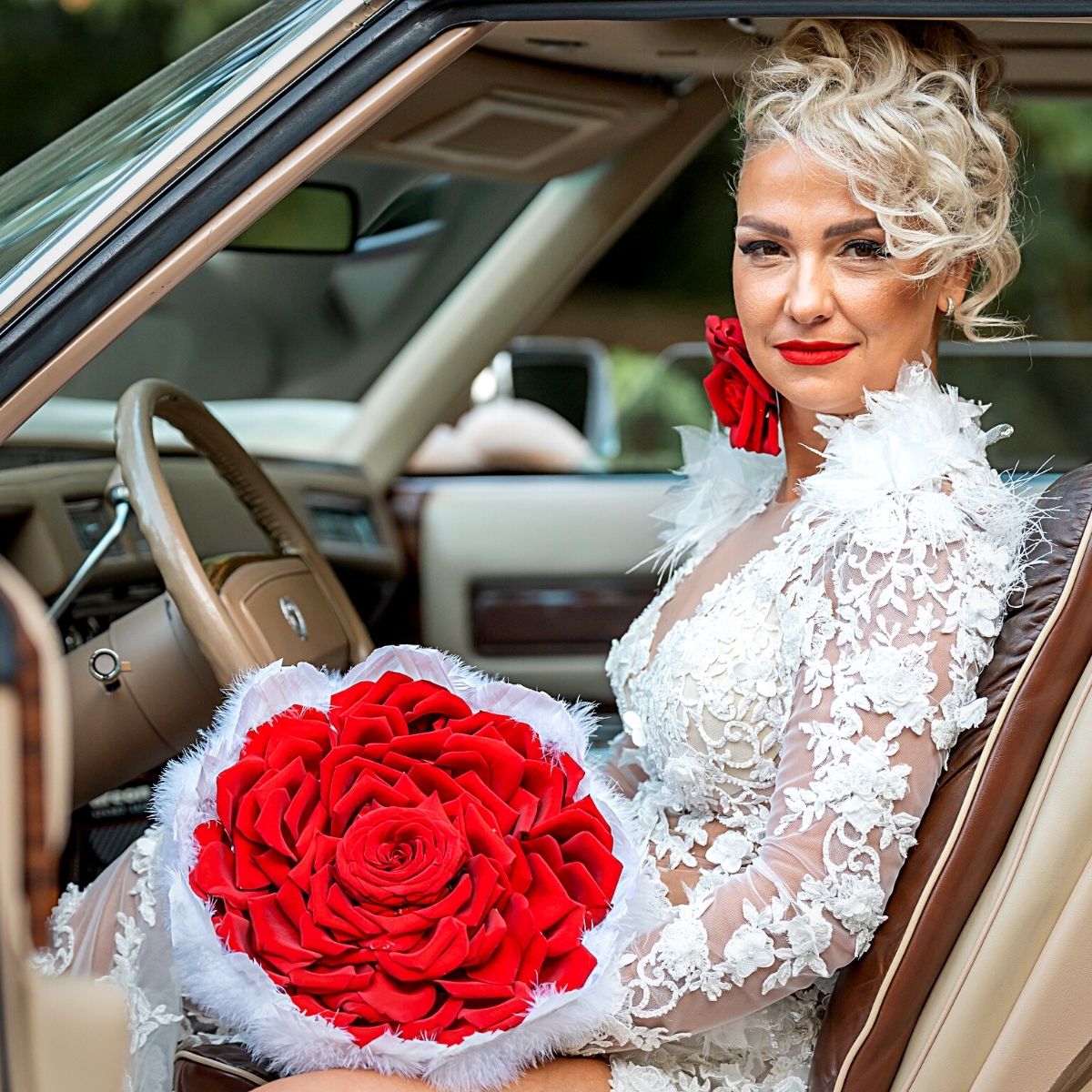 The bouquet is made on a feather structure, with a full blooming Red Naomi in the middle, which is then enlarged petal by petal to create the illusion of a bouquet with one huge rose.
Matched with this bouquet, I created an earring for the bride starting from this same lovely rose and adding petals to it to give it the desired elongated shape.
The ring that the bride wears is drawn and created according to the same technique, from a natural Red Naomi, as the groom's bow tie.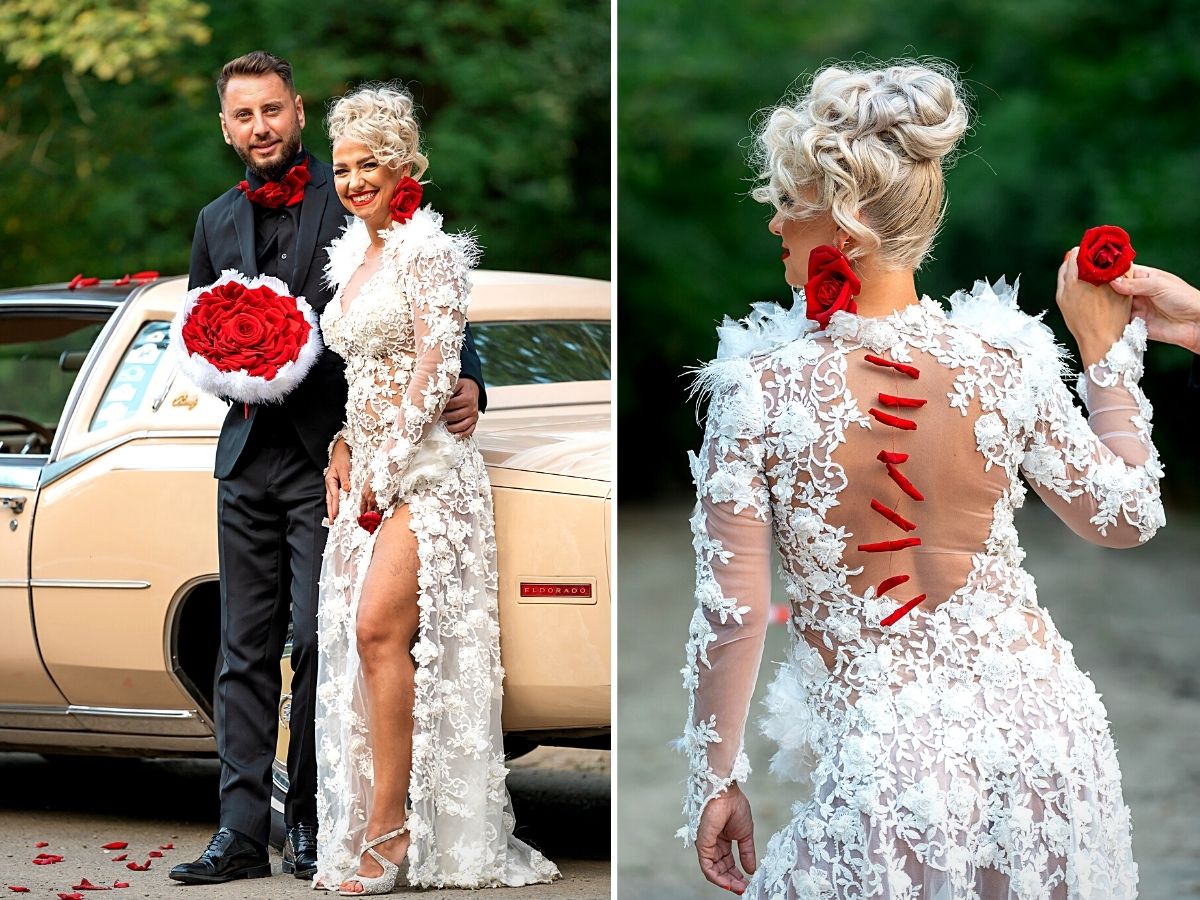 High-Quality Roses Which Have a Fragrance
For myself, the designer, florist, and writer of this story, I created a fan bouquet in a handmade structure made of wool in the colors of the approaching autumn, in which The bright Porta Nova Rose Red Naomi is the point of maximum interest that captures all the viewer's attention.
I highlighted this exceptional red rose through a contrast with the navy blue dress with polka dots and also with the cream overcoat and the landscape with the early autumn field.
Overall, the whole photo session was a pleasure mainly due to the flowers - Rose Red Naomi by Porta Nova - which were of high quality and had a fragrance that you rarely find and which delighted us throughout the photo session.
What Are the Symbolic Meanings of Red Roses?
Here are some key symbolic meanings of red roses:
Love and Passion: Red roses are the ultimate symbol of deep love and passion. They convey strong emotions and romantic feelings. Giving someone a red rose is a way to express your love and desire for them.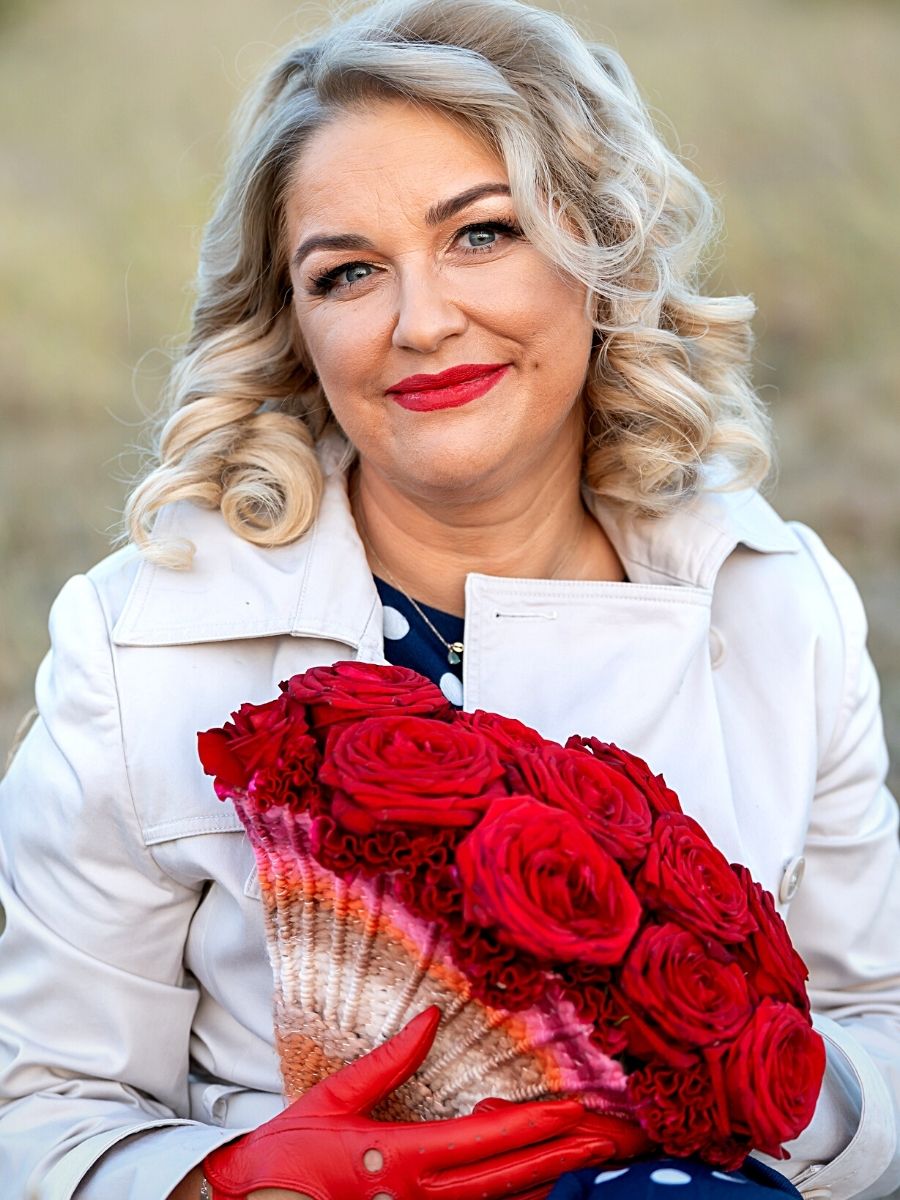 Romantic Love: Red roses are often given on occasions like Valentine's Day to represent romantic love. They are a classic choice for couples celebrating their love for each other.
Respect and Admiration: Red roses can also symbolize respect and admiration. Giving a red rose to someone can be a way of showing deep appreciation and admiration for them.
Courage and Respect: In some contexts, red roses can symbolize courage and respect. They can be used to honor someone's bravery or to show respect for their accomplishments.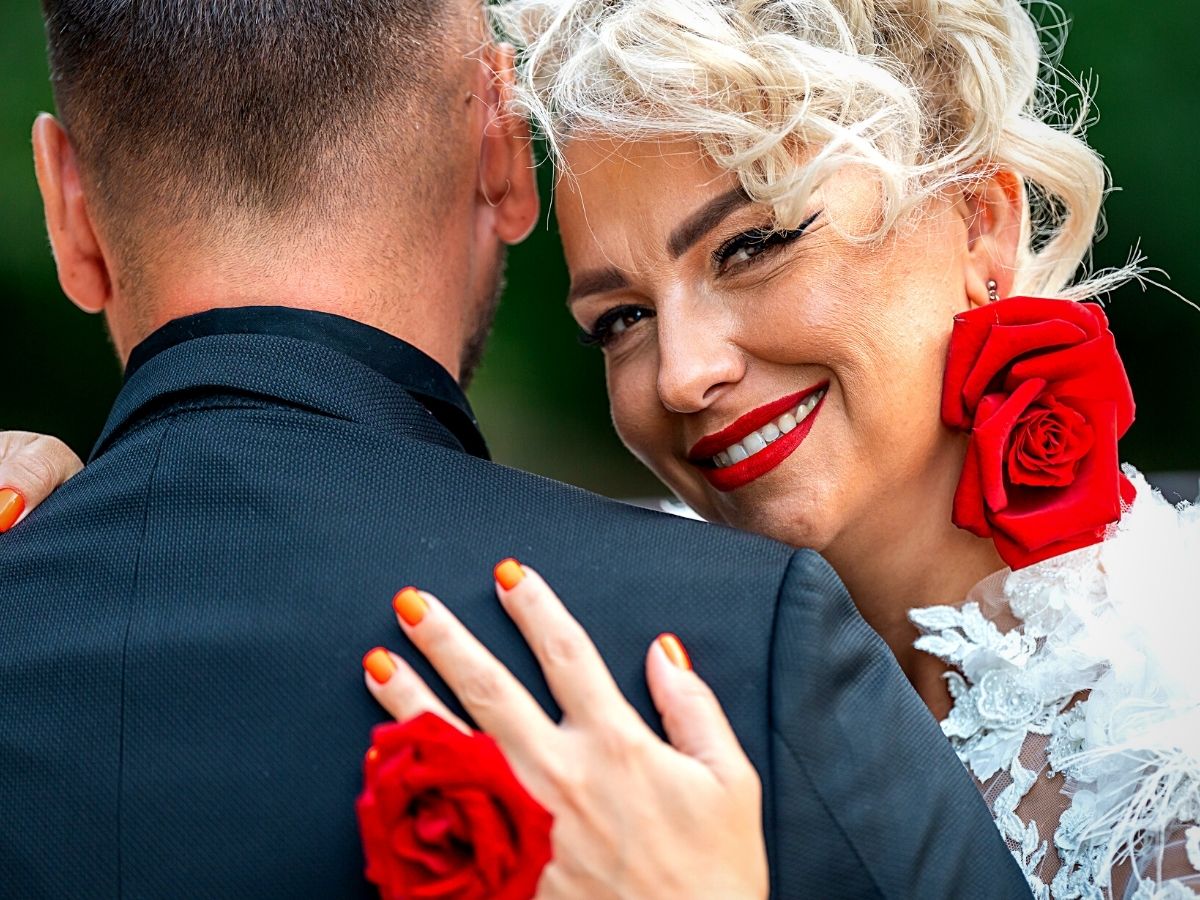 Sacrifice and Memorial: Red roses have been used as a symbol of sacrifice and remembrance, particularly in the context of war memorials and commemorations.
Unconscious Beauty: In Victorian flower language, red roses can also symbolize "unconscious beauty" or beauty that is not yet fully realized.
Commitment: Red roses can symbolize a commitment to a loving relationship, making them a popular choice for engagements and weddings.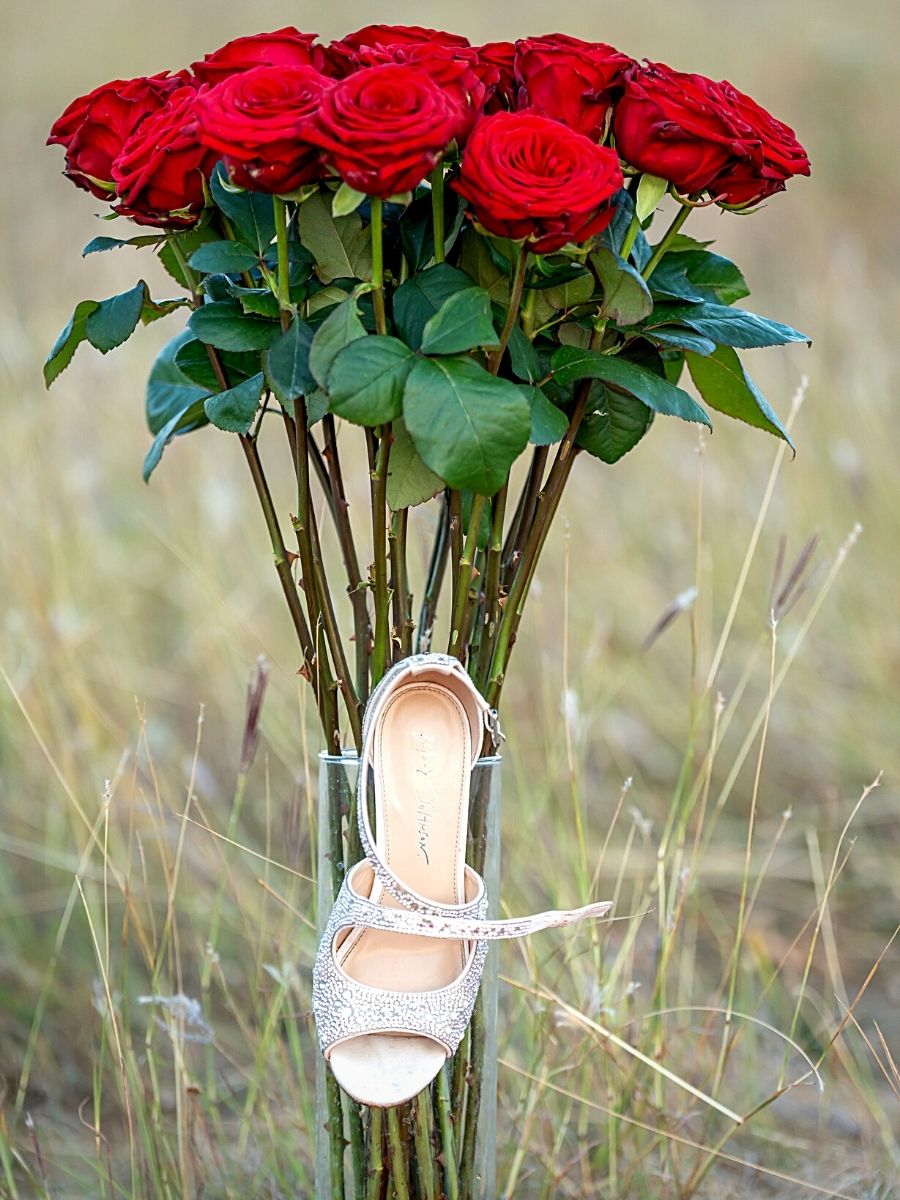 It's important to note that the meaning of flowers can vary depending on cultural and personal interpretations. Red roses, with their vibrant color and timeless appeal, continue to be a powerful symbol of love and affection in many societies around the world.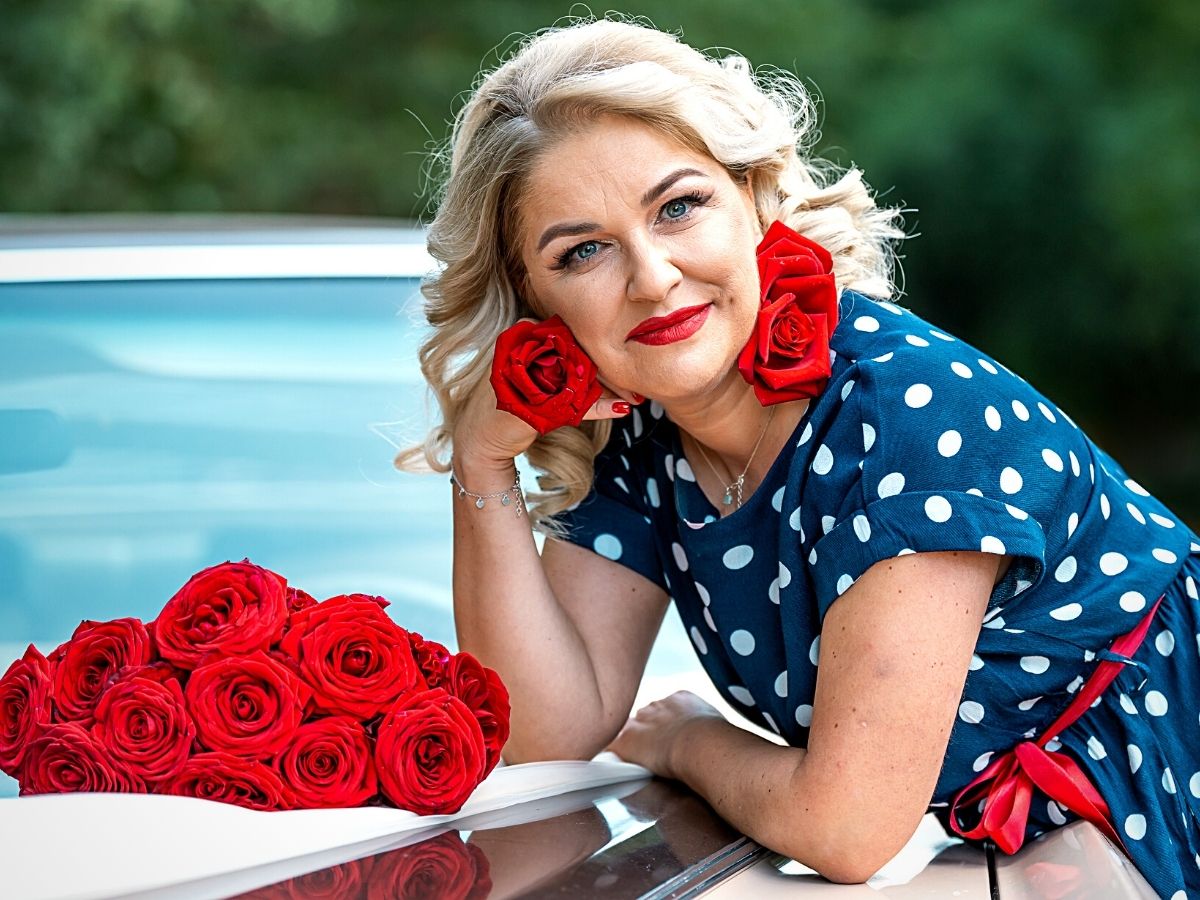 Floral designer/model: Laura Draghici Emc / Chic Fleuriste, make-up by Ioana Mateescu Make-up, hair by Paula Paula, dress and overcoat by Idea Concept.
Bride and groom models: Paula and Marian, make-up by Ioana Mateescu Make-up, hair by Paula Paula.
Photos by Julie E.Photography, flowers by Porta Nova with the support for delivery in Romania by FloriHolland Romania.