I organized an Online Christmas Show in Niemodlin Castle to inspire viewers to a different world. To inspire and charm them with flowers and plants for the holiday season. With our typical flower language and means of expression.
Our Flower Language
Nature As an Inspiration
What can be a lovelier inspiration than nature? It encompasses diversity, co-existence, evanescence, development. It gives us hope for the future, symbolically and realistically. This sensitivity is very dear to me and I convey it to my students at the Blooming Horizons school, whom I invited along with my graduates to co-operate with me. We present natural work, we seek harmony in interesting material contrasts. We rely on classic forms of decoration and we search for peace, hope, memories. These differ for each one of us. We emphasize the holiday season's elaborate valid orchid flowers and a symbolic poinsettia. When combining these flowers with needles, nuts, and a whole lot of Christmas and holiday time symbols, we obtain an impression of uniqueness and elegance, deeply embedded in childhood memories.
How Did It Go?
Implementation of such a project during the pandemic is quite a challenge. I thought that it was time to leave my comfort zone and act despite the fear. And the first magic happened! We quickly found people who got involved in the project and the whole thing started to come together fast! The hosts of the Niemodlin Castle shared the workspace,
Ansu Vanda
sent us specifically selected, marvelous orchids, Stars for Europe provided Poinsettia of various interesting colors, we are talking about a Christmas show, after all. Victoria Floral Products, the school's partner, provided us with florist accessories. Eighteen florists confirmed their participation in the show by preparing one to even five works. We presented a total of around 50 Christmas inspirations. I am a lucky girl, so many people in such a short time came together with a common idea of Christmas hope and beauty! We can't meet, so we will make a movie. A magic fairy tale. We created nearly an hour-long movie and a report that caught our emotions. As for the flowers and compositions... well, see for yourselves! Feel the same magic of open hears and talents!
Did We Get the Magic of Christmas?
The phrase "you get what you give" is perfect for this occasion. We feel that participation in the online Christmas Show gave us more because good multiplied. The project's participants write as follows: Emilia:
"Opportunity for many inspirations. There was plenty to see – beautiful works and each one different in its own way. Such events help people develop creatively"
Anna:
"I am very happy that I could accompany you to the Castle. It was wonderful to experience normality in these difficult times. To meet people positively crazy about flowers. It was a pleasure to do the works, I'm happy that I got full liberty, no judging, everyone was able to give part of themselves. It's a shame that people will a movie instead of sensing the smells that we got to experience... And the castle's climate is indescribable!
Monika:
"Our joint work, observing what others were doing, exchanging experiences, give me lots of energy. I am also greatly inspired and I'm leaving with my head full of ideas. This time, these were Christmas inspirations and the project temporarily pulled me away from the overwhelming reality. Blooming flowers are attractive thanks to their atmosphere. This place is one of a kind."
Renata:
"A world full of inspiration, color, and emotions. All of the foregoing was present during the show and it all took place in the wonderful Niemodlin Castle. The climatic castle chapel was lit up by Christmas decorations. It was priceless to meet people who are bringing positive energy and support in various activities."
What's Next?
It's time to bring the project to an end. It's time to publish the movie and the report. I'm starting here on Thursd. and I am grateful for the support! For the good energy from around the world, despite the distance. And I'm sending the same energy to you, into the world! Let it flow! Let our language of Christmas arrangements and flowers speak! Naturally, environmentally-friendly, and with passion! We are left with this energy and a feeling of unity and belonging, a larger group, with ideas and thoughts. We remain stronger and calmer for this holiday season. In all of this, we give a part of the movie's revenue to help children with problems in isolation. Compulsory isolation isn't helping anybody and there are those who suffer because of it.
Wishes
We wish you a Merry Christmas, let the light of candles connect us at this time, and may flowers convey our best emotions! Monika Bębenek Project Castle Christmas Show - Monika Bębenek Photogaphy: Marcin Chrusciel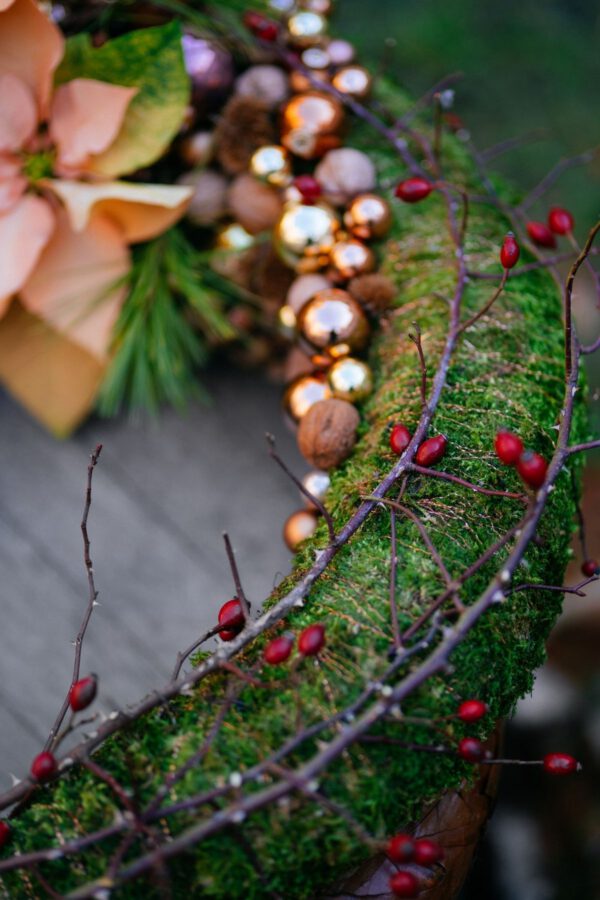 Florists from floral school Kwitnące Horyzonty: Anna Stachowiak Kornel Tomaszewski Magdalena Litewka Piekarczyk Joanna Kłobucka Skorobogata Ewa Janos Stefania Początek Ewa Bartosiak Emilia Szecówka Justyna Manderla Natalia Berezowska Katarzyna Kowalska Olga Ziental Monika Klocek Anna Bloch Renata Tabiś Edyta Korzeniewska Sylwia Sieradzka Location - Niemodlin Castle