Flowers are my passion because they spread joy wherever they go. Today, I discover the beauty and passion behind Green Works, a renowned supplier of peony rootstock and other flowers. Get ready to learn more about this company and its incredible assortment of flower varieties whilst delivering perfection!
The Roots of Green Works
Green Works, led by the visionary Daan Kneppers, is a provider of premium peony rootstock for both cutting and potted usages. Their stunning rootstock peony varieties are sent all over the world. Did you know that some of the top ten peony varieties are already over a century old? It's a testament to the enduring beauty of these blooms. In addition to peony rootstock, Green Works also specializes in cultivating and selling Oxypetalum, Ranunculus (including the Butterfly and Romance series), Canna, and Agapanthus for potted plants.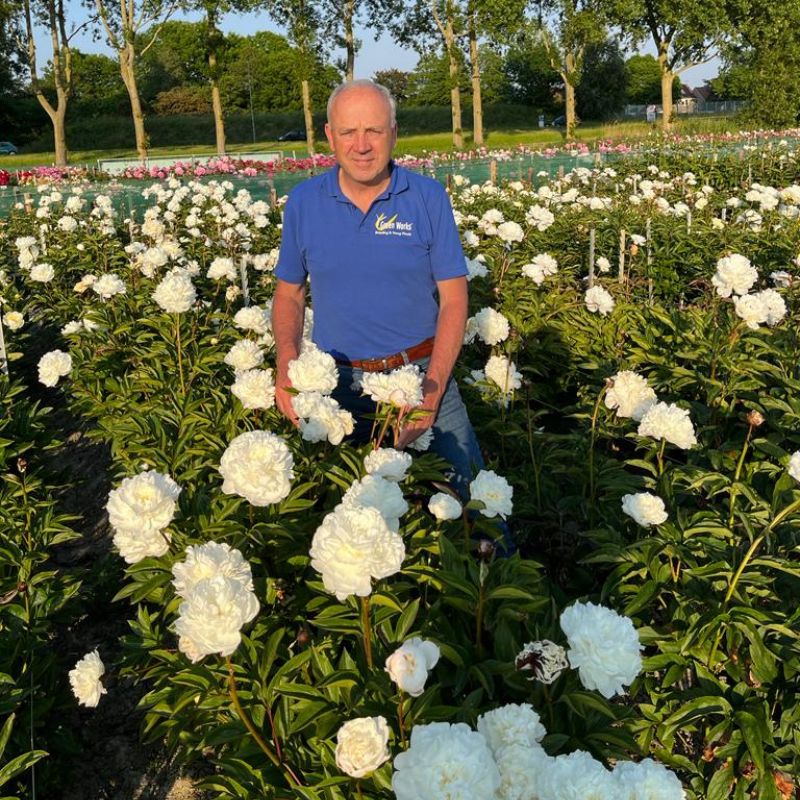 A Journey Through Time
The history of peonies traces back thousands of years to the Caucasus and China, where they were cultivated for medicinal purposes. Over time, peonies made their way to France before the First World War and later gained popularity in the United States after the Second World War. Interestingly, commercial breeding of peonies is not common due to the lengthy process involved, which spans at least thirty years. Nevertheless, Daan Kneppers takes great pride in his team's dedication and their ability to provide customers on different continents with the utmost satisfaction.
Peonies, known for their breathtaking beauty, are truly a seasonal delight. The production and availability of peonies vary worldwide throughout the year. Let's take a closer look at the different regions and the corresponding months when peonies are available:
January and February: Israel
March: Southern Italy, Morocco
April: France
May: Netherlands (greenhouse cultivation), with the last batches imported from France. In mid-May, peonies grown in tunnels in the Netherlands become available, and by the end of May and early June, peonies from outdoor cultivation in the Netherlands are in full bloom.
Late June: Ireland, Norway, and Finland
July: Canada
August: Alaska
October: New Zealand, Chile, and South Africa
November: New Zealand, Chile, and South Africa
December: Southern Argentina and Southern Chile
As you can see, peonies bloom at different corners of the globe at various times of the year. Making them available to florists worldwide. Whether you're admiring peonies from the sunny fields of southern Italy or the frosty landscapes of Alaska, each region adds its unique touch to the beauty of these magnificent flowers. So, no matter the month, there's always a place where peonies are in bloom, spreading their vibrant colors and delicate fragrance for all of us to enjoy.
Passion Blossoms at Green Works
What sets Green Works apart from other suppliers is its commitment to consistency and quality. With over 200 meticulously prepared varieties, they ensure that every rootstock meets its high standards. In the regions of Limburg in the Netherlands, the peony rootstock is cultivated. This rootstock is supplied to growers in 47 countries. The shipping season runs from late August to April, with the rootstock peonies being harvested in August. Green Works employs a team of 110 dedicated individuals until February, meticulously preparing the plants for shipping. After January 1st, the plants are stored at -2°C to maintain their freshness.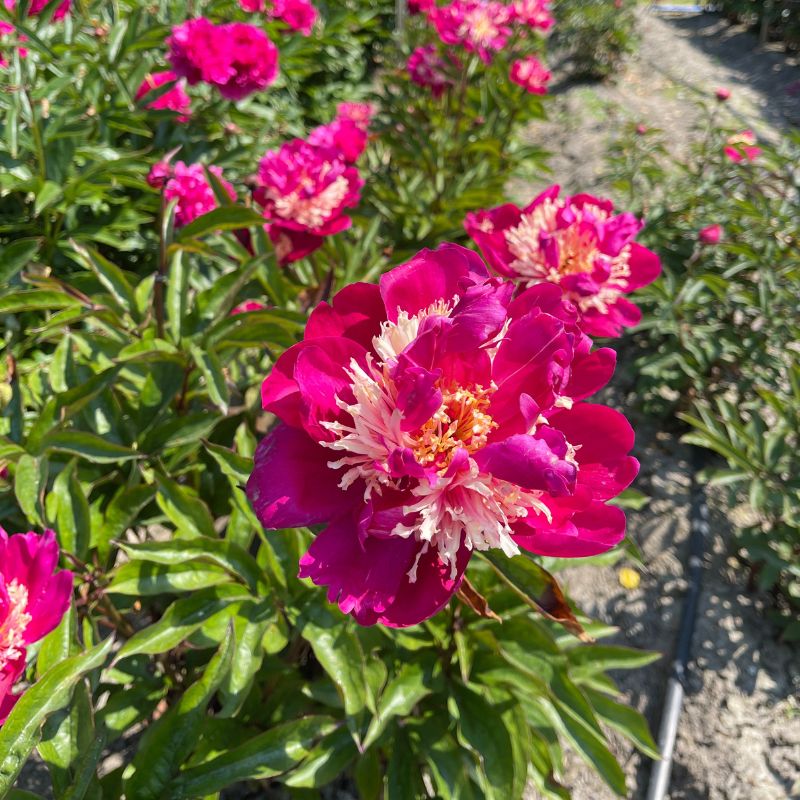 Creating a Colorful Symphony
When advising growers, Daan Kneppers suggests a harmonious blend of colors. A well-balanced composition typically consists of 40% white, 40% pink shades, and 20% red and other vibrant hues. It's fascinating to note that growers typically use a plant for up to eight years before replanting it. Patience is key in peonies, as they require at least three years to mature before the first blooms can be harvested fully. Fresh peonies are a true seasonal delight, with production taking place worldwide throughout the year.
Explore the World of Paeonia
Green Works offers an extensive range of peonies suitable for potted plants and for cut flowers. In addition to their regular assortment, they also provide special paeony rootstock varieties that are grown exclusively for their ornamental value. The people of Green Works offer valuable support and guidance for these exquisite blooms.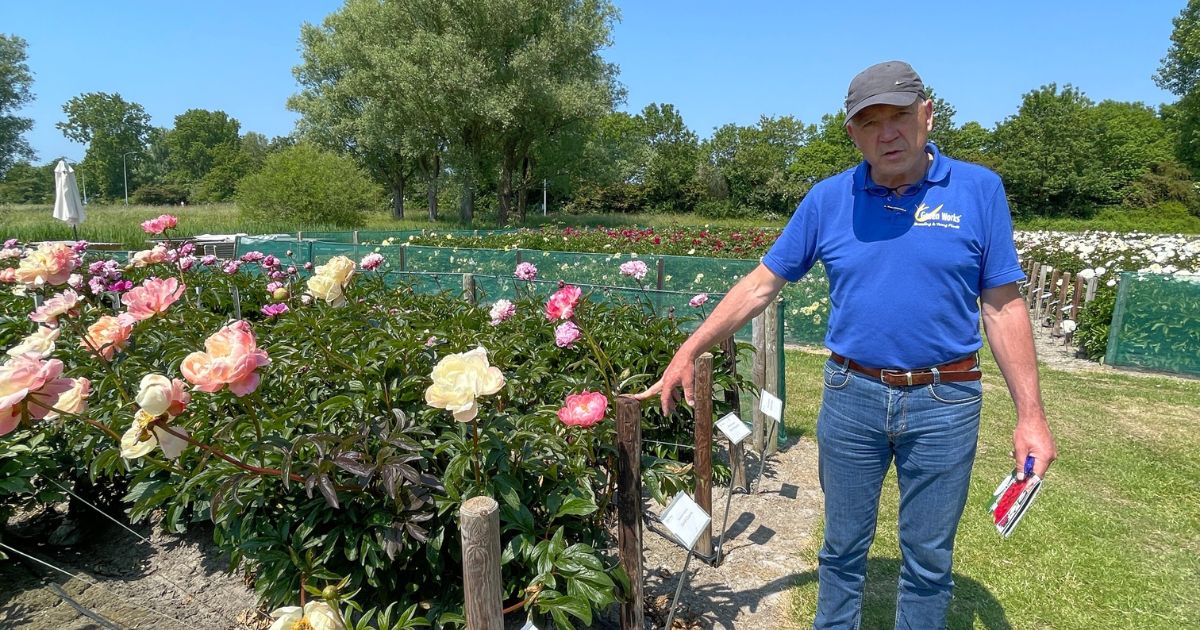 By subscribing to their monthly paeony newsletter, you can stay up-to-date with the latest news and receive helpful tips. Furthermore, Green Works also provides marketing materials such as high-resolution photos and leaflets for their customers to enhance their own promotions.
The Special Paeonia Itoh
Itoh peonies are a result of crossing the Lactiflora (common peony) with the Suffruticosa (tree peony). This unique combination gives rise to a plant that grows underground like a typical peony, making it easily dividable, while above the ground, it blossoms like a tree peony. The result is an extraordinary peony with a stunning plant structure and beautiful, large, and colorful flowers. Established Itoh paeonies can produce fifty or more flowers per plant, retaining their decorative value even after blooming.
Patio Peony: Captivating Elegance in Pots
Patio peonies are specially selected for their compact growth habit and their ability to thrive in both pots and gardens. With their sturdy stems and abundant blooms, these peonies bring a touch of elegance to any container or garden setting. Their exquisite shapes and vibrant colors make them a true standout.
Create Striking Combinations
Green Works has curated unique paeony rootstock combinations tailored specifically for the export, dried flower, and mail-order markets. These combinations come with catchy names and are supported by appropriate visual materials. They offer an excellent opportunity for differentiation and positioning to growers in the thriving peony market.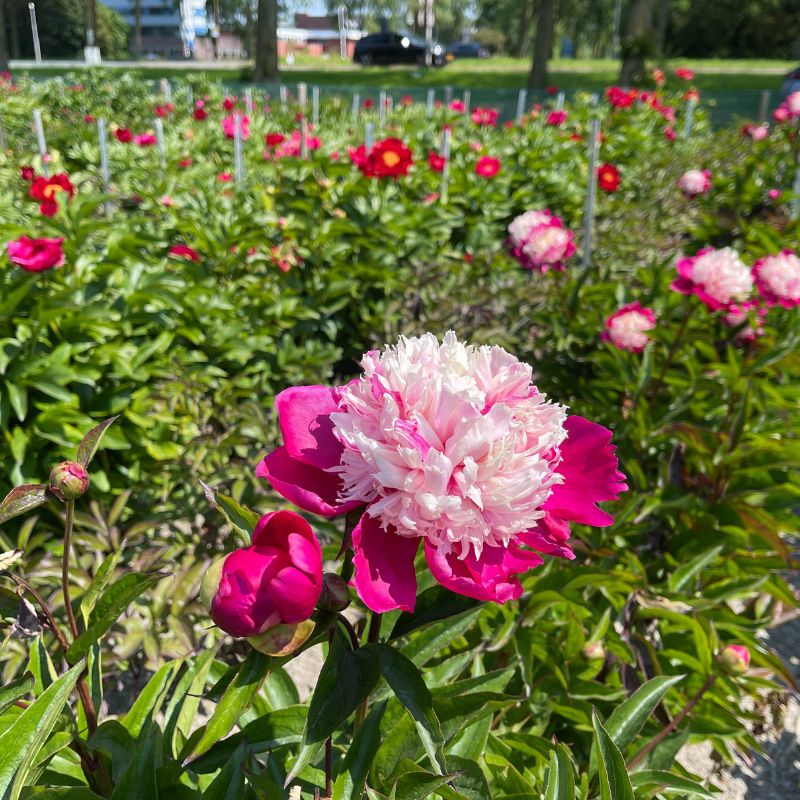 Embrace the Beauty of Green Works
As we end the visit to Green Works, I like to share my admiration for the dedication, passion, and creativity that Green Works brings to the world of peonies. Through their extensive range of carefully cultivated peony rootstock and other exquisite flower varieties, Green Works continues to inspire and captivate flower enthusiasts worldwide. Whether you are a seasoned professional or a budding flower lover, Green Works is your gateway to a blooming paradise!