The first you see at Details Flowers Software is that you can take control of your business with this specially designed software tool for florists. A tool to get organized, streamline your process as a florist, and confidently quote events with proposals that win.
Which wedding and event planner doesn't want that?
Details Flowers Software - A Revolutionary Tool for Florists
Details is an all-in-one software solution that combines real-time inventory data, streamlined proposal creation, and easy payment collection for wedding and event florists. Florists who use Details enjoy many features, including e-signature, recipe design, stem-counting, automatic order generation, invoicing, as well as the ability to share clients' visions through the use of gorgeous visuals.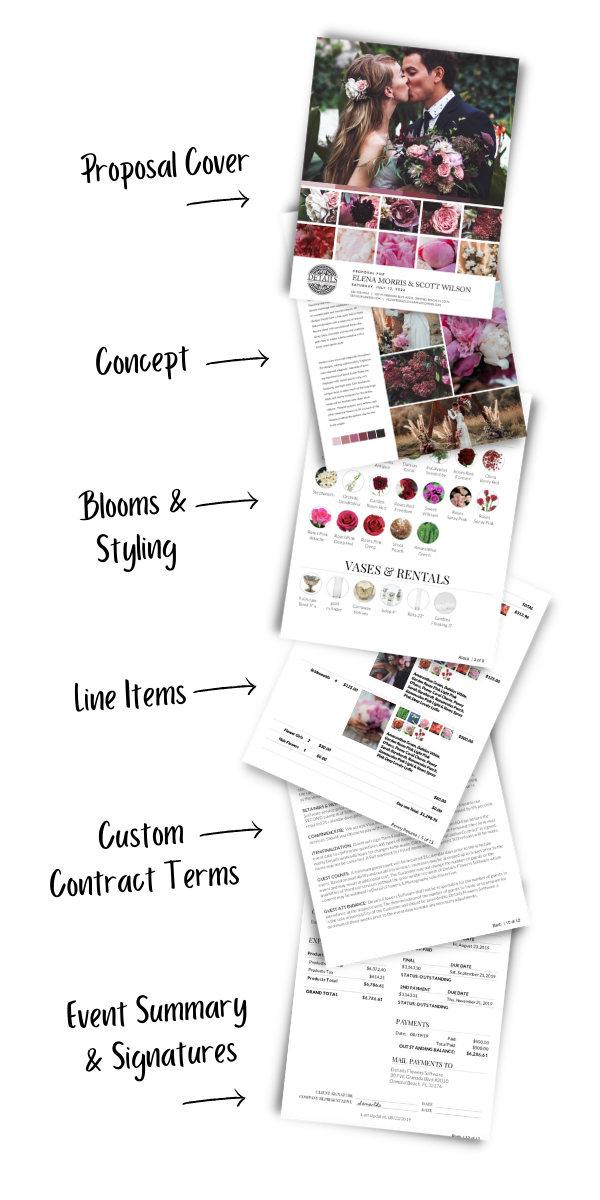 Details software helps you to remain on top of the latest trends and grow your floral event business in this always-changing market. With the uncertainties in costs to availability, florists need to be on the top of their game to meet the challenge of offering quotes that win but also make money. Details Flowers Software is a revolutionary tool helping its members navigate the floral world from proposal to payment.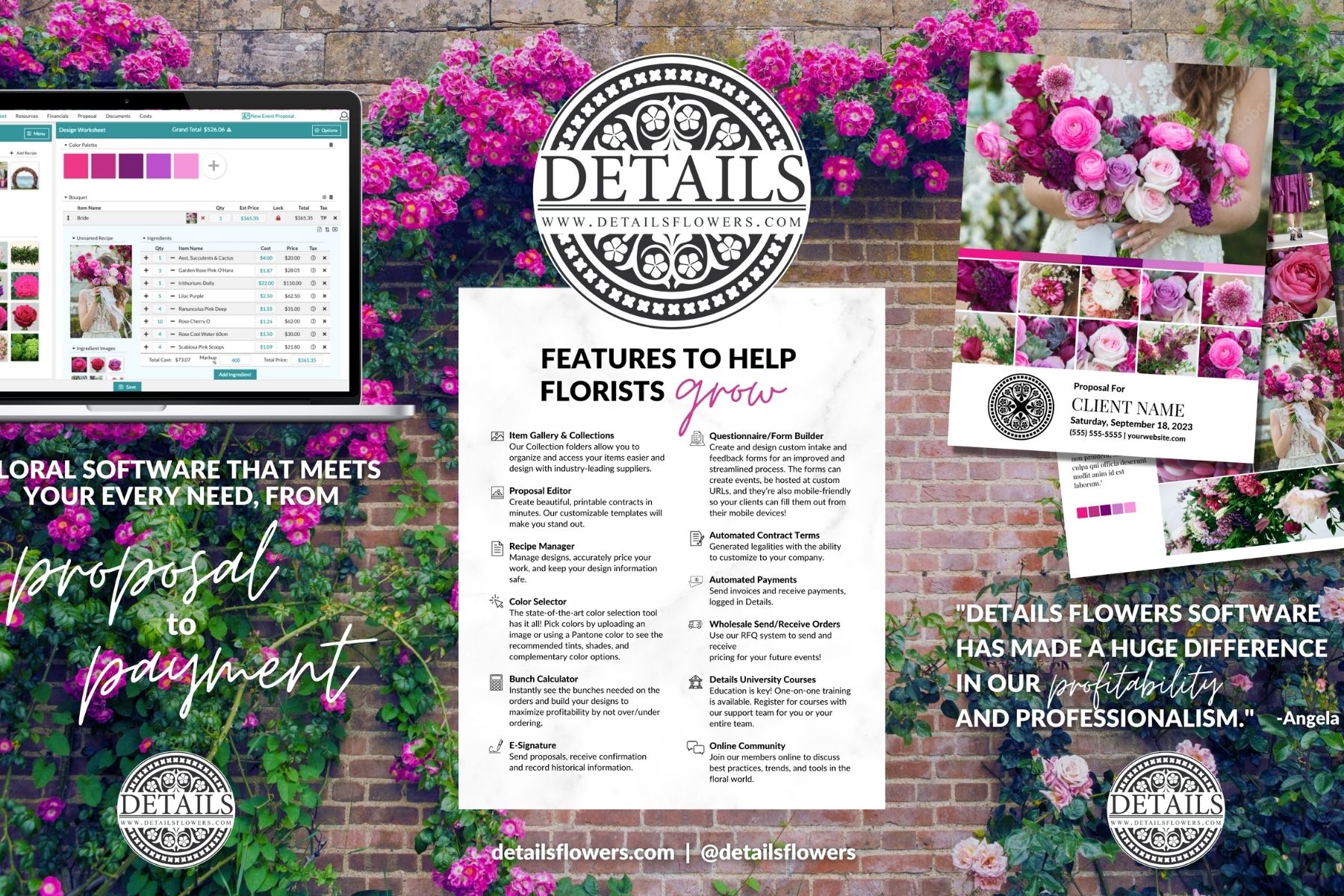 Corrine Heck
Details software is created and designed by Corrine Heck, a prominent floral event designer in Central Florida who has worked in the industry for nearly two decades. After 800 events, Corrine understands the day-to-day operations of running a floral business — and it's from that deep knowledge that Details was handcrafted for florists like her.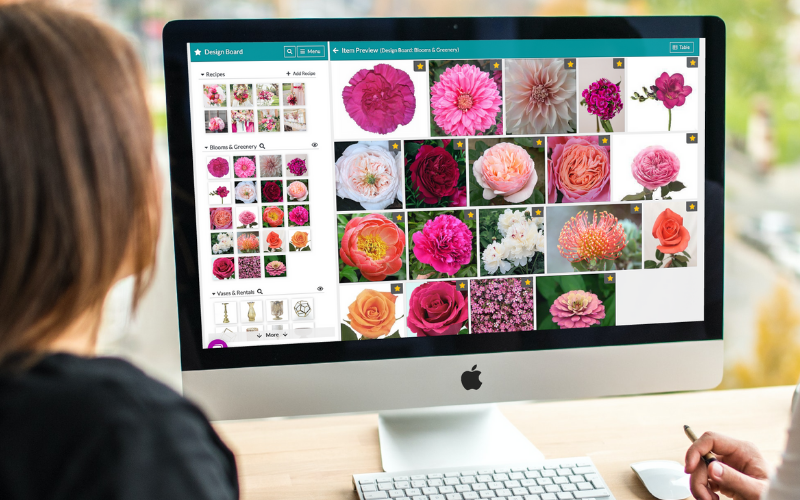 A New Normal?
Details is like getting an operations manager, marketing guru, and financial officer all rolled into one. Imagine, meeting with a client and being able to create designs based on her Pinterest board. Then, seeing, in real-time, which vendors have her preferred blooms in stock - and who's got the price. With the click of a mouse, you use this information to generate a drop-dead gorgeous proposal (complete with profit margins calculated), send it off, and have an electronic, legally binding contract executed. Then, immediately collect payments and have them deposited electronically to your bank account. This could be your new normal while using details Software

Corrine Heck explains:
"Every project could feel streamlined, organized, and professional. After years of struggling with spreadsheets and frustrations with overbuying, I created Details to help other florists avoid unnecessary hours behind their desks. Details takes the stress out of the day-to-day processes making it easy for you to save time, book more events, and make more money."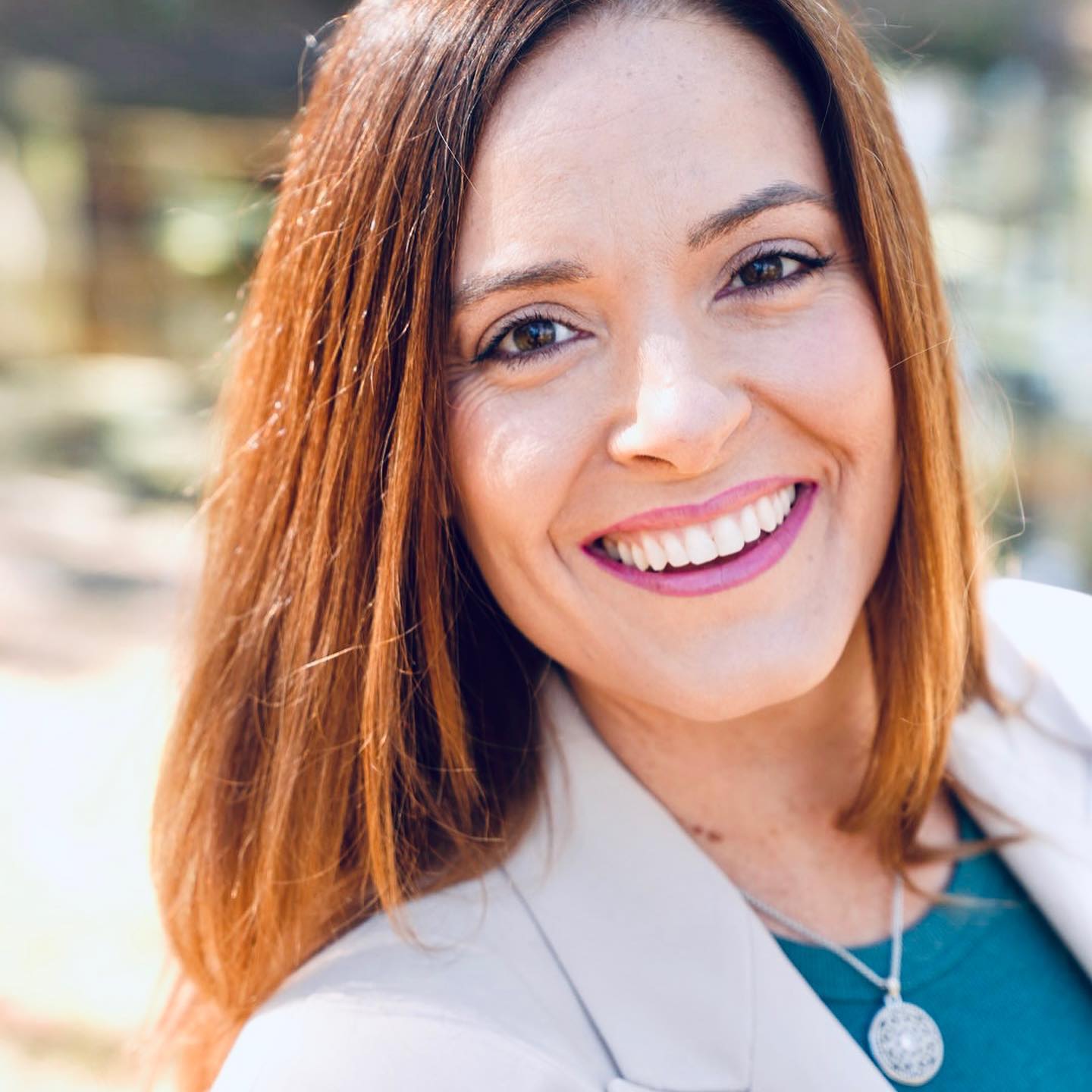 Details Is There for Everybody
Florists see that they can take on more projects and execute them faster. Florists feel more professional, confident, organized, and - profitable. Whether you are a florist just getting started or a busy established company, Details offers fantastic tools to support businesses of all sizes. With this software, florists are enabled to impress clients. With beautiful proposals, accurate pricing, speedy turnarounds, and accessible payment collection. And, of course, insights into what suppliers have to offer. With prices.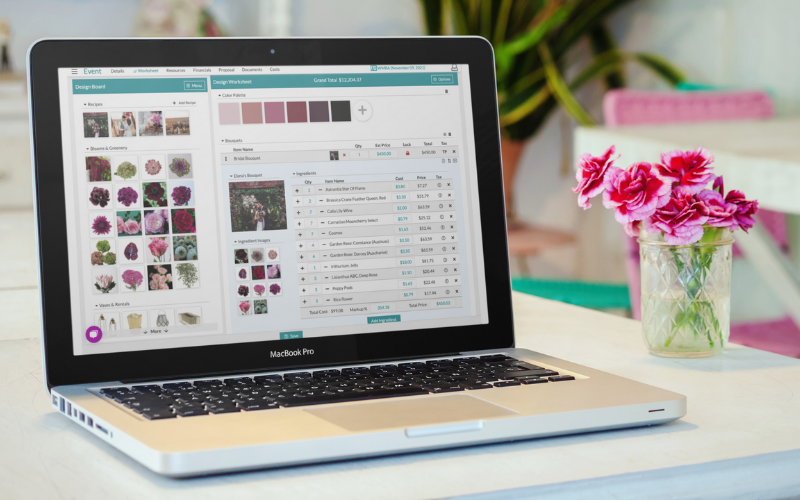 AIFD Symposium 'Roots' in Las Vegas
At this year's American Institute of Floral Designers Roots Symposium, where Details Flowers Software was the official procurement software for this year's event, the Details technology seamlessly coordinated this colossal event which had over fifty different floral demonstrations and different stage shows. Before this year, procurement for AIFD was a huge headache. Details provided access to entire product catalogs of world-renowned floral industry suppliers to use in their events. Florists had access to thousands of items from Accent Decor, Jet Fresh Flower Distributors, Smithers-Oasis, Syndicate Sales, Alexandra Farms, and others. In just a few clicks.

Details Is Coming to Europe
Details software is an impressive tool for helping floral wedding planners and event designers. Details also assist their customers by providing top-notch private and group training sessions on using the software. Each week.
Details also sponsor many partner events throughout the US and beyond. Details will be attending this year's FleurEx Event in London this coming October.
Corrine Heck:
"We've been quite successful in the US, I can proudly say we are an established business here. Now is the time to help wedding and event planners in Europe as well. I am confident we can help European florists win more and better projects by delivering the most gorgeous proposals. But also increase their profit margins. And get your life back as a florist - because you can spend all the time you save by using Details with your family, binging your fave show on Netflix, or taking on more business!"
A 7-Day Free Trial
If it is time to invest in yourself and the future of your company, Details Flowers Software is confident to be the best answer for you. Now you can test Details for yourself with a 7-Day Free Trial.
Have questions? Schedule a 15 Minute Introductory Call to learn how Details can help service your business.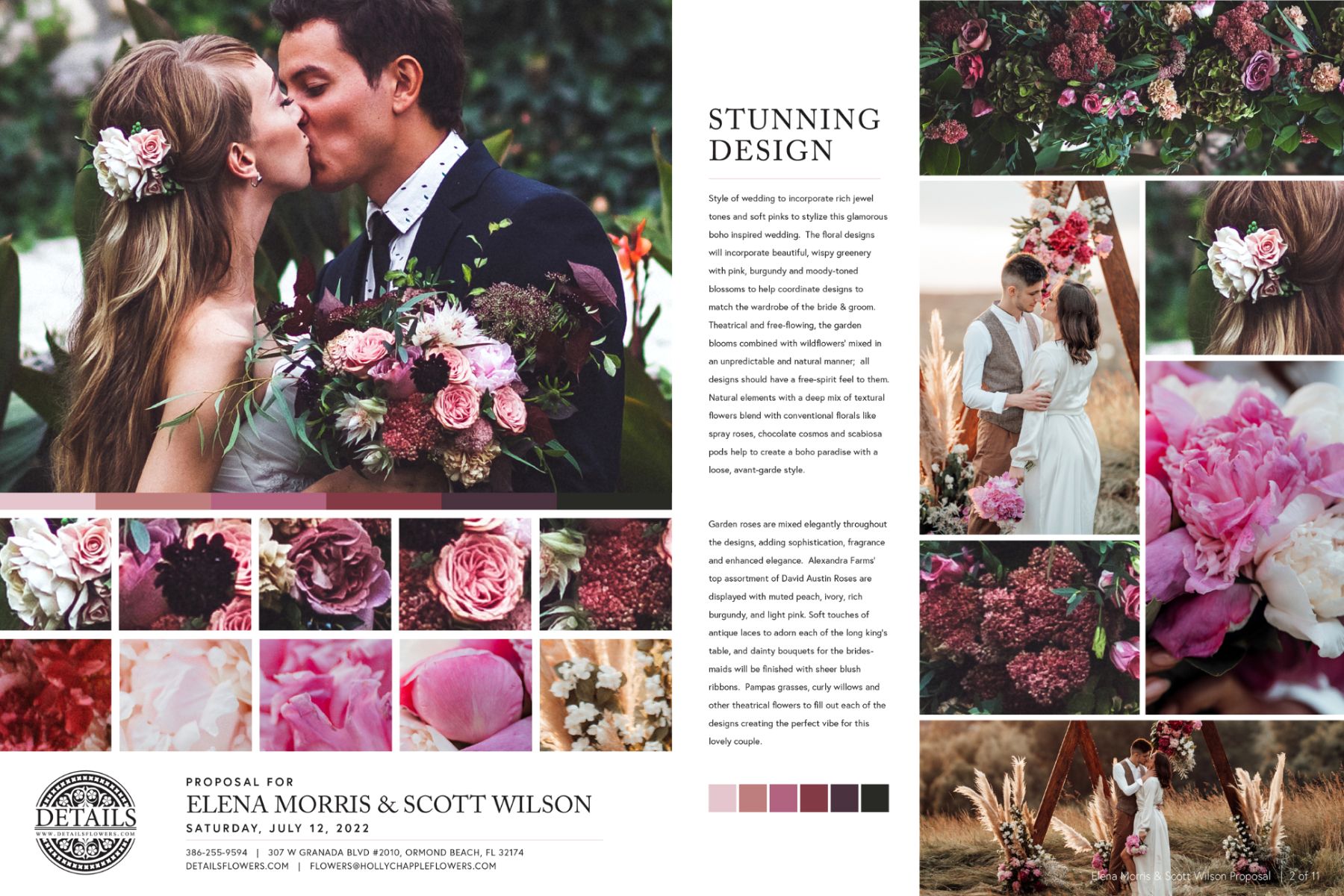 One of the most effective approaches to propel yourself to the top of the competition is to invest in technology. Details Flowers Software meets this in every challenge. Check them out!