CEO and Founder from Details Flowers Software, Corrine Heck, has been announced as one of Inc Magazine's Top Female Founders of 2023. Inc. editors review thousands of applications annually and highlight female founders challenging the status quo and tackling some of the world's biggest problems. The list features women who have overcome challenges and lifted those around them while leading impactful organizations nationwide.
This is an incredible achievement, and the Details Flowers Software team is so proud of Corrine, for representing Central Florida and the Floral Industry.
Inc.'s Female Founders List Highlights Entrepreneurs With World-Changing Companies
Inc. today announced its sixth annual Female Founders list, honoring a bold group of 200 women whose innovations and ideas are shaping the world into a better place. Corrine Heck, CEO & Founder of Details Flowers, is recognized as one of the recipients of this high distinction, which will be published in their latest issue. The founders cross all industries and bring with them unique stories of success from each stage of the entrepreneurial journey — from startup to going public, being acquired by big buyers, or spending decades at the helm of an organization. They are reinventing everything from shoes to food and are challenging issues like financial literacy and reproductive health.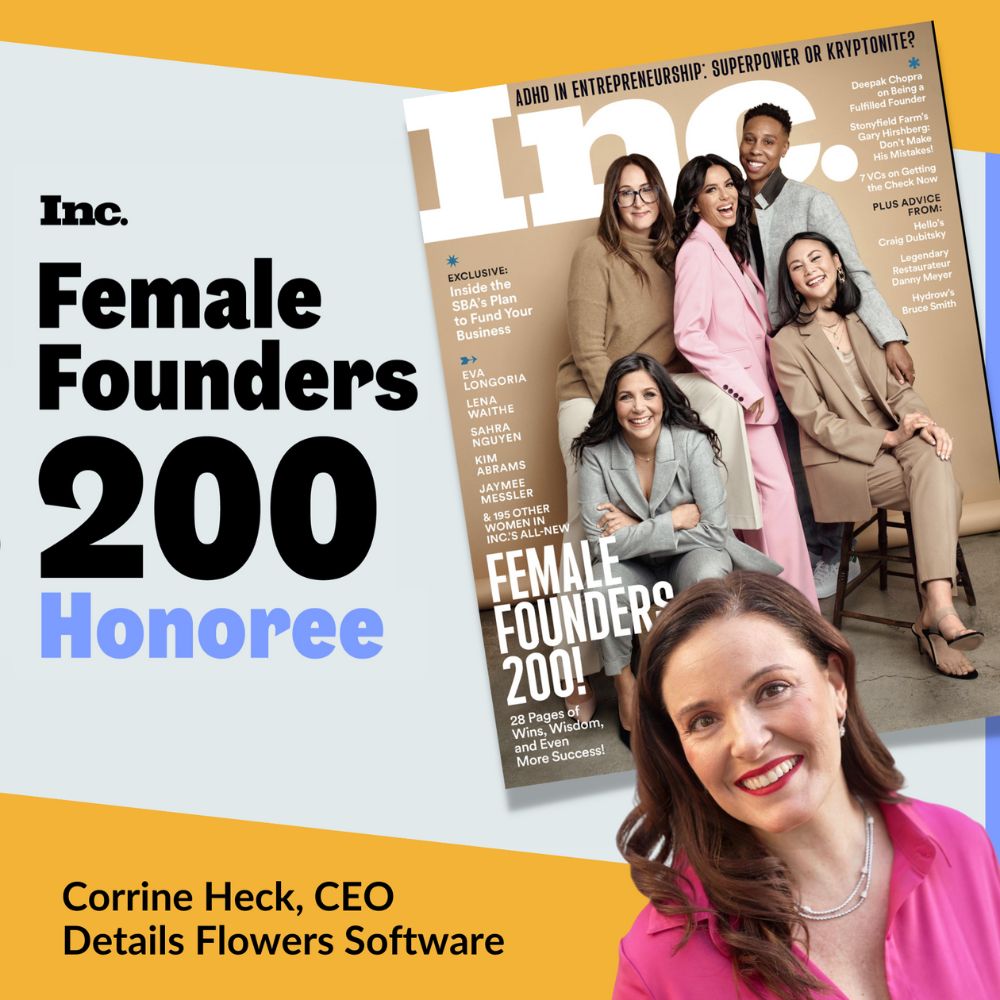 Corrine Heck:
"I am so honored to be among the many influential women recognized on the Inc's 200 Female Founders List this year. My hope is to inspire more female entrepreneurs and bring attention to Details' industry-wide. I'm honored to work alongside so many vibrant women to make the world a better place through the power of flowers and technology!"
This distinction is one of many for Heck and includes winning the Rollins College Crummer Graduate School of Business Venture Plan Competition in 2016. Corrine was also inducted into PFCI, the Professional Floral Communicators International Association, in 2021. Each Spring, Corrine accompanies other floral innovators, and together they advocate on Capitol Hill for the flowers industry at large.
Details Flowers Software was honored earlier this year as one of GrowFL's Top 50 Companies to watch in the state of Florida. Next month, Corrine will be recognized as the University of Florida's Gator 100 Honoree, which honors former Gators ranked as the top 100 Fastest Growing Gator Businesses. Inc. editors review thousands of applications each year and highlight female founders who are challenging the status quo and tackling some of the world's biggest problems. The list features women who have overcome challenges and lifted those around them while leading impactful organizations across the country. They join the ranks of previous honorees, including Jessica Alba, Tracee Ellis Ross, Rihanna, Shonda Rhimes, and Serena Williams.
Scott Omelianuk (Inc. editor-in-chief):
"These 200 female founders have identified solutions to difficult problems and created valuable, industry-changing companies out of them. We congratulate this year's list on their achievements and look forward to their continued success."
Here you can see the complete list. After launching in 2018, the Female Founders List is one of Inc.'s most esteemed franchises. Inc. magazine's Female Founders issue (April 2023) is available online since April 4 and on newsstands on April 11. Join the Female Founders conversation using #FemaleFounders.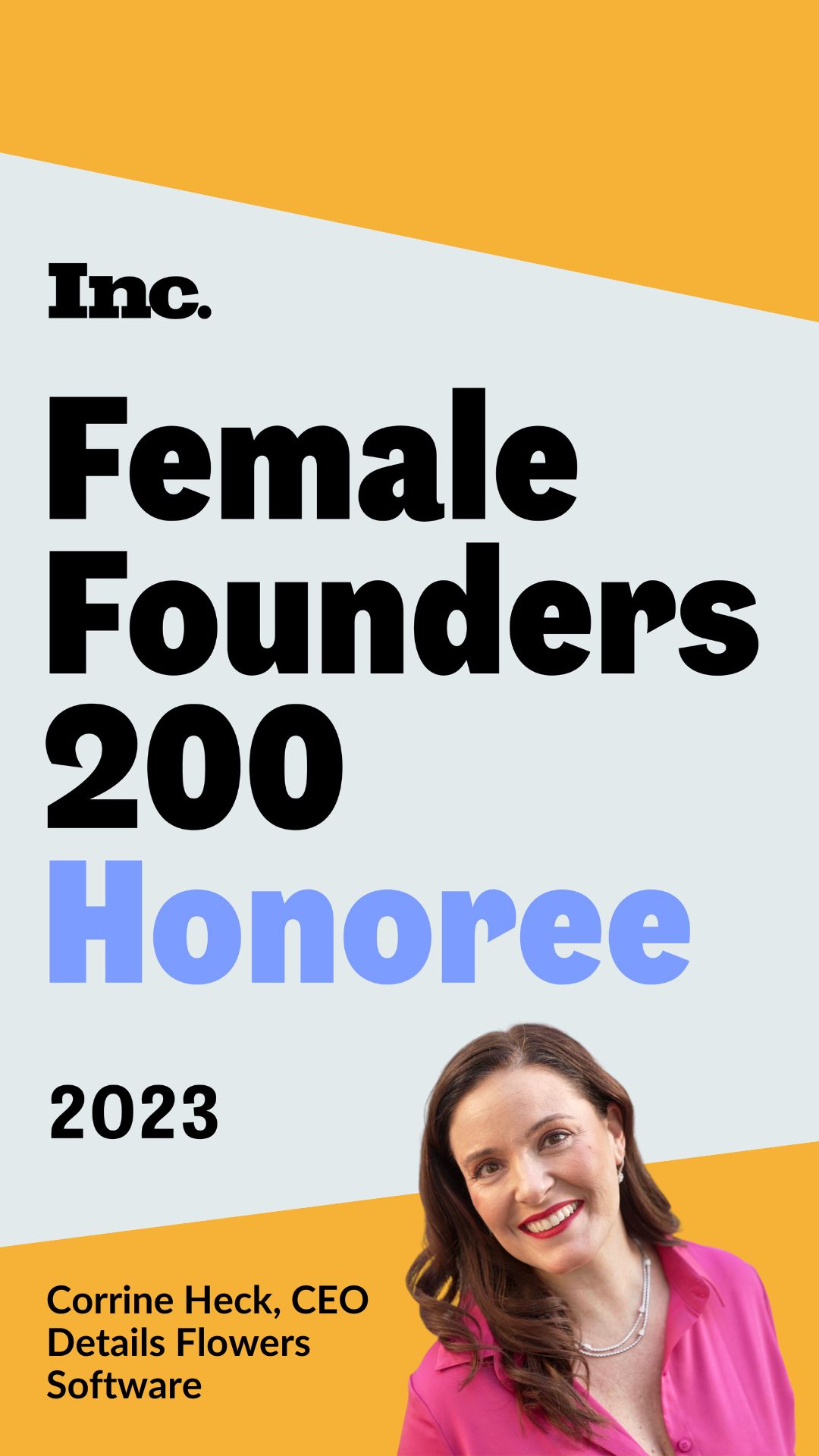 About Inc. - The World's Most Trusted Business-Media Brand
Inc. offers entrepreneurs the knowledge, tools, connections, and community to build great companies. Its award-winning, multiplatform content reaches more than 50 million people each month across a variety of channels, including websites, newsletters, social media, podcasts, and print. Its prestigious Inc. 5000 list, produced every year since 1982, analyzes company data to recognize the fastest-growing privately held businesses in the United States. The global recognition that comes with inclusion among the 5000 gives the founders of the best businesses an opportunity to engage with an exclusive community of their peers and the credibility that helps them drive sales and recruit talent. The associated Inc. 5000 Conference is part of a highly acclaimed portfolio of bespoke events produced by Inc. For more information, visit www.inc.com.
About Details Flowers Software Launched in 2015
Details Flowers Software is a platform specifically designed to help florists and designers do more and earn more. The software streamlines the proposal process, ensures profitability through careful attention to each arrangement, and simplifies payments. The world's best designers grow their bottom line through professional contracts and confident pricing with our all-in-one florist platform. Our mission is to cultivate happy and loyal customers by building a platform with florists in mind. We're here to improve profitability, productivity, and organization for floral businesses of all shapes and sizes. For Media Inquiries, please email [email protected]