In July 2021 Pola ended up the winner of the NYC Dare to Bloom competition. Read all about that HERE. But she has a much longer history than that accomplishment, as she will tell during this interview about her past, present, and future as a florist and designer. In her own words: "Can't wait to see what beautiful adventures await us this post-COVID year."
Florist, Floral Designer, and Farmer
Rosehip is a floral design studio and retail flower and plant shop in Williamsburg, Brooklyn. Apolonia (Pola) Rebisz is the owner of this shop. In fact, she lives right above it! Furthermore, Pola is a renowned floral designer for weddings and events. During COVID-19 she also ventured into a little flower farm located in Rockland County NY.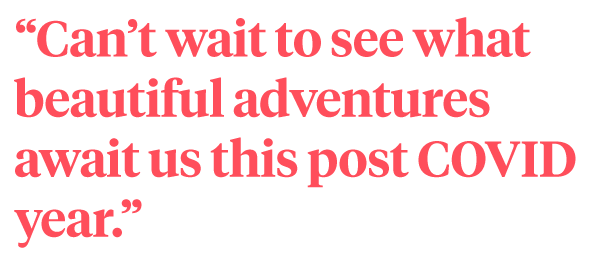 When did you know you wanted to be a florist?
"I've loved flowers since birth, starting out by admiring and sniffing daffodils until I massacred them all when 2 years Officially I was able to make this my profession about 10 years ago."
What's your main business? Events? Weddings?
"Rosehip focuses on weddings and events, but we are also a retail florist and plant shop. It's a little shop that creates lots of gorgeousness!"
"It seemed like a great opportunity to push myself creatively, use the products in a different and special way. We use the Lulu roses for corsages and I was excited to use the preserved flowers on a larger scale arrangement and push myself creatively."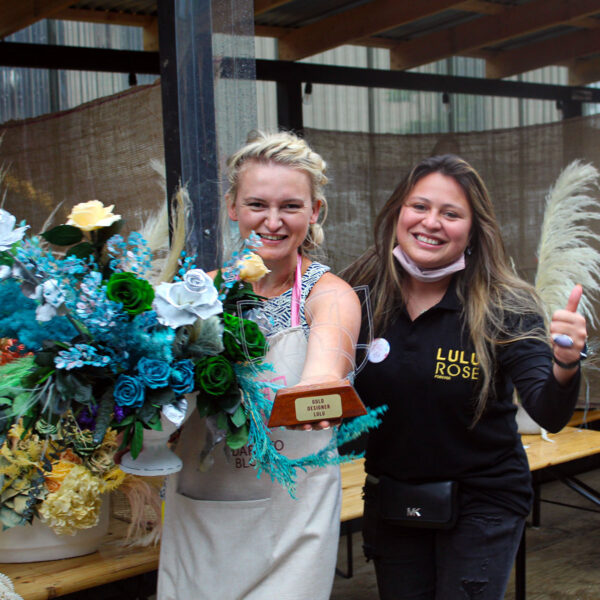 Did you like it?
"It was a wonderful experience. It was great to compete against so many talented floral professionals, and work on making a beautiful arrangement. The event was organized perfectly with a great level or energy, awesome music, and great MC work."
You won the Dare to Bloom contest!!! Did you expect that could be a possibility? I mean: are you a winner if you play?
"It was a spectacular surprise! I was honored that my design was chosen from all the beyond-beautiful creations. My "Emerald Skies" arrangement was inspired by the deep green preserved roses provided, and it helped to guide me in choosing the color direction for the creation."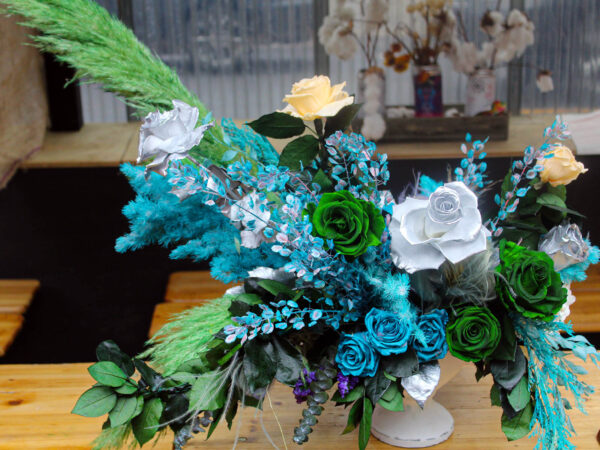 What did you think of the material package?
"The provided package was filled with a fun mix of preserved materials."
Do you like to work with preserved roses? Did you already know Lulu Eternal Roses?
"We use Lulu roses for corsages, boutonnieres, and floral crowns especially for proms or destination events. It great to have access to such great roses that will never wilt or change in color, and know that what we make will continue looking like this for years."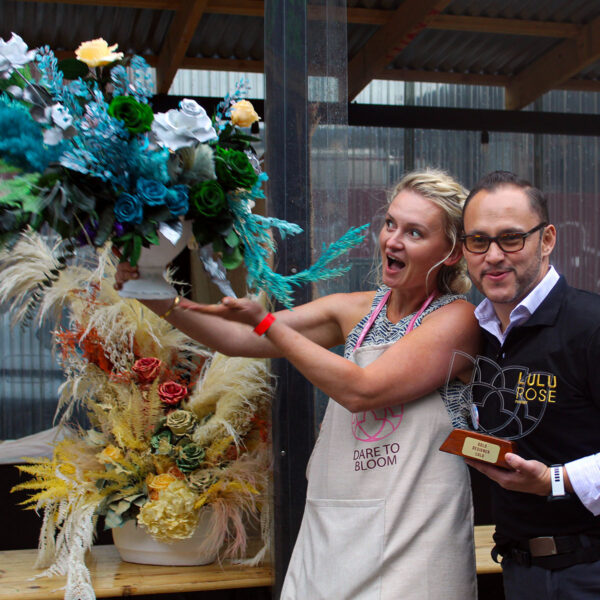 How do you keep yourself motivated during these rough COVID times?
"COVID provided us with a little bit of a mandatory break, and we used the time to work on the annoying business related tasks like updating our website, inventory photos and even updating our contacts and other paperwork. We knew that once we were going to be past this terrible time, it was going to be a very busy and very exciting year."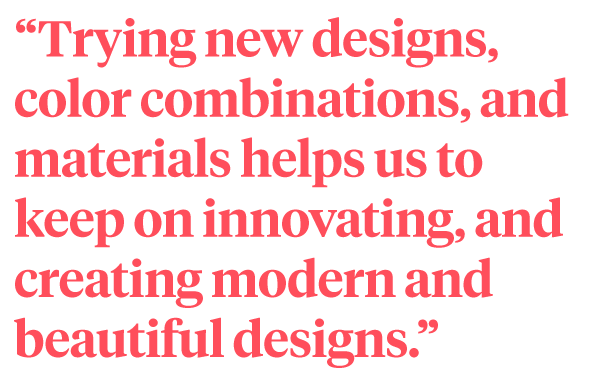 Do you think - as a florist - it's important to keep up with trends?
"As florists we're always inspired by things around us, including nature, fashion, architecture, and art. Trying new designs, color combinations, and materials helps us to keep on innovating, and creating modern and beautiful designs."
Do you have your own style, signature?
"Our style tends to be a lush textural garden look, with interesting and beautiful focus flowers. We love working on arrangements and large scale installations."
What did COVID mean for your business and are you already recovering?
"We are excited to move forward. COVID was a difficult time, and we appreciate all the life lessons learned during this time of self-reflection."
Which flowers are specific to your region? And what's your favorite?
"In the North East, we see lots of beautiful flowers year-round. Some of our favorites are interesting roses, peonies, orchids, and ranunculus. We also love colorful greenery like heuchera, ninebark, firebush, and dusty miller."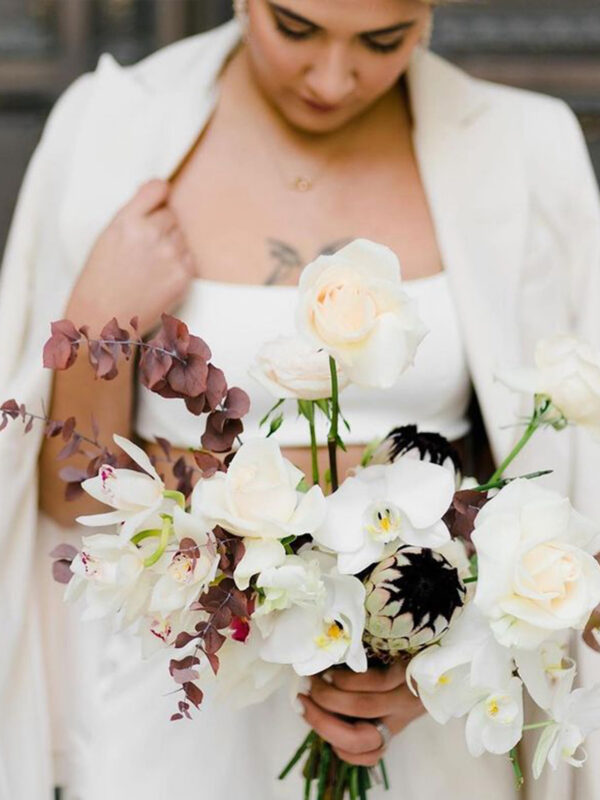 What is your favorite work?
"Creating delicate arrangements is very fulfilling, and allows us to use interesting and unique flowers. But we also love hanging installations which allows us to be very creative and use flowers and greens in an unusual manner."
Do you like to travel?
"Being able to have a spectacular meal in a gorgeous far-off location is always something I look forward to. To immerse yourself in the experience, fully appreciating the difference between your destination and home life is a wonderful feeling. I look forward to being able to travel more once my two kids are a bit older, and we can start showing them life outside of Brooklyn."
Do you like plants too? Do you sometimes work with plants?
"Working with plants offers us the ability to use unusual and interesting textures and color in arrangements. We use alocasia for their strong district shape, and philodendron mica for their dark trailing foliage. We also incorporate potted plants as part of centerpiece and ceremony backdrop designs for even more interest."
How do you purchase your flowers?
"We love purchasing our blooms from J. Van Vliet, as they have beautiful flowers and greens, and the staff is always beyond nice and fun. We purchase some direct from Holland, from local farms, and we grow some items on our own."
Which of your floral achievements you are very proud of?
"Thrilled about being able to represent NYC in this Dare to Bloom competition, as it was a difficult challenge. But also beyond proud of the success that Rosehip has become, and the beautiful arrangements that we bring to the world every day. Our staff at Rosehip has pushed this business forward, unitizing their individual talents, passions and unique skills. Can't wait to see what beautiful adventures await us this post COVID year."
Is there some special goal or a big dream your want to go for?
"Hope to become the Dare to Bloom national winner!"
Where do you see yourself in twenty years?
"Making beautiful arrangements and climbing ladders to hang them in the air!"