There is beauty in impermanence, and flowers as we know are temporary, the reason being why flowers have such a powerful and deep impact on our everyday lives. Feeling sad? Geranium 'Bloom Me Away' flowers will do! Feeling happy and want to feel extra happy? The same goes for this because the Geranium 'Bloom Me Away' flowers are not just any summer flower. Their petite shape and bold hues of purple and blue colors make this the perfect summer flower to completely change the floral architecture of your garden. Add more life, color, and texture with Geranium 'Bloom Me Away'!
Geranium 'Bloom Me Away' Has Made a Grand Summer Entrance
There's no great summer without the presence of the charming Geranium "Bloom Me Away" with floral designers, gardeners, and buyers already mentioning how much they love this variety. Although the summer season has officially started a couple of weeks ago, it's never too late to introduce yet another stunning bloom that'll be taking over the summer gardens and balconies all over the world. Going by the name of Geranium 'Bloom Me Away', this flower is certainly ready to bloom and blow your mind away with its spotless beauty.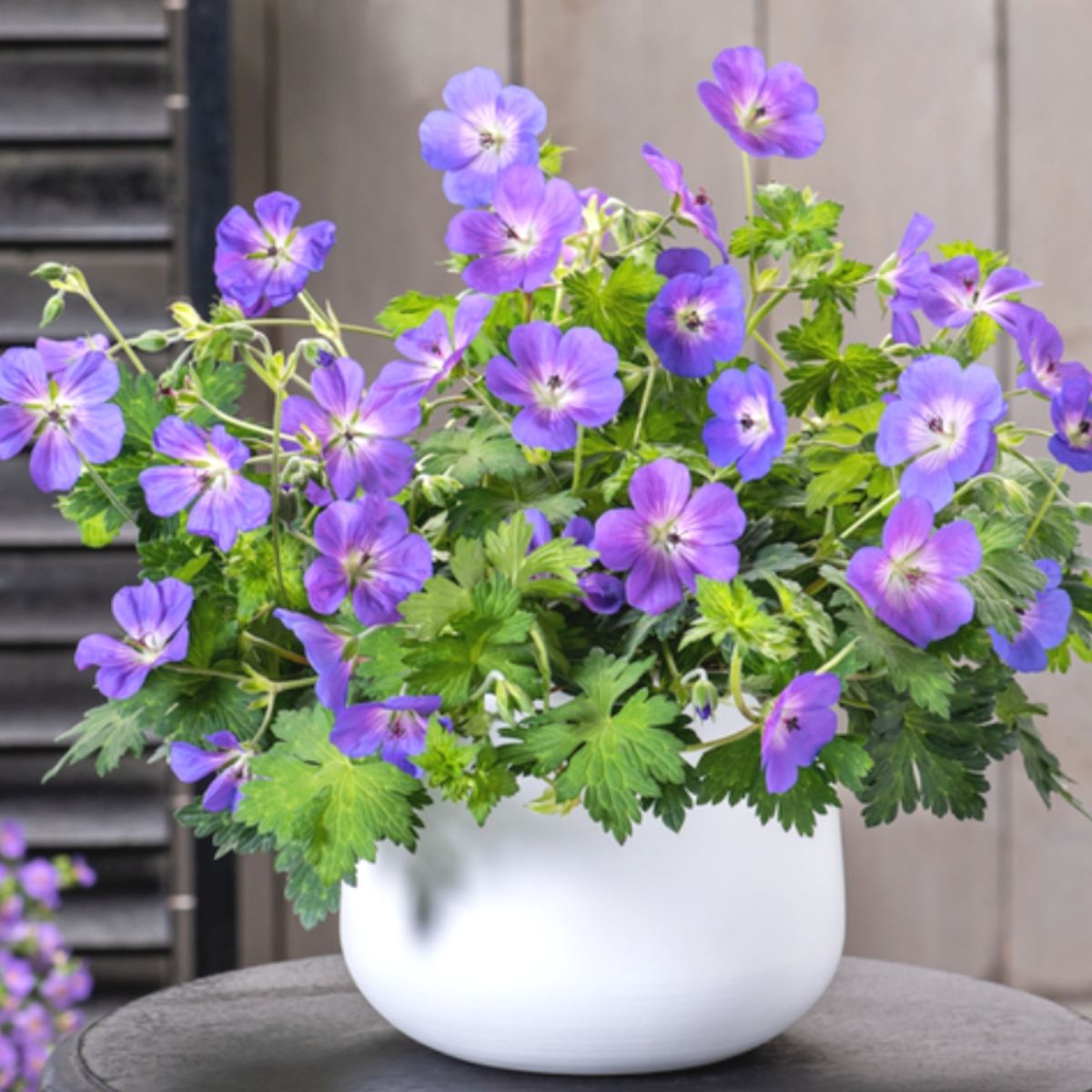 If you want to experience the Geranium magic, we strongly recommend making these your favorites because as we all know, besides adding more volume, beauty, uniqueness, and color to any space, flowers have the ability to elevate and boost your mental health as well. Get the best of both worlds? Of course, it's possible with Florensis' Geranium.
Geranium Bloom Me Away Loves Some Fun in the Sun
Want to know why this bloom is well known for being one of the most popular summer plants at the moment? The Geranium 'Bloom Me Away' variety is one that withstands long hours of sun and actually likes the warmth and rays of sun hitting their beautiful blue-purple petals. The more sun, the better for Geranium Bloom Me Away because they're actually a type of flower that requires hours of sunlight to thrive, bloom beautifully, and actually last longer in your garden. Of course, don't exceed the exposition hours to sunlight because at some point they must have partial shade as well for a little blooming break.
5 Reasons Why Your Garden Needs To Be Filled With Geranium Bloom Me Away
They're not just any flower, they are a type of flower that will very much make your day, life, and garden bloom altogether. Here are 5 reasons why Geranium 'Bloom Me Away' by Florensis is a must summer addition.
Better Branching Than Comparable Varieties
Richer in Flowering and Last Longer
Earlier Flowering
Suitable both for impulse sales and landscaping use
Adds Brightness and Color To Any Space
Blue-Purplish Color That Evokes Inspiration, Admiration, and Deep Beauty
Summer wishlist: buy yourself some Geranium 'Bloom Me Away' flowers to enhance your spaces with shades of bright blue and purple. Blue and purple-toned flowers are known to call up and bring forth feelings of admiration, desire, love, and inspiration. In case you were missing a little motivation to feel fully inspired to decorate your garden or balconies, these flowers are here to give you all the inspiring feelings you need to spend great summer days. Although if you're also looking to intensify and magnify your garden with other summer colors like orange or yellow, make sure to read the article: 'Rudbeckia Rudy Is Your Early Summer Till Late Autumn Patio Eyecatcher'.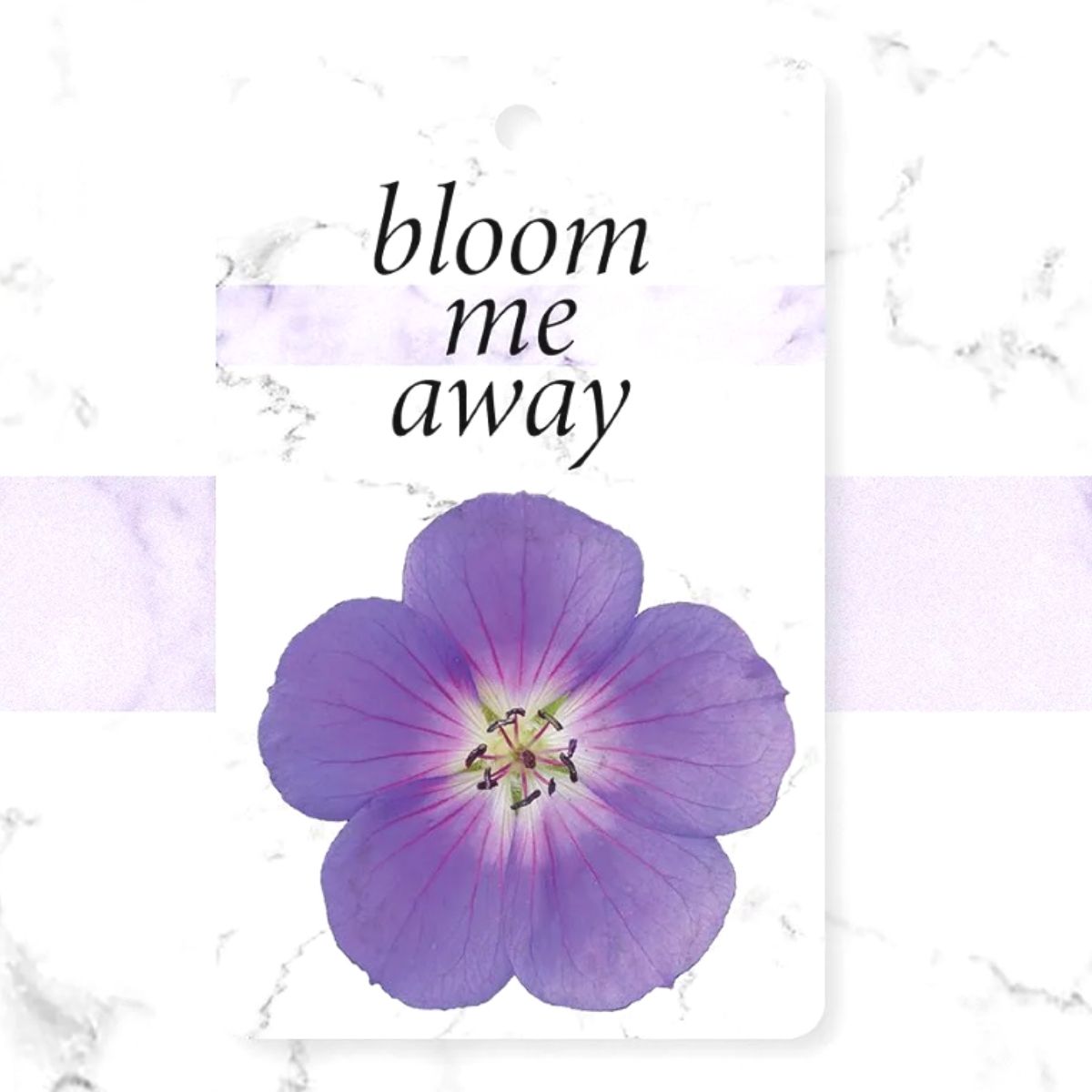 About Florensis Breeder
Florensis is the world's leading breeder and young plant supplier. It offers the best genetics in the young plant market. With more than 4,000 different cut flower and plant varieties from seed and cuttings, Florensis offers you an unrivaled range of plants, with the best genetics and the highest quality level in young plants. As a breeder and supplier of starting material, Florensis is specialized in annuals, pot plants, primroses, pansies, perennials, and cut flowers.