Let it be Christmas already! We all look forward to that time of year, wanting to get together, and hold on to traditions! Candles, stars, fir, cones… without them, we would miss something during Advent. With
BLOOM's
Christmas trend 'Lush & Precious' you'll be ready for the season of festivities.
BLOOM's Christmas Trend 'Lush & Precious'
And yet we feel significant changes. So many things have become important, playing an increasingly important role in these fast-paced times. Yes, these changes can also be felt in Christmas floristry, too: the rediscovered appreciation of a "homing" picks up traditional and familiar things in the spirit of the beloved Christmas. You really notice that the environmental and ecology topics are getting more and more of a say in this.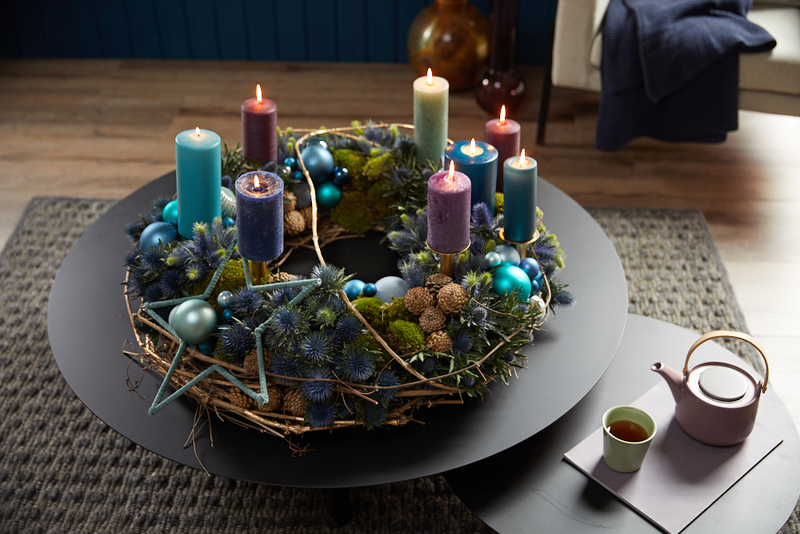 Get Ready With BLOOM's Christmas Trend 'Lush & Precious'
After a time of crisis, however, the desire for luxury and extravagance is also noticeable. This is reflected in completely new, vibrant color palettes, exciting surfaces, and new shapes. It's time to prepare for the Christmas spirit and work towards the
BLOOM's trend weeks
starting 3 September 2021. Here's everything you need to know about BLOOM's Christmas Trend 'Lush & Precious'.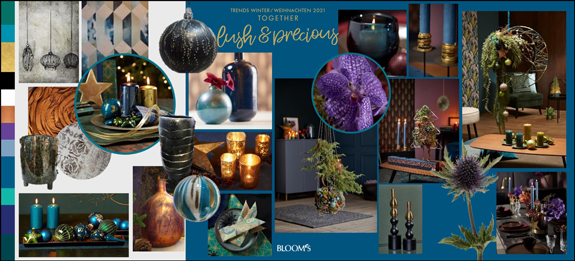 After a time that really shook us and our environment, now comes the Christmas season, when we want to have a really nice time with the family. This year you can literally 'go blue'. Because the trend theme 'Lush & Precious' combines above all blue accessories, balls, serviettes, and textiles harmoniously with gold accents and purple flowers to create a statement. This Christmas season, more is more, not less.
We're Making Blue for Christmas!
The golden accents look noble and take Advent and Christmas floristry to a new level. The products from Ambiente Europe will particularly catch the eye of customers. Deep dark blue on the napkins is combined with pompous prints such as golden tigers, leopards, or brightly colored peacock feathers. Pronounced patterns in shades of blue, linear drawings, mica effects, ginkgo leaves, etc. should not be missing.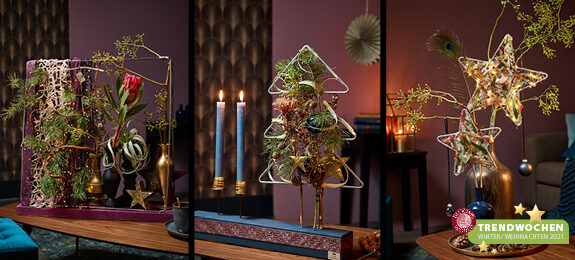 Which Florals Can Be Arranged Well to the Trend?
The motto here is to attract attention! Special orchid varieties in shades of purple with unusual flower drawings, flamingo flowers, amaryllis, and callas are also suitable. The Advent wreath or the Advent arrangement can also call out 'Lush & Precious'! It is welcome to leave the conventional format and be large and lavish. You are also breaking new ground by using an arrangement of up to 8 candles instead of four candles and fixing them asymmetrically in the base of the wreath.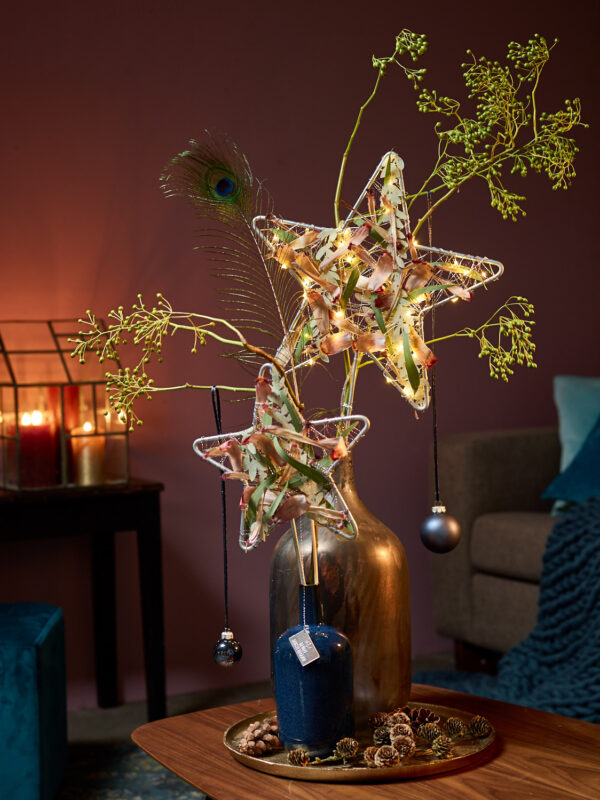 Indispensable this Christmas: The thistle! The cool blue-green, the prickly look - this is exactly what is currently more popular than ever. We associate luxury, value, and elegance with the combination of g It is not without reason that the pharaohs used gold as an expression of their wealth and as an element of their jewelry. Depending on how lavishly you want to implement or present the trend, Ambiente Europe offers serviettes and table accessories. Incidentally, the company belongs to the Christmas Trend Group, which offers baubles, accessories, wrapping paper, ribbons, and candles on this topic.