Not Just a Member
Together2Grow is a Decorum grower since January 2017. "A proud member", sales manager Robin van der Knaap emphasizes. "We are not just a member, but we very much want to be involved in Decorum. That accounts for everyone here, including the owners Fedor van Veen and Bernard Zuidgeest.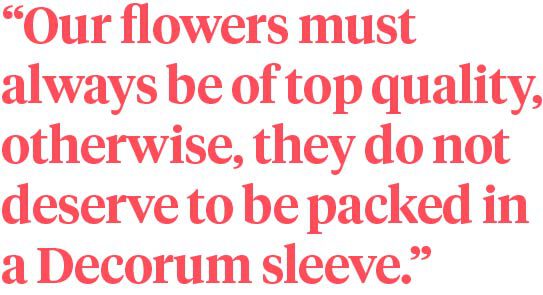 Together2Grow & Decorum
For over a decade Robin van der Knaap is the sales manager at Together2Grow: "We produce alstroemerias in the Netherlands and in Ethiopia. Quality-wise we find around 30% of our flowers good enough to be sold with the Decorum label." You will find over two dozen varieties of alstroemeria, and florinca (the spray alstro). In the regular alstro segment, there are the top quality reds Nadya, Noize, the yellow Bali, and the white Virginia. Famous florincas are the Charmelia Pink, Charmelia Blush, and Florinca Mojito. A promising newcomer is the Florinca Green Crown. Also new in the greenhouse is Green Planet, totally not your usual alstro variety with its large green leaves on top. With their exceptional looks both Green Crown and Green Planet will have great appeal in your high-class bouquets. "For us, Decorum stands for quality and reliability. Our flowers must always be op top quality, otherwise, they do not deserve to be packed in a Decorum sleeve."
Innovative
One of the three pillars of Decorum is Innovation. Robin sees innovation happening when he looks at the development in making the packaging more attractive, and in the introduction of novelties:
"Just look how new products are being adopted. First, novelties are thoroughly tested on vase life, blooming specs, and quality issues. Professional photos are taken for promotional purposes and a press release is issued. By doing this, a wide audience is notified of this novelty in a short period. Exactly what a novelty needs."
Footprint Calculation
Decorum is a front runner when it comes to sustainability. They are working on calculating the 'footprint' of the products that are sold under their label. Together2Grow is quite happy to be able to know their footprint on the materials they use. Robin:
"There is a lot of focus on paper sleeves these days, but it is possible that with these calculations there are different options to improve our sustainability further. And we are willing to invest and comply, although we realize that customers are often not willing to pay for the extra cost that it brings."
Closer to the Importer and Florist
Robin continues:
"Decorum is very strong in marketing support. It has marketing activities in various foreign regions, which allows us to get closer to foreign importers and florists. We are able to show our brand and introduce our novelties there. This results in an easier adaptation of our products." "Together2Grow is well-known in the floricultural chain up to the Dutch exporting wholesaler. We do not mind so much that the brand name Together2Grow is not at the forefront abroad. We see ourselves as a producing company, not as a label for florists. So, no problem for us at all that our flowers are being marketed under the Decorum label."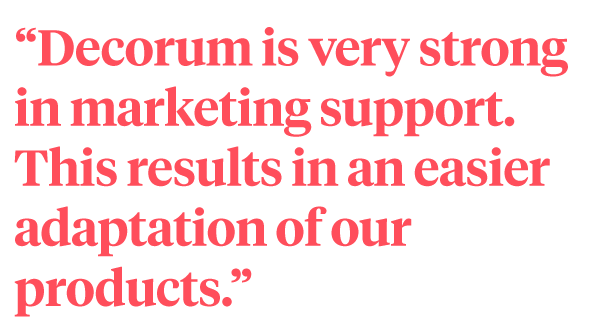 Involvement and Influence on Decorum
Decorum plays an important role as a platform where its members can be involved and have influence. For Together2Grow three people have a task in Decorum. Bernard Zuidgeest is a member of the board, Fedor van Veen is part of the workgroup Quality, and Robin van der Knaap is a member of the workgroup for the German market. This way, every Decorum grower can have a say in Decorum's strategy, building in the meantime a commitment for the individual members towards the Decorum label.
A Compliment to the Team
Together with the grower's own involvement, Decorum has a team that is truly dedicated to the growers. Robin continues:
"It takes quite some organizational skills to manage the marketing of over fifty growers, all with their different products, personalities, and demands. But they move mountains for growers, they take a lot of work from our hands, and I value that."
Message to Fellow Growers
Robin has a clear message for growers who are not yet a member of Decorum:
"Dare to invest time in bringing your products to a higher level. We always say 'We Are Decorum', but a grower is always responsible for bringing his produce to a higher level. Do realize the boost that the Decorum brand can give you as a grower. And this will bring a better price for your product. We have really seen it happen." "For us, Decorum stands for quality and reliability. Our flowers must always be op top quality, otherwise, they do not deserve to be packed in a Decorum sleeve."