Two floral designers, educators, and authors Hitomi Gilliam from Canada, and Per Benjamin from Sweden decided to have a 2-part floristic dialog about color in a workshop kind of environment. They are no strangers to one another, in the past, they worked side by side on many projects and saw how collaboration could bring in a huge extra value.
The Importance of Color
Hitomi Gilliam and Per Benjamin talk about the importance of color for a designer. When you see the world of color, not through the color wheel, but through the color theory that Per Benjamin established, even Hitomi Gilliam concluded that this changed her perspective completely. After her paradigm shift designing evolved with a new dimension; a different way to use colors. In the 2-part workshop they host, they talk about the importance of color.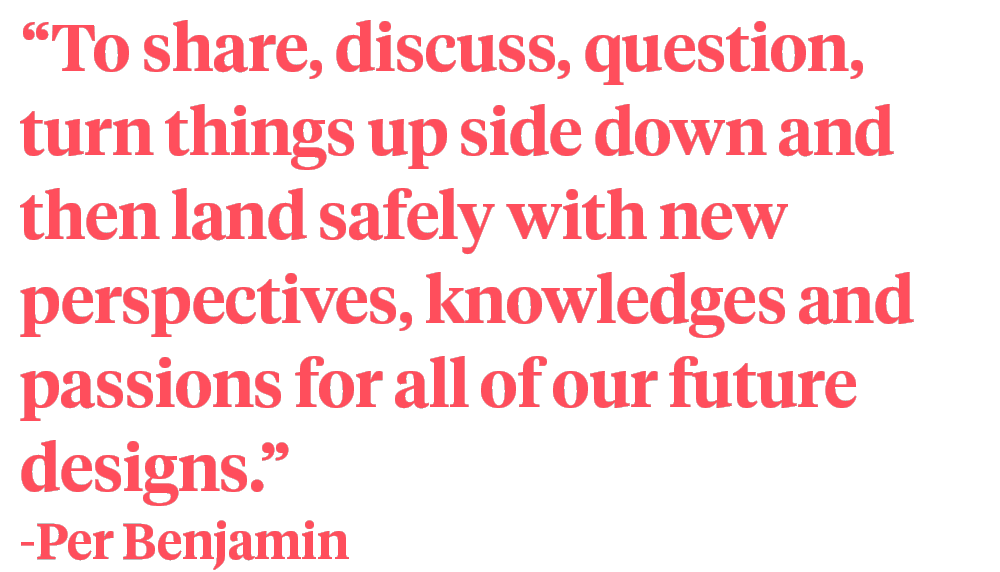 First, More About Hitomi Gilliam and Per Benjamin
Hitomi Gilliam AIFD, home in British Columbia, where she lives with her son Colin on the beautiful Bowen Island. She is a floral designer that's known worldwide for her intensely intricate design mechanics and fascinating floral displays. Hitomi works in all aspects of the floral industry – as a keynote lecturer, a demonstrator, an educator, and a consultant. Hitomi has a tremendous amount of experience, her vision on design (and color) is renowned.

Per Benjamin lives and works in Sweden. Curiosity is his driving force. As a person, and as a florist. For him, the challenge is not to find the most beautiful and rare flowers but to find new ways to use to show their beauty. This is often achieved by working with the flowers or colors that you like the least, to challenge your own prejudices and creativity. Not to see limits and old traditions as obstacles; on the contrary, to see them as possibilities and inspiration to new ideas. And he always combines creativity in design, the marketing part of it, and business lessons in his coaching programs.

Explore the World of Colour With Per Benjamin & Hitomi Gilliam
Per Benjamin and Hitomi Gilliam talk below about their reasons and passion for their new joined initiative in this 2-part dialogue. What do they have to say?
Per Benjamin:
"A Floristic Dialog with Hitomi and me, and all of you participants... What a treat this is. To share, discuss, question, turn things upside down, and then land safely with new perspectives, knowledge, and passions for all of our future designs. Hitomi and I will start discussions, both in theory and in practical floral design pieces. On different subjects through this series of workshops. Starting with the theme of color, a theme we are both passionate about and that is crucial in all design work. Color is the strongest means of communication. It's the first and most direct aspect that anyone registers when looking at a design piece, floral, or any design object for that matter. If we can learn more about color, we can not only improve our design skills but we can make more creative designs and in the end earn better and more in our businesses. Color first is the core of my very own color theory that I will share in this first Floristic Dialog. My theory together with Hitomi's view on color and all of your different ideas on the same theme is gonna change us all forever."
Hitomi Gilliam:
"I am super excited to partner with Per Benjamin for our new floral design workshop series, 'Floristic Dialog'. As this name implies… we will engage in many Floristic discussions on a diverse range of design topics, technical and theoretical. Also in conversations about sources of inspiration, creativity, career and business, and whatever the frequently asked questions are in our profession. Our first in this workshop series will be an awesome 2 part 'color' program that will open your eyes and demystify the dynamics of colors. This workshop is guaranteed to help built your color confidence… See yourself creating some of the most alluring color palettes to 'Wow' your customers, your audience, your followers. Plan to start 2022 with us!! Let's enjoy flower designing through the most colorful lens together."
This 2-Part Dialogue Is a Definitely a New Exciting Course
Per Benjamin has been evolving his color theory for over a decade, and now, with Hitomi Gilliam's experience, their 2-part dialogue will become a new, exciting, and interactive workshop.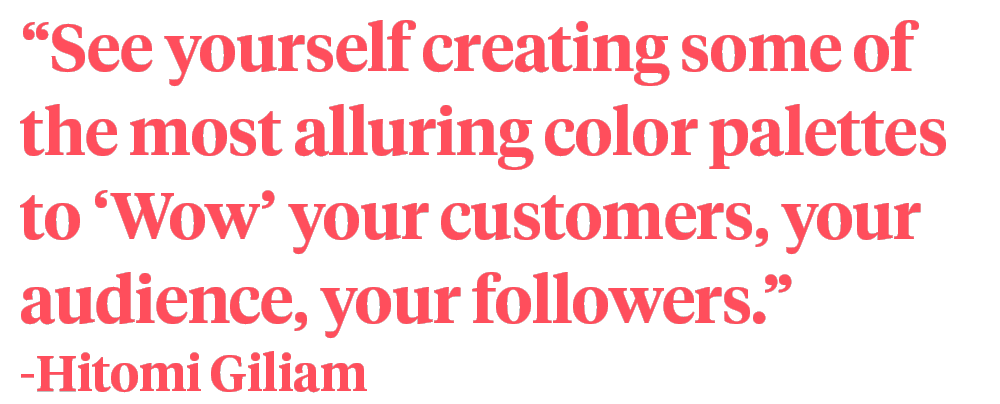 Q: Hitomi, what was the objective to start these courses with Per?
Hitomi Gilliam:
"For me with my monochromatic and harmonious designs, it was a real eye-opener to learn with Per. His vision on color choice was so different from what I was used to, that I was completely swept off my feet. And at the same time, I was so curious about what it could mean to my designs. A whole new world opened for me. Per chose his colors first according to the atmosphere, theme, story, feeling, etc... and he chose the flowers that he could find in those colors. And to my surprise, he chose old-fashioned flowers. I thought: ok, someone who can make something out of old-fashioned flowers with colors that meet the eye immediately, well that's a true artist."
A polychromatic color harmony, where you use all colors. Design Hitomi Gilliam, Photography Colin Gilliam.

Q: And the same question for you Per, what was the objective to start these courses with Hitomi?
Per Benjamin:
"Well, it's not that difficult to design something spectacular with real special flowers. That's a fact. True skills are coming forward when there is no availability of all those specialties. To make something beautiful with ordinary flowers, I just love that."

Per Benjamin's Color Theory
Working with 'ordinary flowers' makes it more challenging for Per Benjamin. Perhaps that is why his focus was oriented to colors, and he started theorizing about it.
Per Benjamin:
"For more than 10 years I worked on my theory. Because it's one thing to think and say it, but it's another thing to actually put it in words and pictures in a book. Where it's kept as the truth and where you can not change what you said anymore. It was an exciting time when the book 'The World of Colour' was getting ready. I can assure you."

The Color Wheel and Floristry
Q: Hitomi, you initially started with the color wheel, what are your thoughts about it now?
Hitomi Gilliam:
"The color wheel is an instrument for all design arts, from painting to fashion, to cars, to interiors, and so on. But floral design and flowers are something completely different. And so Per's color theory opened my eyes, and it made me want to work with it and implement it into my floral design. Surprising and high-level designs were the result. I want for all our students that they learn the basic knowledge and feel good enough to play with it!"
Q: And for you, Per, to apply in floristry the color wheel to you is as square as possible, isn't it?
Per Benjamin:
"True, I was never able to understand the color wheel in floristry. This circle seemed to be the most square thing I've seen so far. Especially for flowers: when you see someone coming out of a flower shop with a bouquet or an arrangement, what's the first thing you see? Which kind of flowers did they use? Or the color? Color creates emotion. And that's what hits you first."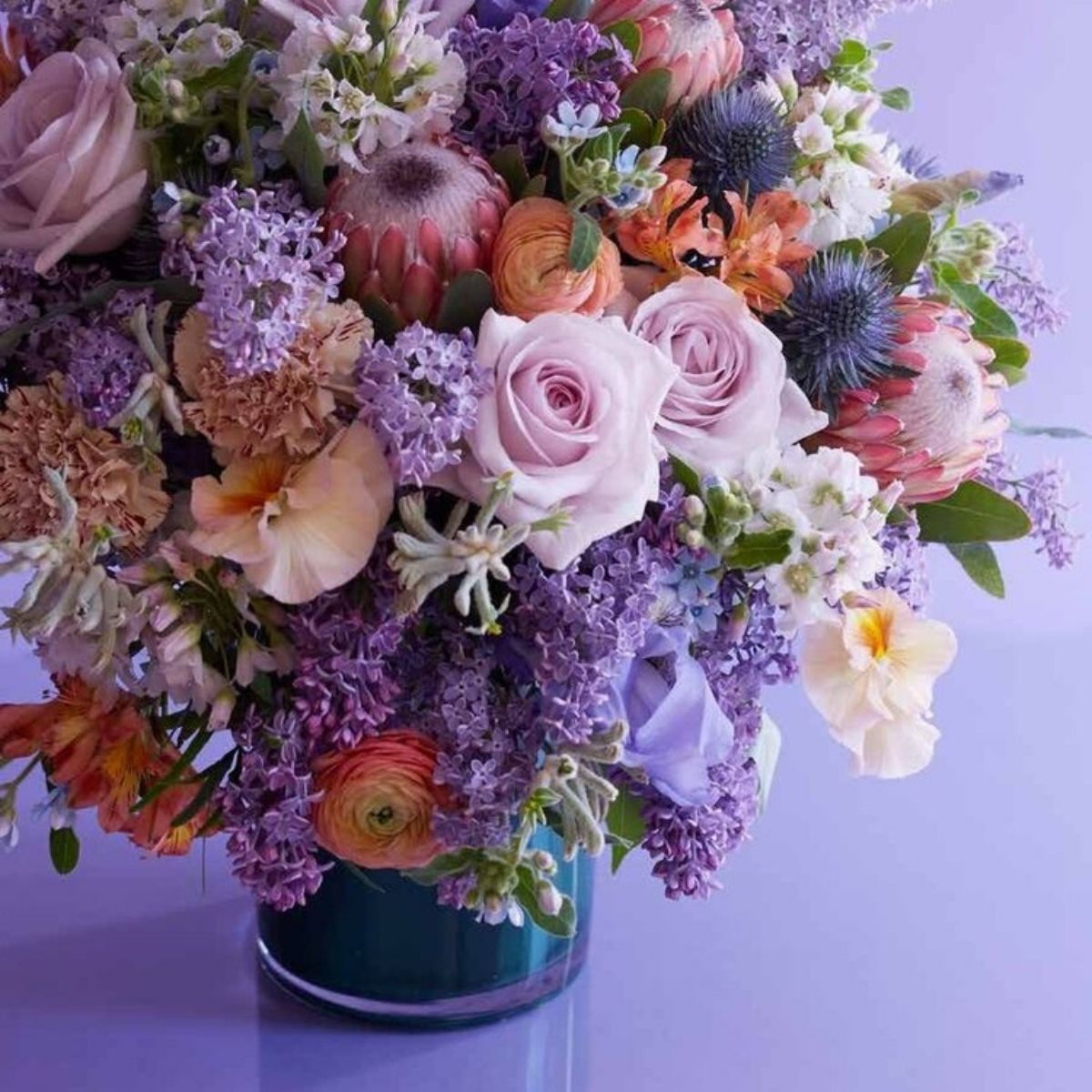 Per Benjamin:
"To have one's passion and main interest as a full-time job is a privilege. My driving force in life and career is the sheer fun and happiness I find in working with flowers and people. I find the connection between people and flowers to be the most interesting aspect of this profession. How we, in different situations, can explain our feelings, or project them, telling things without words, but with flowers. To be this person is a true joy."
An Interactive Way of Teaching
The new workshop is a dialogue between two people. This way, much more information is being shared, and there's much to learn.
Q: Hitomi, this Floristic Dialog is a very interactive way of teaching? What are the benefits of a virtual workshop?
Hitomi Gilliam:
"I really believe these new ways of online teaching and the virtual workshops have their value, sometimes even more than the physical classes. Of course, I love to hug and I love to meet. But online, one can take the time to grow. Because students get access for a lifetime to the lessons, they can look back again and again... That way they get the time to digest. And to get involved in the conversations. That way they can learn and become more confident. Especially color confident. What's so good about these classes is that once you have basic knowledge, you can start playing with it."

A Lot of Enjoyment
Hitomi is enjoying teaching color with Per. A lot! Especially, she told us, since there was much discussion on the nuances and intricacies of color knowledge. And with emphasis on getting closer to understanding the subject well enough to be able to use them well in order to have more confidence with their color ability. Hitomi is thrilled with the many fabulous questions that were being tossed and discussed. An important finding for Hitomi was that each person can determine how they can best use the information.
Q: Can you show us an example of your design, and tell us more about it?
Hitomi Gilliam:
"I am so enjoying teaching with Per. This design was created in an IKEA wooden salad bowl riddled with bamboo skewers drilled in and bindwired together into a wreath ring. I wanted to work with these colors and flowers I had selected with a variety of tones in the two color groups - red, violet, and green. It then became a lovely color harmony inter-laced with the confederate Jasmine vine providing a natural visual movement over the lush, soft color works. The result can be analyzed as closest to complementary color harmony in the light to mid-tones. Does it have to be a definitive scientific classification? As Per explains… it's too limiting to play with colors with science as the target objective… The imagination behind the use of color is being revealed!!!"
#color #colortheory #colorplay #creativecoloring #floristicdialog #colorconversations
Advice to the Participants
These new workshops are really something every floral designer would benefit from. Hitomi's and Per's advice to their participants is here below:
Per Benjamin:
"I would say practice! Try to make a design in the way you are used to and also make designs in the way you learn from the Floristic Dialog. And see what your customers are buying. I have learned most from what has not worked in my life, so I hope there are going to be a lot of questions and lots of challenges. If everything is going easy, you don't learn a lot. And you know what? I learned a lot by teaching, every time new things came along. And so it's a win-win for all of us. That way you learn to think both with your heart and your mind to optimize color use."
Hitomi Gilliam:
"One more thing I want to emphasize: by having my son Colin, doing the pictures and filming, I bring younger people, a younger way of working, thinking, and acting. And new things develop during workshops and youtube movies. It's very important to me to grow with time and technique, and learn about what goes around in young minds. In fact: learn all the time, make sure you are always willing to learn from each other. The richness that comes along is priceless."
To learn more about the Floristic Dialog's program, click here to go to the website: www.floristicdialog.com