Every outdoor lover knows the Mandevilla as an attractive, versatile, and low-maintenance plant that adds color and beauty to any garden, patio, or balcony. To enjoy the summer even more, breeder Florensis has brought their new top brand to the market in 2022, the Mandevilla Diamantina® line. These plants have proven to be instant winners. What makes Mandevilla Diamantina® so unique for your outdoors?
Mandevilla Diamantina
Garden lovers are always on the lookout for new and exciting plants to add to their collections. One such plant that has captured the hearts of many is the Mandevilla Diamantina. This stunning climber, with its exotic appearance and brilliant blooms, can be the centerpiece of any garden. Its vibrant trumpet-shaped flowers come in various shades of pink, red, white, and even yellow making it a beautiful addition to any garden. The glossy, dark green leaves provide a lush backdrop for the vibrant blooms, creating a stunning contrast that is sure to turn heads.

Long Blooming Season
One of the many reasons garden lovers should consider the Mandevilla Diamantina is its long blooming season. This impressive plant produces flowers from late spring to early autumn, providing an extended display of color in your garden. The continuous blossoms are not only visually appealing but also attract pollinators such as butterflies and hummingbirds, which will further enhance your garden's ecosystem.
Versatility
The Mandevilla Diamantina can be grown in various ways, making it an incredibly versatile plant for any garden. It can be trained to climb trellises, pergolas, and fences or grown as a cascading plant in hanging baskets or containers. This flexibility allows gardeners to use the Mandevilla Diamantina to create eye-catching focal points, add vertical interest, or cover unsightly areas of the garden.
Low Maintenance
Despite its exotic appearance, the Mandevilla Diamantina is surprisingly low maintenance. It requires only moderate watering, well-draining soil, and regular feeding with a balanced fertilizer during the growing season. Additionally, it is relatively pest and disease-resistant, making it an excellent choice for garden lovers looking for a plant that is both stunning and easy to care for.

By Florensis
The Mandevilla Diamantina line was introduced by Florensis in the summer of 2022. In the product line, you will find three series, each with its own surprising features, each claiming its own spot in your outdoors. Check out these series: Jade, Opal, and the Agate XXL. Which Diamantina suits you?
In this short YouTube video Florensis cheerfully presents their series of Mandevilla Diamantina:
Mandevilla Diamantina® Jade
The first real compact series on the market. Jade includes a unique range of colors that makes life easy for growers with mass production in 10.5–13 cm pots. These free-flowering plants do not need any support and will bloom with bright-colored mid-sized flowers. Jade is more day-length neutral making it one of the first flowering Mandevilla.
Early and uniform flowering within the series

Large choice of varieties

Including the best white ever that is not only suitable for small pots, but - with support - also for small pyramids

Safe value and high garden plant performance
Mandevilla Diamantina® Opal
The Opal series grows up to 50 cm. One of the best series for standard Mandevilla. An allround series of four colors. Opal is very good for medium-large pyramids and racks or bigger baskets. There's a solution for all standard colors. And as a bonus, there is the first real yellow Mandevilla named 'Citrine''. This variety has a different plant habit and growth but makes a perfect product, which will fit the other colors. Read more about Mandevilla Diamantina Opal Citrine.

Uniform in bloom and earliness

Widest range of colors within the principal

Very suitable for racks and pyramids

Dipladenia-type market segment

Safe value and high garden plant performance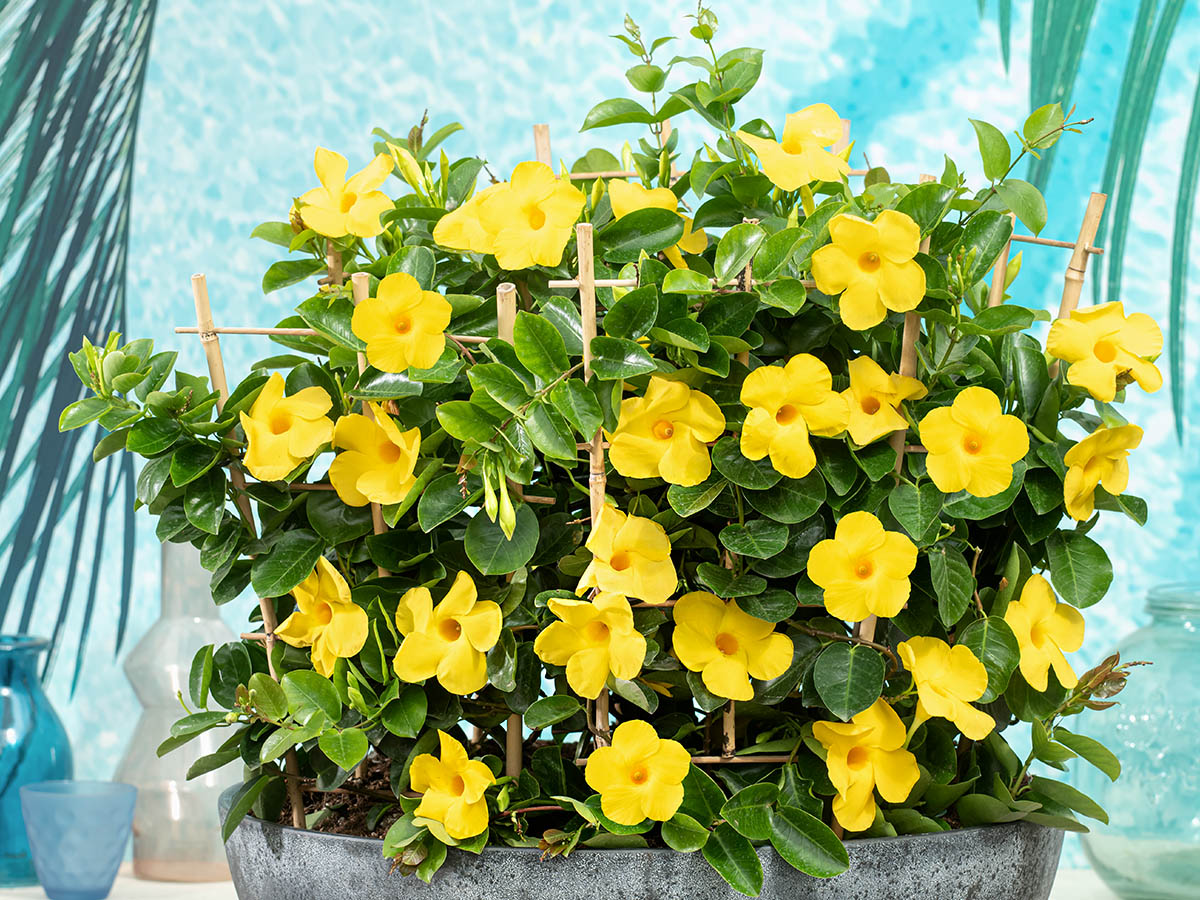 Mandevilla Diamantina® Agate XXL
Time for the big stuff! Mandevilla Diamantina® Agate XXL is the most vigorous series in Florensis' Mandevilla range. Every Agate XXL is spectacular with its extremely big flowers for large containers and pots. These plants have both big leaves and big blooms and are very suitable for large pyramids and racks. It is a high-quality product for specialists. When you need vigor, you need Agate XXL.
Earliest blooming compared to all existing programs

Excellent urban performing varieties

Mandevilla-type premium market

Stand-alone, suitable for terraces, balconies, and small gardens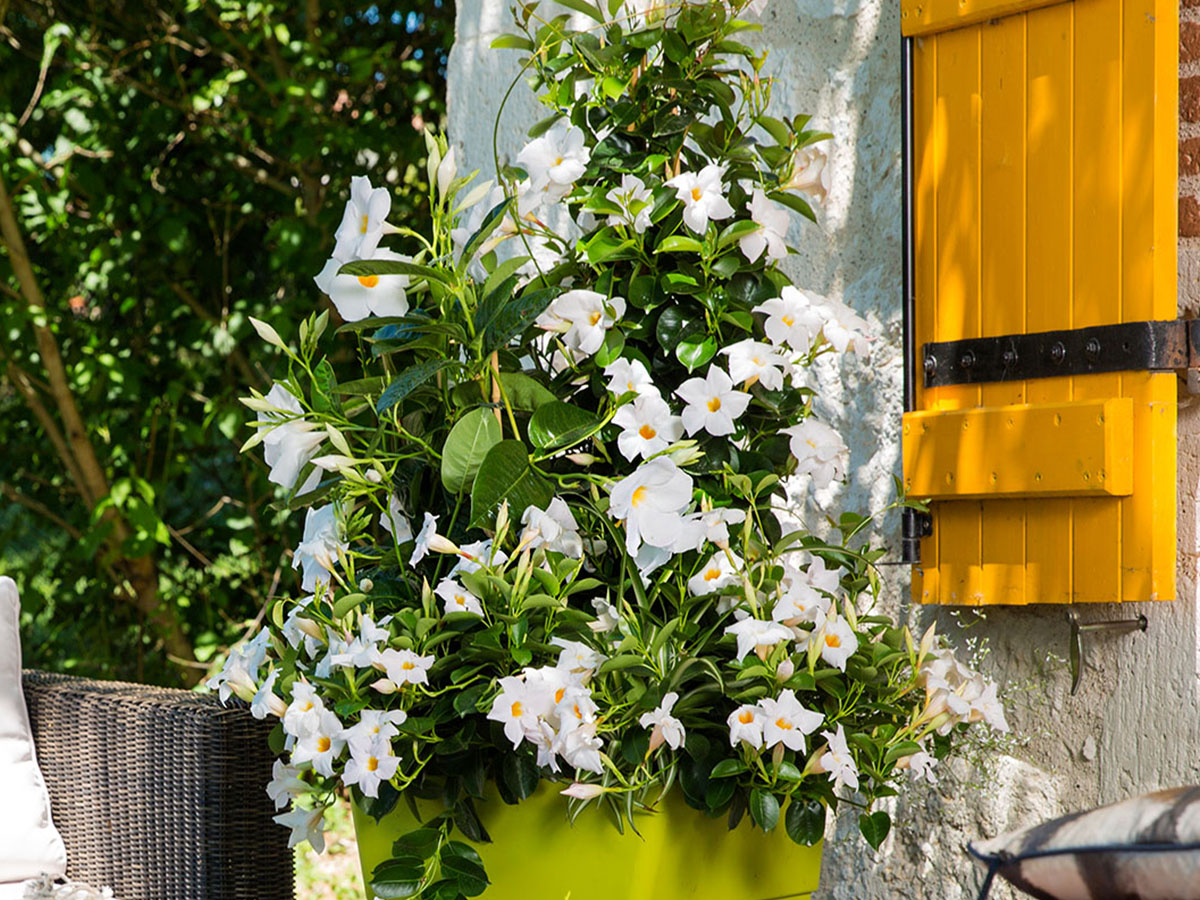 Ideal Placement of Mandevilla Diamantina in Your Garden
To ensure that your Mandevilla Diamantina thrives, it is essential to choose the perfect spot in your garden. Here are some factors to consider when selecting the ideal location:
Sunlight: Mandevilla Diamantina requires a minimum of 6-8 hours of sunlight per day. Choose a spot that receives plenty of bright, indirect light, as too much direct sunlight can scorch the leaves and cause the flowers to fade.

Support: Since it is a climbing plant, the Mandevilla Diamantina will need a sturdy support structure, such as a trellis or pergola. Ensure the support is tall enough for the vine to reach its full height, which can be up to 3-4 meters.

Soil: Mandevilla Diamantina prefers well-draining, fertile soil. Avoid planting in areas with heavy clay or waterlogged soil, as this can cause root rot.

Protection: While the Mandevilla Diamantina is relatively hardy, it is sensitive to frost. If you live in an area with cold winters, consider planting the vine in a container that can be moved indoors or to a sheltered location during the colder months

.
All images by Florensis, unless otherwise noted.