Spray roses are HOT and getting hotter by the week. It's probably the next big thing in the rose business, and no wonder you see all major breeders focus to improve their position in this popular segment. The worldwide renowned breeder United Selections has a full-colored premium line called 'Blossoms' with outstanding performance, and plenty of buds that will always open up!
Why Are Spray Roses Becoming More Popular?
Spray Roses are very popular among Florists and DIY consumers because they offer more blooms per stem than the long stem variety that offers a single bloom. They are strong and easy fillers and will always upgrade your floral arrangement.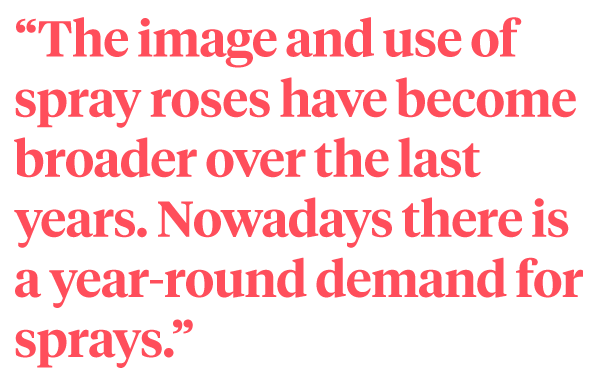 With the constant popularity of roses year-round, the fact that spray roses tend to produce more blooms per stalk than other rose bushes and varietals makes them more attractive for rose growers as well to add to their product portfolio. Spray roses make up the bulk of small bouquets and corsages, with the foliage creating an attractive background for the brightly colored blooms. Sprays are ideal for small floral arrangements where larger roses may be overpowering. They add a touch of romance to any setting or event. The prices on the market make them interesting too, in that perspective. Ben Braam is one of the biggest and most famous spray rose growers in the market with 22 ha exclusively dedicated to sprays. in Ziway, Ethiopia. One of their latest introductions is the all-new and already highly appreciated spray rose Speaking Blossoms. "Our ultimate goal is to provide consumers the best quality and excellent vase life for long-lasting enjoyment," Ben says in an interview in April 2021. Read about the introduction on the United Selections website.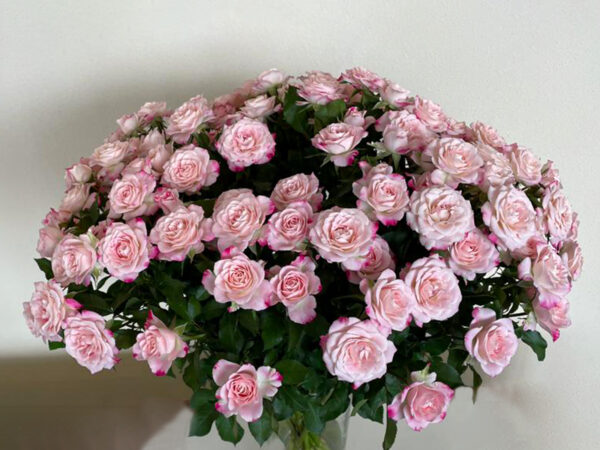 From Wedding Flower to Year-round Product
The image and use of spray roses have become broader over the last years. Sprays used to be uniquely used for weddings, not so much of a year-round product. Nowadays there is a year-round demand for sprays. And when in the regular rose segment red and white dominate the business, with sprays it's the whole color spectrum that is lifted, bright colors, pastel colors, plain colors, and bi-colors. Because of these endless possibilities, the spray rose has put itself in a versatile position of 'anything goes with a spray rose'. Easy if you are a florist. A continuous introduction of novelties has contributed to the discovery of the spray rose as well. Take the Blossoms series from United Selections, a fast-growing line of over twenty varieties with marvelous sprays that have the power of opening.
Speaking Blossoms Is Here
There is no denying the power of Speaking Blossoms's opening. All buds will bloom. You will get 4-6 buds on a stem of 50-60 cm with a full and rich crown. Its pink-colored blooming has the potential to melt your heart with love and evoke feelings of satisfaction and appreciation. Speaking Blossoms are daily available from Ethiopia by grower Braam Roses at the clocks or Royal FloraHolland.
Pink Blossoms
Pink Blossoms is a big-headed premium spray rose with wonderful and romantic soft pink flowers. Check the detailed dark pink-lined edges, and the round big flowers, and you will fall in love with this spray rose instantly. Kenyan growers Omang and Mzurrie Flowers-Bahati Premium Roses bring these special spray roses to the market. "We decided to establish a new line of spray roses" mentioned Joseph the farm manager in an interview with Floraldaily. The special traits of big heads and long stems - up to 80 cms - of this spray rose is what appealed most to Mzurrie Flowers.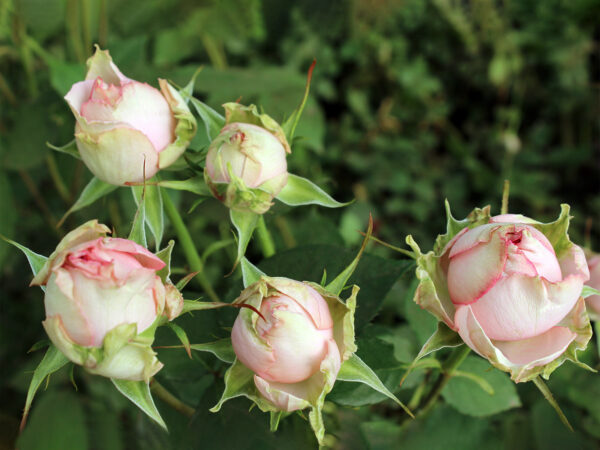 Tender Blossoms
Tender Blossoms is a spray rose with a classic wedding color, almost thornless making it easy to handle. It opens fully and beautifully. Kenyan grower Omang supplies this variety, making it commercially available worldwide. They are also auctioned at Royal FloraHolland.
Blossoms Coming Up
The Blossoms line is quickly expanding. Look out for the upcoming arrivals of top spray roses Snowy Blossoms, Velvet Blossoms, Golden Blossoms, Candy Blossoms, Twinkle Blossoms, and the huge-flowered Giant Blossoms.

Follow United Selections