Let's start by making this statement: Disbudded pot chrysanthemums are underrated and a great opportunity for you to extend your assortment with remarkable blooming plants!
Perhaps you agree to this. So, spread the word and show the world about these wonderful home, patio, and garden plants.
If you think that pot chrysanths could never be fashionable and trendy, then you are invited to check out what these versatile indoor and outdoor plants have to offer. You'll be surprised... because this is the return of the popularity of potted disbudded chrysanthemums.
What You Must Know About Disbudded Pot Chrysanthemums
What do we know about disbudded pot chrysanthemums in general? First, the word 'disbudded' means that every stem of the plant carries one - often giant - flower. These extremely large flowers provide a lot of ornamental value instantly. Just place the plant anywhere, and she is unmistakably present. Good to know is that it's easy to pick the perfect spot both indoor and outdoor. Pot chrysanthemums love to be anywhere where you are.
Second important feature: The array of flower shapes and colors is quite unique. Did you think you've seen it all? Look again with disbudded pot chrysanthemums and you'll discover whole new and trendy, often even slightly bizarre, shapes and hues.
The third thing you ought to know about these pot plants is that they are truly great as a gift, just add the right pot. Disbudded pot chrysanthemums are very impressive with only one flower in a small pot & plant combination. Or go bigger and use them in larger plant arrangements. Anything goes, anything works for these showy plants.

Now, you probably wonder what's in store? Which varieties are 'hot' right now. Check out some of these suggestions from breeder Royal Van Zanten.
Chrysanthemum Fireworks™ series
The many personalities of the disbudded Chrysanthemum Fireworks™ light up your home and garden. They are definitely is one of the most explosive blooms out there. When Fireworks opens up her bud, an explosion of petals burst out of the center.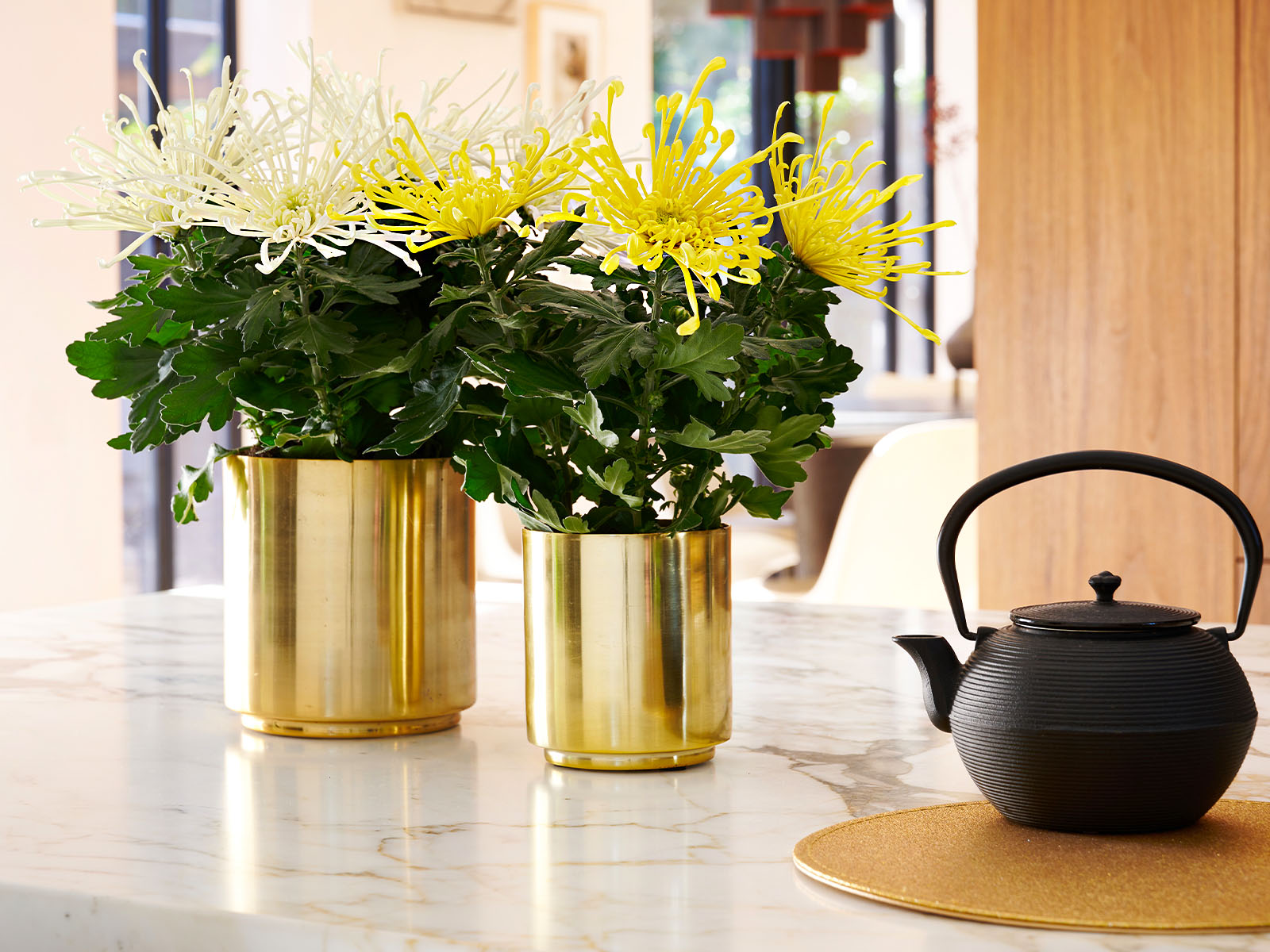 Chrysanthemum Fireworks™ Cream and Yellow
Fireworks™ is available in two natural colors: a creamy white color and sunny yellow.
Besides these natural colors, she can be painted in any color you like. This is perfect for seasonal festivities or personalized gifts. Here are a few ideas to get your fantasy started:
Colors of your country for sports games, such as the World Cup, Olympic Games, etc.
Colors of the company or club for incentives
Pink and blue for a gender reveal party
Holiday decorations: Halloween, Pride (yes you can even create rainbow-colored Fireworks™), X-mas, Mother's Day, Easter, etc.
To top it off you can use additional decorations as a finishing touch.
Chrysanthemum Fireworks™ mixed colored
Chrysanthemum Firestone™ Pink
For all the pink lovers, Royal Van Zanten presents Chrysanthemum Firestone™ Pink, a unique spider-shaped pot chrysanthemum with many beautiful curled flower ribbons.
Firestone™ Pink is anything but an ordinary pot chrysanthemum. She is an amazing eye-catcher for both indoor interiors and on the terrace, patio, or balcony. This large-flowered pot chrysanthemum blooms beautifully and for a long time. Her blooms open up and become even larger in the consumer's home.
Chrysanthemum Firestone™ Pink
Meet the Nova Sisters
Chrysanthemum Nova Lime was already available as a regular pot chrysanthemum, but now also as a disbud, this plant truly catches your attention. A white decorative flower with lemon-green edges. Due to the fact that the flowers of a disbud chrysanthemum are larger, this cool color effect is even more noticeable.

Chrysanthemum Nova Yellow has yellow decorative flowers with a unique green edge. During the recent flower trials at Royal Van Zanten, she was THE showstopper. A daring color combination, but definitely a stand-out in your shop!


Chrysanthemum Nova Yellow, Chrysanthemum Nova Lime in a lovely small gift package.
So..., Why Again...?
The potted disbudded chrysanthemums are totally back in popular demand. Here are some final tips to get the most out of these amazing plants.
Disbudded pot chrysanthemums, like the ones you saw before in this article, have extremely large flowers that provide a lot of ornamental value. Use this to stun your customers.
Did you know pot chrysanthemum can handle temperatures from 5-25°C?! So you can use them for interiors indoors as well as to brighten up outdoor spaces. This also means that you can present them in your shop indoor as well as outdoor, giving you many possibilities to play with your product presentations. Tell your customers about the indoor-outdoor qualities to generate more sales.
They're available in unique flower shapes and colors. Surprise yourself AND your customer.
They are also very impressive with only one flower in a small pot. Consider your options combining them with nice pots that turn the pot plant into a gift item.