Let it be Christmas already! We all look forward to that time of year, wanting to get together, and hold on to traditions! Candles, stars, fir, cones… without them, we would miss something during Advent. With
BLOOM's
Christmas trend 'Opulent & Crafted' you'll be ready for the season of festivities.
BLOOM's Christmas Trend 'Opulent & Crafted'
And yet we feel significant changes. So many things have become important, playing an increasingly important role in these fast-paced times. Yes, these changes can also be felt in Christmas floristry, too: the rediscovered appreciation of a "homing" picks up traditional and familiar things in the spirit of the beloved Christmas. You really notice that the environmental and ecology topics are getting more and more of a say in this.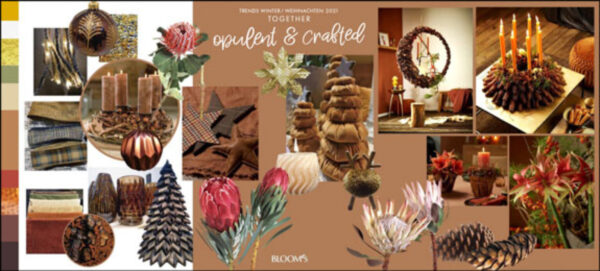 Natural and Durable Materials
Natural materials are in high demand, walks in the woods are an inspiration. Durable materials and handicrafts are advancing, and green is gaining in importance as the emblematic color of nature. Re- and upcycling are more in vogue than ever. Completely new and casual arrangements are in demand.
Get Ready With BLOOM's Christmas Trend 'Opulent & Crafted'
After a time of crisis, however, the desire for luxury and extravagance is also noticeable. This is reflected in completely new, vibrant color palettes, exciting surfaces, and new shapes. It's time to prepare for the Christmas spirit and work towards the
BLOOM's trend weeks
starting 3 September 2021. Here's everything you need to know about BLOOM's Christmas Trend 'Opulent & Crafted.'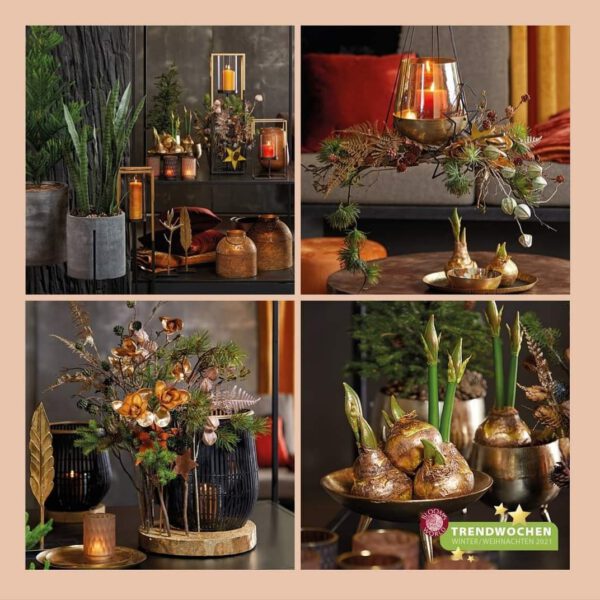 Durable materials and craftsmanship, which together stand for a high-quality design, are focused in this trend. Warm brown tones can be found on rich, often soft materials. Shine and glimmer ensure a party as luxurious and opulent as it fits the time and conveys a feeling of familiar elegance and security.
Festive Decorations For the Home
Wood, fruits, and dried florals determine the festive decorations for the home. Where exaggerated shine and loud colors are forbidden, the festive is symbolized by shapes such as wreaths, stars, and trees. In this way, store presentations can be implemented with velvety cushions, heavy textiles, and glasses and with elegant lanterns. But also textile materials in trendy patterns and modern table decorations with cones should not be missing!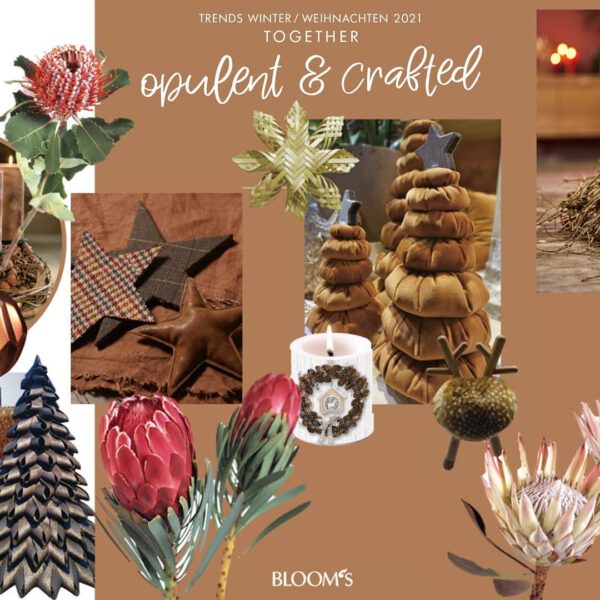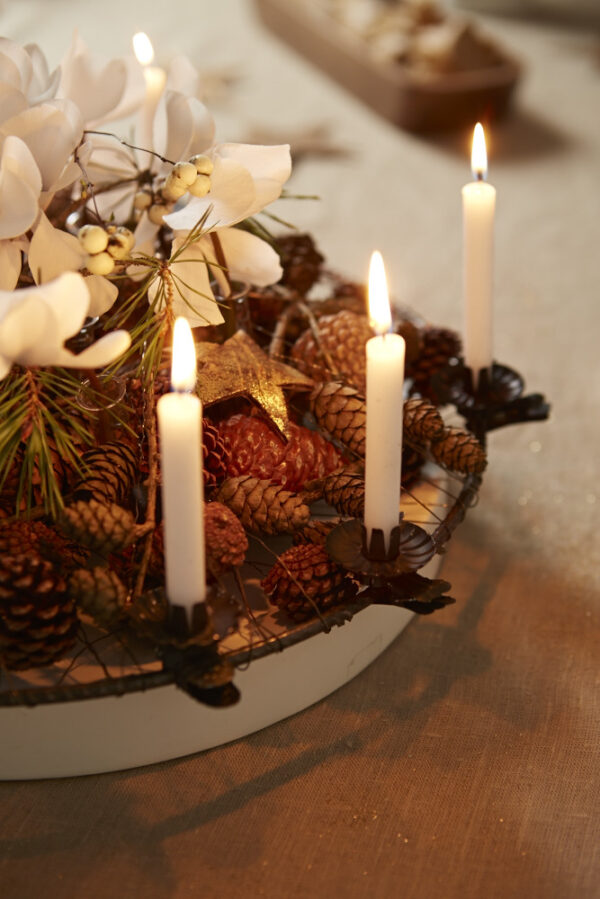 comfortable • festive • luxurious • restrained opulence • artisanal • handmade design • classic • soft • matt-gloss • silk gloss • dark wood • checked fabrics • houndstooth • velvet, velour, cord • suede • fur • natural materials • brown and honey-colored glass • rattan • Sisal • dried fruits • nuts • cones • cinnamon • spices • cut glass • facets • structured • ribbed • engraved • monograms • classic ornaments • forest animals • gold effects • mica • matt copper optics