Ercole Moroni, a name which represents passion and dedication in the floral world. One of the leading international florists and creative designers that loves to work with roses. When you think of Ercole, his educational courses and his floral designs, the combination of charm and extensive flower techniques are woven into his floristry. What better way than to ask how this Italian / UK based designer translates his flair into designs using one of the most reliable and long-lasting roses of this lifetime, the Avalanche+.
Ercole Moroni About the Avalanche+ Rose
The Avalanche+ is a rose which is a very traditional rose, you can call it classical even. You see it being used quite a lot worldwide. You can bet that almost every flower shop has them in their assortment for their clients. Because it is such a good rose and accessible for a broad clientele, you can call it an "all-rounder". It's good to use in many seasons, year-round. Mix it in with your Christmas floral decorations, add it to your styling palette in the wedding season and mix and match from table settings to beautiful bouquets.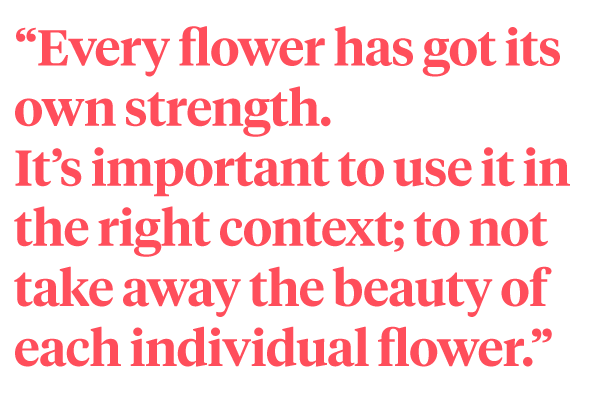 "The Avalanche+ is an all-rounder, a strong rose that you can rely on in every season."
What is your opinion about the Avalanche+ rose for especially Italian floral design?
This specific beautiful rose lasts such a long time. I am a fan because it is therefore perfect for weddings. They are very reliable and tend to open quite beautifully as well.
What is your personal experience with the Avalanche+?
I choose to work with an Avalanche+ rose when I want to be certain that a rose has a very long longevity and opens beautifully in my work. Unfortunately, they are not scented. I am a real lover of scented roses. But the positive side of this specific feature is that they can be perfectly used in a centerpiece because they do not extremely scent. Every flower has got its own use, the important part is to use it in its right context; to not take away the beauty of each flower.
Ercole's Flower Courses and the Avalanche+ Rose
Dates and details of his floristry courses can be found here. Keep an eye on the details of the upcoming courses in June and July, you most definitely find an Avalanche+ when he reports about these events! A few of Ercole's designs with the Avalanche+ rose: