Have you heard about the Big Five®? No, we're not actually referring to popular known "Big Five" animals, known to be the most powerful ones in Africa, but this time we're referring to the most gorgeous range of five different colors of roses, segmented for different markets by De Ruiter in the Big Five of African roses.
Meet the Red Big Five® Edition
De Ruiter Innovations, one of the largest rose breeding companies in the world, is the creator of this interesting terminology, used to describe 5 groups of breathtaking roses. You might be wondering, why 5? It's simple. The Big Five® rose edition refers to the stunning collection of the 5 most important colors in roses; red, pink, yellow, orange, and white. In each Big Five, you'll find roses for different market segments. You can read more about the Big Five in this article: 'What is the Big Five in Roses?'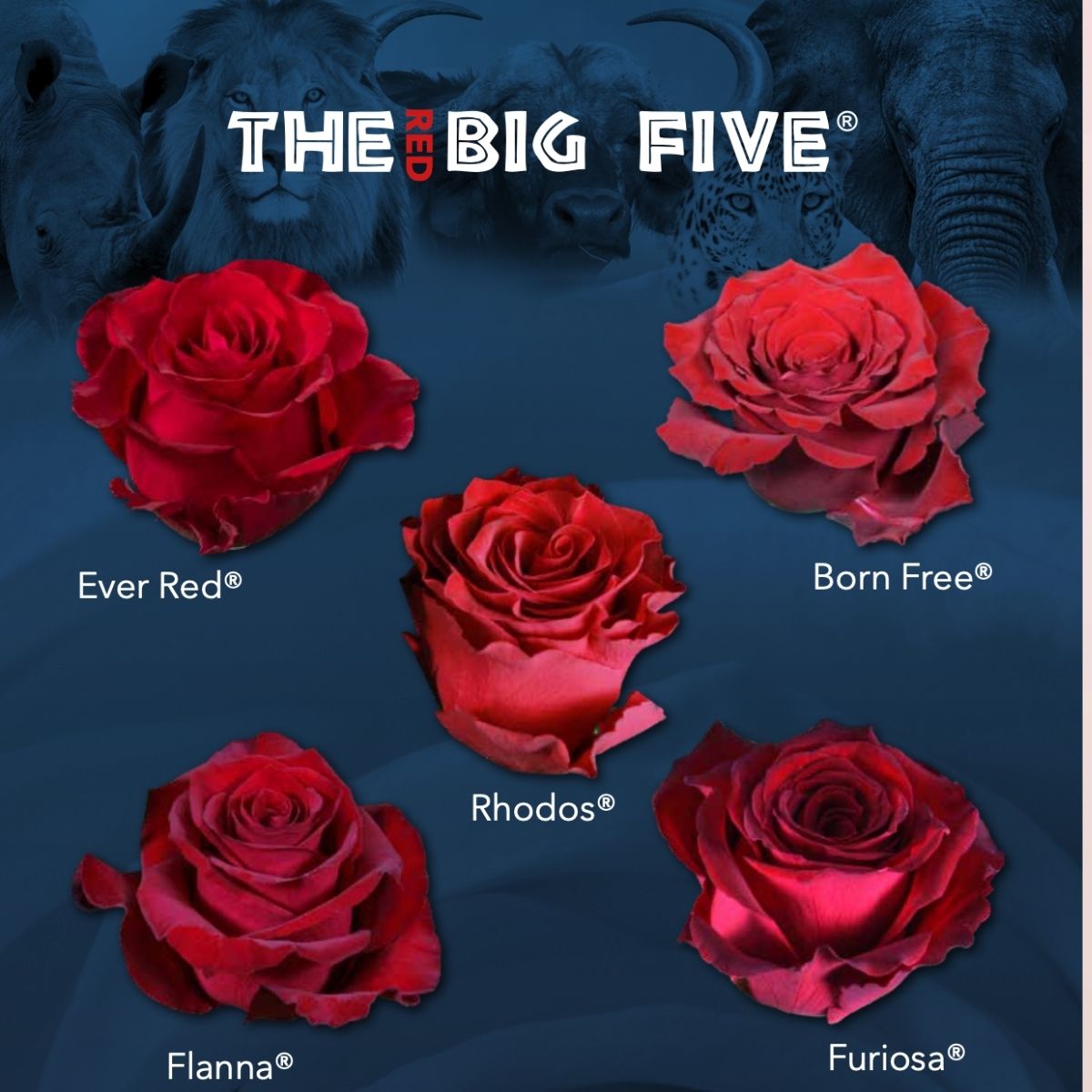 The best part about the Big Five® concept is what you'll get out of it. De Ruiter is a company that holds a tremendous amount of market information. This is reflected in the assortment they offer to their growers. The Big Five® selection is an incredible experience with 25 gorgeous roses, five in each of the main colors! Now, instead of using 5 animals to represent beauty and power, De Ruiter has made sure to use roses as their representation of beauty. And strength!
Kenyan Roses Speak for the Big Five®
Although there are thousands of flower varieties planted in Kenya's fertile lands, roses actually represent a good 88% of all Kenyan flower export. Throughout the country, you'll be surprised that it is possible to find many different rose colors.
To make selecting the right color easier, the people of De Ruiter created the Big Five® rose concept. Many growers know that their customers are at first always seeking the 5 main colors in roses for their market segment, and only then are looking for other colors or color combinations like bi-colored roses.
In order to make choosing easier for the grower, De Ruiter already shows which of the five most important colors will do best for the grower. The growers rely on De Ruiter's expertise. Their procedures, consult, and meticulous effort from the moment of cross-breeding, planting the new codes, selecting the right plants, and propagating for the growers, until the moment the flowers from the growers are exported, are truly a reliable beacon for growers and the trade.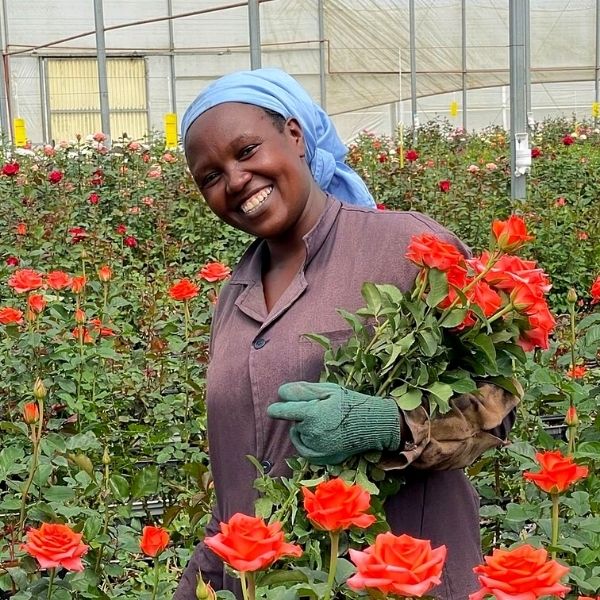 Kenyan Roses
Did you know Kenyan roses are very well known worldwide because of their high-quality roses? Kenya has advantages when it comes to its altitude, location of rose farms, exceptional growth techniques, solid infrastructures, productive workspace, and favorable weather conditions. Beauty, vase life, and longevity are what make Kenyan roses stand out from roses from other parts of the world. And nowadays with some rose varieties of De Ruiter that do very well in sea transport, it is also possible for Kenyan growers to lower their footprint.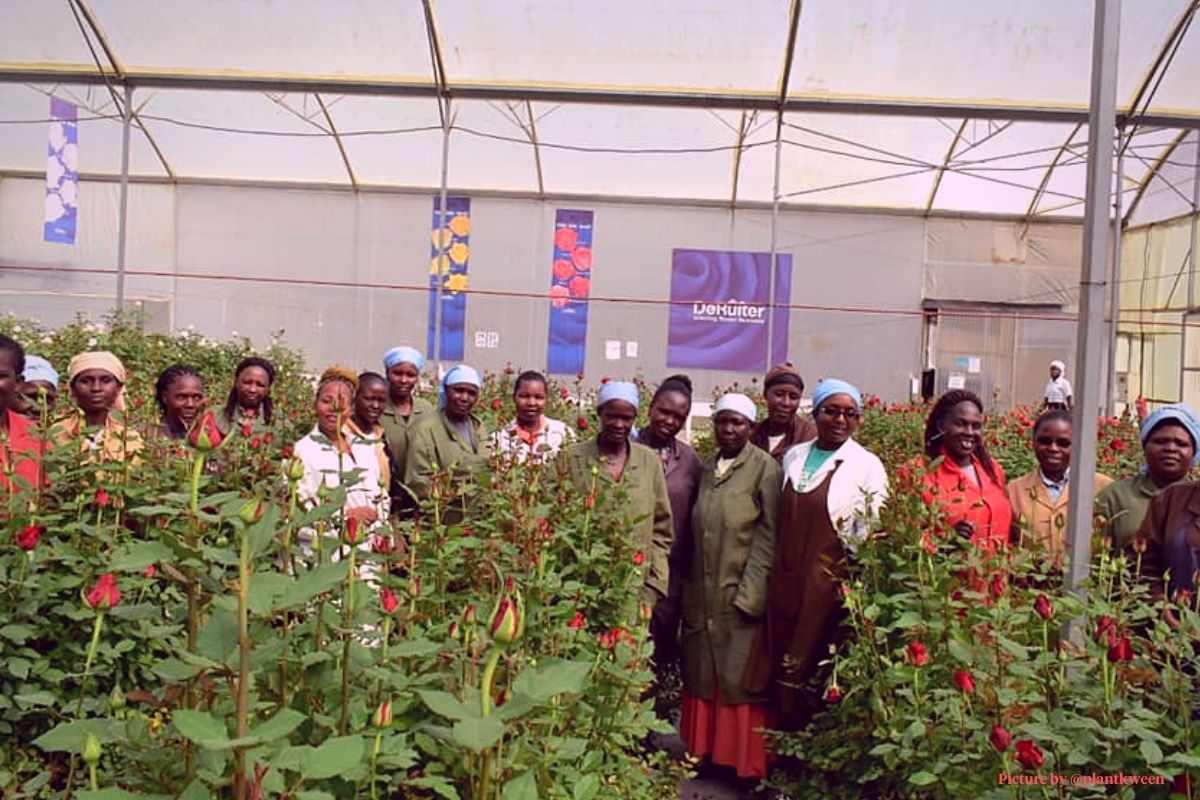 Red Big Five Rose® 2022 Edition
Composed of: Rhodos®, Ever Red®, Flanna®, Born Free®, Furiosa®
The scrumptious mix of passionate red is what makes this collection of red big fives a must-have for any special occasion. Symbolizing romance, love, courage, and intense beauty, De Ruiters has accomplished its mission of bringing you the most gorgeous quintet of big five roses.
Rhodos®
Grown all the way in native Kenyan soil, these passionate red stunners feature thicker stems than traditional red roses. The Rhodos variety has buds with over 60 gorgeous petals which open to large flower heads ranging from 5-7 cm in diameter. The Rhodos rose is thornless, easy to clean, easy to handle, has a very long vase life, and is the perfect option to use for supreme bouquets.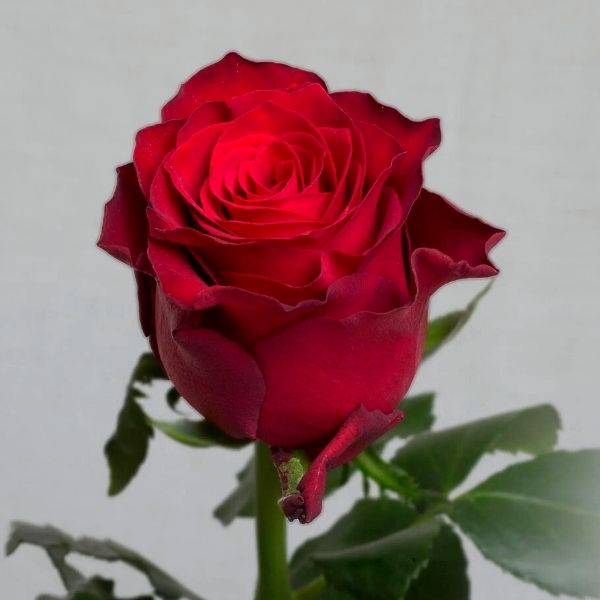 Ever Red®
30-35 whimsical petals along with stem lengths ranging from 60-90 cm are featured in the next big red rose variety included in the big five collections. For all the long shelf-life and thick stem lovers out there, this one is a real eye-catcher! Don't let the Ever Red® go, and experience the magic yourself. The color of Ever red is very bright red, and this red doesn't turn 'blue' on the vase when it gets older.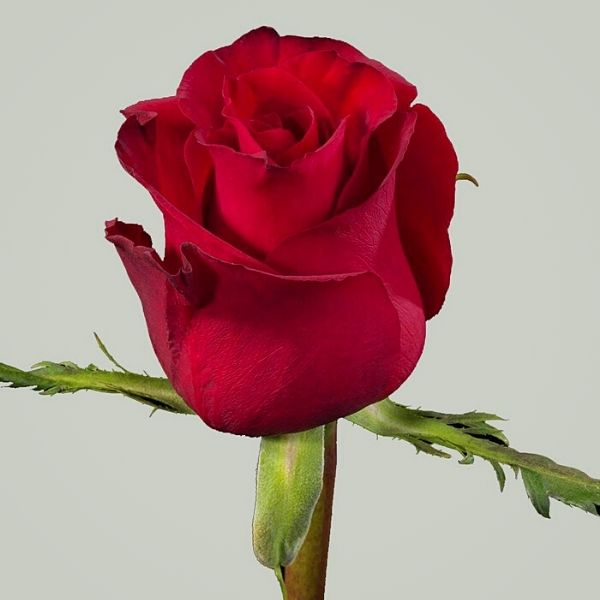 Flanna®
Cupid just called and mentioned that Flanna is on red fire! This bright red precious bloom will keep you company for as long as 12-14 days when taken care of appropriately. The highlight of this red rose lies in the magic of its 45 incredible petals and, last but not least, the petals have a really nice velvet look.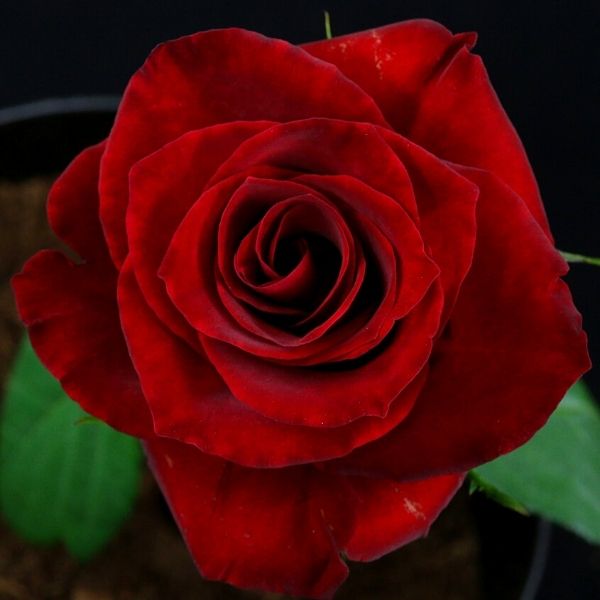 Born Free®
A very graceful rose, this rose Born Free. And a really good-filled heart. Fresh cut red roses with the most high-quality state are what you'll encounter upon seeing the Born Free red rose. This large-flowered stunner can reach stem heights of approximately 50-70 cm and will wondrously bloom its 50 petals. This one, along with the other 4 red fiery roses are definitely keepers!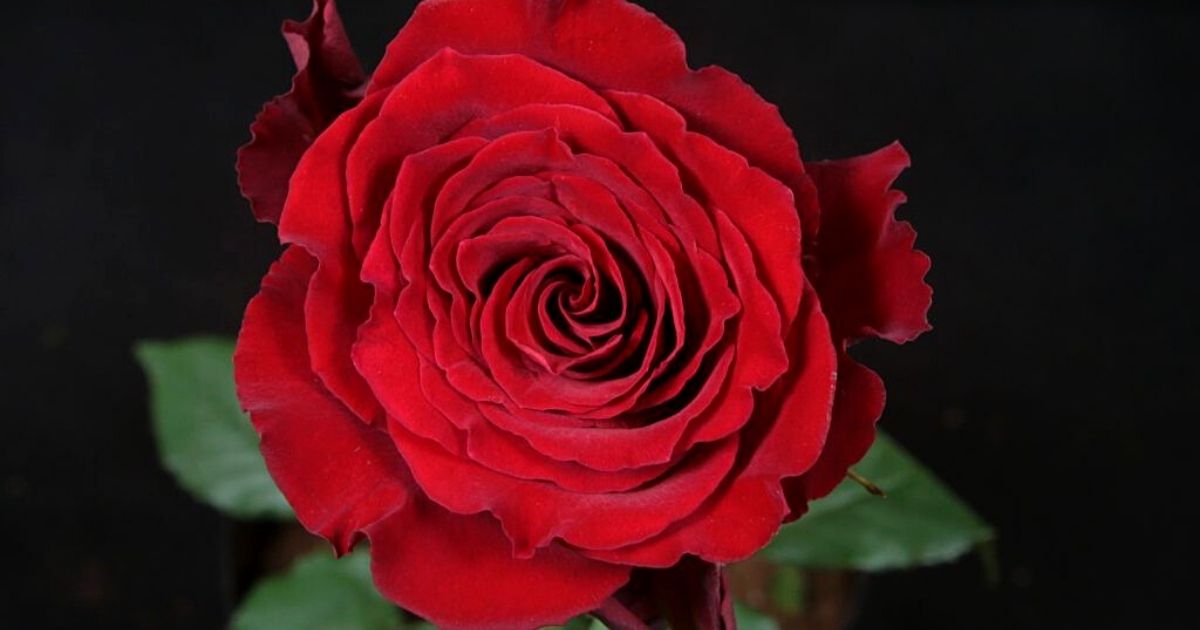 Furiosa®
The last one of the red Big Five to end the beauty in these roses the right way is the Furiosa® variety. The opening of her 35 petals is definitely a treat to any eyes that see this variety bloom. Red, red, red is certainly making a statement in the red Big Five collection!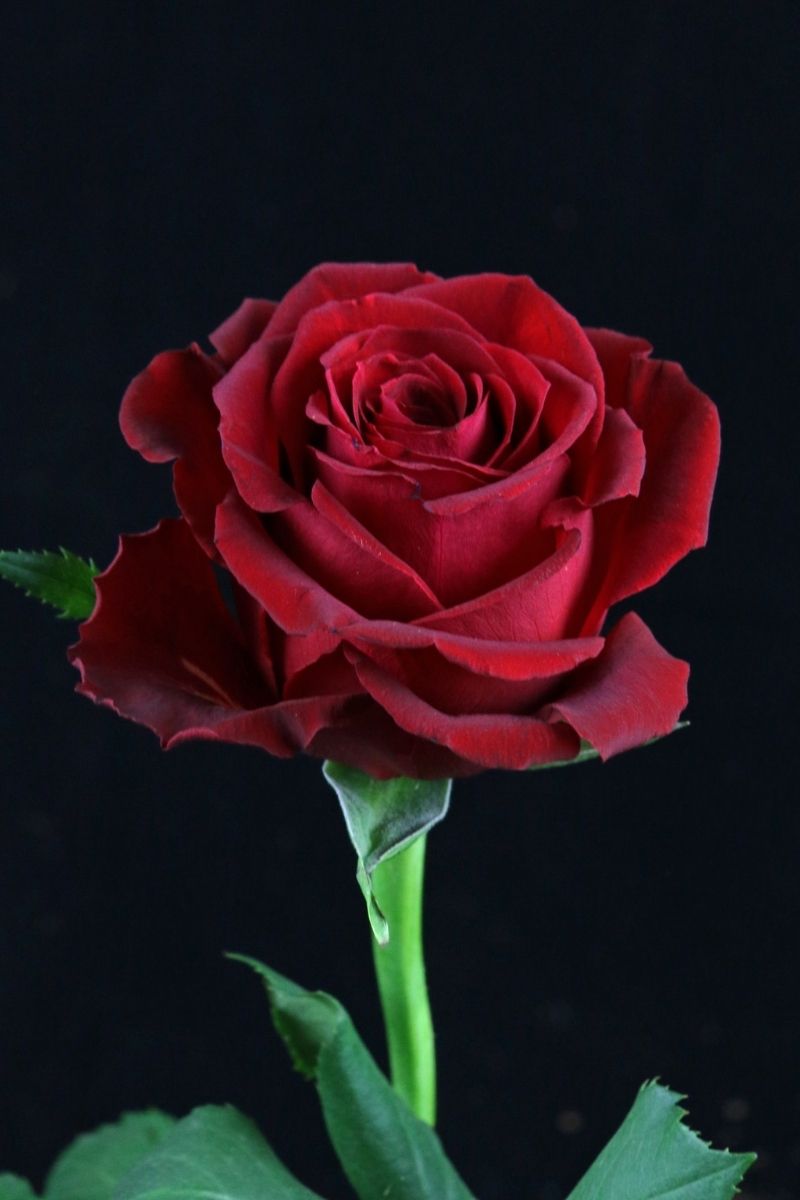 Photos by @deruiterinnovations