In these crisis-ridden times, society has come together more and more. We're dealing with global health issues, climate change, and digital developments that focus on a  fast-paced life and constant accessibility. Each one of these elements requires balance. Therefore, home is more important than ever and we desire to gather with family and friends for Christmas and celebrate together, better physically than digitally.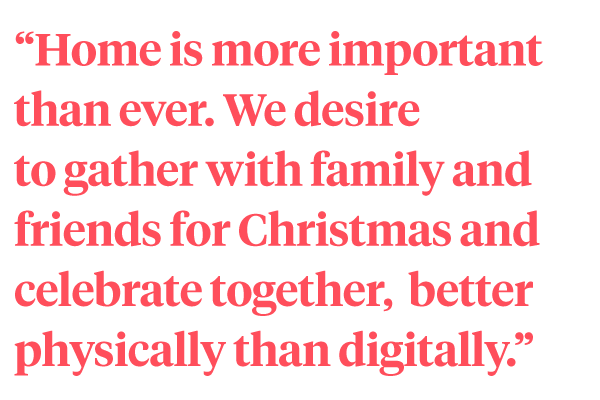 Best Christmas Decoration Ideas
Let it be Christmas already! We all look forward to that time of year, wanting to get together, and hold on to traditions! Candles, stars, fir, cones... without them, we would miss something during Advent. And yet we feel significant changes. So many things have become important, playing an increasingly important role in these fast-paced times.
BLOOM's trend weeks
starting 3 September 2021. Kicking off with 7 diverse Christmas decorating styles that are trending in floristry this year.
Seven Christmas Trends by BLOOM'S
These current trend themes show a whole range of Christmas decorations for the green sector.
BLOOM's
comes with these inspiring suggestions for interesting techniques, material and color combinations, ideas for store presentation, as well as pointers to new trend-oriented products and the latest flowers and plants. Let's walk you through the 7 trends of BLOOM's for 2021: Cool & Cosy, Rich & Botanic, Eco & Creative, Opulent & Crafted, Lush & Precious, Natural & Organic, and Classic & Elegant.
Cool & Cosy
We associate the winter season with ice and snow. We long for winter walks in frosty landscapes as well as coming home to warm rooms with cozy blankets. Harmonizing with these winter dreams is a bright color palette with cool and warm neutral colors, which, combined with natural materials and equipped with iridescent effects, bridges the gap between coziness and the digital world.
Rich & Botanic
As the emblematic color of nature, green is becoming increasingly important, especially during the Christmas season. An abundance of evergreen florals and natural materials pays respect to the environment and promises a familiar-natural celebration. Botanicals are the order of the day. In combination with luxurious accessories, a wide variety of materials, tactile surfaces, and many highlights, Christmas becomes a sensual, festive event.
Eco & Creative
The sense of community is on the rise. The resources of this world are gladly shared with everyone. Thus, also at Christmas time, decorations are made with recycled products, natural and sustainable materials, which are allowed to bear the "homemade character". Creative and uncomplicated, the family mixes the childlike, traditional and natural and is open to modern and experimental.
Opulent & Crafted
Durable materials and craftsmanship, which together stand for a valuable design, are focused on this trend. Warm brown tones are found on rich, often soft materials, shine, and mica create a feast as luxurious and opulent as it just fits the time and gives a feeling of familiar elegance and security.
Lush & Precious
After a time of privation, here comes a lush and precious Christmas theme that sets accents in every collection with its blue and green tones. Striking and with a lot of glamour and attention to detail, historical quotes and Art Deco touches, it convinces trend-conscious and individualists who are looking for something special.
Natural & Organic
The desire for simplicity, for nature, and sustainability is the focus of this pure yet festive theme. Especially during the holiday season, we look for a retreat with comfort and permanence, foregoing loud colors and surrounding ourselves with soft shapes that soothe our senses. The combination of many natural materials and colors with natural greenery, matte gold, and candlelight creates a cozy festive mood.
Classic & Elegant
In uncertain times, the longing for classic elegance and solid values grows. Enchanting poinsettias and deep red amaryllis are the epitome of traditional Christmas red from a floral point of view. Various shades of red combined with dark green, cream, and gold are the basis of classic shapes and timeless design. Vibrant and new is the accent in purple.
Bloom's Christmas Trend Weeks 2021
These are the 7 Winter 2021 trends and ideas for your Christmas decorations this year – let's end 2021 with some well-needed joy! BLOOM's Trend Weeks Timing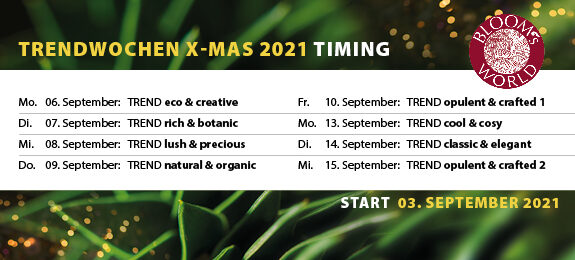 We look forward to taking you into the themed worlds for the X-MAS season, introducing you to them, and introducing the floristic innovations paired with stylish, brand-new products from the green industry for 2021. Only with our great partners, who have supported us with products, plants, accessories, and inspiration, can BLOOM's Trend Weeks 2021 X-MAS be so beautiful and multifaceted. Thank you very much for that! The trend weeks winter / Christmas 2021 are not only found on this website, but also on our social media channels:
Facebook
, 
Instagram
, 
Youtube
, 
Pinterest
So feel free to take a look on all channels to get inspiration on the various trending topics.