Chaotic is one word that would aptly define the state of most of our modern-day cities. With all the bustle in these cities and the continued mushrooming of constructions and other structures, our metropolises are steadily spiraling into concrete jungles.

In essence steel, concrete, cement, and glass are what generally define our present-time cities. These materials dominate virtually all metropolises across the globe.
A Futuristic Green City Concept by Manas Bhatia
Now for a change, imagine cities in which instead of concrete jungles, we have literal green jungles. Where towering skyscrapers rise skywards, covered in trees, shrubbery, a variety of plants, and even algae, and all these elements functioning as air purifiers; purifying the air in these futuristic cities.
Such is the world that New Delhi-based architect, Manas Bhatia envisions and captures in his series of artificial intelligence (AI)-aided futuristic architectural designs. He deploys the AI-driven art generator 'Midjourney'.

The designs picture neoteric cities that have incorporated avant-garde elements in the structural designs of their buildings, casting the spotlight on the importance of nature; and in essence its sustainability. In his designs, Manas puts together the elements of greenery that define nature, and designs towering structures that meander their way toward the skies, all spruced up in flora.
Human's Inherent Love for Nature
Known as biophilic designs, such architectural styles draw their inspiration from nature and the natural world. The designs involve integrating the aesthetics, materials, visuals, and colors, that naturally occur in nature, into modern-day architecture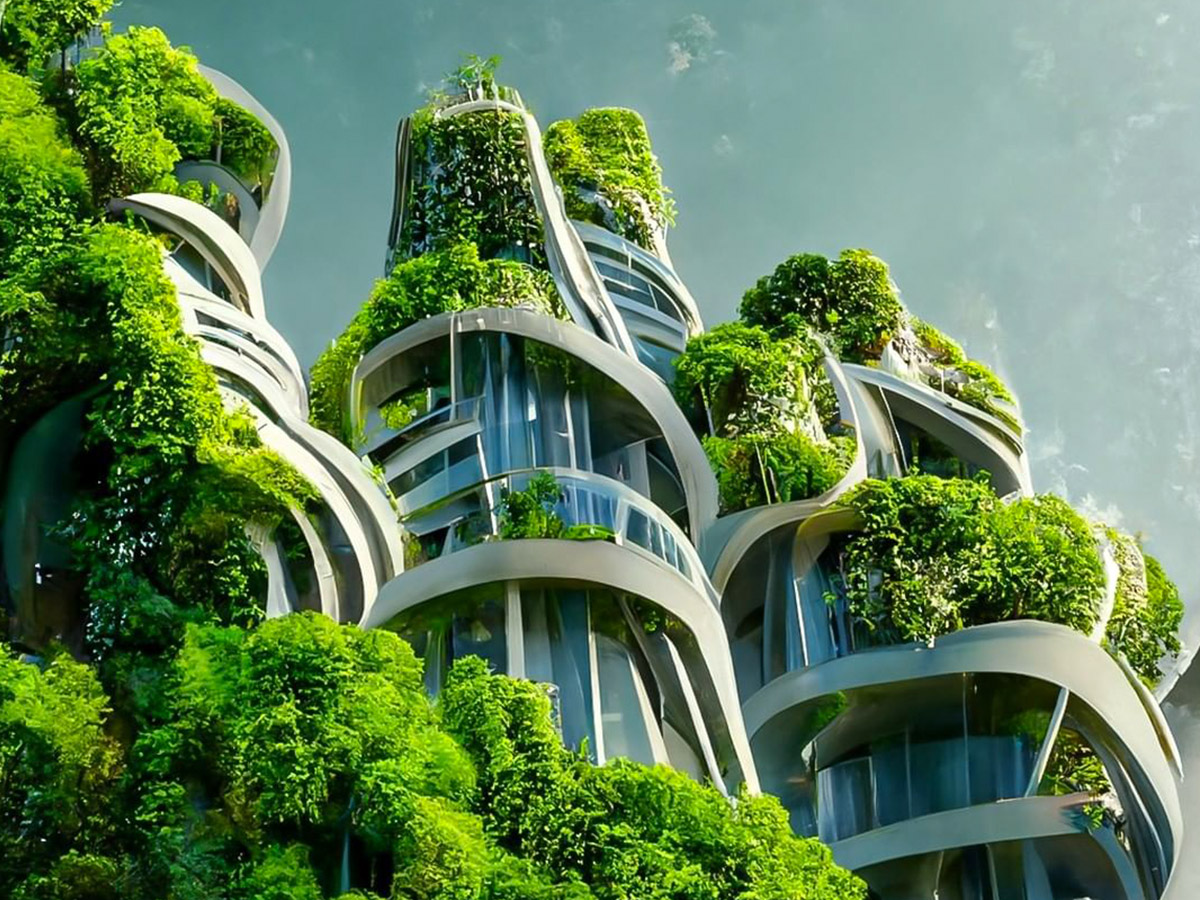 These designs follow the biophilia premise which opines that humans tend to have an inherent attraction toward nature. That we, as humans, are more inclined towards loving and connecting with nature. And nature, in return, enhances our health, our welfare, and general well-being.

For the most part, biophilic designs would, therefore, be deemed to be a means to placate our natural desire to connect with nature. They integrate all the elements in nature and process them into our constructions.

In its most realistic -and perhaps simplest form- the biophilic architectural approach is, by and large, purposing to bring the outdoors into the indoors, and connect the building and its surroundings with nature.
Biophilic Designs Have So Many Benefits
This trend which is fast growing in popularity entails establishing nature gardens within indoor settings, planting miniature trees inside homes and dwelling spaces, or setting up vertical gardens that could act as 'living' dividing walls.
Biophilic designs, according to architectural experts, are believed to hold an array of benefits including enhancing the general well-being of people, boosting creativity and productivity, reducing stress, and creating a calming effect on our oftentimes chaotic minds, among a host of other benefits.
Manas' designs achieve exactly these, as they try to imagine what futuristic sustainable cities could look like with their sustainable green architectural designs.
A Serene and Peaceful Way to Experience Nature
His largely utopian designs incorporate such elements as vertical gardens, green buildings, hanging gardens, and virtually, herbage all over the grounds surrounding the metropolises. Such would mean there's minimal or no pollution at all in these cities of the future.
Biophilic architectural designs are definitely among the trends that you should try if you haven't yet. They are a serene and peaceful way to connect with nature and just experience what it has to offer, right in your house.
Pictures by Manas Bhatia.