This year is special for the largest dance company in the Netherlands. The Dutch National Ballet is celebrating its 60th anniversary. This milestone was celebrated with thousands of flowers, and the unique collaboration of an award-winning photographer, graceful dancers, and floral designer Katya Hutter. The fruit of their teamwork is a series of stunning images in natural garden style, flamboyant Art Deco style, and magical Christmas ambiance.
A One of a Kind 5-Star Production
It's time to remember our unique collaboration project in The Grand Hotel in Amsterdam with an award-winning London based photographer Karan Kapoor, fabulous ballerinas from The Dutch National Ballet: magnificent prima ballerina Anna Ol, brilliant grand sujet Maria Chugai - both from Russia - and wonderful former corps de ballet dancers Rebecca Storani from Italy and Melissa Chapski from the USA. Add to this already splendid team, marvelous historical chambers of The Grand Hotel, luxurious David Austin garden roses and other top-quality Dutch flowers, superb outfits from one of the best Amsterdam based boutiques "I Do! I Do!", our excellent hardworking team, and you will end up with a series of unique images, a sweet fruit of this one of a kind 5-star production.
My Project With Karan Kapoor
The brilliant English photographer Karan Kapoor and I have known each other for many years. Before becoming a floral designer, I worked in the photography industry as a producer and an agent for award-winning photographers. Karan was one of the photographers I represented. We used to have a lot of fun working closely together on a number of projects and endless bids for advertising agencies. At the end of 2019, I've got an idea to do a project together with Karan here in Amsterdam where my creative floral studio is located. It was extra exciting for me to work with Karan this time in a new role – as another creative.
The Former Amsterdam City Hall
I was very lucky to get the green light from Sofitel Legend The Grand Hotel in Amsterdam: they were so kind to allow me and my team to work in their historic chambers of a former Amsterdam City Hall. The building is unique, its rich history dates back to 1411: first it was a convent, later a city hall, under the Admiralty and later a brother of Napoleon. Here the mother of the recent Dutch King - former Queen Beatrix - was married. The interior of the rooms is unique, with some elaborate carvings and stained glass, it is classic and very imposing. When I called Karan and told him about my idea of ​​doing a styled shoot together in this special location, I was delighted to hear his positive response. The exciting production began.
We had been looking for models for quite some time, without any success. No candidate met our special requirements and no one seemed suitable for this grand production. Until one day I saw an interview with the famous ballet dancer Sergei Polunin. He was so sincere, open, and approachable during this interview with the well-known Russian journalist Vladimir Pozner. A brilliant idea came to my mind: why not contact dancers of the Dutch National Ballet. For many people, a ballet world resembles Mount Olympus, an exclusive closed world. Sergei argued whether this traditional way of looking at the ballet was relative to this time. He wants to modernize ballet, make it more accessible to a wider audience, to young people.
The Dancers
I remember my work experience as a producer of a photoshoot for a Russian magazine in the Bolshoi Theater in Moscow. I have to say that the amount of gold in the interior was very impressive, it also looked formal and quite c Sergei's words and his magical energy inspired me to dare and approach the wonderful dancers. It seemed I found a way out of our impasse with models. I called Karan straight after the interview and asked him to cast the dancers. When I received his shortlist, I contacted the dancers, and - to my surprise - not one, but four amazing dancers responded positively. It was a huge success. We were over the moon!
Prima Ballerina Anna Ol
We have been incredibly lucky to have the well-known Prima Ballerina Anna Ol join our project. I saw Anna's performances on stage and admire her talent and beauty. In real life she was as graceful as she was on stage, very polite, disciplined, extremely professional, and very kind. I have fond memories of my work with her. Anna starred in our garden-style series. I built her a lush garden-style floral backdrop, inspired by a famous shoot in Vogue of Sarah Jessica Parker in the Sex and the City movie. As a floral designer, I dreamed of creating this kind of luscious garden look myself. It was a dream come true: beautiful Anna in this fabulous dress and accessories styled by Cartoon from "I do! I do!", thousands of top quality flowers and brilliant Karan Kapoor photographing it! Pinch me, I must be dreaming! I have warm contact with Anna, we follow each other on social media. I value this human contact with her and I am proud of this collaboration with such a great dancer.
A Lot of Flowers
It was clear to me that I needed a lot of flowers to fill three rooms. I needed a large flower that would help me create the right volume. One of the largest flowers I know of is the hydrangea. At the beginning of November, mainly classic hydrangeas are available. When it comes to hydrangea, I always think of Pieter Kolk - one of the best growers in the Netherlands - based in Aalsmeer. Pieter shared with me a contact person from HydrangeaWorld, a PR company that promotes hydrangeas all over the world. I am very grateful for their sponsorship and these nearly 500 excellent classic hydrangeas they supplied me with. The tablescape looks very natural and lush with a 5-meter long garland and large bouquets made with these beautiful flowers. Special thanks to my assistant Nancy for the enormous help with this design.
Thanks to my great colleagues at the Parfum Flower Company, a Dutch wholesaler specializing in garden roses, with an impressively large collection of roses from all over the world and their amazing farms from Africa (Tambuzi and Uhuru Flowers), South America (Alexandra Farms) and Europe (Meilland Jardin & Parfum). I had access to some of the most beautiful roses: David Austin's English garden roses, Wabara and Princess Japanese garden roses, and French garden roses. Special thanks to the leading Dutch lisianthus grower Lugt Lisianthus for the beautiful flowers, as you can see in the photos, their white lisianthus is almost as fluffy and large as the Princess peach roses. It was a great pleasure and privilege for me to work with these beautiful flowers.
A Marathon Shoot
The very day of the shooting was, as Karan put it, a marathon. There were fifteen of us who quickly moved from one room to another, at least our florist's team (Ariella, Imrane, and Arjun: you are the best!). Ballerinas sometimes had to wait until we were ready with the previous scene. I understood that some of them had just returned from an exhausting tour and were tired. Karan was very pleased with all of his models, especially with Maria Chugai, whose striking dramatic appearance won his heart. For Maria, I made a large Diva bouquet. I used beautiful peach Japanese garden roses, lisianthus, hydrangea, acacia, and gomphocarpus. She looks stunning in this couture kimono dress from Amsterdam-based fashion designer LeonLeon standing against a backdrop of fantastic Art Deco stained glass windows in The Grand Hotel's exquisite Marriage Chamber.
A Flamboyant Lily Garden
Another scene we shot with Maria was a series of images with a flamboyant lily garden background. Our goal was to create a few beauty images with the striking ballerina. I used two bright colors of Bredefleur lilies: magenta and red along with pink and purple lisianthus and clematis to complement the art deco decorations and colors of the Marriage Chamber. Karan is a great master, you can tell by his strong composition and excellent light. The strong bright colors also reflect his Indian roots. Karan comes from a famous Bollywood family and starred in Bollywood movies himself when he was young before choosing to become a professional photographer. The colors have also been enhanced and brought to perfection by a talented Dutch digital artist Edwin Veer whom I also represented during my agent career. Edwin's work can be seen in museums and art galleries around the world. He retouched the work of renowned Dutch artist Erwin Olaf and the brilliant English photographer Jimmy Nelson. I am very grateful that Edwin agreed to retouch two images from our project.
Highlight: The Christmas Shoot
As if that weren't enough, the highlight of our photo marathon was a Christmas shoot in the Aldermen's room (yes, Karan complained the next day that his buttocks were sore after "Katya's photo marathon"). In this room, Italian ballerina Rebecca Storani and her American colleague Melissa Chapski posed beautifully both transformed for an evening look created by our excellent stylist Cartoon, lovely make-up artist Anna K and a great hairstylist Olga Stasevich. Rebecca looked so beautiful in the 1920s style. She posed next to a table decorated for a Christmas dinner with a large arrangement made with Christmas tree branches and diverse winter foliage, as well as beautiful David Austin's Tess roses and red lilies. We've added some dusty pink and gold ornaments to this design to make it even more Christmassy. I like the atmosphere in the images – magical, warm, and cheerful. I can't wait to experience this special Christmas atmosphere again.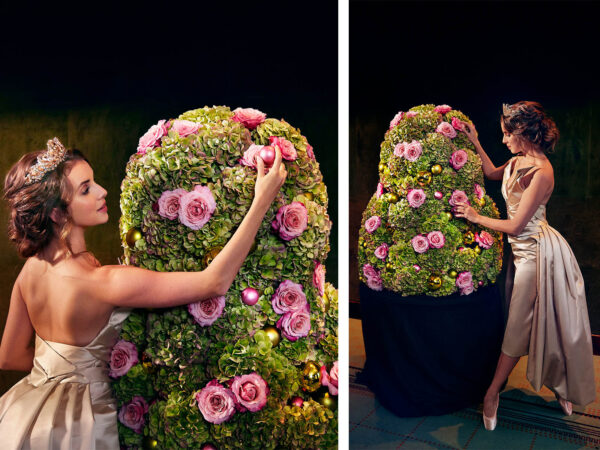 The Floral Matryoshka Doll
Melissa wore a whimsical couture dress and a beautiful diadem made by LeonLeon's boutique in Amsterdam, along with her pointed shoes the look was simply stunning! I made a large-scale artistic sculptural flower arrangement in the form of a Russian doll "Matryoshka" to celebrate my Russian roots and to create this alternative to a Christmas tree. It looked funny and quirky. Instead of needles, this unusual Christmas tree was covered with thousands of tiny flowers of classic green hydrangeas. My favorite large Japanese garden roses from Wabara were used as Christmas ornaments along with some real Christmas bubbles. It was fun making this floral Matryoshka doll and it seemed like everyone really enjoyed it. Melissa looks magical in these images. I love everything about them! Completing this last fairytale-like scene, we called it a day.
One of the Most Memorable Productions
It has been one of the most memorable productions in my extensive career of over 1,000 photo productions. Again and again, I thank our team members, all the vendors, and the amazing ballerinas for this unforgettable experience, and I wish you all a Merry Christmas and a Happy New Year 2022! Katya, xxx
Credits:
Photographer: Karan Kapoor @karankapoor_photographer (www.karankapoor.com) Floral design & Production: Katya Hutter @katyahutterfloraldesign (www.katyahutterfloraldesign.com) Ballerina's from The Dutch National Ballet: Prima ballerina Anna Ol @anna.ol_ballet, Grand Sujet Maria Chugai @mariachugai_ballet , Corps de ballet: Melissa Chapski @ballerinachi, Rebecca Storani @rebecca_storani Location: Sofitel Legend The Grand, Amsterdam @sofitellegendthegrandamsterdam Make up-artist: Anna K @annak.makeupartist Hairstylist: Olga Stasevich @olasevich Stylist: Cartoon Von Qrista @von_qrista Dresses & Accessories: Boutique "I do! I do!" @idoido.amsterdam Couture dresses & Accessories: LeonLeon @leonleonmadetomeasure Assistants: Arjun Wadhawan @arjunwadhawan, Ariella Rae Hill @ariellaray, Nancy Bohorquez (Selva Bloemen), Imrane Jashari, Ampa Flick, Diek Viehof
Flowers: Roses by Parfum Flower Company, @parfum_flower_company, David Austin Roses @davidaustinweddingroses, Tambuzi roses @tambuziroses, Alexandra Farms roses @alexandrafarms, Uhuru Flowers @uhuruflowers, Princess roses, WABARA roses @wabara_rose, Meilland Jardin & Parfum @rosesmeilland, Lugt Lisianthus @vanderlugtlisianthus, Bredefleur @bredefleur, HydrangeaWorld @hydrangea_world, Pieter Kolk Hydrangea @pieter_kolk_hydrangea, Kwekerij Vicini Vases: Guaxs @guaxs_official