Flower Dyeing Inspiration
My flower dyeing inspiration is a recent one. It came from a recent visit to the Netherland. I met Peter Vrouwe from Portal Floral (by Hoven & de Mooij). He showed me some of the amazing dyed flowers that they sell. It was a real eye-opener for me to see what can be achieved with flower dye.
When I returned home I decided to have a go and started experimenting with flower dye. At first, I only had red and blue dye which I used to dye Vendela roses, Carnations, and Germinis. It was so exciting to wake up the next morning to see how the flowers had transformed! I couldn't believe my eyes!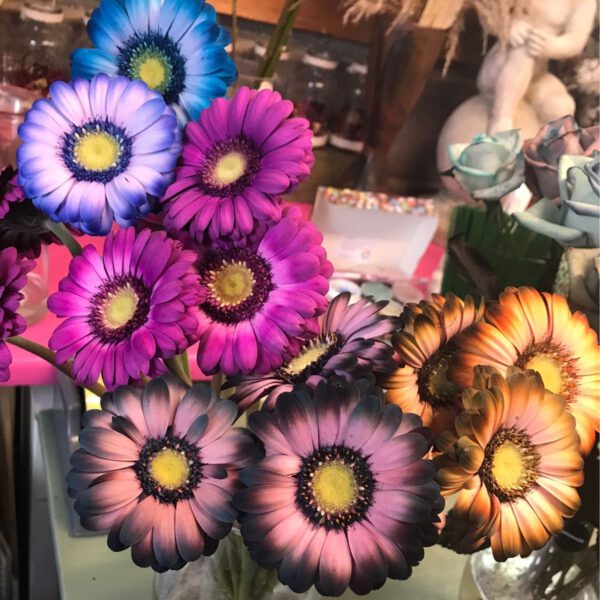 Experimenting A Lot
I achieved some lovely results by putting the flowers into another color to get a multi-colored effect. I got really hooked on experimenting with different flowers and lots of different colors. I posted my dyed flowers on Facebook and there was some great feedback with lots of questions on how I had 'made' the flowers. So I decided to set up a Facebook group called Kat's Crazy Flower Dye Lab with the aim to have a group of florists that also love dyed flowers and to share dyeing techniques. The group has over 1,000 members now!
Dyeing Is Not Just For Fun
Flower dyeing isn't just for fun. It can really be helpful if a customer wants a particular color incorporated into a bouquet. Instead of ordering that color flower, I can simply dye a bunch of white flowers to the desired color. I have created my own range of dyed flowers which I have called the Hypnotic range which is really popular with customers and adds value to simple white flowers.
The Flower Lab
Following on from the success of my Facebook group I created a new business called The Flower Lab. My goal is to create a one-stop website for floral dye inspiration, advice, and a webshop to sell flower dye. The website is www.theflowerlab.net. The webshop has 16 different dyes that can be sent anywhere in the World. I'm so pleased that I can share the love of dyeing flowers and it's great to be introducing a new way of working with flowers to create unique and beautiful flowers.
Like Putting On Make-Up
Natural flowers are still my main love but sometimes you know it's important to try something new. I don't think of flower dyeing as trying to create a new flower, instead, it's more about highlighting the natural beauty of the flower. I guess its a bit like putting your make-up on for a girl's night out! Best wishes, Kat from Passionate Flowers