During this time of the year, you will see elaborate Christmas floral decorations of different kinds. It can be in homes, offices, shops, streets, schools, malls, hotel rooms, restaurants; virtually everywhere you go. Christmas floral designs are quite popular with traditional Christmas flowers and plants such as the poinsettia, Christmas cactus, holly, ivy, roses, mistletoe, and others.

Keep reading to see our Christmas flower arrangements ideas, so that you can dress up your home with the Christmas glow.
'Tis the Season for Christmas Floral Designs
For many of us, Christmas is a time filled with traditions. From heading out to find the perfect Christmas floral tree to hanging stockings from the mantel or roasting a ham for Christmas Eve dinner. These time-honored traditions help us feel connected to our ancestors, culture, and most importantly, our family and friends.
No matter what types of activities and decor make up your most beloved traditions, there is always room for some stunning and fresh Christmas floral designs. Add any of these holiday decorations to your home and nature brings you right into that holiday wonder and joy.
Make your House Shine with the Best Floral Arrangements for Christmas
´Tis the season to trim the tree and deck the halls to set a festive mood for the holidays. While there may not be a ton of fresh-flower options available during the wintertime, there are still some beautiful decoration options for Christmas flowers, including vibrant greenery, berry branches, and colorful wintertime blooms. Decorating your home for the holidays with traditional Christmas flowers and plants doesn't have to be extremely time- or labor-intensive. In fact, the best advice is to choose just one or two areas in your home as focal points and spend your time and energy on making those spots shine.
Common floral arrangements for Christmas
There is always room for traditional and classic Christmas floral designs, and 2022 is no different. Christmas trees, seasonal wreaths, and beautiful Christmas floral centerpieces; they are all integral parts of the December festivities. You'll see lots of decorations - floral Christmas garlands, baubles, you name it - in classic color schemes, as they continue to be a popular choice.

In 2022, you can expect red and white floral arrangements, always mixed up with the greenery. If you love the more traditional side of Christmas, be sure to bring your decorated tree and some traditional garlands and floral Christmas centerpieces.
Modern Christmas Floral Arrangements
If you prefer some more modern Christmas floral arrangements, you just need to add more colors to your decoration palette.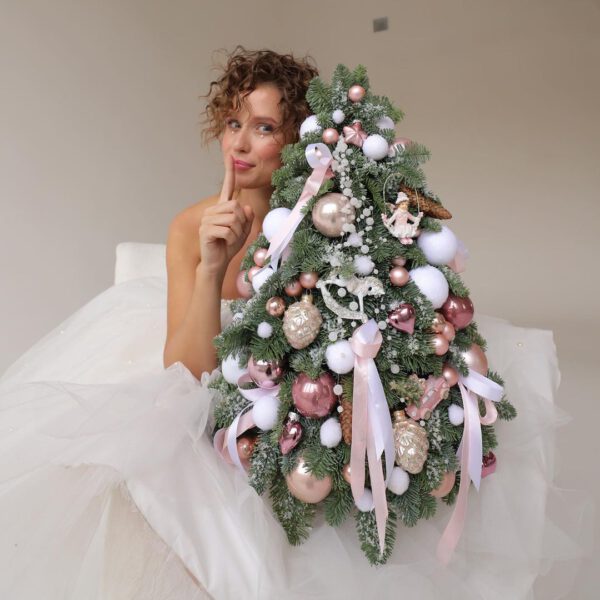 @timyanbuket
Floral designers often come up with contemporary additions which give the traditional Christmas decoration styles an even more novel, artistic, and beautiful look. Even when they are in that typical holiday color palette. But you will also notice how styles and trends that have been proven popular this year have made their way into Christmas floral designs. Various pastel shades, romantic pink touches, vibrant magenta colors that pop, or going completely 'au natural' - the 2022 floral trends don't end with Christmas.
Show Off Your Designs to a Broader Audience
Do you also want to reach a broader audience? Make sure to tag @thursdofficial in your Instagram posts in order to get featured on the website and socials and reach other floristry professionals, floriculture companies, and flower lovers around the world. You can also join Thursd by becoming a blogger. Designer Blogger, Expert Blogger, and Flower and Plant Spotter Blogger positions on Thursd's homepage are ready for bloggers who want to give insights. In return, Thursd offers an author page where you can showcase your personal brand and/or business. Interested? Get in touch!