In the floral industry, it's very important to keep track of all the trends that can influence the clients' ideas or dreams. At Details Flowers Software they believe it's imperative to be able to incorporate a certain trend, especially a trend color into the proposals florists or event planners make with Details Flowers Software. They are assured to be winning proposals.
How to Incorporate a Trend Color
Details Flowers Software has many tools in its program. With a 15-minute virtual tour, you can find out if it's possible to apply the Thursd Floral Trend Color of the Year 2023 Passion Red into a proposal. Or to add the Pantone Color of the Year, Viva Magenta.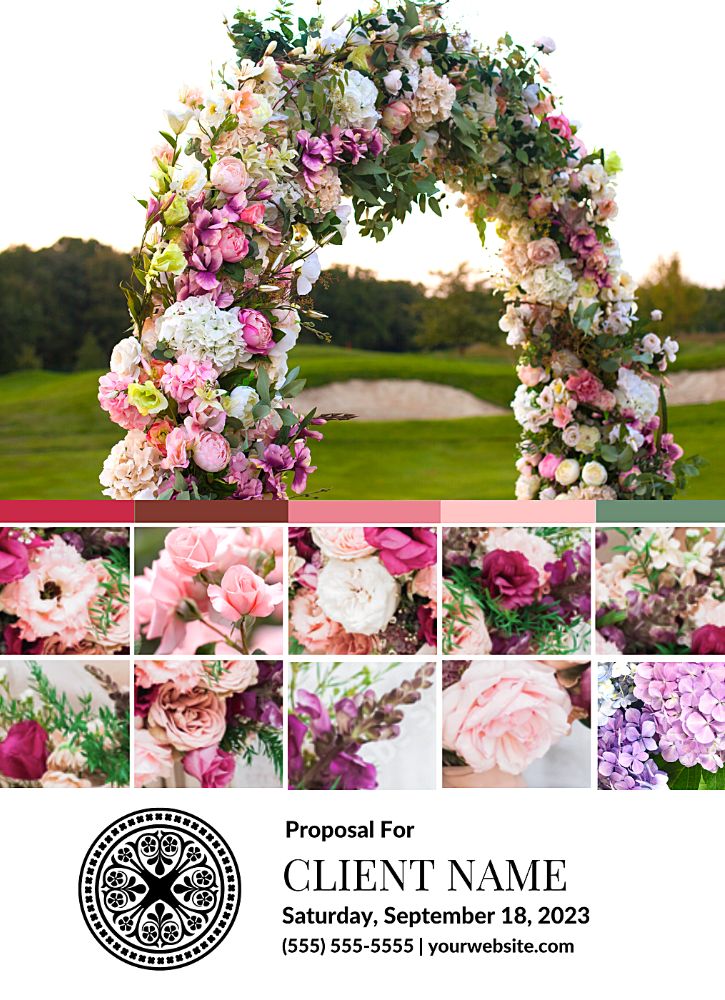 The Color Selector
The Color Selector on Details Flowers Software is a robust feature that will bring any color story to life. The Color Selector has many tools that will help determine the complementary, monochromatic, tints, and shades of a color. Photos can be uploaded to the Color Selector and you can pull colors that you desire straight from images. Color Collections are a feature within the Color Selector where members will create their own color stories to use in multiple events. This would be the perfect way to create a color story with Thursd Floral Trend Color 2023 Passion Red or the Pantone Color of the Year Viva Magenta. Do you want to check it out in a 15-minute virtual tour?
Let's take a look at how the color selection tool works in Details! First, these are the definitions of the terms Details uses in this color selector. So everybody is on the same page, here's a short glossary of terms:
Hue: This is the dominant attribute of any given color
Saturation: This is the intensity of any given color. For example, blush and bright pink are both hues of pink, with varying saturations.
Opacity: This is how transparent or opaque any given color is.
Modal: This is what pop-out windows within any software are called, Details uses this word a lot when referencing 'the Color Selector modal', for example
Complementary Colors: Complementary colors are two colors on opposite sides of the color wheel. Complementary colors can enhance one another's brightness, be combined to generate useful neutral hues, or be combined to create shadows.
Triadic Colors: Triadic colors are made up of three hues equally spaced apart on the color wheel. When one color dominates, and the other two are utilized as accents, they complement each other.
Analogous Colors: Analogous colors are groups of colors next to each other on the color wheel.
Tints: Tint refers to any hue or mixture of pure colors to which white is added.
Shades: Shade refers to any hue or mixture of pure colors to which black is added.
Monochrome: Monochromatic is a color scheme based on only one single-color tint. It uses only variations (shades) of a single hue, made by altering the saturation and brightness of the base color.
The Worksheet is where the entire event is built from start to finish. Members create category sections for their events to add the starred Recipes and Items for their clients to view on The Proposal. Each Worksheet includes customizable Markups, Taxes, and a Bunch Calculator to maximize profitability.
So as an example, it's possible to incorporate trend photos in proposals and recipes. In those photos, you can click on a part of the picture and it creates a palette with the colors you see in the picture. Uploading imagery of the trend color in arrangements, decor, and even wedding attire as inspiration images to use in your client's proposals is just one of the pros when you would be working with Details Flowers Software.
Testimonial
Casey Coleman Schwartz from Flower Duet, Los Angeles, talks about how happy she is with Details Flowers Software, and how it changed her day-to-day work. Every florist has limited time, and Details make business easier. Not only in planning the event but also in the administration before and afterward, business got so much more profitable.
Casey:
"I had pieced together how we did proposals and had a pretty good system….so I thought. Then covid hit and we did not have to make very many proposals. Then, I won a 2 months trial with Details. My life changed. The timing was perfect as we were booking events again and I had time to navigate and learn the program. The training and support are amazing to assist, in order to ensure the success of the product. My first few proposals that I sent to potential clients commented on how beautiful and detailed they were. I have gotten almost every job I have proposed. Thanks so much…I started at the end of June and I just sent my 85th invoice. I am a dedicated Detailer."
Details Recipe PDF

Building a recipe is valuable for many reasons. It can help you with ordering and controlling costs, accurately pricing your designs, and giving your team well-planned direction when it comes to putting everything together. Details Flowers Software's top supporting document is called the Recipe PDF. The Recipe PDF will share Line Item Quantities, Inspiration Photos, Stem Counts, and Recipe Notes.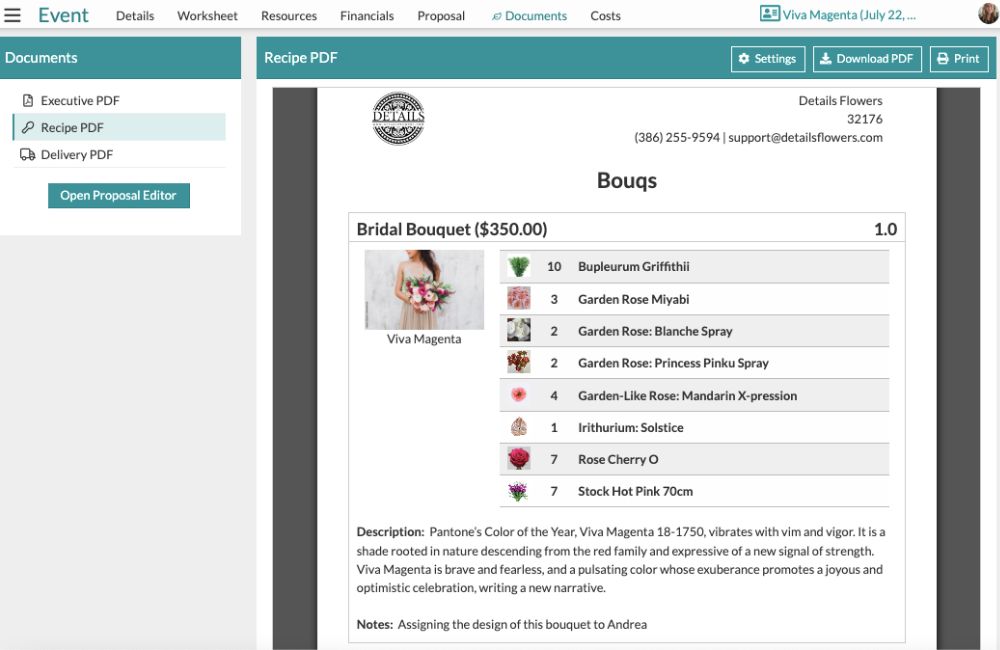 Details Cost Page
Details Flowers Software makes creating your order sheet easy using the 'Costs' page of the event. Details is partnered with wholesalers whose members can order directly through the platform. Select a wholesaler to request a quote for the items you will need. Chat with the wholesaler using the 'Messages' section. Once the quotes have been accepted, members will see the 'Total Cost' per item, 'Actual Total', and the 'Over/Under By' amount for accurate pricing.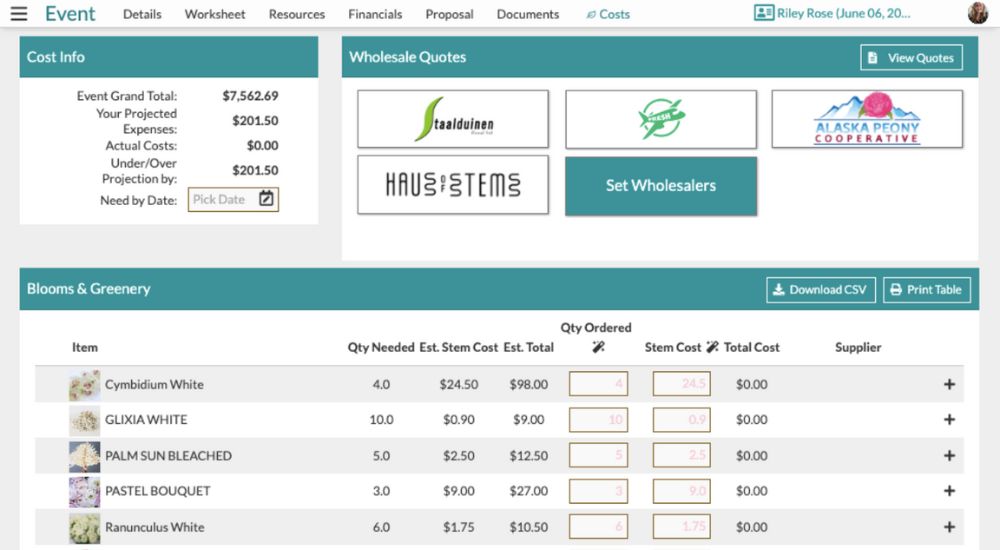 Details in 2022
Details Flowers Software had a fantastic year. When it comes to announcing brand-new partnerships, introducing eagerly anticipated features, and touring the world to meet floral friends, they can honestly state that this year will never be forgotten.

Watch the short video below for a full recap of all Details' new partners, the travels, and the features that came to the Details Flowers Software platform in 2022! Or, keep scrolling to get a recap of all the 2022 highlights.