Staying in the neutral or earth-tones range doesn't mean bland bouquets and forgettable floral decor. Quite the opposite, actually. Earthy tones are inspired by nature and earth's beauty at its rawest form. From sand dunes to leafy greens, to rich soil - earthy tones are all around us. This subtle color scheme is surprisingly rich and textured, whether you build voluminous pieces or keep it spare and simple.
Flowers in Earthy Hues That Will Match Your Natural Color Palette
Today we are sharing a few beautiful flowers in earthy hues with you, mixed with some vibrant warm yellow and soft orange tints. It will not only go great with your Scorched Earth Color Palette but fresh, energetic and modern-feeling yellows and golds are like the transition hue from full-on neutral to complete and utter color. When paired with lush greens, neutral tones, and maybe some white florals, they give the perfect pop of contrast.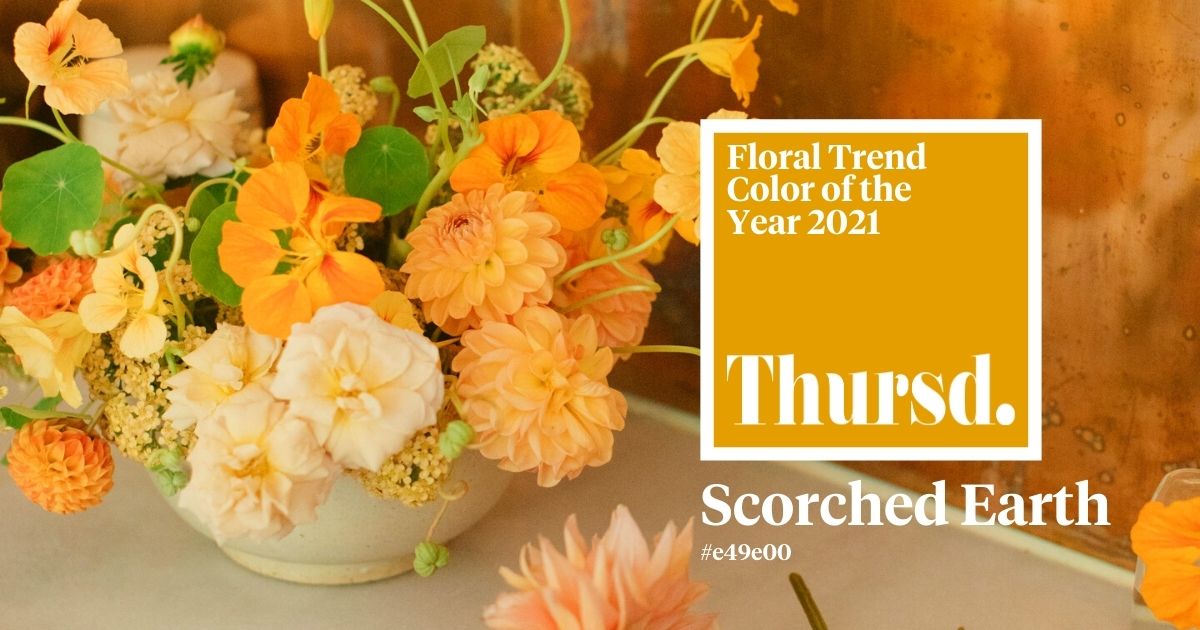 Dianthus
Dianthus flowers are also called "pinks." They belong to a family of plants which includes carnations and are characterized by the spicy fragrance the blooms emit. Dianthus come in a great range of colors and today we are highlighting two varieties that pair beautifully with the Scorched Earth floral color trend. The dianthus is a flower with a lot of symbolic meaning but as a cut variety, it definitely adds flair and freshness to any design.
Ilex
Ilex verticillata, better known as the winterberry, is a species of holly native to eastern North America in the United States and southeast Canada. Red Ilex is a huge favorite for Christmas décor, but these lovely berry branches come in a plethora of other colors too. It takes approximately 15 years(!) to develop a new variety so we couldn't be any happier with the Ilex below called 'Julia' with its beautiful golden hues and shades of orange.
Banksia
Banksia flowers are inflorescent: that is, the flower head is made up of hundreds, if not thousands, of tiny flowers. This is a common characteristic of many flowers in the Proteaceae family, to which the Banksia belongs. Banksias make excellent cut flowers, as they have a long vase life and an excellent range of colors and sizes. Their follicles (or 'Bad Banksia Men' seed pods) are also widely used by florists because of their unique and interesting form. And not to forget, they make great dried flowers too.
Tulips
Tulips are one of the most quintessential spring flowers. They're seen often in flower beds, fields, and gardens, as well as in table arrangements and bouquets. In fact, the vibrantly colored blossoms are so symbolic of spring that they're one of the most popular flowers for seasonal wedding arrangements. Tulips are known for their bright and sunny colors, and they have actually been cultivated in every color except for classic blue (blue tulips exist, but they have a purplish tint). Vip Roses now offers a selection of tinted tulips, which is done by allowing it to drink a special colored fluid. The flower dye they use is made from natural dyes, contains no (heavy) metals, is biodegradable, and does not harm the environment. If you're looking for flowers in earthy hues, then 'Soft Caramel' tulips could be one of your favorite picks.
Chrysanthemum
Named for their original color (the Greek prefix meaning golden and -anthemion, meaning flower), chrysanthemums have been cultivated over the centuries to create a palette of hues ranging from pure white, vibrant yellow, and bright chartreuse, to crimson, orange, rust, and purple. Their flowers have been transformed in unexpected ways from the traditional daisy-like blooms into large pompoms, compact buttons, mounded cushions, and exotic spider mums. As the flower of the month of November, chrysanthemums are also known as the 'Queen of the Fall Flowers'.
Ranunculus
Often called the roses of spring, ranunculus flowers are a crowd favorite. With layer upon layer of petals, these darlings are both delicate and showy. Native to Asia and celebrated for its medicinal properties as well as its bright beauty, the small camellia-like ranunculus ranges from white to pink, red to yellow to orange. This gentle flower is a perfect way to say to someone that he or she is charming and that you are mesmerized by it. Ranunculus flowers come in a wide range of colors and shapes but if you're looking for lovely flowers in earthy hues, give the Butterfly ranunculus a chance.
Roses
Combo is a rose that opens beautifully and consistently. This is a striking variety that is fascinating in its color range - it's rusty, it's muddy, copper, golden, and brown all wrapped into one. It is a classic choice and will work perfectly in any floral design, from bridesmaid bouquets and corsage to centerpieces and arches. Combo looks great in earthy and nude color palettes but will also definitely stand out on its own.
Another variety that fits great into a natural, earthy or nude color palette, is Heart of G As the name suggests, this rose has a deep yellow color with brown tones that give it a golden hue. The golden-brown Heart of Gold is a fairly new introduction with a very pleasing vase life of 10-12 days.
Gloriosa
With their unique shape and sturdy pink and yellow tones, these flowers are a real attention catcher! More and more florists discover the Gloriosa. Fragile and vulnerable but also graceful, flaming, and feminine. Gloriosa is a beautiful, powerful flower that makes every bouquet special. Due to the jumpy shape, the flower always gives a distinct effect.
Gerbera
Gerberas are truly stunning flowers with their gorgeous, rich colors and classic appearance. Did you know that they are the fifth most popular flower in the world? Gerberas are part of the daisy family but are a larger variation of them. Their overall meaning is innocence, purity, cheerfulness, and joy. They come in loads of different colors and look good in pretty much every bouquet or arrangement. A worldwide favorite among florists to work with.