Bearing a mix of pink and mauve colors, with undertones of grayish red, dusty rose is a gentle, rather subdued color that is not overly showy, but still embodies a rich sense of romantic maturity allowing it to stand out on its own, and also when paired with others.
As a color, dusty rose is a popular color in bouquets and floral arrangements as it adds to them a touch of elegance and sophistication. It is also a choice for wedding flowers, home decor, fashion, and other equally eccentric ways given that it is associated with love, beauty, romance, and femininity.
What Is the Meaning of Dusty Rose?
Dusty rose is a color that symbolizes love, beauty, and femininity. It's a muted shade of pink that has a subtle gray undertone, which gives it a vintage and elegant feel.
This color has been used extensively in the fashion industry, particularly in women's clothing and accessories, as it conveys a sense of warmth and comfort.
Famous fashion designer Christian Dior once said, "I think that pink is the color of romance and a symbol of femininity." Dusty rose embodies these qualities and is a perfect example of a color that captures the essence of love and beauty.
Dresses in Dusty Rose
Dusty rose is a popular color choice for dresses, particularly for special occasions like weddings, proms, and formal events. This shade is versatile and complements many skin tones, making it a go-to color for bridesmaid dresses.
The muted tone of dusty rose creates a soft and romantic look that's perfect for a whimsical or vintage-inspired wedding. Dusty rose dresses can be paired with gold or silver jewelry, and neutral or metallic heels to create a polished and sophisticated look.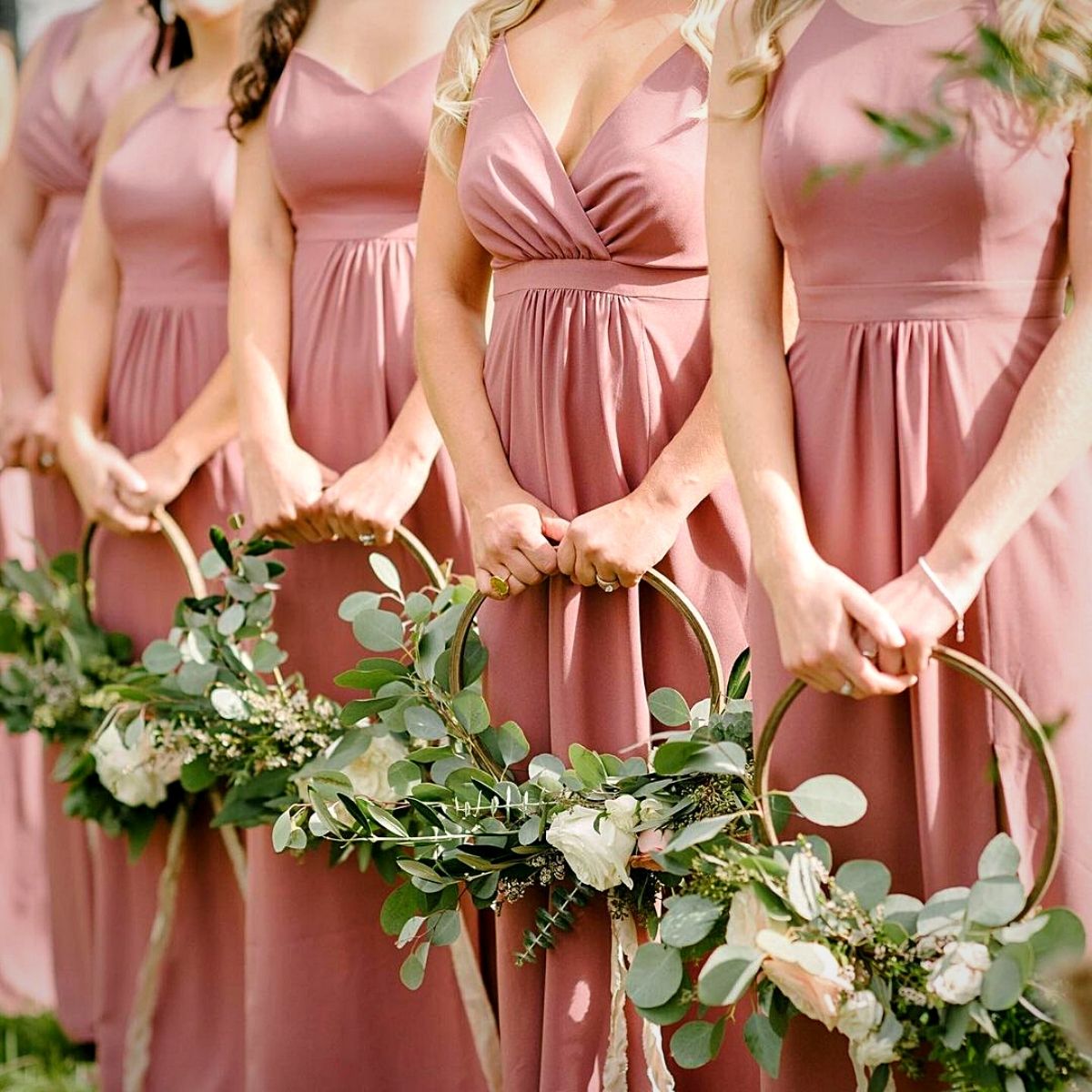 Celebrities like Reese Witherspoon, Emma Stone, and Emma Watson have been spotted wearing dusty rose dresses on the red carpet, proving that this color is a timeless and chic choice.
Which Are the Flower Varieties That Come in Dusty Rose Color?
There are several real rose varieties that come in dusty rose shades. These exquisite flowers are known to add a touch of elegant sophistication and a timeless charm to any floral arrangement in which they are deployed. After all, dusty rose is a timeless color that would enhance any setting. A few of the flowers that come in dusty roses are:
Cafe au Lait Dahlia
The Cafe au Lait dahlia is a popular and stunning variety of dahlia flowers known for its large, creamy-colored blooms that can reach up to 10 inches in diameter. The petals have a slightly ruffled texture and often feature subtle hints of pink or lavender around the edges.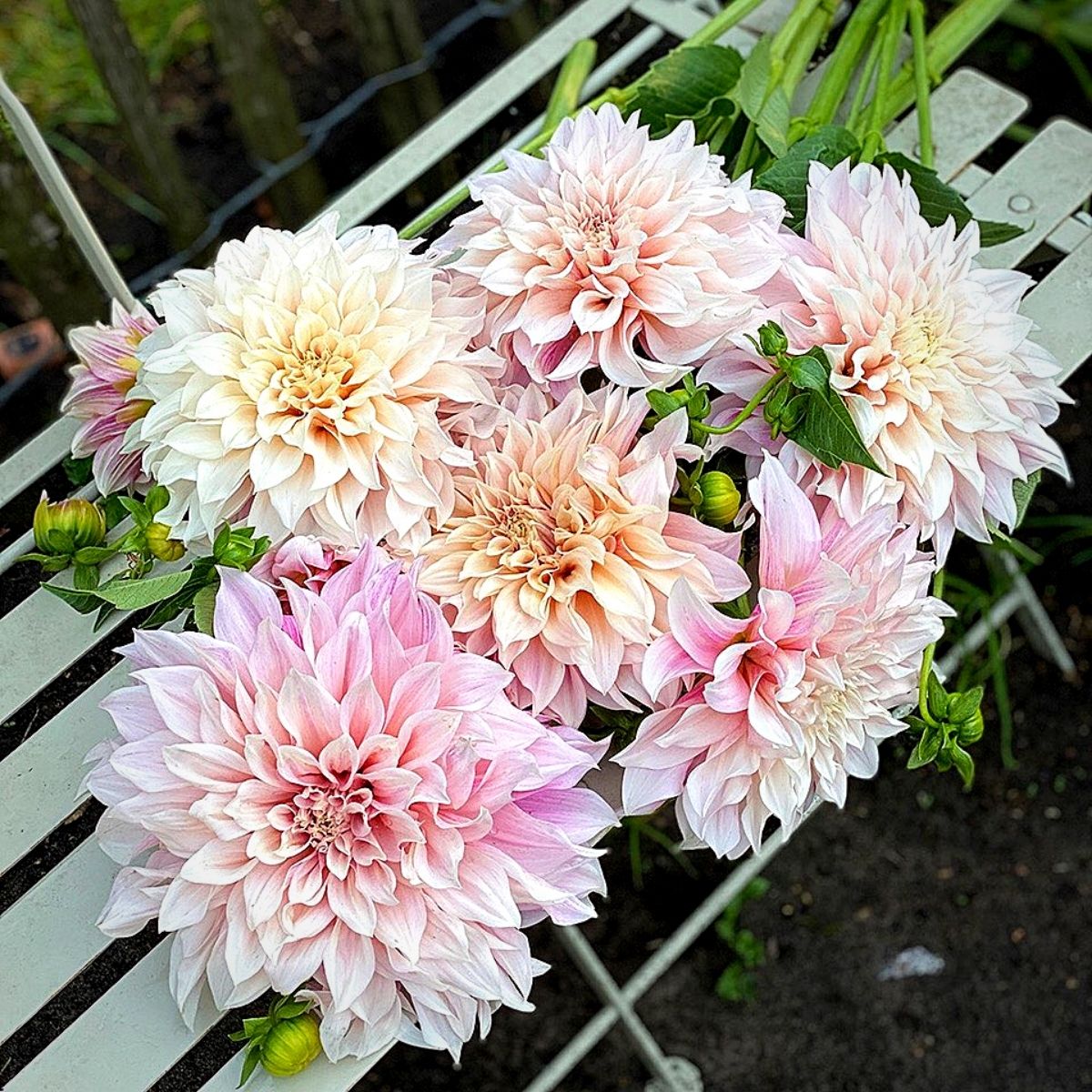 This dahlia variety typically blooms in mid to late summer and can continue flowering until the first frost. It grows best in full sun with well-draining soil and requires regular watering and fertilization for optimal growth.
Cafe au Lait dahlias are often used in wedding bouquets and other floral arrangements due to their elegant and sophisticated appearance. They also make excellent cut flowers and can last up to a week in a vase with proper care.
Koko Loko Rose
The Floribunda Rose Koko Loko is a beautiful and unique variety of rose that was first introduced in 2012. It is named for its unusual color, which is described as a blend of creamy lavender and chocolate brown. It produces large clusters of blooms throughout the growing season, with each flower containing around 25 petals. The blooms are double or semi-double and are typically around three inches in diameter. They have a light, sweet fragrance that is pleasant without being overpowering.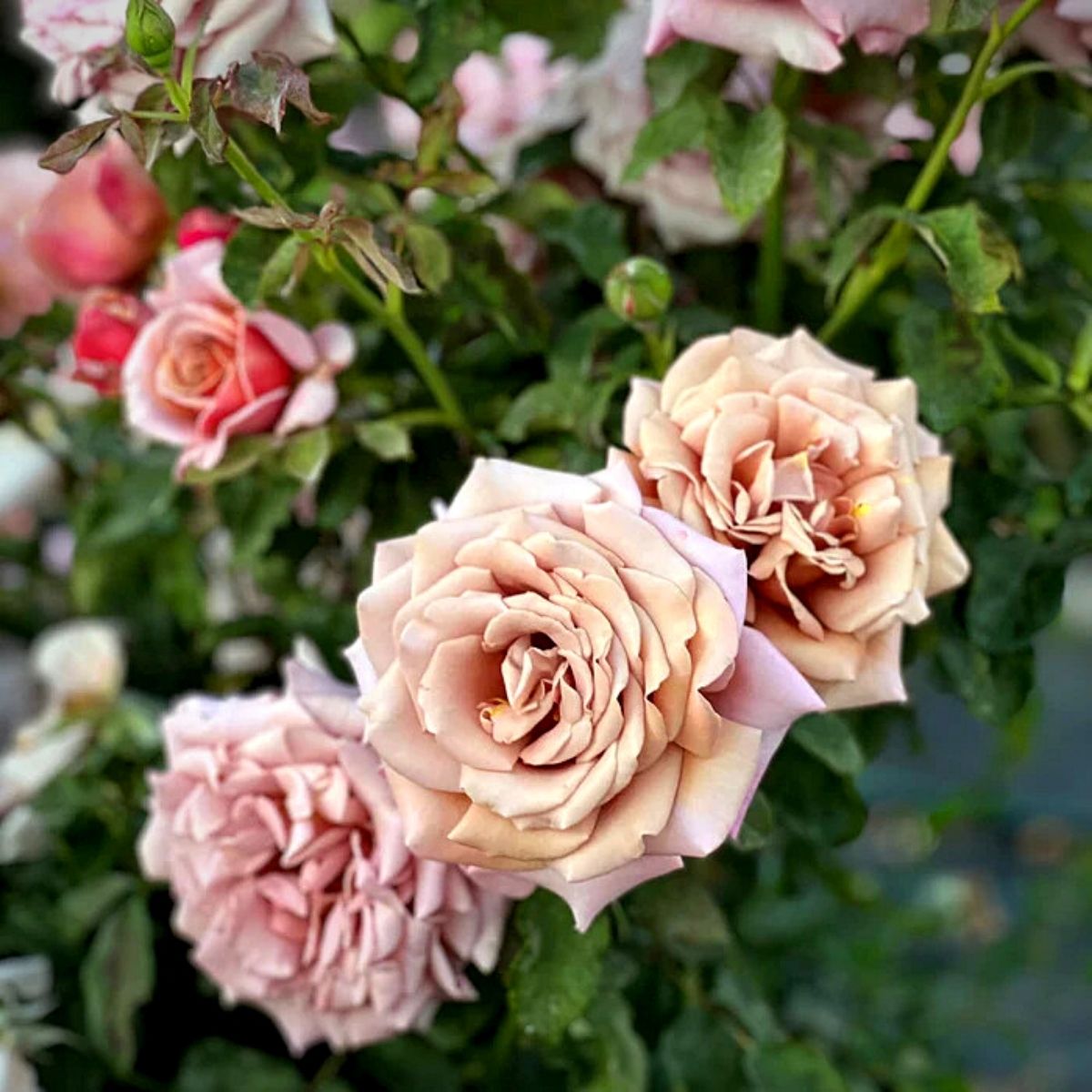 In addition to its beautiful color and fragrant blooms, 'Koko Loko' is also a relatively easy plant to care for. It is disease-resistant and hardy, and can be grown in a wide range of climates. The plant itself typically reaches a height of around 3-4 feet, with a similar spread.
Floribunda rose 'Koko Loko' is a stunning and unique addition to any garden or landscape. Its unusual color and ease of care make it a popular choice among gardeners who are looking for something a little bit different in their rose collections.
Romantic Antike Rose
This is a type of rose known for its classic beauty and romantic appeal. It is a hybrid tea rose that was developed in the mid-2000s by the rose breeder, Christian Bédard. the rose grows to be about 4-5 feet tall and produces large, full blooms that are pale pink with a hint of apricot. The flowers are typically quite fragrant, with a sweet, fruity scent that is reminiscent of the old-fashioned roses of yesteryear.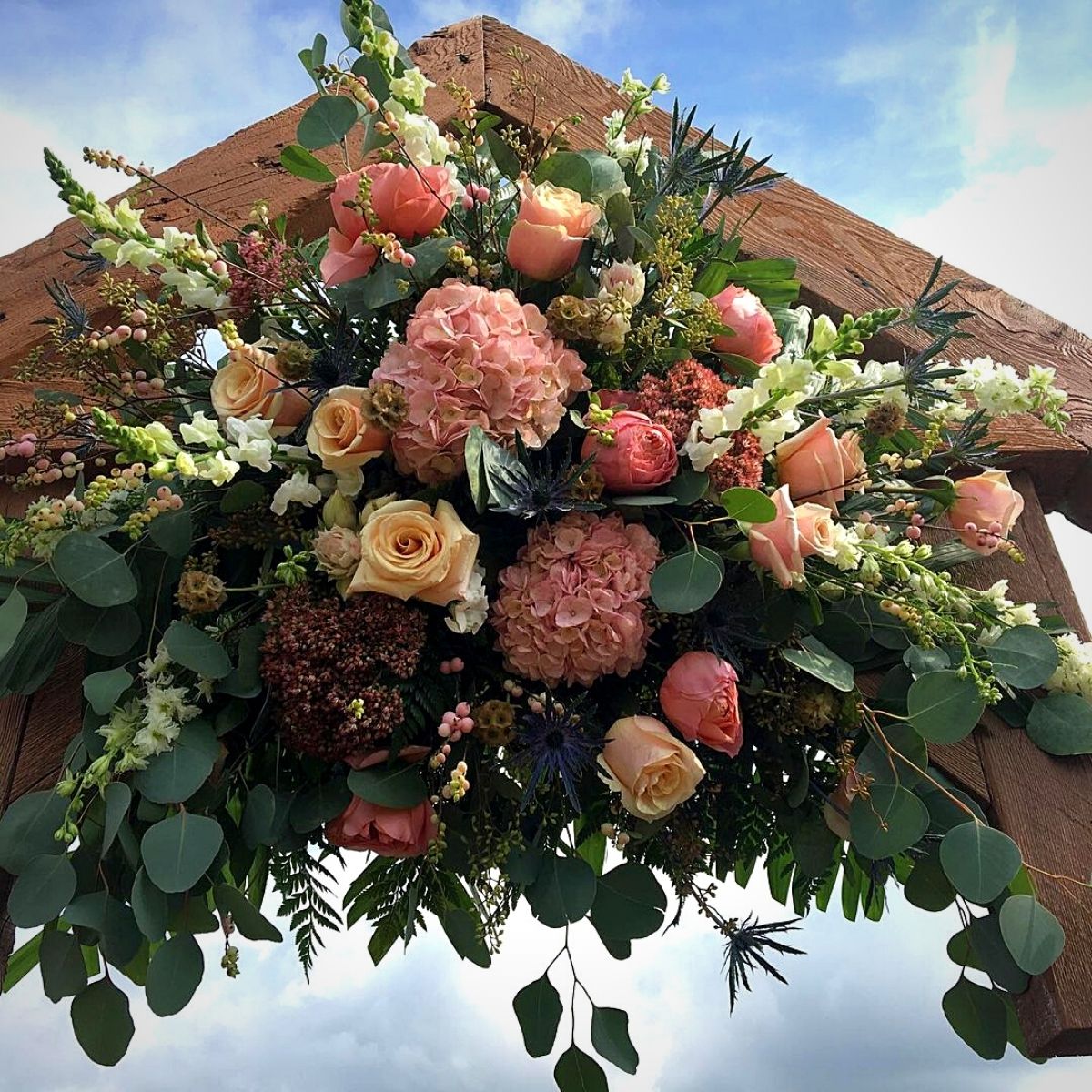 One of the unique features of the Romantic Antike rose is that its flowers change color as they mature. When the buds first open, they are a soft, creamy yellow color. As the flowers age, they gradually darken to a rich pink hue. The rose is a popular choice for weddings and other romantic occasions, thanks to its delicate beauty and sweet fragrance. It is also a favorite among gardeners who appreciate its hardiness, disease resistance, and easy care.
Other popular flowers that come in the dusty rose color include roses, peonies, ranunculus, and dahlias.
Wedding and Bridesmaid Dresses in Dusty Rose Color
Dusty rose is a popular color for wedding and bridesmaid dresses. This soft and romantic shade creates a dreamy and ethereal atmosphere, making it perfect for outdoor or garden weddings.
It's a versatile color that pairs well with other soft shades like lavender, sage green, and ivory. Bridesmaid dresses in dusty rose complement many skin tones and create a cohesive and elegant look.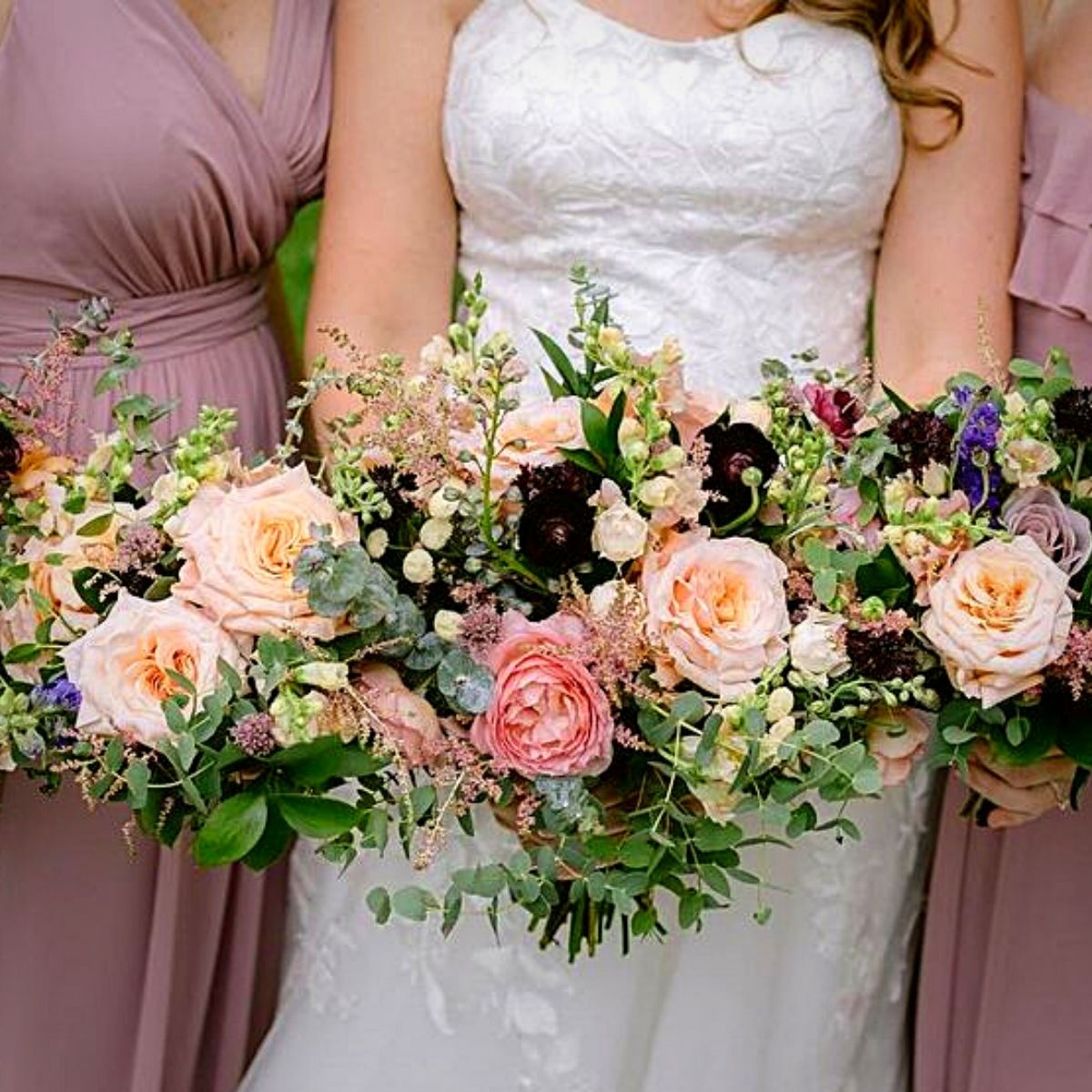 Dusty rose is also a popular choice for wedding décors, such as table linens, centerpieces, and flower arrangements.
These Are the Flower Decorations in Dusty Rose
Dusty rose is a beautiful and versatile color for flower arrangements. It pairs well with many other colors, including white, ivory, and green, and can be used to create a romantic and elegant atmosphere.
Flower arrangements with dusty rose can create a romantic and sophisticated look for weddings, events, and even for home decor. Roses in particular are a popular choice for dusty rose flower arrangements.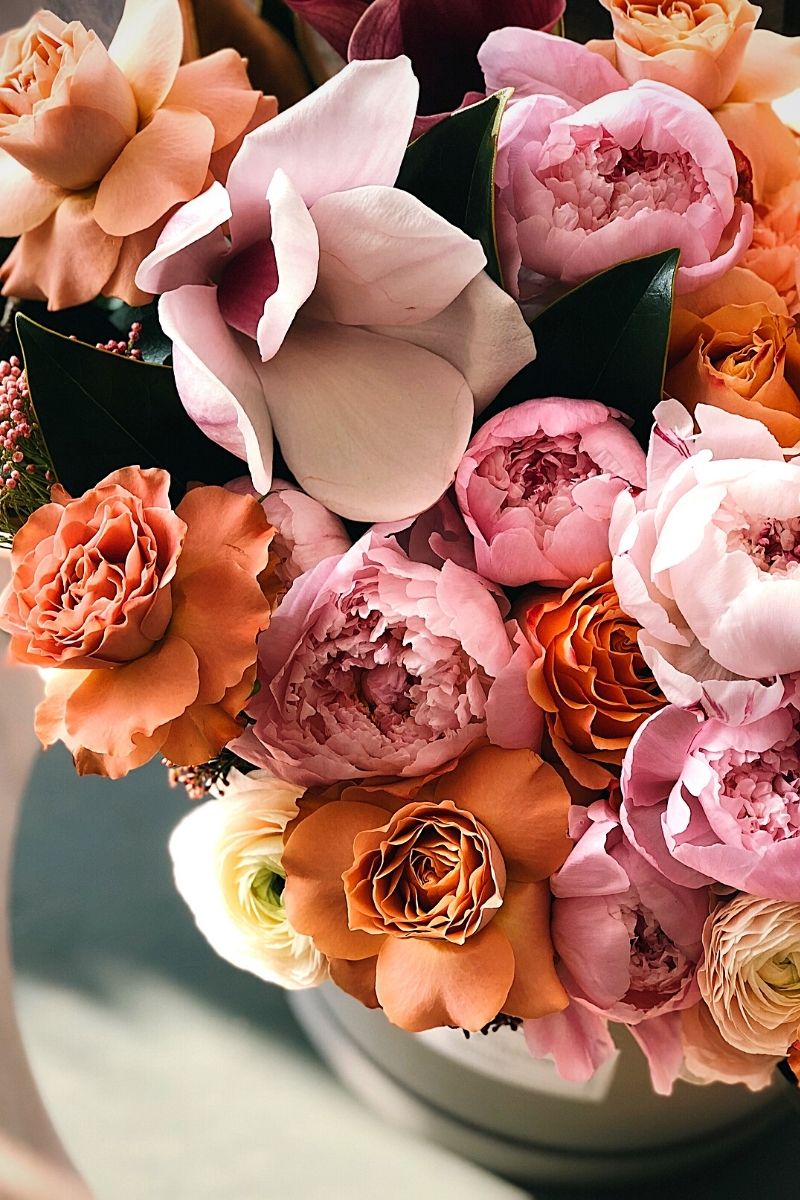 The English Garden rose and the Quicksand rose are two varieties that have a soft and muted dusty rose color. These roses pair well with other pastel-colored flowers like peonies, ranunculus, and hydrangeas to create a dreamy and whimsical look.
Dusty Rose Works Well in a Host of Floral Decorations
For a more modern and chic look, dusty rose can also be paired with darker and bolder flowers like dahlias and anemones. These contrasting flowers create a dramatic and eye-catching effect, while still maintaining a soft and romantic appeal.
The combination of dusty rose and greenery is also a popular choice for floral arrangements. Eucalyptus, ferns, and olive branches are popular choices for greenery that pair well with dusty rose flowers. This combination creates a natural and organic look that's perfect for a bohemian or rustic-themed wedding or event.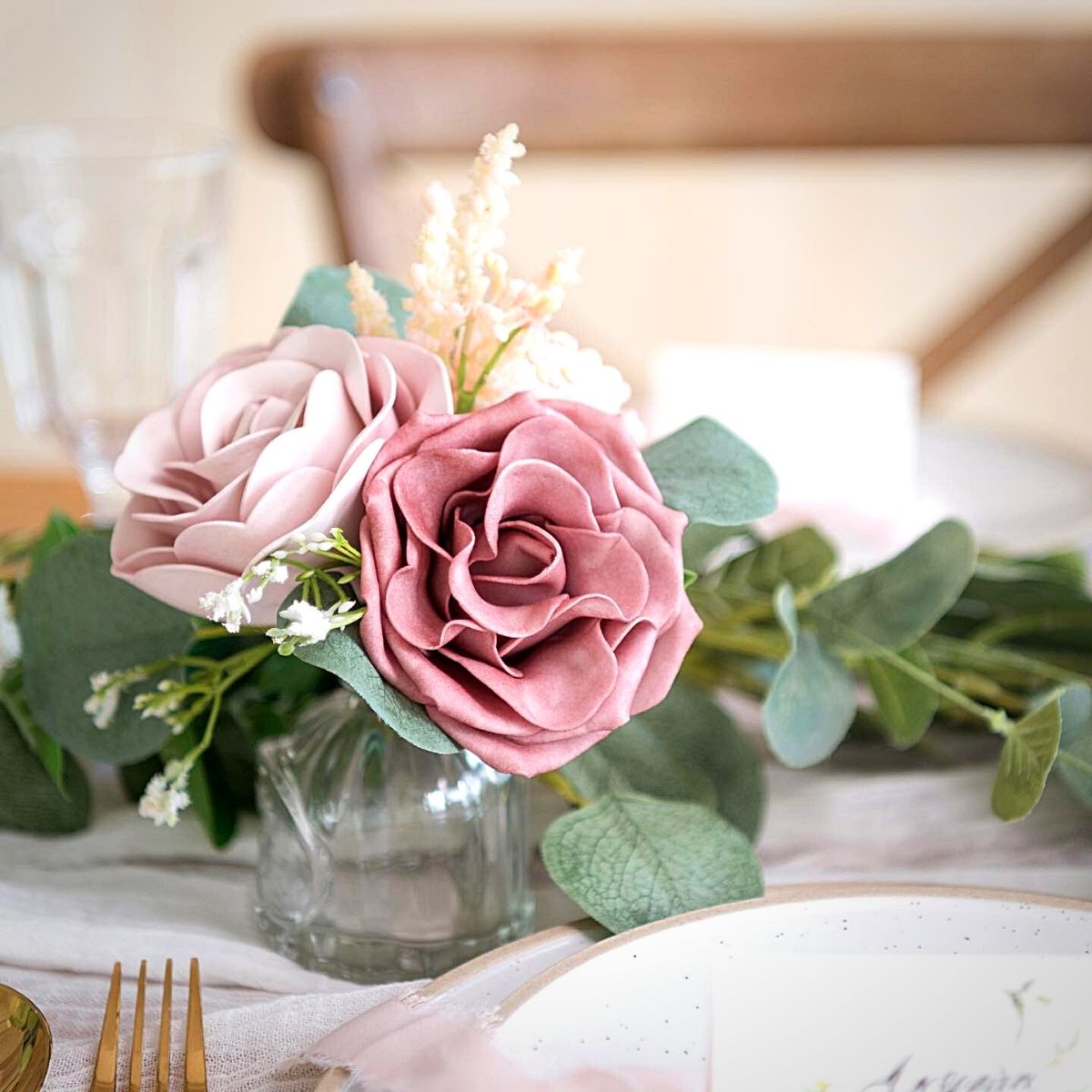 Dusty rose floral arrangements can be used for a variety of occasions, such as weddings, baby showers, and bridal showers. They add a touch of sophistication and elegance to any event.
Which Are the Best Colors to Pair With Dusty Rose?
Dusty rose is a versatile color that can be paired with a variety of other colors to create different moods and aesthetics.
It can be paired with soft pastels like lavender, mint green, and blush pink and also with neutral colors like white, ivory, and beige, as well as metallic shades like gold and silver.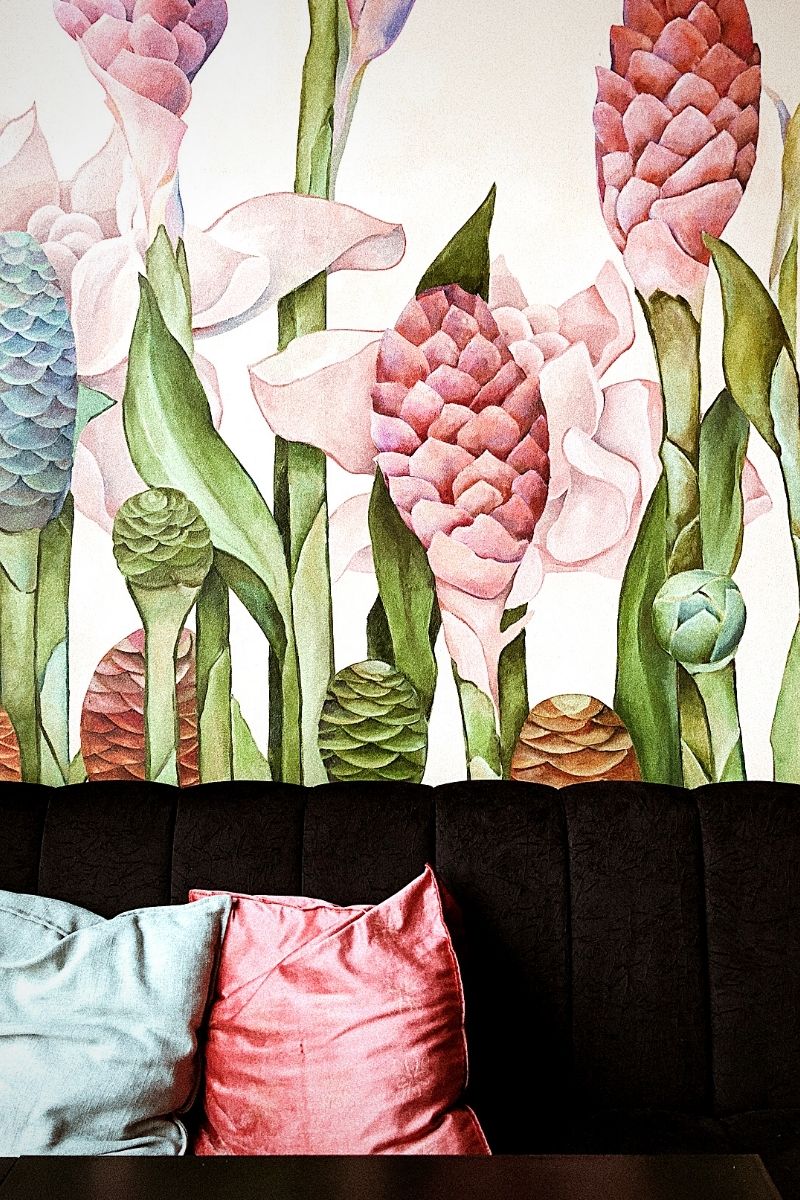 The combination of dusty rose and deep green creates a vintage and organic look, while the combination of dusty rose and navy blue creates a classic and sophisticated look. For a bold and modern twist, dusty rose can also be paired with black or charcoal gray.
Dusty Rose Pairs Well With Other Colors
If you're looking for a more vibrant and bold combination, dusty rose can be paired with shades of mustard and burnt orange. This creates a warm and inviting look that's perfect for fall-themed events and home decor.
For a more playful and modern look, dusty rose can be paired with shades of gray, including charcoal and slate. The contrast of the soft and muted dusty rose with the dark and bold gray creates a chic and edgy look that's perfect for fashion and home decor.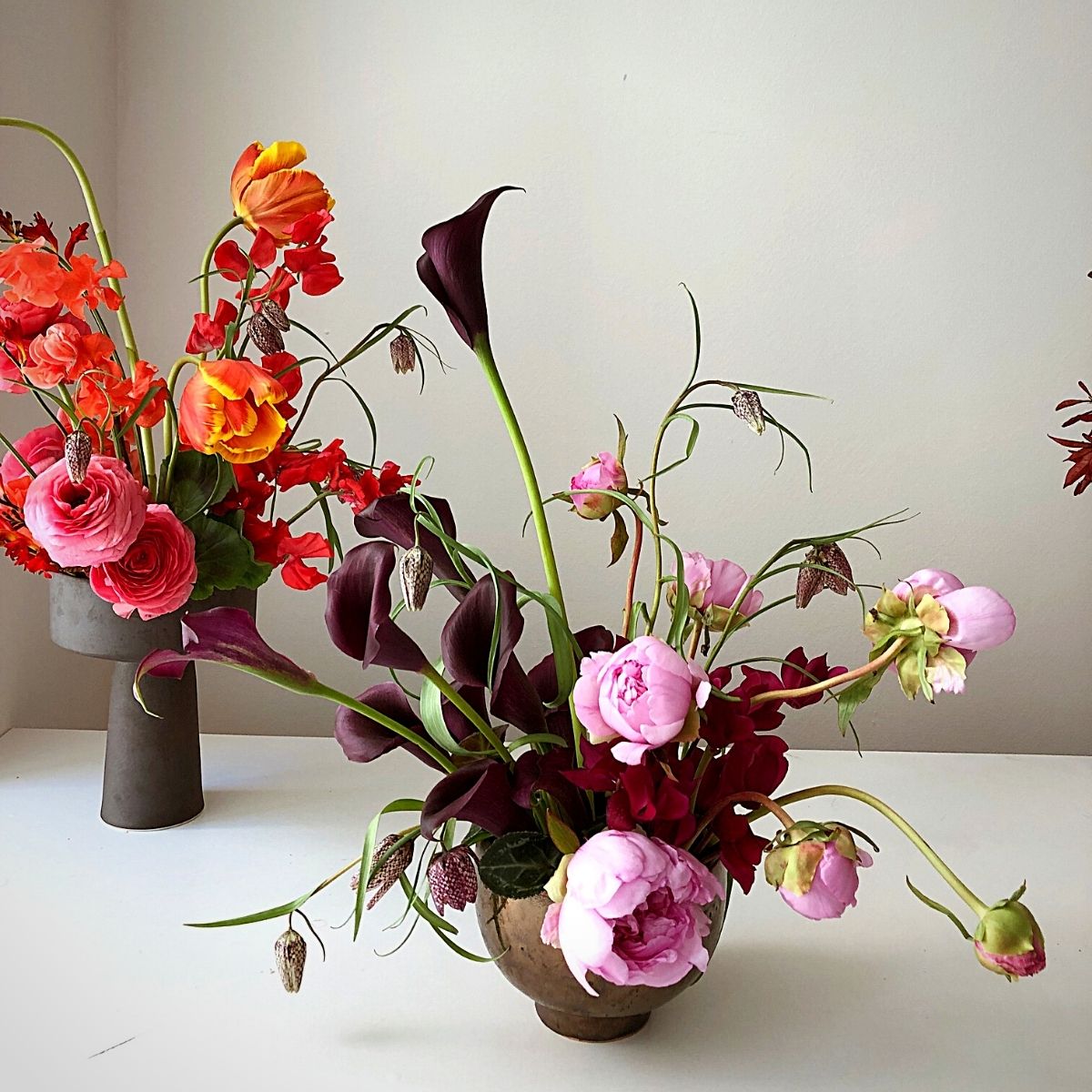 One of the best color combinations for dusty rose, however, is navy blue. This pairing creates a classic and timeless look that's perfect for a sophisticated and elegant event or home decor.
The Aesthetics of Dusty Rose
Dusty rose is a timeless and elegant color that has a calming and soothing effect. It creates a sense of warmth and comfort, making it a popular color for bedrooms and living rooms.
When paired with natural materials like wood and linen, dusty rose creates a cozy and inviting atmosphere. In fashion, dusty rose is a color that never goes out of style, and can be worn in any season.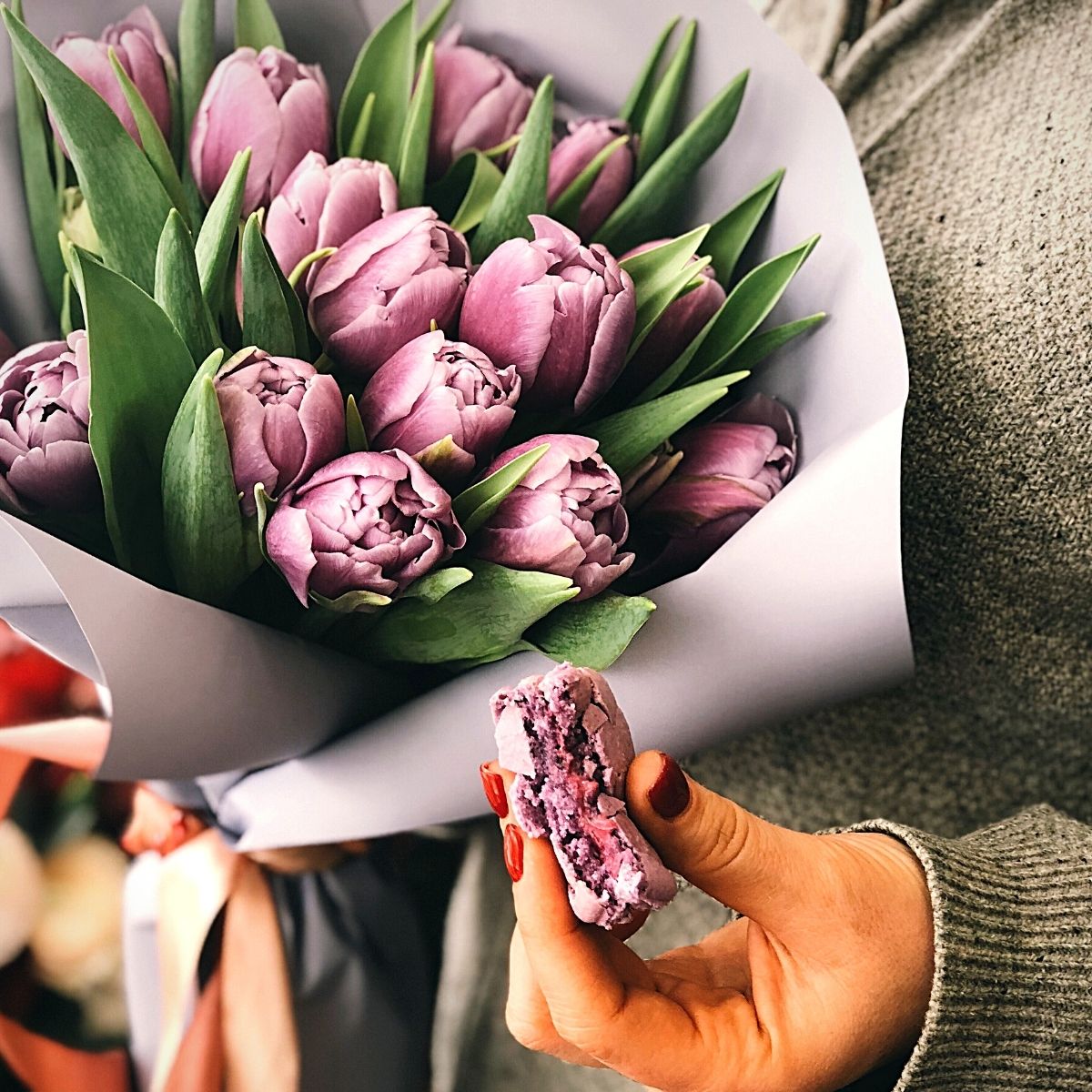 Its subtle and muted tone creates a romantic and feminine look that's perfect for special occasions.
In floral arrangements, for instance, dusty rose is a popular choice for its ability to complement a wide range of flowers. Dusty rose flowers can be incorporated into centerpieces, bouquets, and garlands to create a soft and romantic atmosphere.
Nothing Beats the Allure and Subtle Beauty of Dusty Rose
While it may, to some extent, look similar to the traditional pink color, dusty rose has a more subdued and understated beauty. It, therefore, makes a popular choice for weddings, birthdays, and other similar special occasions.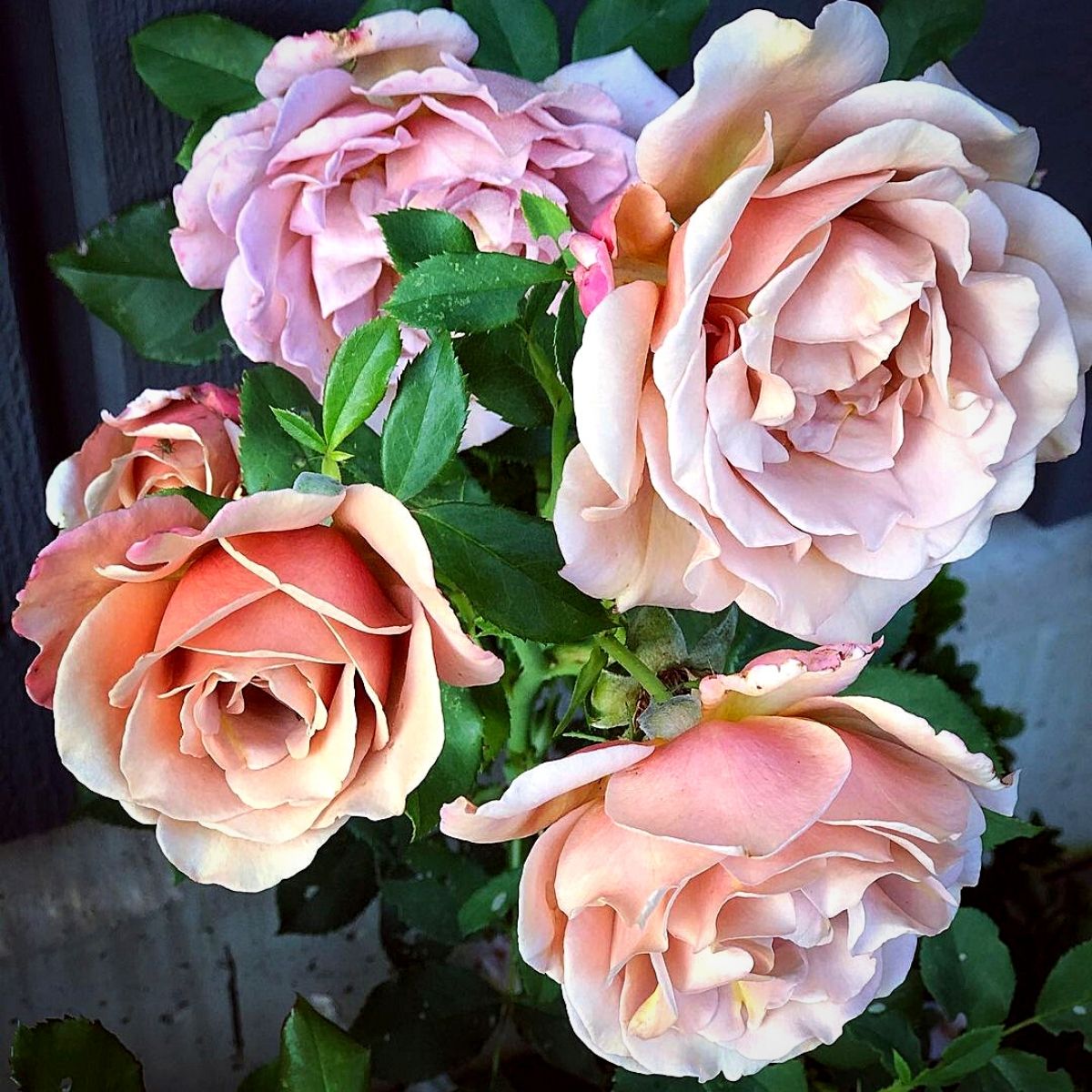 Dusty rose is a beautiful and versatile color that has captured the hearts of many designers, enthusiasts, and brides. Its soft and romantic appeal makes it a popular choice for interior decoration, fashion, and floral arrangements. It is a unique and stunning addition to any bouquet or floral arrangement with its soft, muted pink hue and obviously a delicateness that is a representation of the dainty and romantic nature of flowers.
From real rose varieties to bridesmaid dresses and flower decorations, dusty rose adds a touch of elegance and sophistication to any occasion. So, whether you're planning a wedding, redecorating your home, or simply looking for a new outfit, consider adding some dusty rose to your palette. Its timeless and uplifting aesthetic is sure to bring joy and beauty to your life.
Featured image by @belle.box.boutique and header photo by @rosachiclebarcelona on Instagram