House plants have become a firm fixture in living rooms nowadays. Plants have become super trendy and the distinctive bromeliad is the perfect finishing touch to every interior. Bromeliads are a great source of energy and easy to care for. So, go on: mix and match bromeliads and green plants for a little indoor jungle.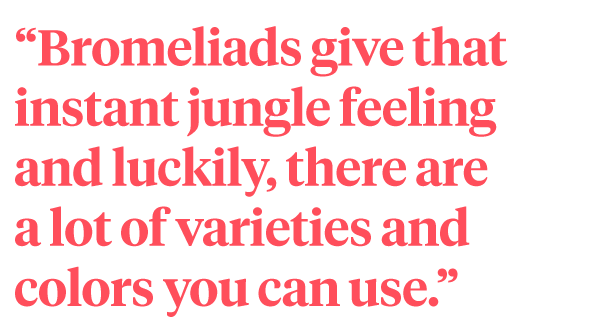 Because of their tropical appearance, bromeliads are a great match with popular green plants; the more the merrier! When you show your customers and consumers how to combine several bromeliads or how to style them with their green plants, you'll be a hit – and sell more plants too. It's a definite win-win!
Ticket To the Tropics
When you combine bromeliads with other green plants, you'll immediately see the result: a tropical party! Create a little jungle corner in your shop with several types of bromeliads and trendy house plants. This way, you'll inspire the customer to create such a happy corner in their own home. Two pluses: your customer doesn't have to look further for ideas and plants, and you sell more plants at once!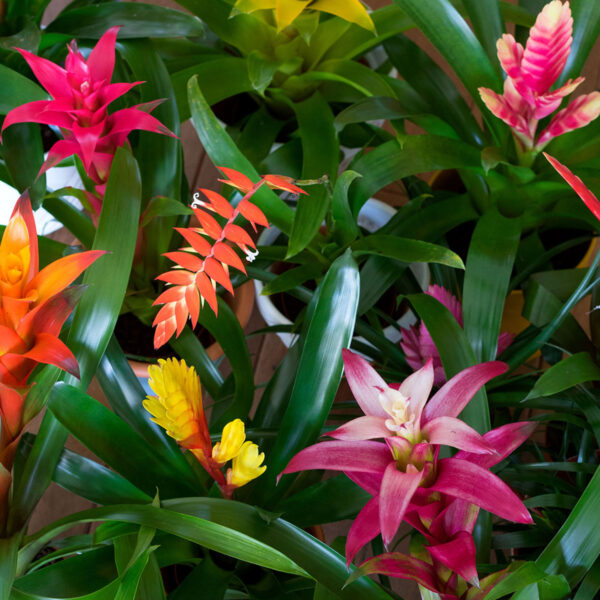 Twinning Is Winning
Another option is to put several bromeliads together in one setting. This idea of a lot of plants in a small space is very popular because young people nowadays have less housing space. One thing you can do: use that height! A trendy and stylish metal plant container is a wonderful solution to have that jungle feeling in your home without using a lot of space.
Family Picture
Bromeliads give that instant jungle feeling and luckily, there are a lot of varieties and colors you can use. Go crazy with bright colors or use the contrast of the different shapes family bromeliad has to offer.
More Info?
Want to know more about the different varieties and history, or do you need some care tips?
Visit our website of Bromelia.info or our Instagram page.