Rose Finally got introduced to the market back in 2017. Meanwhile, it's one of the big red roses going round the globe. "Big" both literally and figuratively. Rose Finally really became an established value in the industry.
Romantic, sophisticated, and sensual, Finally is undeniably the most beautiful among all red roses and becomes the perfect rose for this year's Valentine.
Rose Madam Red has the right color, nice length of the stem, not too sensitive to diseases and she grows easily. And what's for sure a huge benefit for florists: it's completely thornless. In Breeder's terms, a true class of its own.
Rose Finally and Rose Madam Red for Valentine
These two roses are real beauties for coming Valentine. Check out the diffenrences in following article.
Rose Finally

Words and pictures will never fully encompass the sheer beauty and grandeur of this rose. Rose Finally is a lovely cabbage-shaped and rich bright red rose. It has a very velvety texture and a medium head size. With an intense crimson color that shades off to a darker tone, she speaks of love that awaits a passionate expression. The variety from the Dutch breeder United Selections opens beautifully in a traditional rose shape. Therefore it makes this the perfect rose for any occasion. If you are looking for an impressive red rose, Finally might be the right choice!



Rose Madam Red
There are numerous traits that make Madam's Family with its Rose Madam Red stand out from most of the varieties already in the market but below are the most important ones:
Great transport characteristics.
100% satisfaction for your customers.
Available in good quantities and quality.
Always 100% opening on the vase and bouquets.
No thorns and a beautiful range of colors including red, pink, and cerise.
Yes, you have it right, there are more colors in the Madam's Family.
Red Roses

A red rose is the most treasured flower in the world. It is the most appropriate color for most of your sentiments, not only during Valentine's Day but throughout the year. Red roses are the perfect gift for your loved ones in every season. Breeders always strive to provide cutting-edge red roses, able to perform across different altitudes and markets.
With rose Finally, United Selections is confident the whole world now is able to feel a touch of its red roses.



Come and See


This breeder has an open-door policy across their showhouses around the world. So you are invited to come and see. Breeding a colorful future is a commitment. To live up to this, new red codes are also around the corner from the breeder, to continuously add more options for growers to choose from.
Through their dedication to contributing to the development of a strong and reliable floral supply chain through its sustainability approach, United Selections is always keen to enhance profitability across the entire floral chain. Sustainability is a philosophy, one that has guided the breeder over the years in building resilient brands for its red varieties. This is proven by the strength of the rose Madam Red across different altitudes and markets.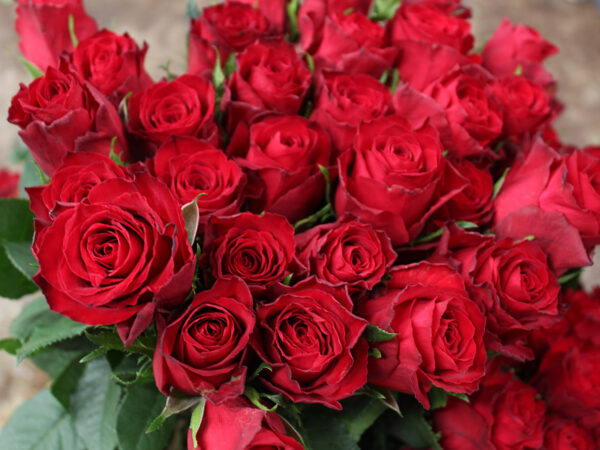 Experience the Power and Profitability


It is time for you to try befitting red varieties from the breeder and personally experience their power and profitability.


Get in Touch With United Selections

Visiting address: Fraxinus 12 21424 LG De Kwakel Netherlands
Thanks to Colonial House of Flowers and Floregineel for the designs, Photocredit Engagement GStar Roses