In the world of floral elegance, calla lilies stand as a top choice for those flower lovers seeking a bloom that seamlessly complements every occasion throughout the year. Their elegance, delicacy, hues of color, and trumpet-shaped blossoms make it possibly one of the most unique out there. allure of calla lilies lies not only in their captivating beauty but also in their versatility. Their sleek and slender stems lend an air of sophistication to any arrangement, making them the ideal bloom for designing stunning bouquets in any season or celebration throughout the year.
This time, Simply Calla shares a few tips and secrets on how to use these fantastic blooms all year long.
Calla Lilies - Why Are They Such Popular Flowers to Use All Year Long?
Calla lilies have a secret weapon — their charming appearance. The secret to their divinity lies in the curve of their petals and the remarkable array of colors they come in, allowing floral enthusiasts to fully connect through the language of flowers.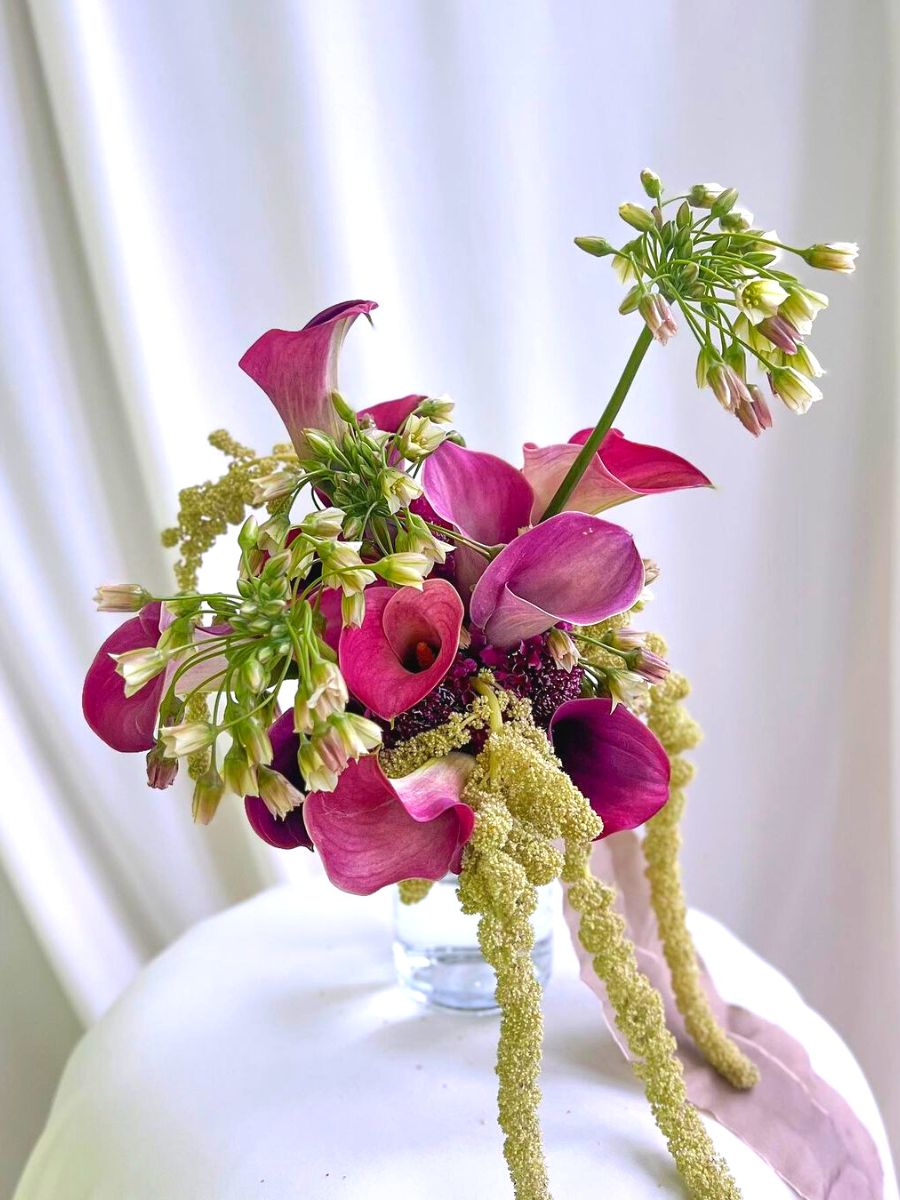 Whether it's the fiery reds for passionate moments or the pure whites for formal occasions such as weddings, and even autumnal celebrations such as Thanksgiving, calla lilies offer a spectrum of possibilities. Here's how these beauties can be used throughout different seasons and celebrations during the year!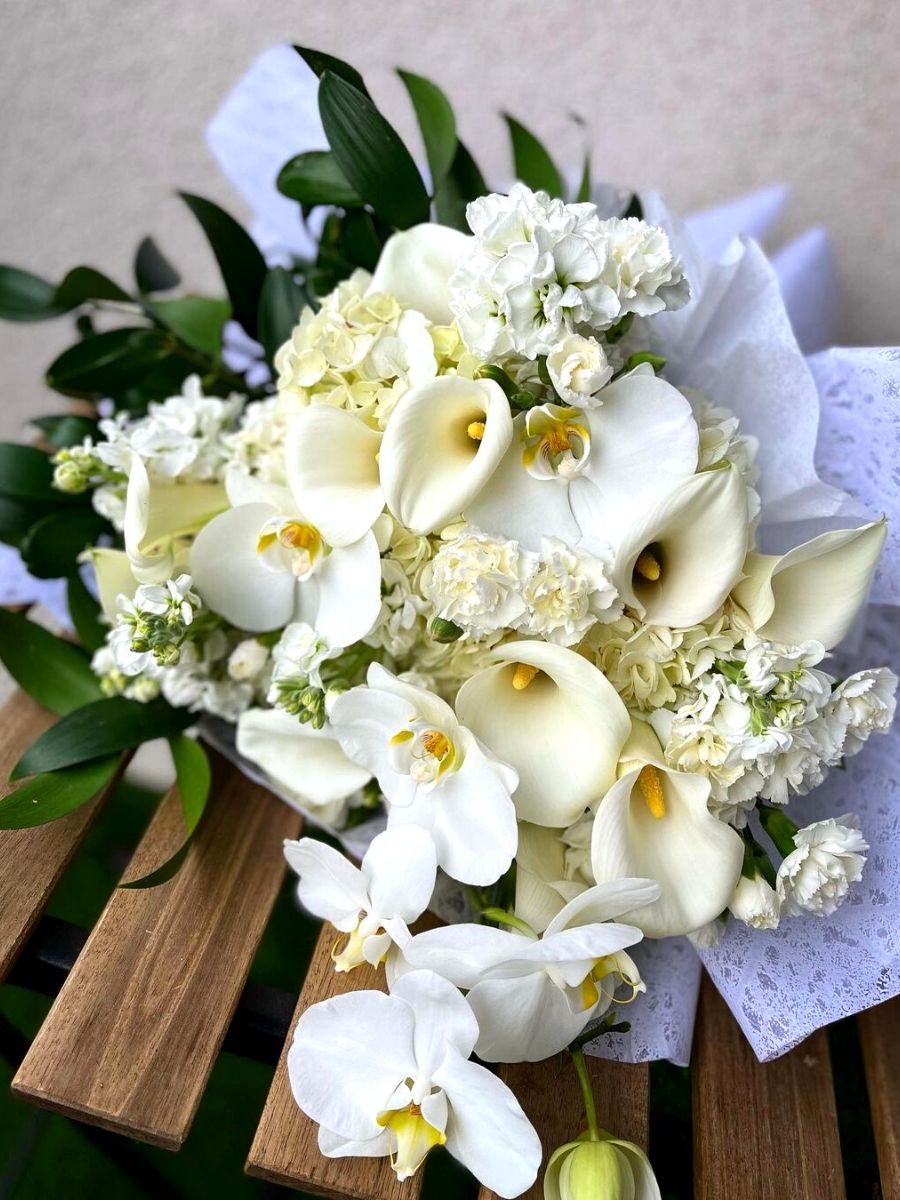 1. Valentine's Day With Callas for a Symphony of Romance
To start a new year in the most romantic way, Valentine's is always a very special date to give out flowers. But not just popular and traditional flowers such as red roses. Red callas are a spectacular option to impress your partner or loved ones. But pink and white are also a great option!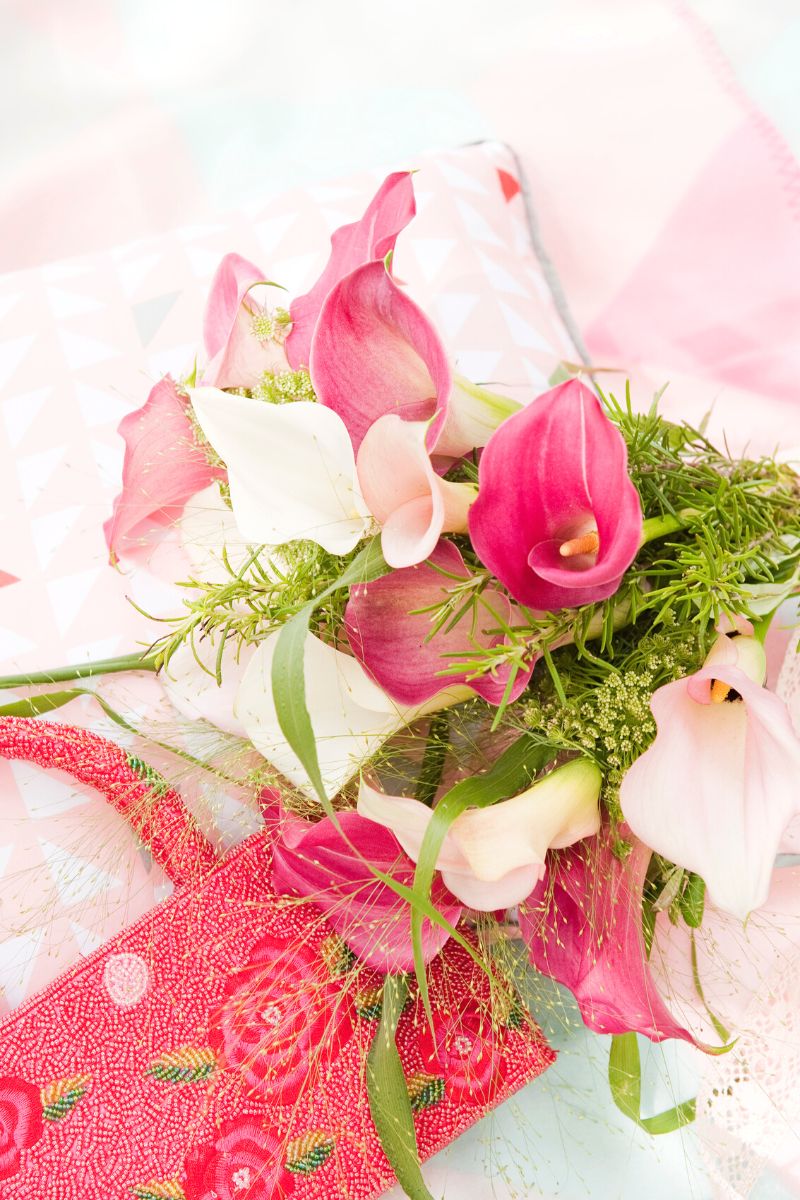 They play the perfect cupid role! To celebrate the day of love, callas can be used in a bouquet evoking passion and desire. The velvety texture and vibrant color of these flowers speak of love in a language beyond words, creating an arrangement that captures the essence of romance.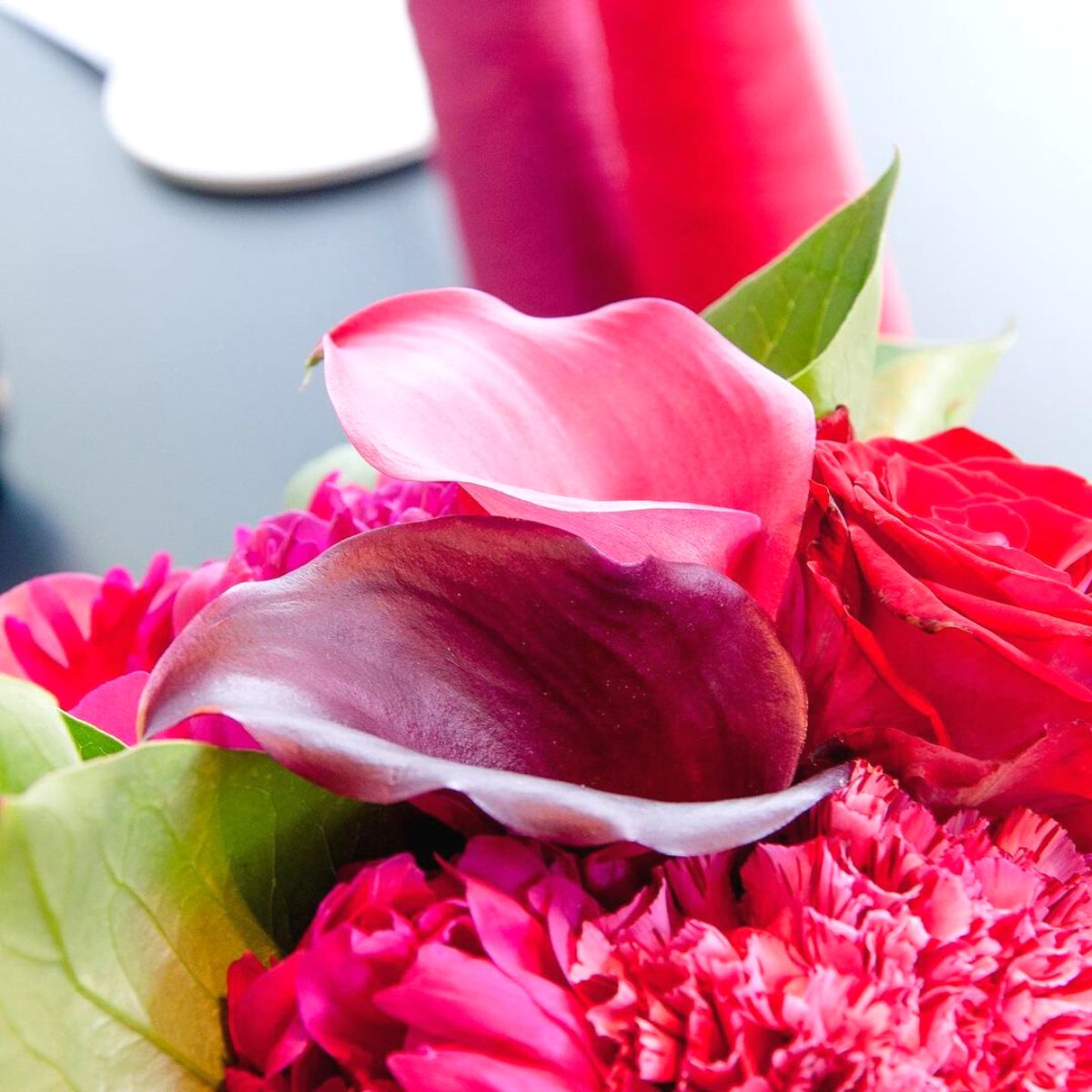 2. International Women's Day - Empowering Elegance
Since callas are flowers that can be used any day throughout the entire year, March always comes with an extremely important commemoration for women. International Women's Day is celebrated with millions of flowers worldwide as well. Celebrate the strength and grace of women with a bouquet of bold and empowering calla lilies in deep purples and bright yellow. These flowers symbolize the resilience and beauty of women, making for a meaningful and stunning arrangement. Not forgetting how yellow calla lilies also symbolize gratitude for all the women who play an important role in your life!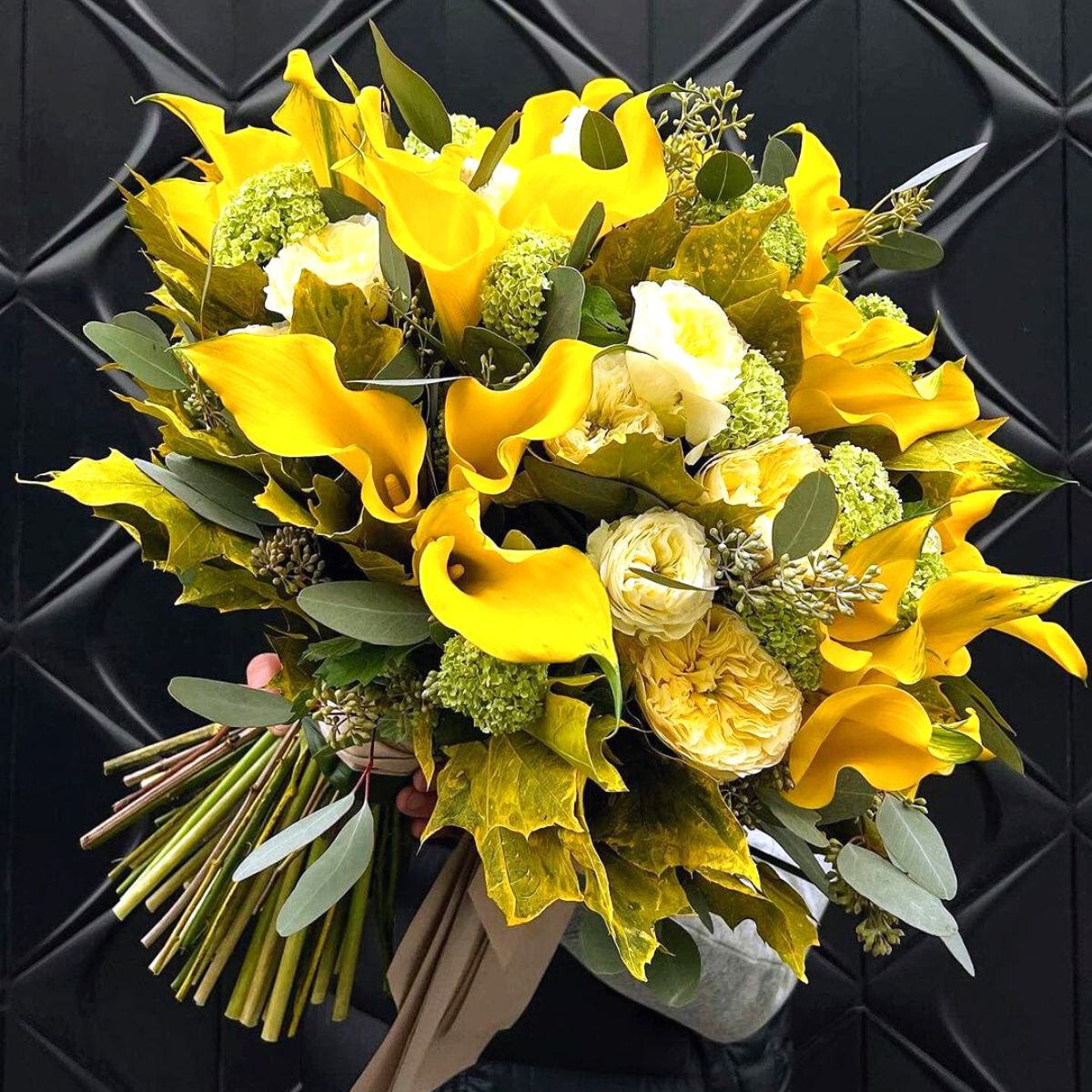 3. Easter - A Blooming Resurrection
Welcome the arrival of spring and the spirit of renewal with a calla lily arrangement in soft pastels, reminiscent of freshly bloomed flowers. The purity and innocence of white calla lilies symbolize the joyous occasion of Easter and the beginning of a new season. On the other hand, floral colors like pink, white, and purple symbolize different aspects of the Easter story. And as beautiful as calla lilies flowers are in nature, nothing compares to how they can be used at home in tabletop centerpieces, baskets, and decorations for the holiday. Check out how calla lilies are used during this important holiday!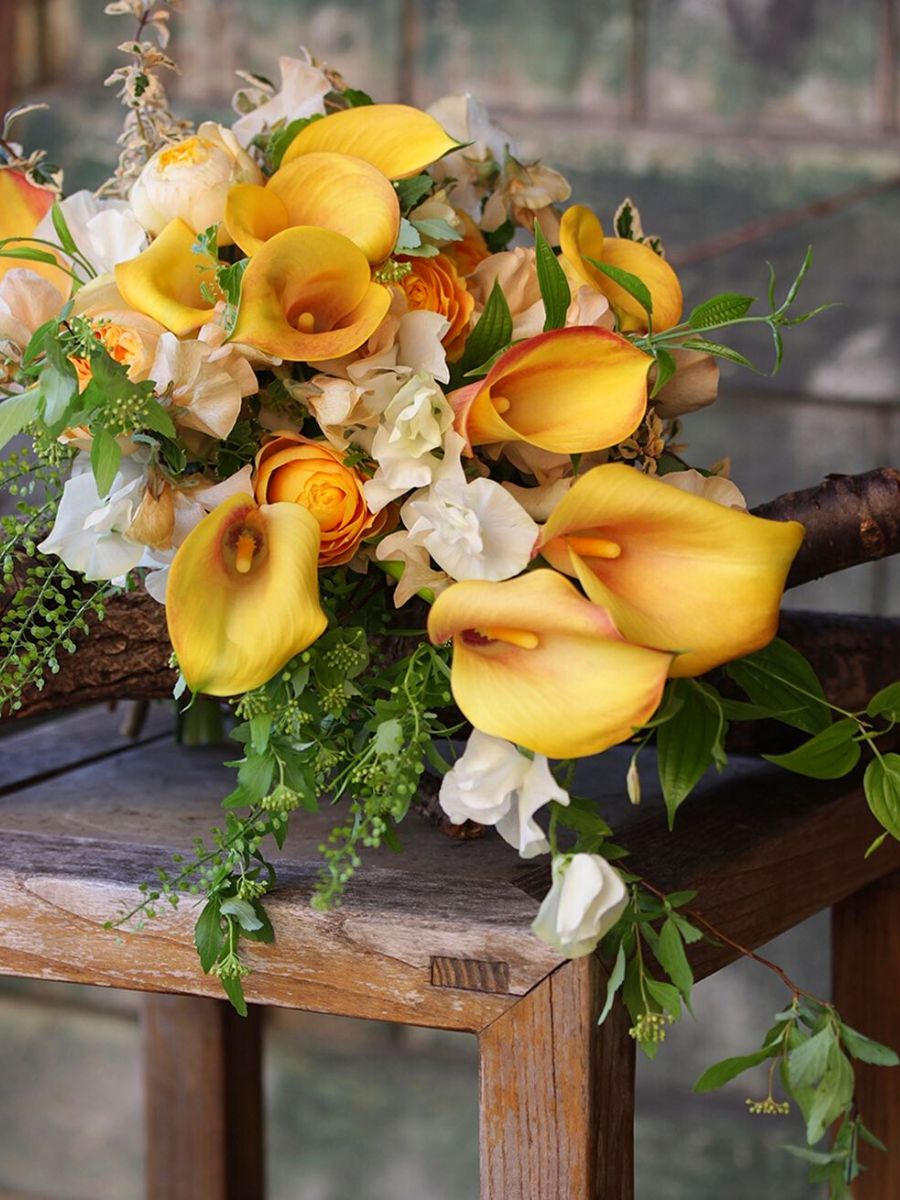 4. Callas for Mother's Day to Express a Garden of Gratitude
Valentine's and Mother's Day are without a doubt two of the most important holidays in the floral industry. For the next Mother's Day, express your appreciation for the nurturing figures in your life with a pastel palette of calla lilies. Soft pinks, creams, and pale yellows come together to form a delicate bouquet that embodies the tender love and care associated with motherhood.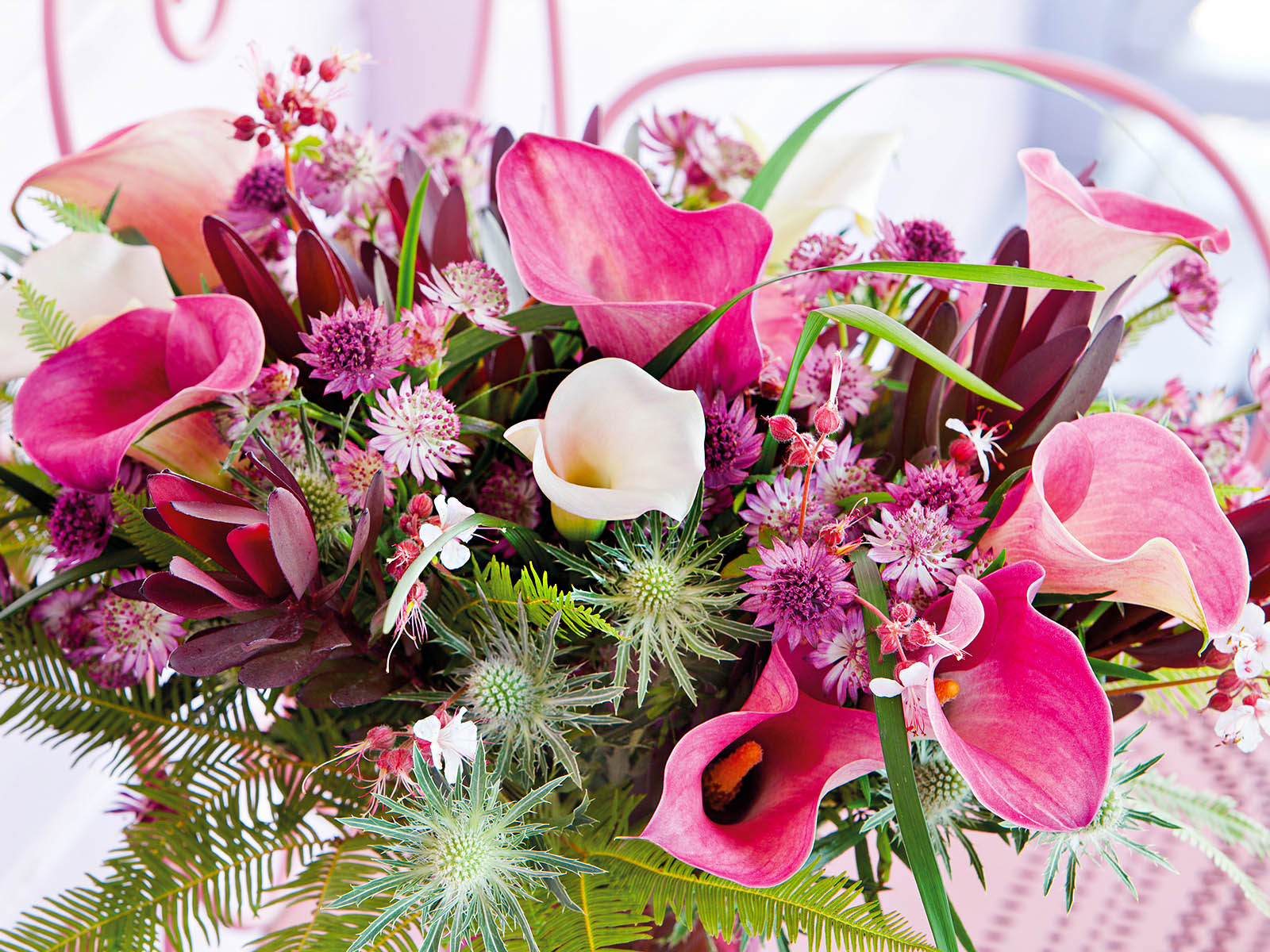 5. Summer Celebrations Using Calla Lilies for Vibrant Festivities
As summer unfolds, people begin to add color to everything, specifically very bright and bold colors. Summer is a synonym for adding flowers everywhere and anywhere. Add to the incredible lively energy of this season with a burst of calla lilies in shades of orange, coral, and sunny yellow. These cheerful arrangements bring warmth and vitality to any summer gathering, radiating the spirit of the season.
And don't forget to consider calla pot plants on your balcony, terrace, patio, or any other outdoor space for that crazy summery feeling.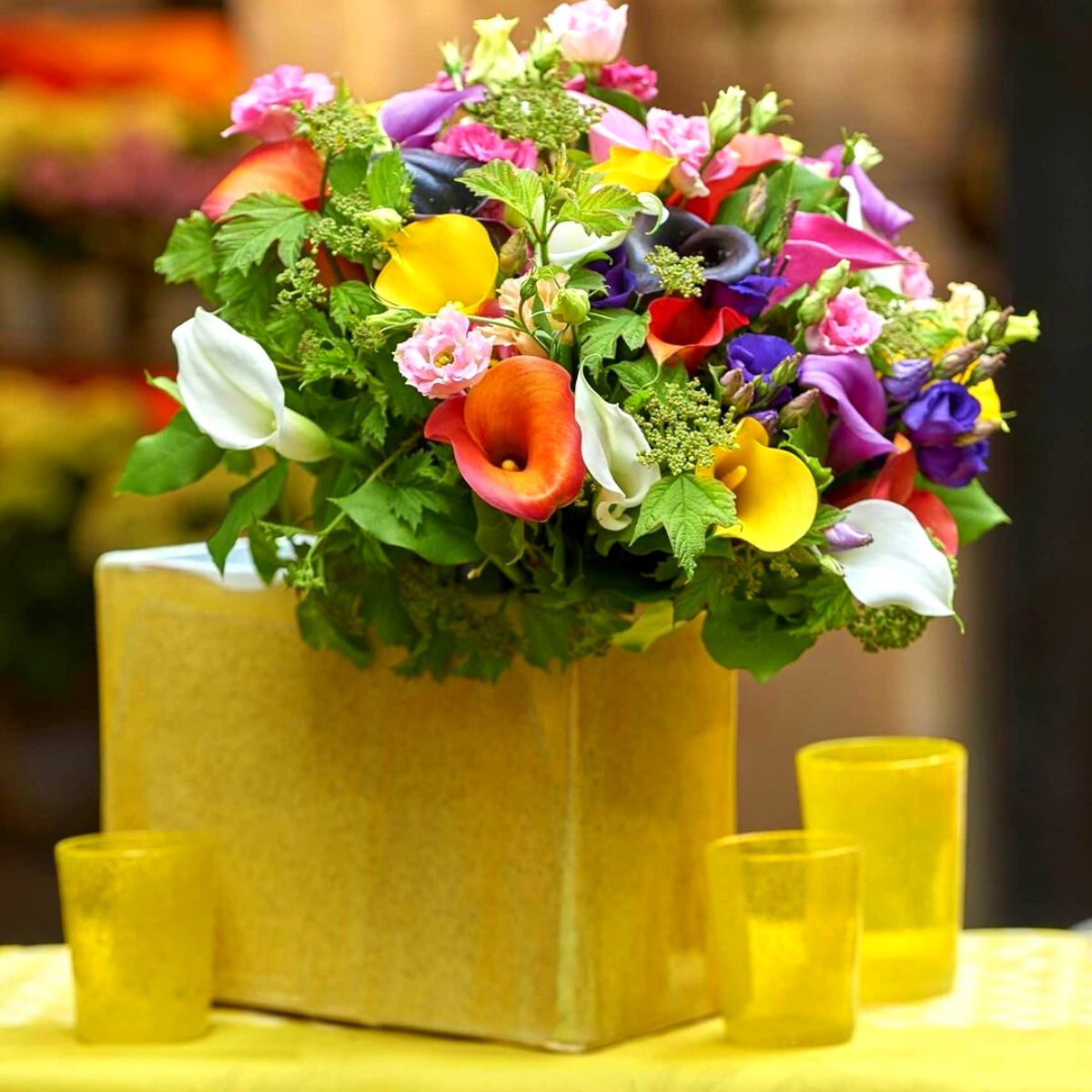 6. Weddings All Year Long: Timeless White Elegance
For weddings, white calla lilies will always have a special place in a bride's heart. Their undeniable elegance cannot be compared, according to Simply Calla.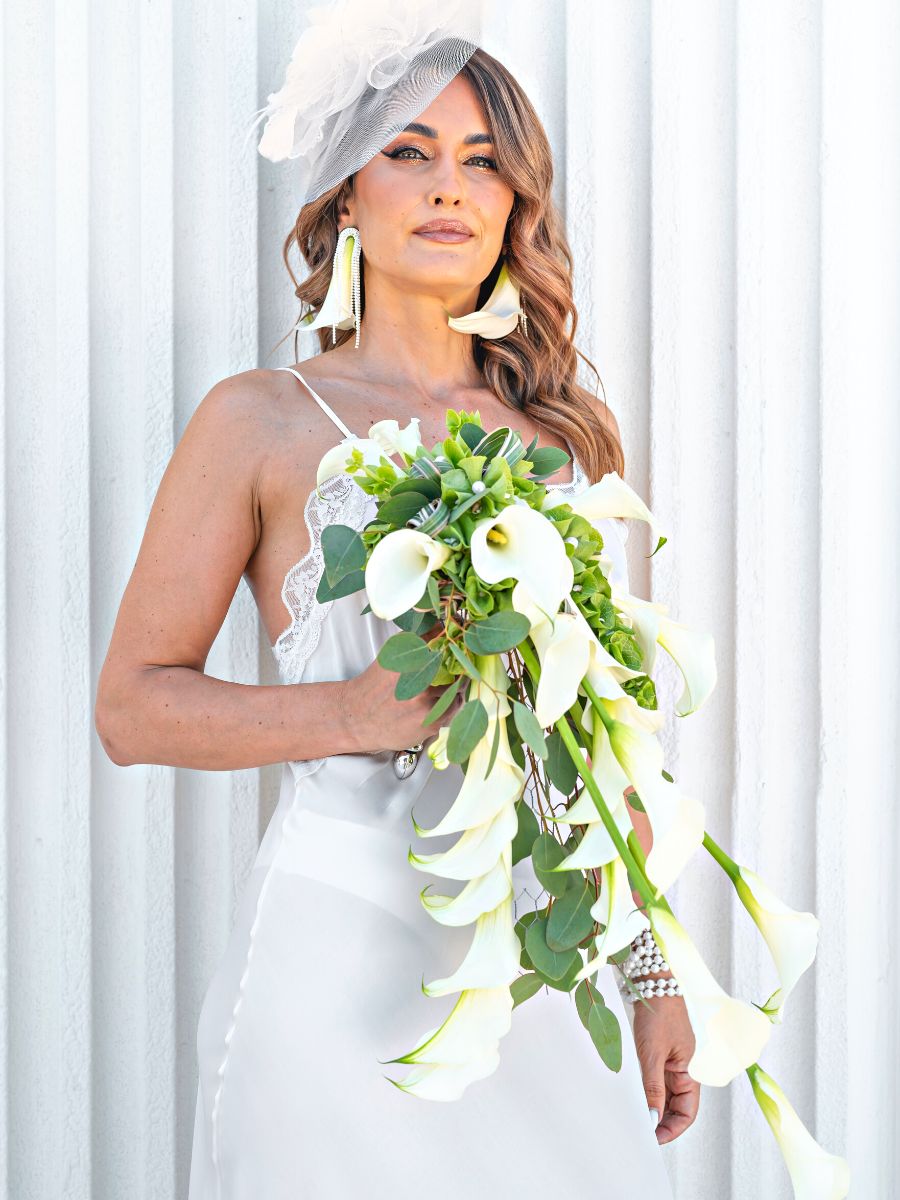 Specifically, white calla lilies symbolize purity and commitment, making them the uttermost perfect option to create stunning bridal bouquets and add a touch of sophistication to wedding decor. Yes, they are perfect to use for ceremonies during any season. Check out how Laura Draghici was inspired to create divine floral creations with white calla lilies!
7. Dark-Colored Callas for Halloween Decorations
Although calla lilies tend to show up in bright tones such as yellow, orange, pink, white, and red, during Halloween, dark purple-toned callas are widely used to celebrate the haunting day. Transform your space for Halloween with deep, dark calla lilies in shades of deep purple and black. This mysterious arrangement adds an element of sophistication to your spooky decor, offering a unique twist to traditional Halloween aesthetics.
Read how Calla Plants Saved Gaetan Jacquet From Halloween Horror!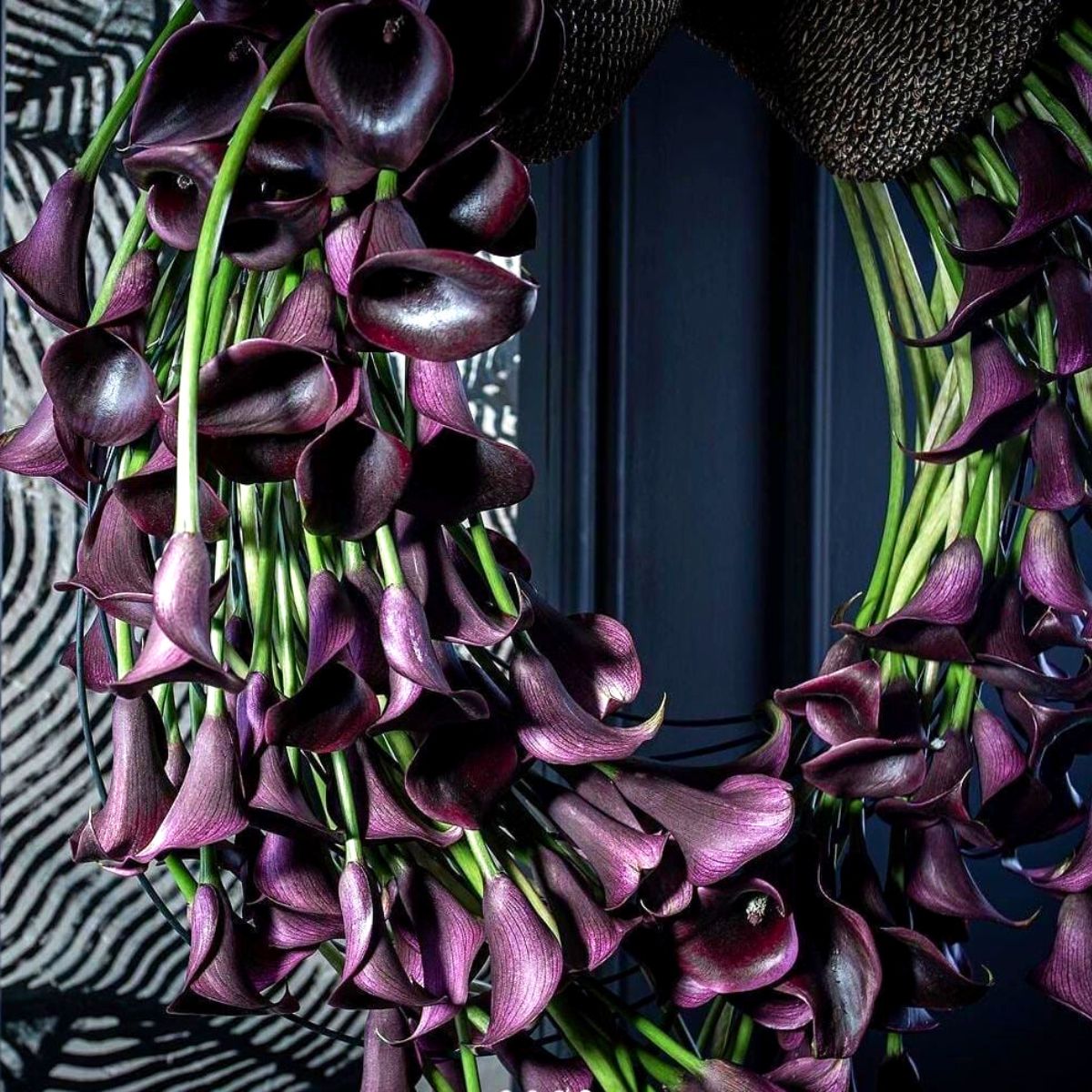 8. Autumn Arrangements With Calla Lilies That Harvest the Season
You know it's one of the favorite seasons of the year when orange, brown, and yellow blooms take over. That started already during the Indian Summer period and continues into autumn.
Calla flowers in these tonalities can capture the rich hues of fall and are very easy to combine as well. Here is another way in which these versatile blooms can be combined and used through any season and occasion during the entire year!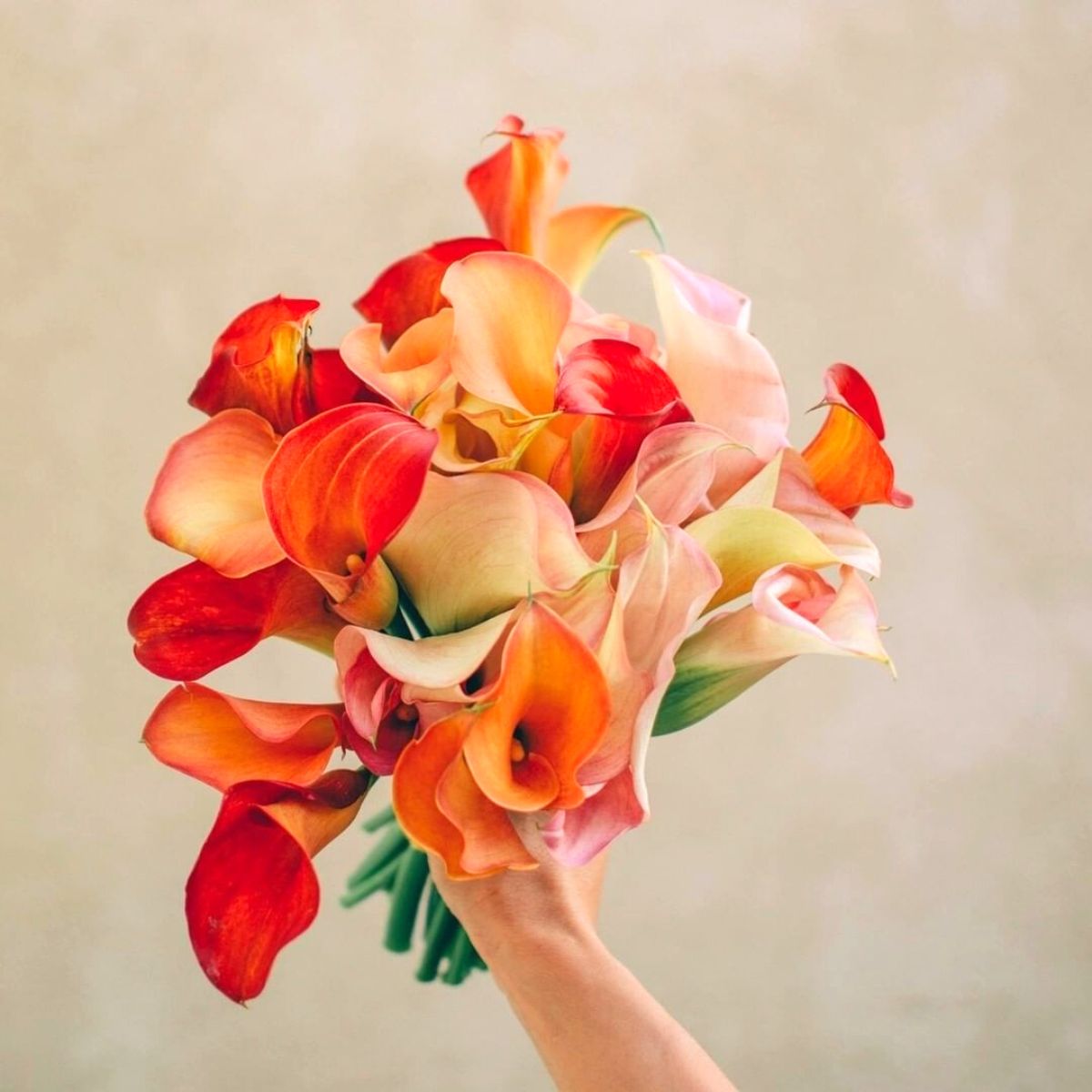 9. Thanksgiving Decor With Callas
Express gratitude during the Thanksgiving season is a tradition for many around the world. Having calla lilies with you during this celebration can enhance the spirit of gratitude. A centerpiece of calla lilies in warm and inviting colors such as deep reds, rustic oranges, and muted yellows can come together to form an arrangement that symbolizes the abundance of blessings to be thankful for.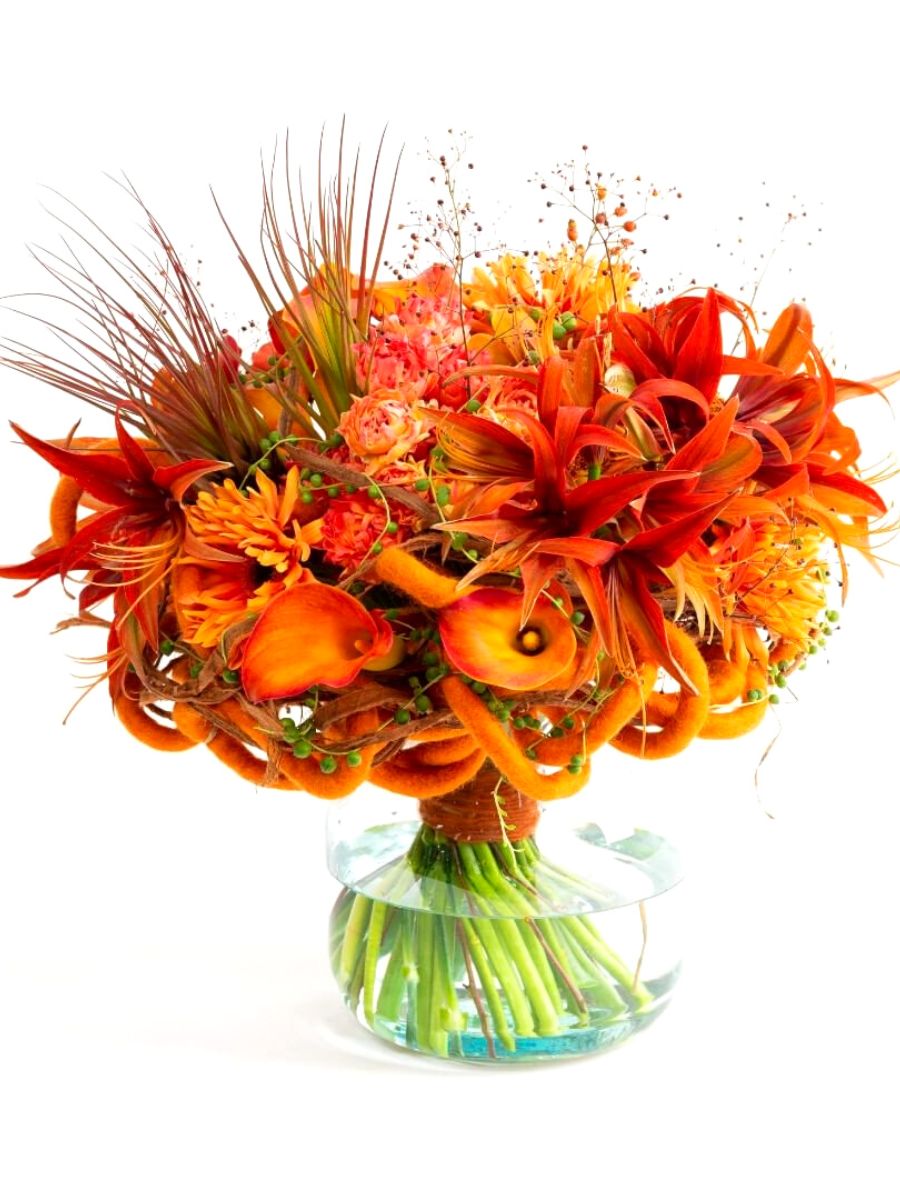 10. Christmas Callas For a Festive Opulence
Simply Calla suggests using calla lilies for any festivity and important event through the year, even for the Christmas celebrations coming up rather soon. You can opt to close the year with opulent arrangements of calla lilies in rich reds, purple, and white tones. These festive colors create a regal atmosphere, embodying the spirit of Christmas and adding a touch of elegance to your holiday celebrations. Callas for Christmas is the merriest flower treat of all!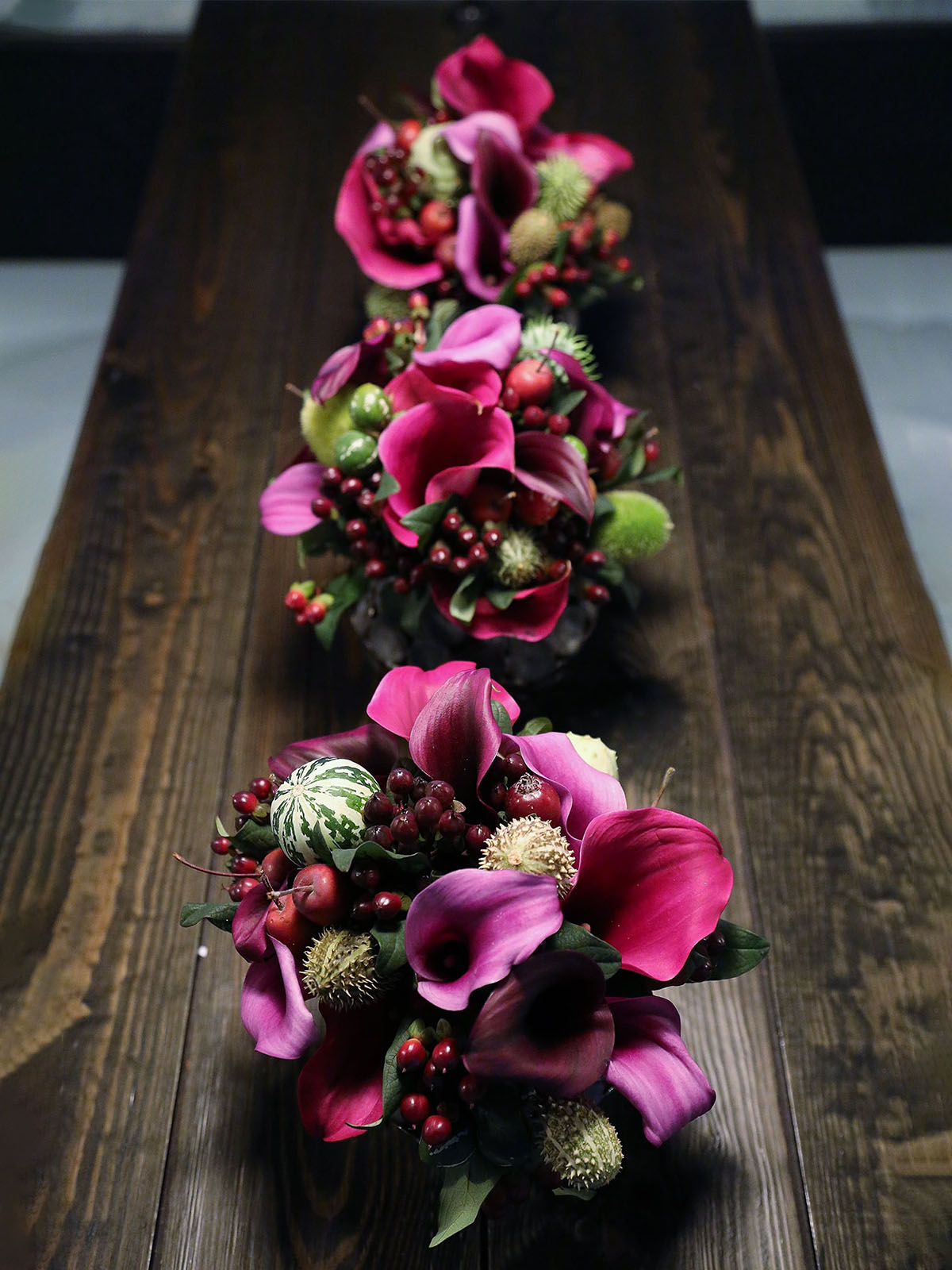 Every day, every season, and every year. No wonder calla lilies are an 'it' choice! Their versatility to beautifully wrap around any arrangement to color any space with their beauty is everything a flower lover needs.